I don't know about you but I am so excited that this day is finally here!! It has been so hard to not share more peeks with you over the last couple of weeks. So many things that I'm loving that I just wanted to show you, but I knew I needed to wait and keep you in suspense for this day!! But, now that we are finally here, I'm going to let the pictures do most of the talking, because there's a lot of them and because, let's be honest, that's what you're really interested in anyway!! HA! If you've missed any of the weekly updates then you might want to go back and check those out.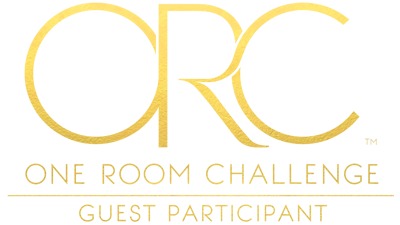 Week One / Week Two / Week Three / Week Four / Week Five
Drumroll please…….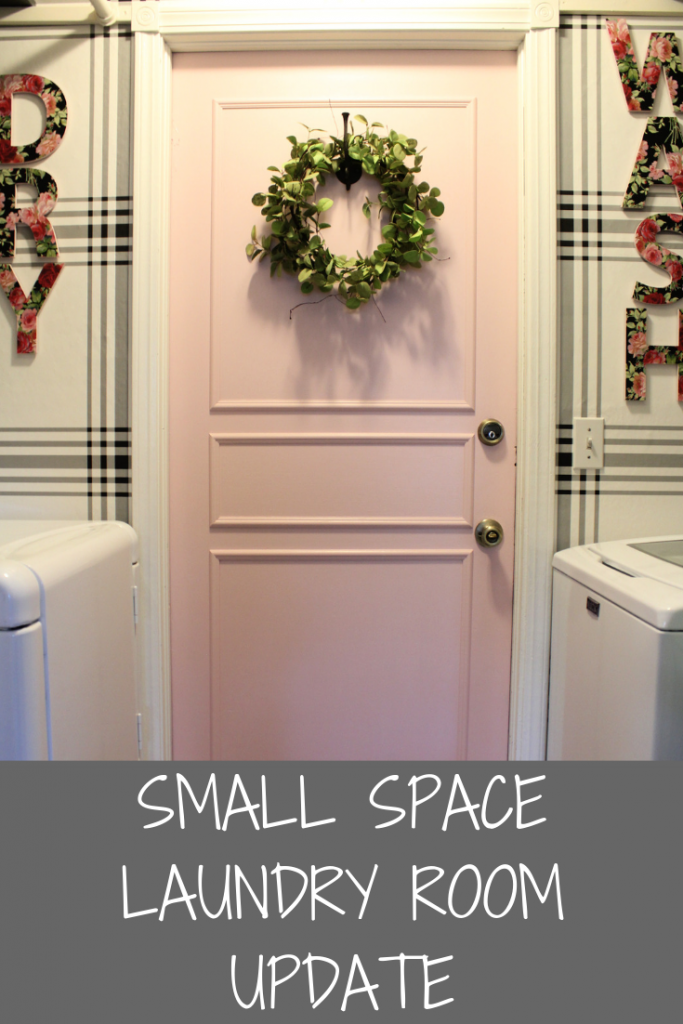 EEEPPP!! Do you just love the pink door?!? Let me tell you – this room is tiny with no real source of natural light, and really no way to properly light with a light kit, so I did the absolute best I could with the pics. You might notice a tiny bit of discrepancy in color especially with the door. I took a couple with the light off, letting in light from the kitchen, so you could get a better idea of the color.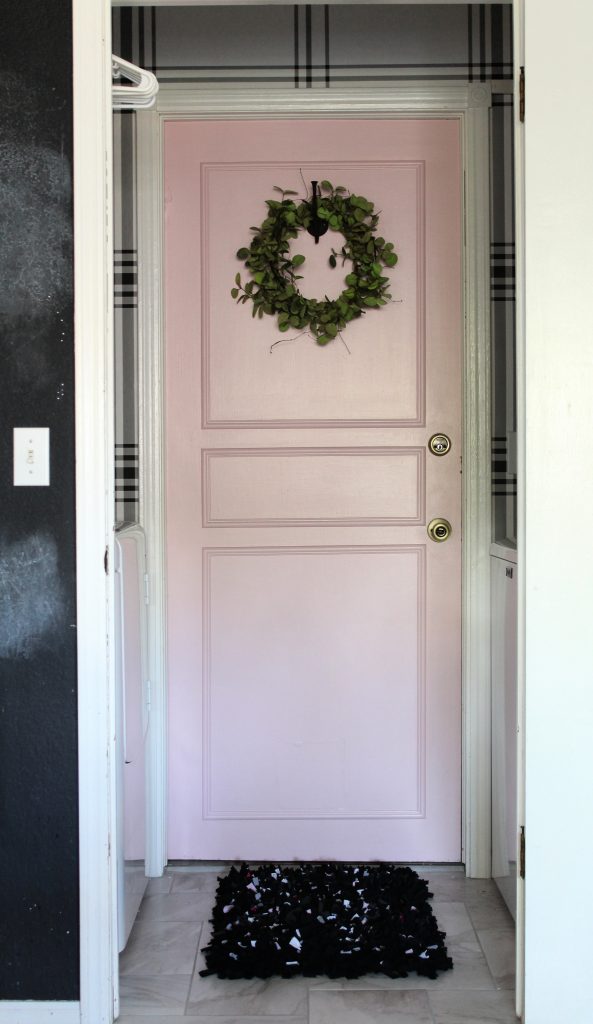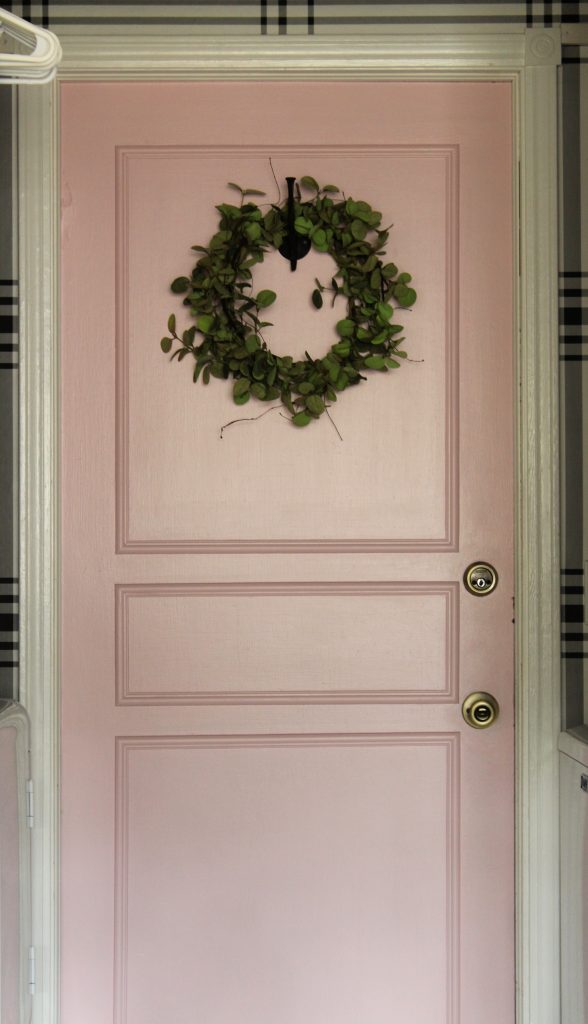 It's a beautiful blush pink and everything I hoped for! All the heart eyes for this detail! The color is Behr Cranapple Cream. The molding turned out great and did you notice anything else?? The pet door is gone. Hubby filled it with some scrap wood and I filled with putty, sanded and painted. If you look really close you can see but you have to look really close.
What about the "wash" and "dry"?!? Yes, I hear you! I love that as well!! Here are more shots of that.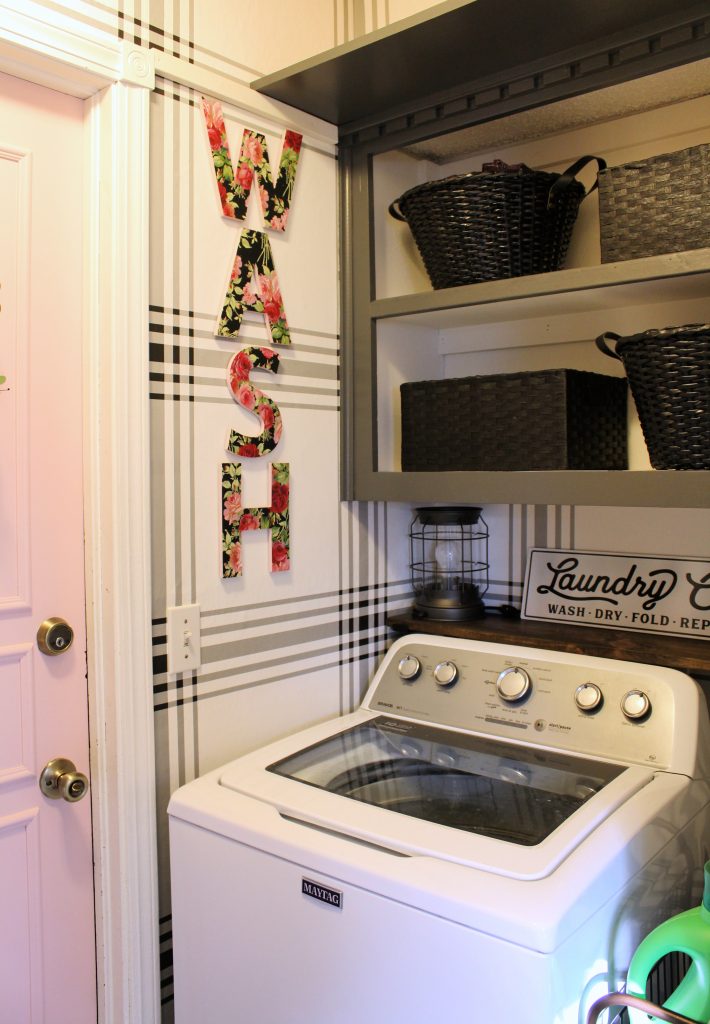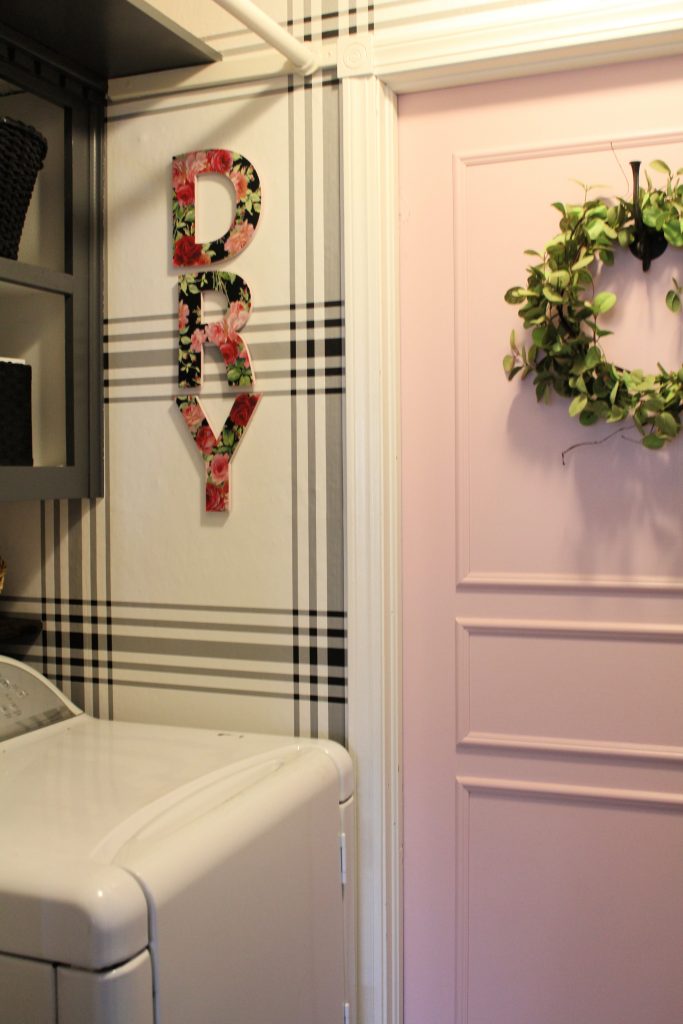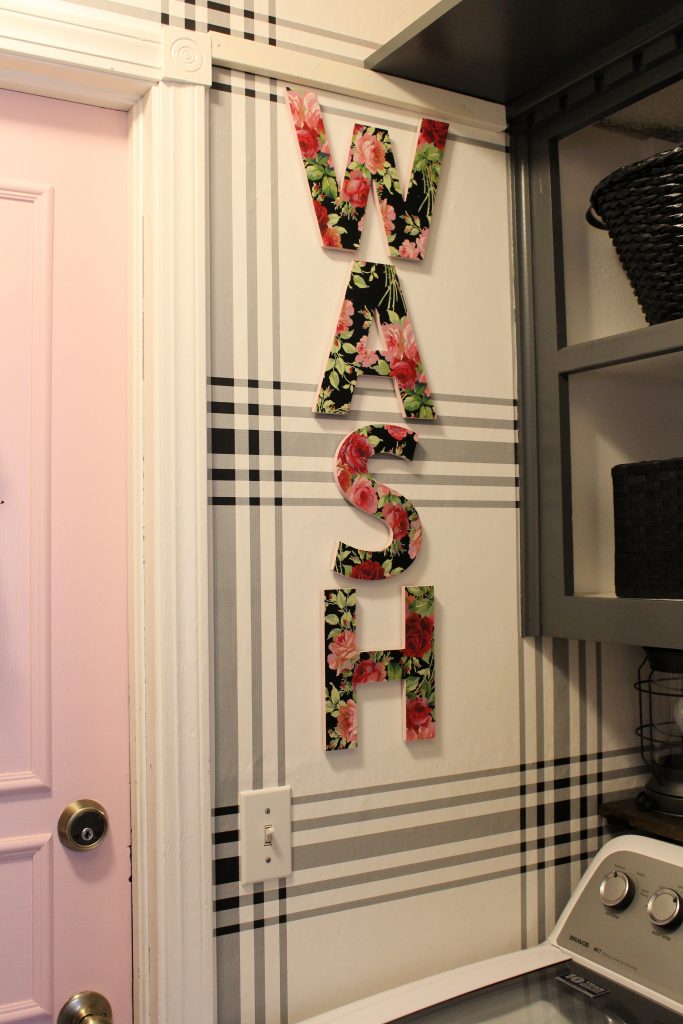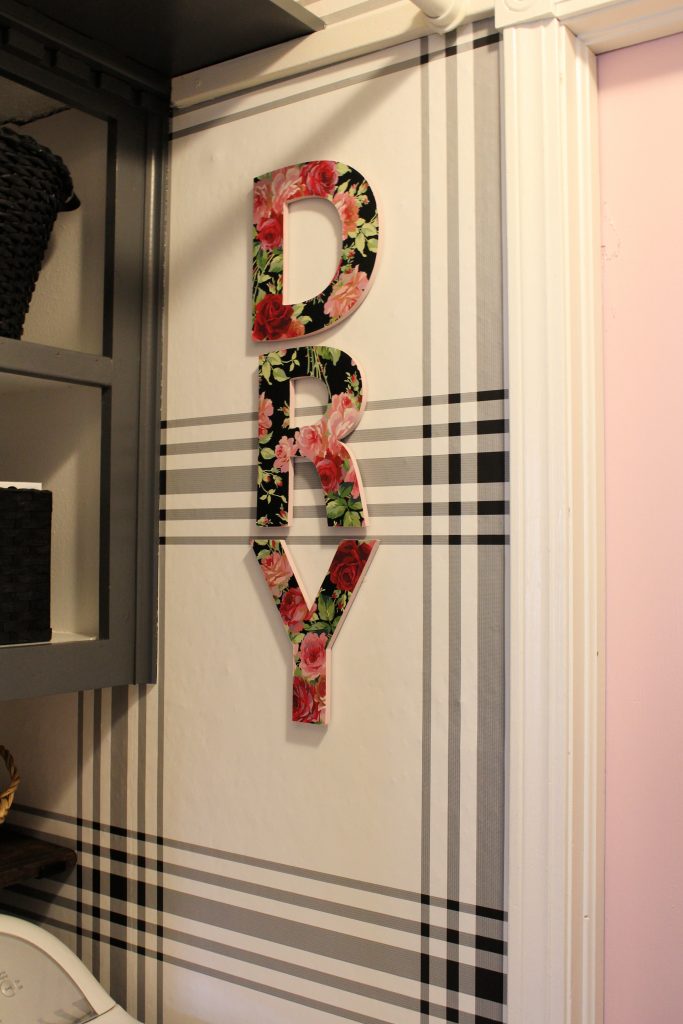 Some affiliate links used for your convenience. See disclosures for more details.
I seriously wasn't feeling this makeover in the beginning. Strange I know. I just wasn't sure how it was gonna all come together. And then I found that floral paper. And I was over the moon!! Some chipboard letters from Hobby Lobby, some Mod Podge and that paper, and voila!
The cabinets got an update with some paint (Sherwin Williams Peppercorn) and a little piece of wood to trim out the shelf – to make it look more like a built-in than a cabinet without doors. And, new storage baskets from At Home. They have a huge selection and great prices.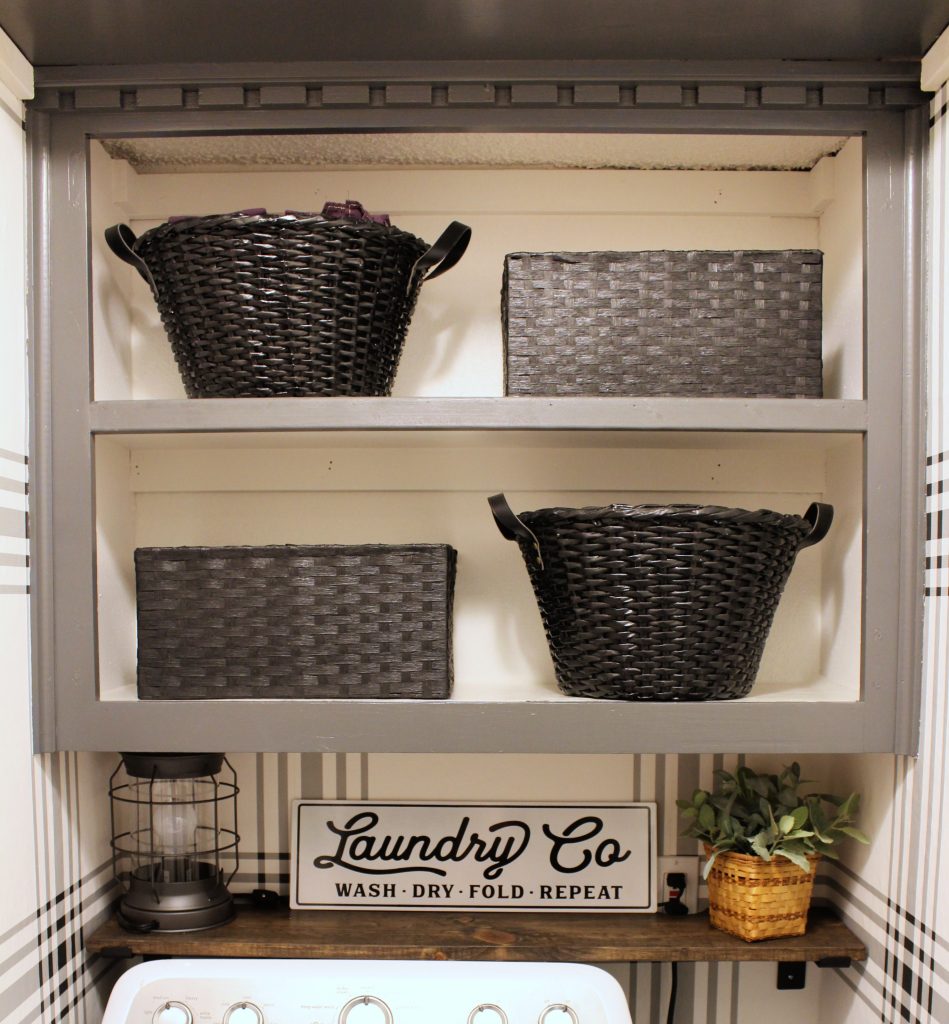 We also added a shelf above the washer and dryer. Simply a couple of brackets from Hobby Lobby and a piece of common wood which I stained with my favorite stain – Dark Walnut. The main purpose was to hide all the mechanics of the washer – mission accomplished!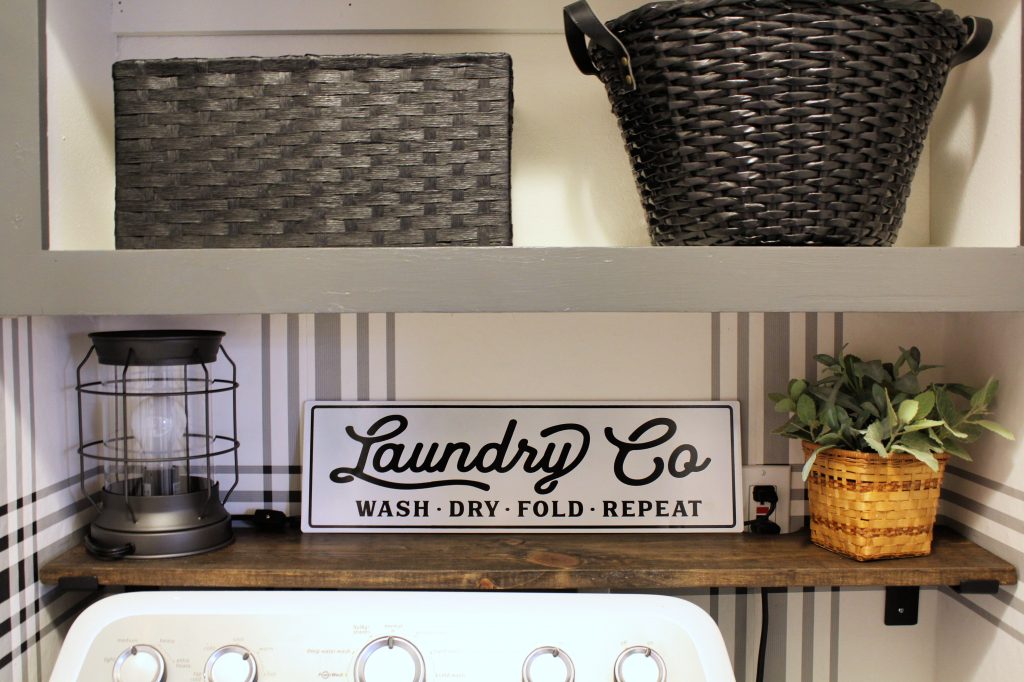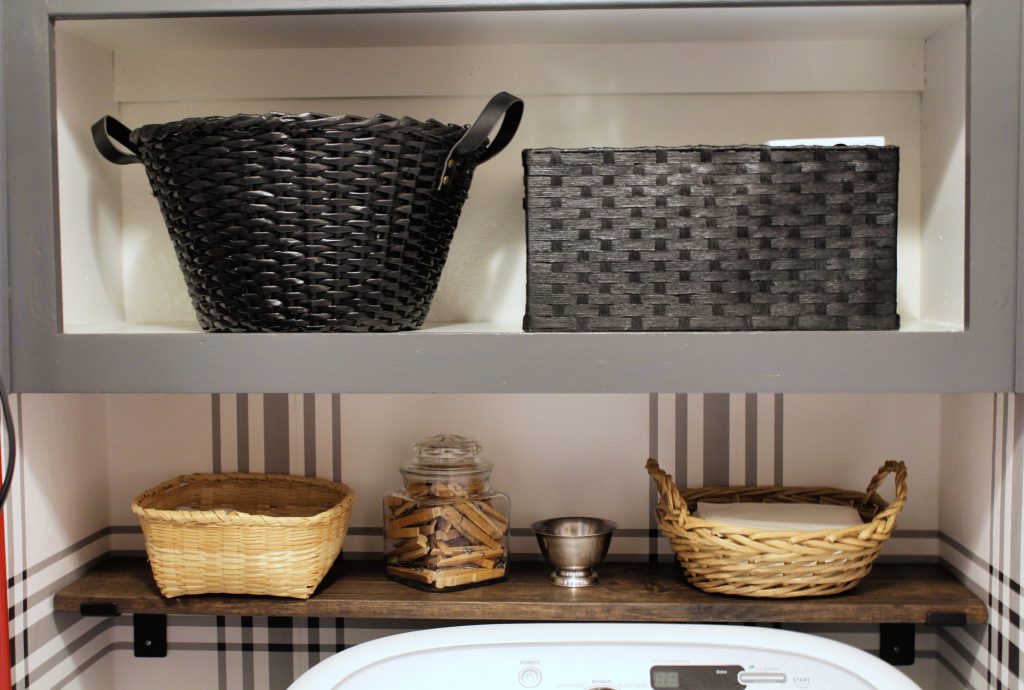 The light came from Walmart, and the sign from Hobby Lobby. Everything else was either thrifted or pulled from my stash. I also added a fake plant because I love the idea of green in here, but with no light, there aren't any plants that I know of that will live, so fake it is.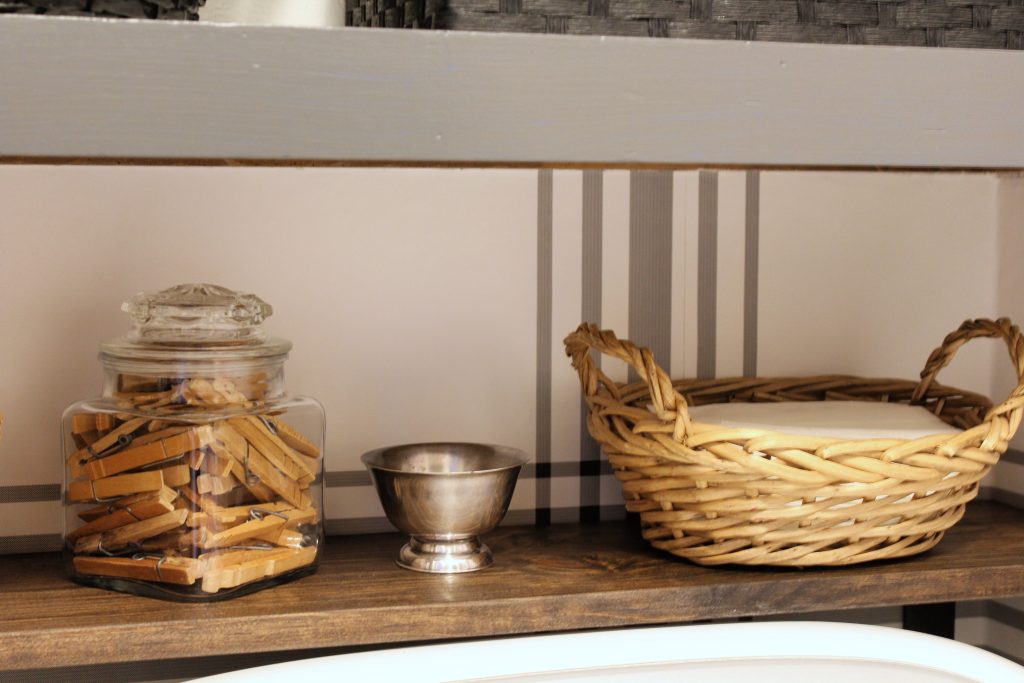 I also added some other practical storage solutions. Hooks for brooms and such, and a rolling storage caddy I picked up at TJ Maxx that slides in next to the washer for all the laundry supplies, and even some other cleaning items.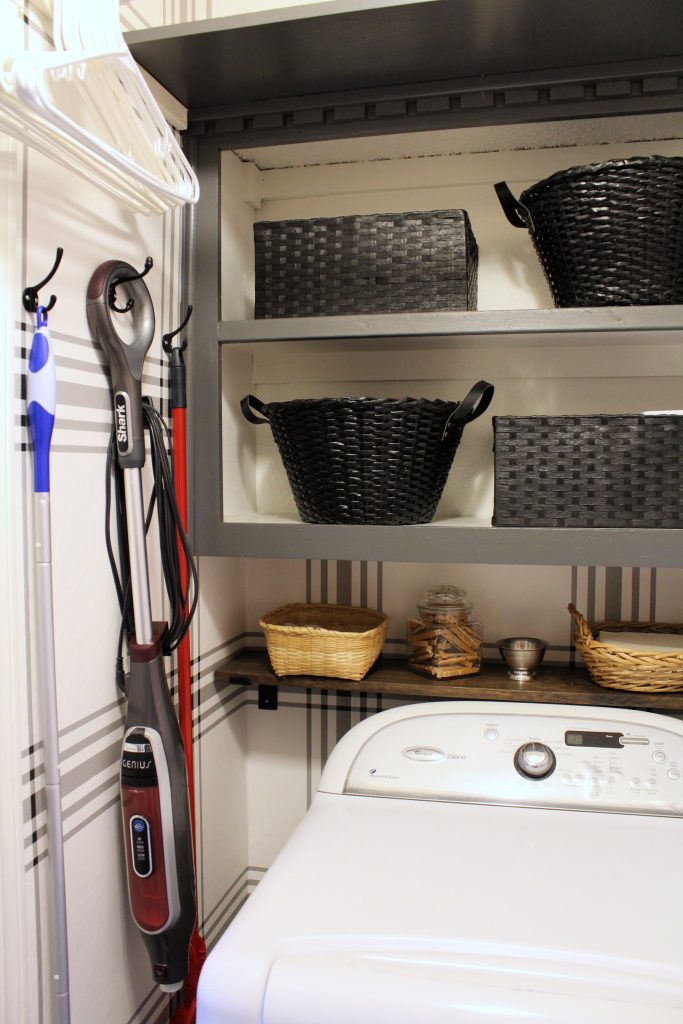 I also made a new rug. This is a t-shirt rag rug that I will share a tutorial for later. It's so thick and plush, and I like that I could customize it, AND it cost me $1 plus tax. 🙂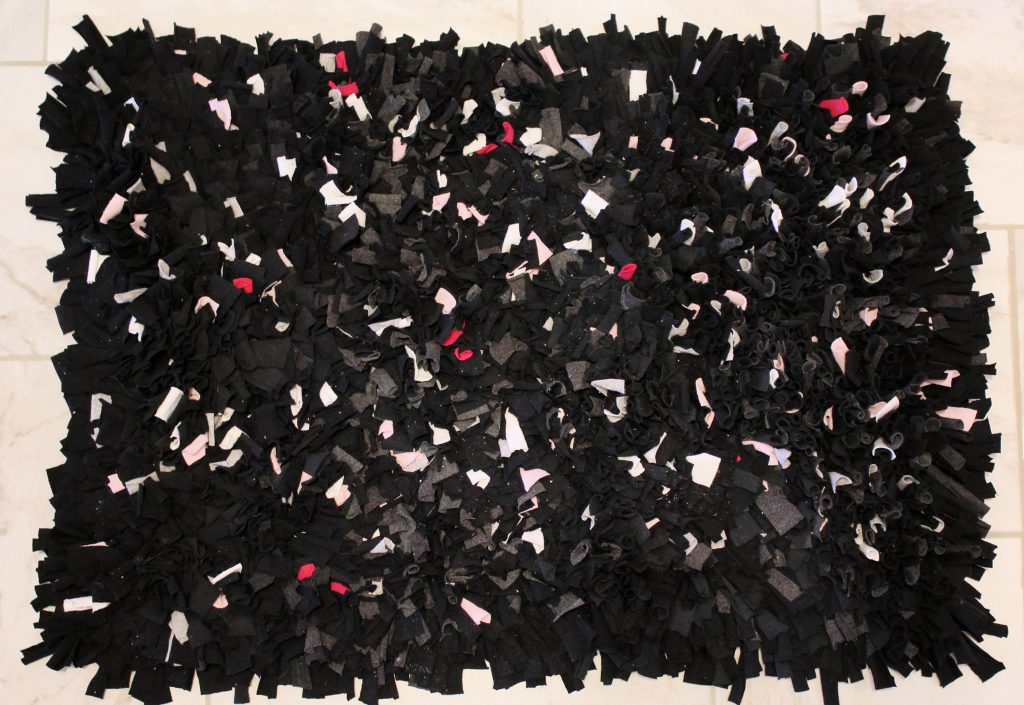 Of course before I let you go, I need to show you another shot of the before….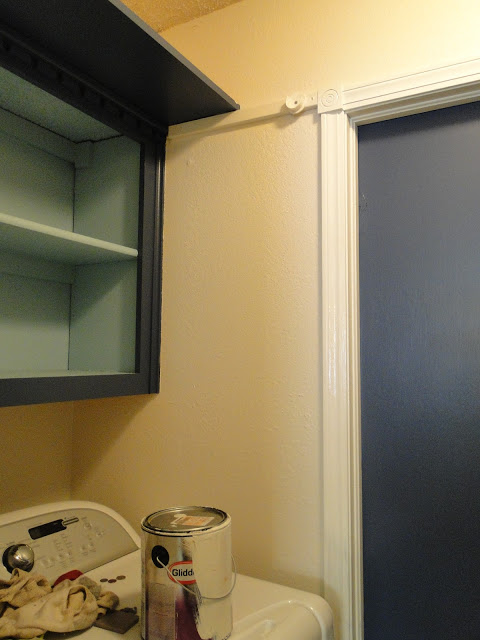 and that same shot today….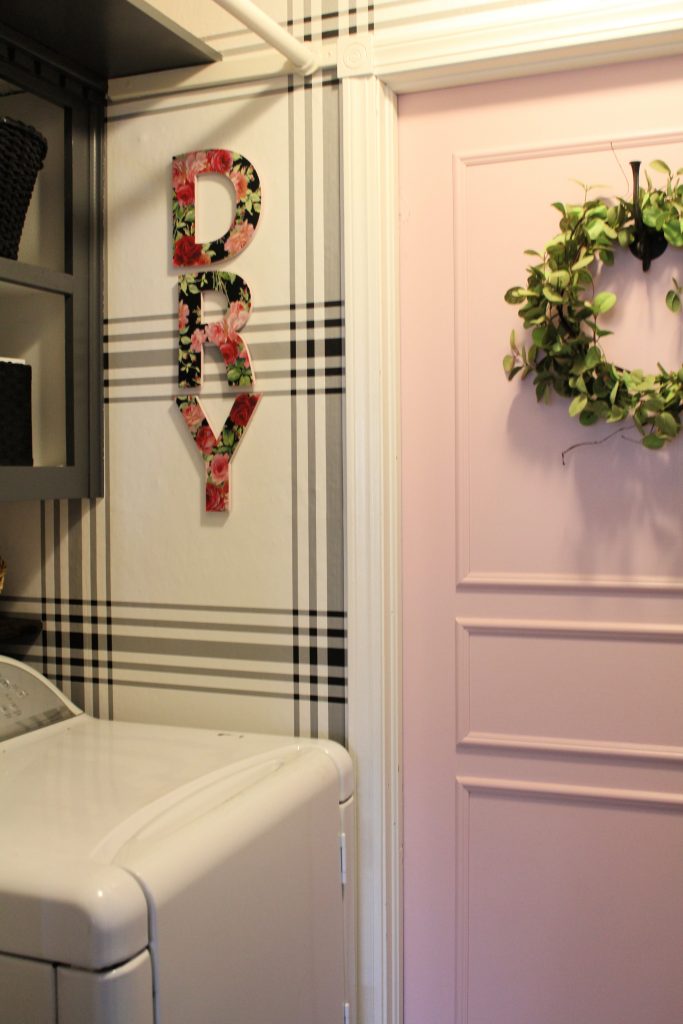 LOOOOVVVEEEE IT!! So thankful for this challenge and for Linda who created it! Every time I jump in I'm excited, and then I find myself panicked, certain I won't finish, annoyed that I started, and then thankful. Always thankful, because despite all the stress and anxiety that comes with this challenge, I have a finished room. Which might not happen otherwise! We don't always have deadlines in our homes, like we might in the home of a client. So, for me, this is just the kick in the pants I need to start and finish a project completely in a reasonable amount of time!
Be sure to stop by and check out all the other guest participants. There are some beautiful rooms out there!! Also, the featured designers revealed their rooms on Wednesday, and wow!
Thanks again for following along and cheering me on!! I appreciate y'all!! Now on to planning Thanksgiving and Christmas content!!