Hey there everyone!! It's time for another One Room Challenge update! I'm excited with the progress this week! I finally feel like I'm in a good place. If this is your first time to visit during the ORC you might want to start here.
Week One / Week Two / Week Three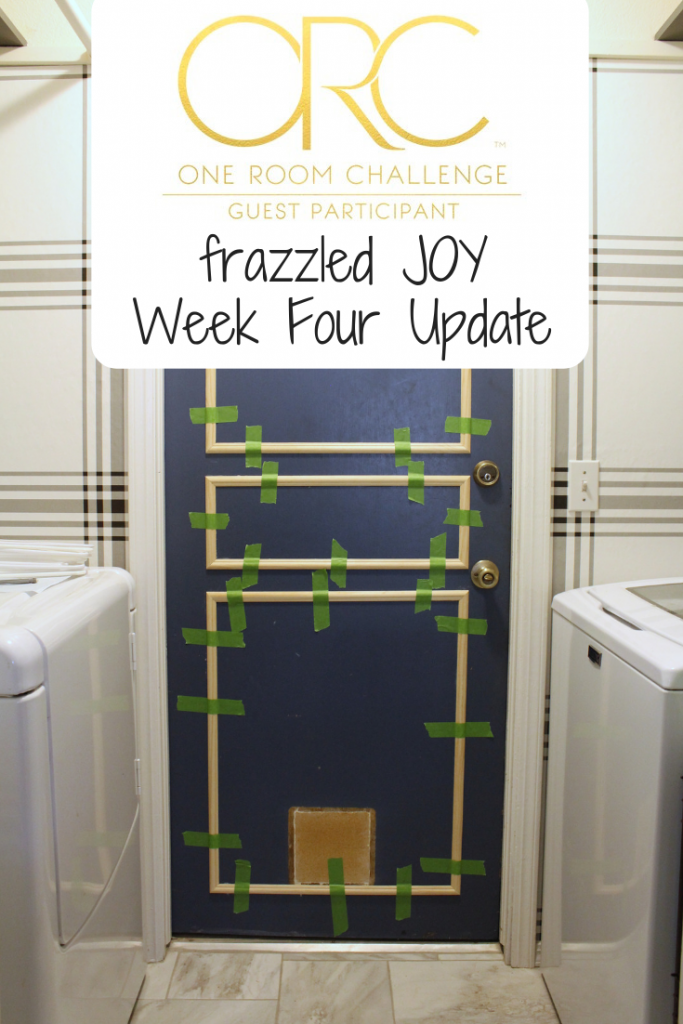 Some affiliate links used for your convenience. See disclosures for more details.
The wallpaper is up! And I'm in love!! It has been quite a while since I hung wallpaper so it took me a little bit to find my groove. But, honestly this wallpaper is good quality and was easy to hang. The lighting is not good in here which makes it hard to get good consistent pictures. I promise that the wallpaper and the paint is all the same color. 🙂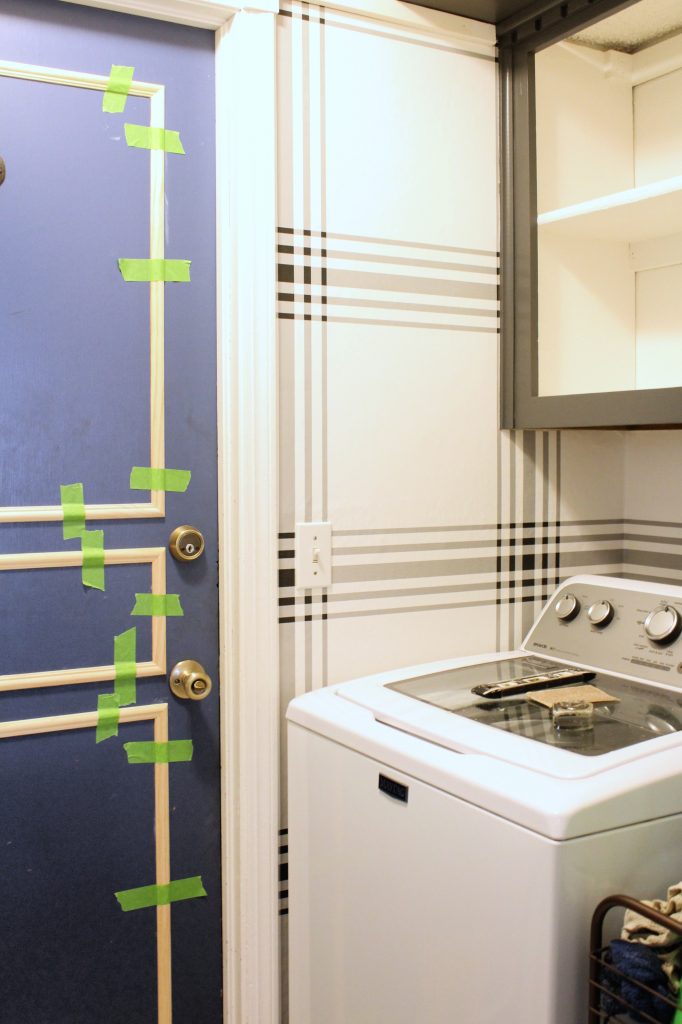 I'm happy with the way the paint on the cabinets compliments the wallpaper. I had a hard time deciding between peppercorn and black. I'm glad I went with the peppercorn!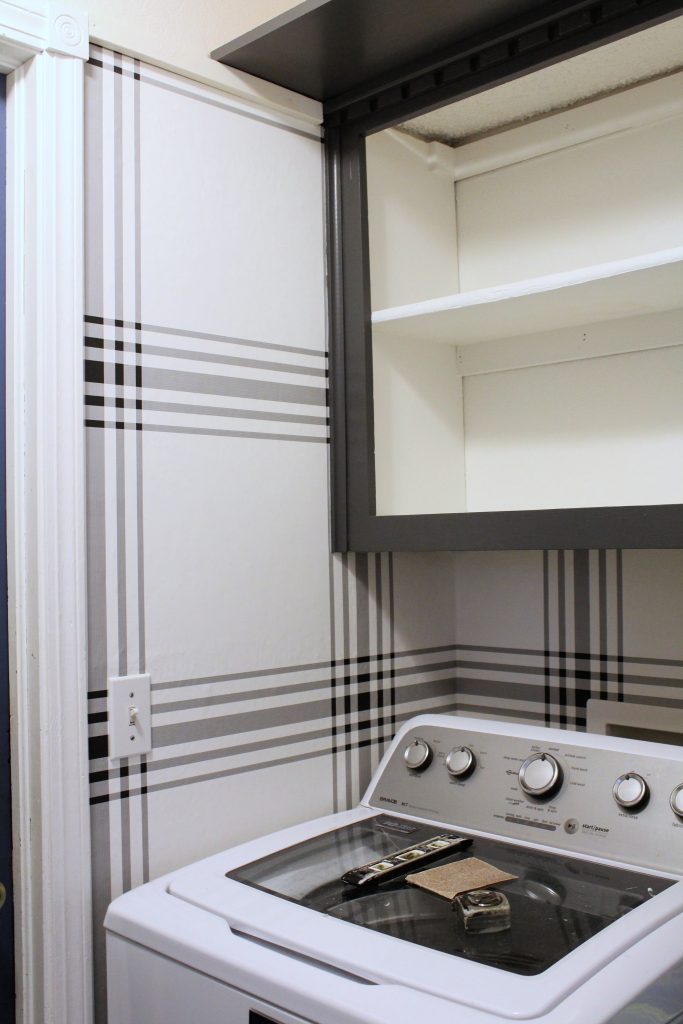 Next up, fixing up the door.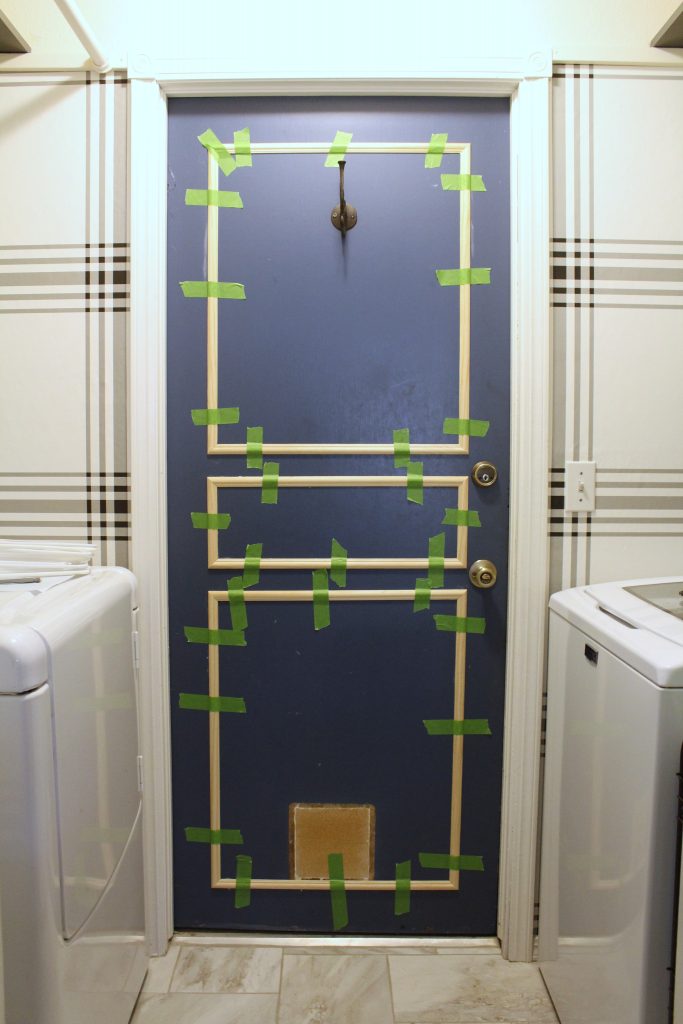 I removed the old cat door, filled the hole, and added some trim. I have added trim to just about every door in our house, and it is one of my favorite DIY updates. I think it really ups the look of a room!
If you are interested in a how-to check out this post! These are typically the supplies that I use. This time I did use my power saw, and a little bit bigger trim but most supplies are the same.
miter saw / liquid nails / level / tape measure / sand paper / painter's tape
Here is the updated checklist!
Paint cabinets
Install wallpaper
Add trim to door
Paint door
Build shelves
New rug
Add storage containers
Other decor
New light fixture
Add trim to cabinets
Ceiling treatment??
I know, there are several things still not crossed off the list. But, quite a bit of it is just shopping. I've been working on a DIY rug for the room for a couple of weeks now. A little bit each night or afternoon when watching a little TV. 🙂
Thanks for stopping by! Be sure to hop on over and check out the updates from the designers and the other quest participants!