Today is the day friends! It's finally time for me to share our new and improved bathroom with y'all!! I'm so in love with this space and I've been so excited to share! It really turned out even better than I expected if we're being honest! 🙂 (sorry for all the exclamation marks, that's really how excited I am haha) If you're stopping by for the first time today, welcome! You can catch up on previous updates by following these links.
week 1 / week 2 / week 3 / week 4 / week 5&6 / week 7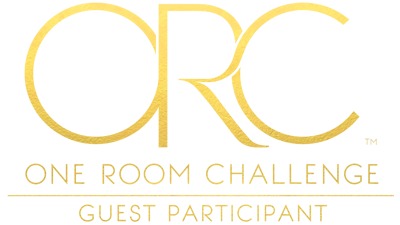 And just for reference, here is where we started.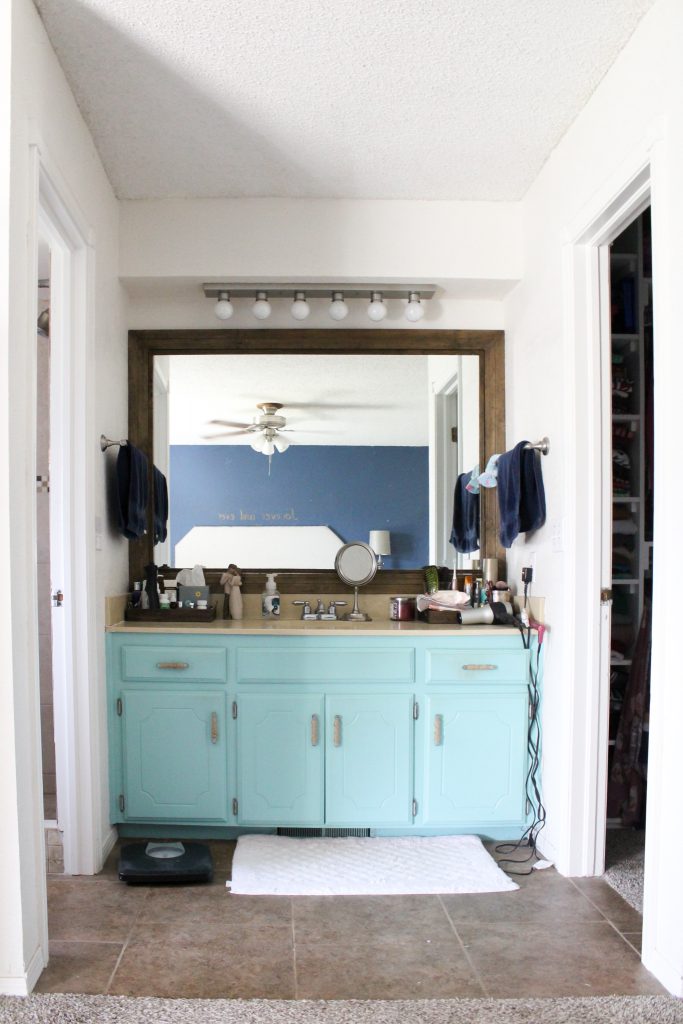 And here was the plan.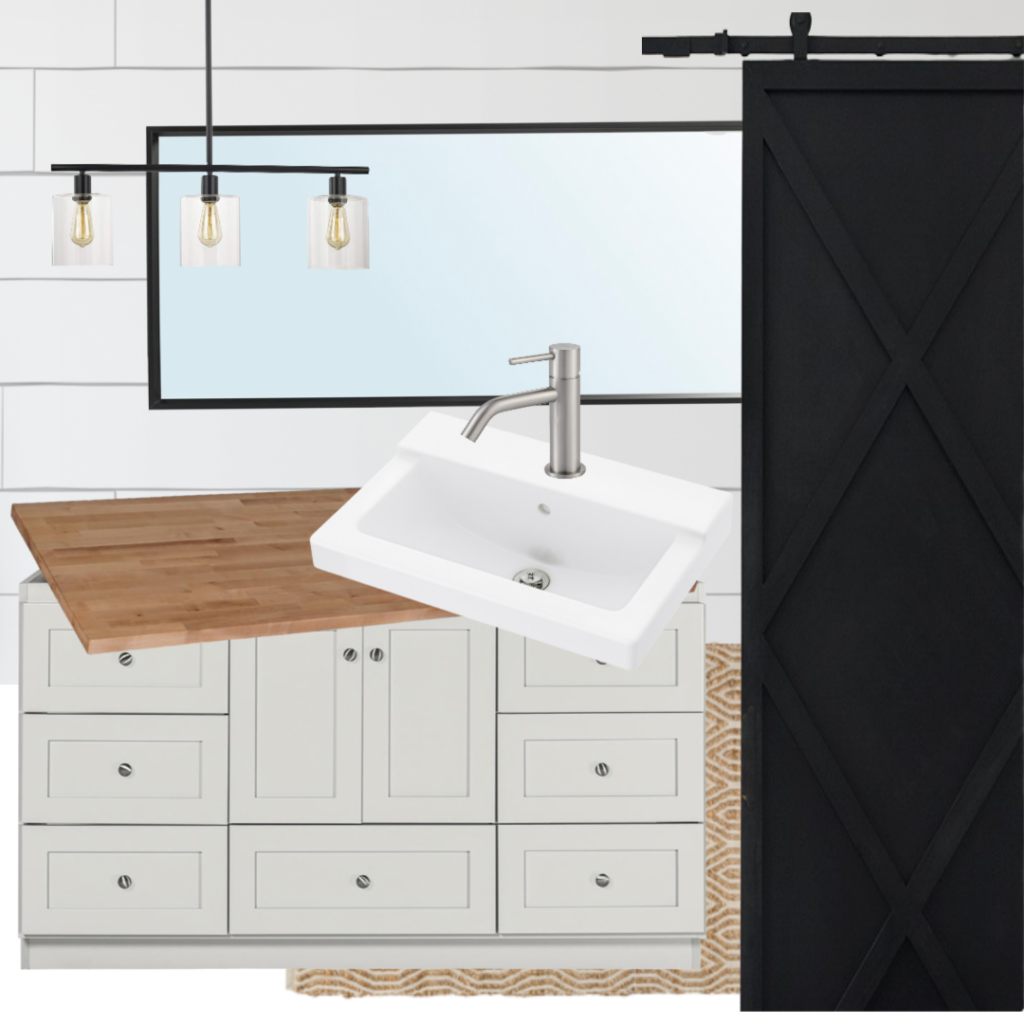 Also as a reminder this portion of our bathroom is literally IN our master bedroom. UGH! Who ever thought that was a good idea?? My goal was not only to update the space, but also to create a division, make it it's own space. All DIY, all without hiring a contractor, all without having a lot of building skills.
And….we did it!! Here she is now!!
Some affiliate links used for your convenience. See disclosures for more details.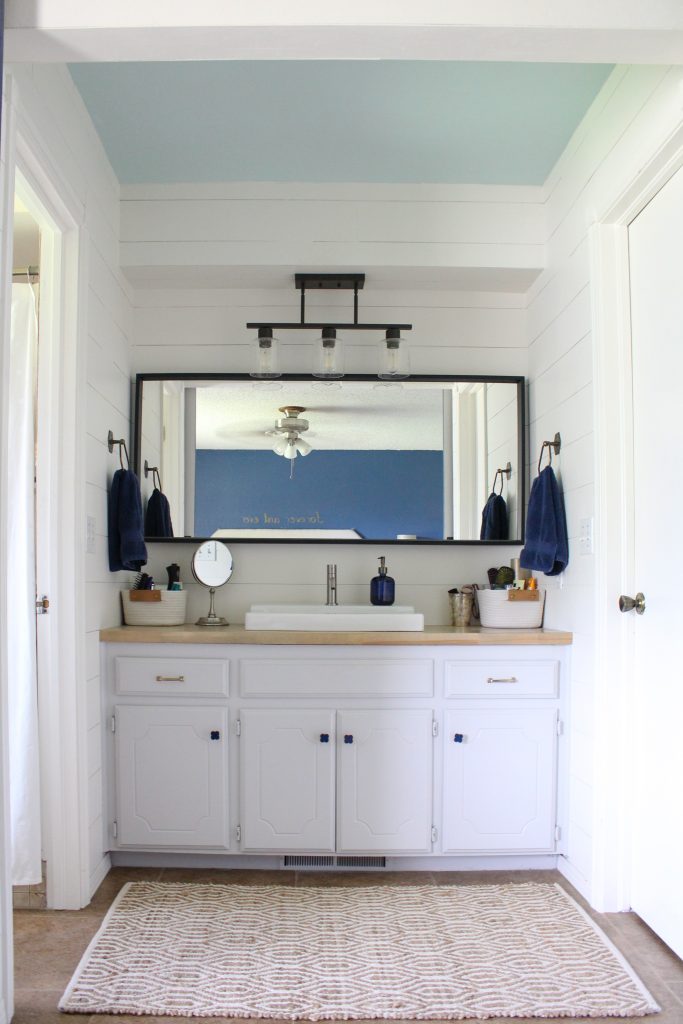 AAGGHHH!! Did I mention that I love it!! Because I do! How did we accomplish separating the two spaces??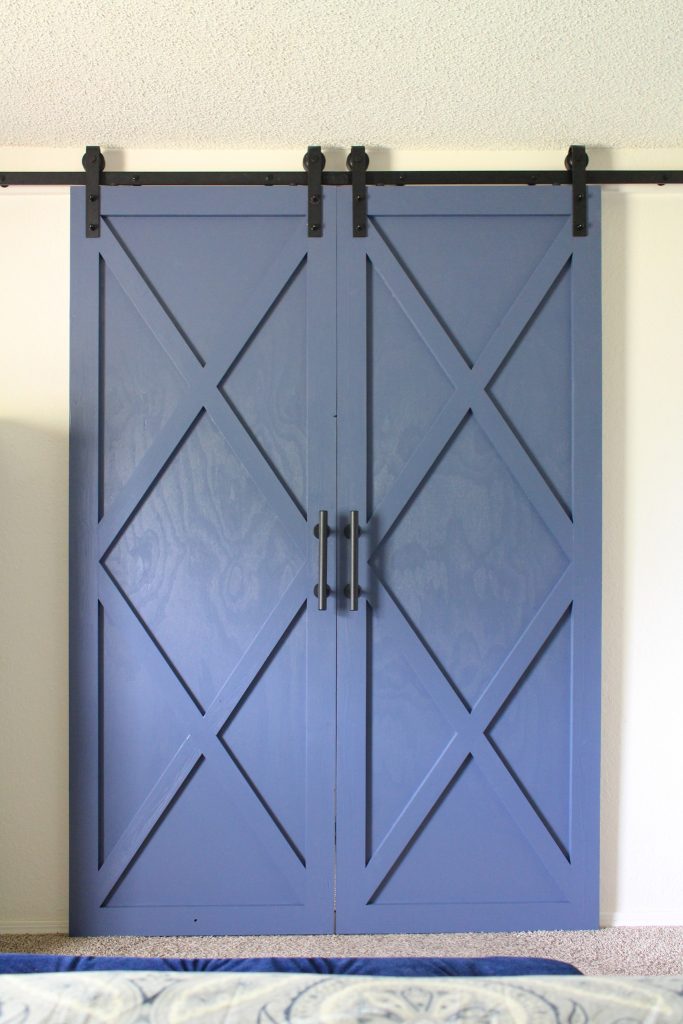 Barn Door Hardware / Door Handles / Barn Door Paint Color
Barn doors!! (not sure why the blue looks so different in this photo…the sun must have been shining in just right haha)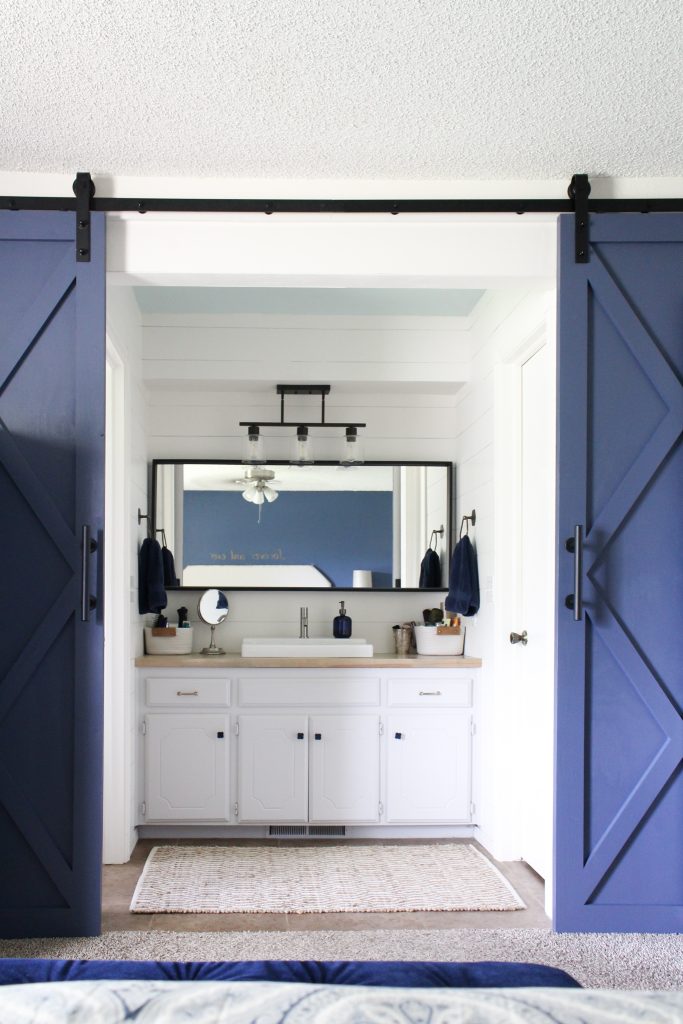 This was the best solution because we only had to build a header in between two already existing walls. See what that looked like here.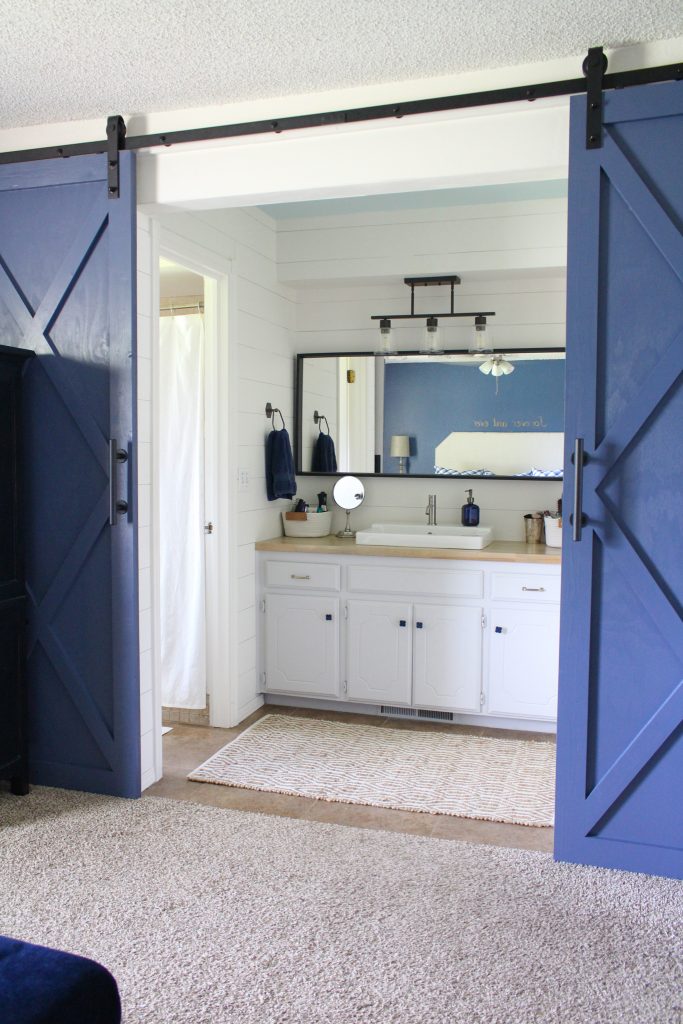 We had thought about building part of a wall and only having a single barn door. But, after researching that a bit, we decided that would be more than we wanted to bite off. Concrete floors are hard to drill into.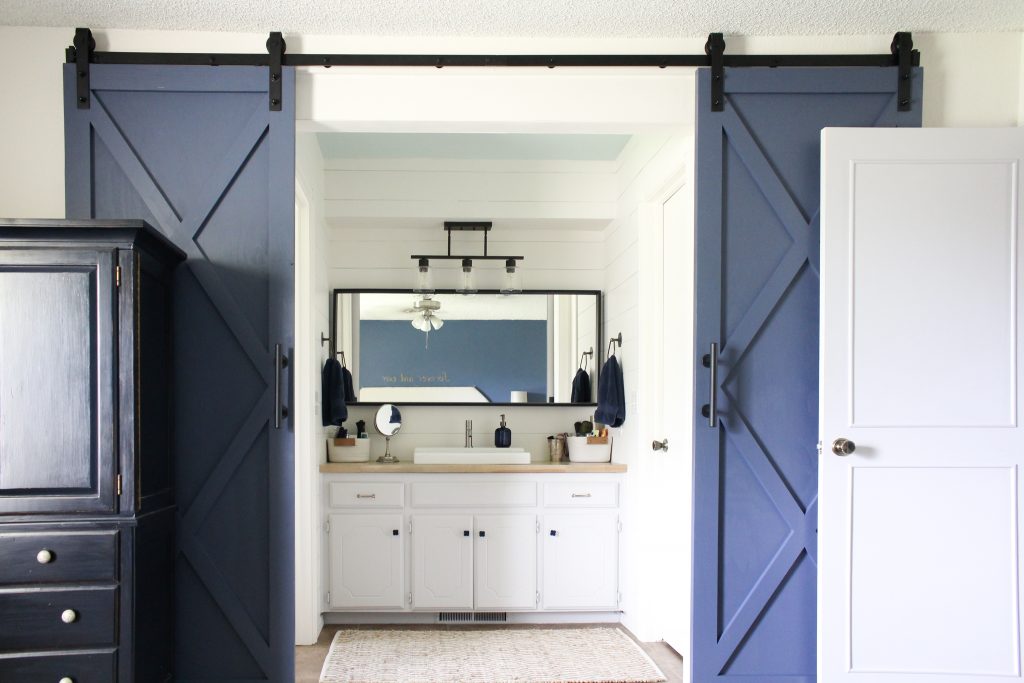 I'm actually happy with the double door option. I think it makes the space look even more grand. We also built them as tall as we possibly could. In fact, when it came time for installation there was quite a bit of stress as to whether we were going to have to cut down the doors. But, thankfully we did not! Whew! If you like these doors you can check out the tutorial I followed here from Jenna Sue Design.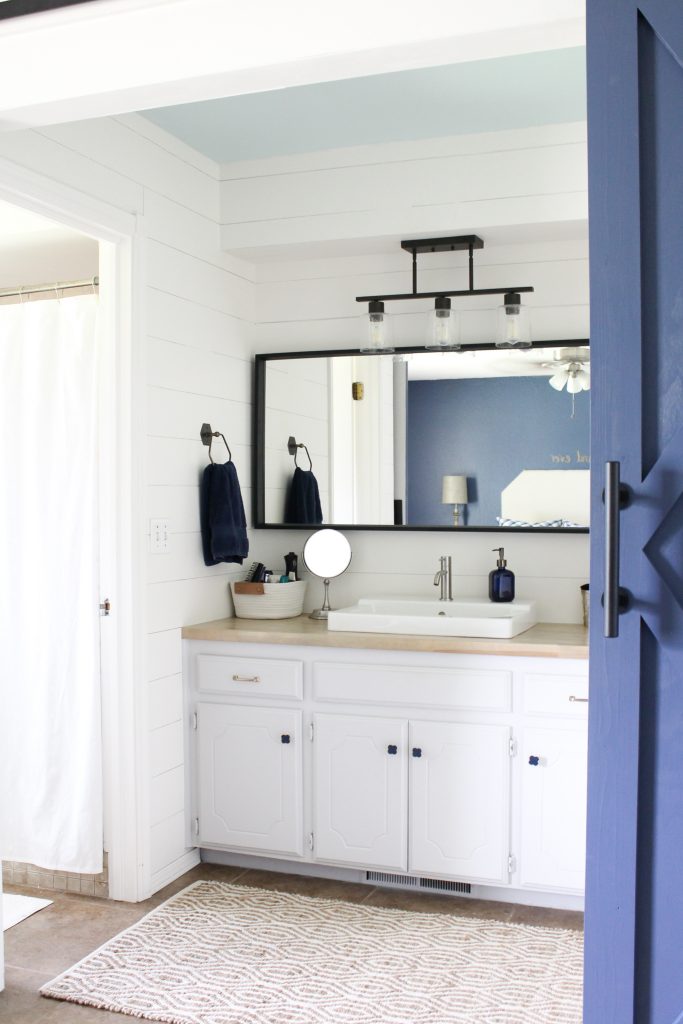 Now onto the bathroom area. Again, let me remind you that the shower and toilet area was not included in this update. I thought I might do a couple of things in there, but to be honest, we ran out of time. Maybe that will be next. 😉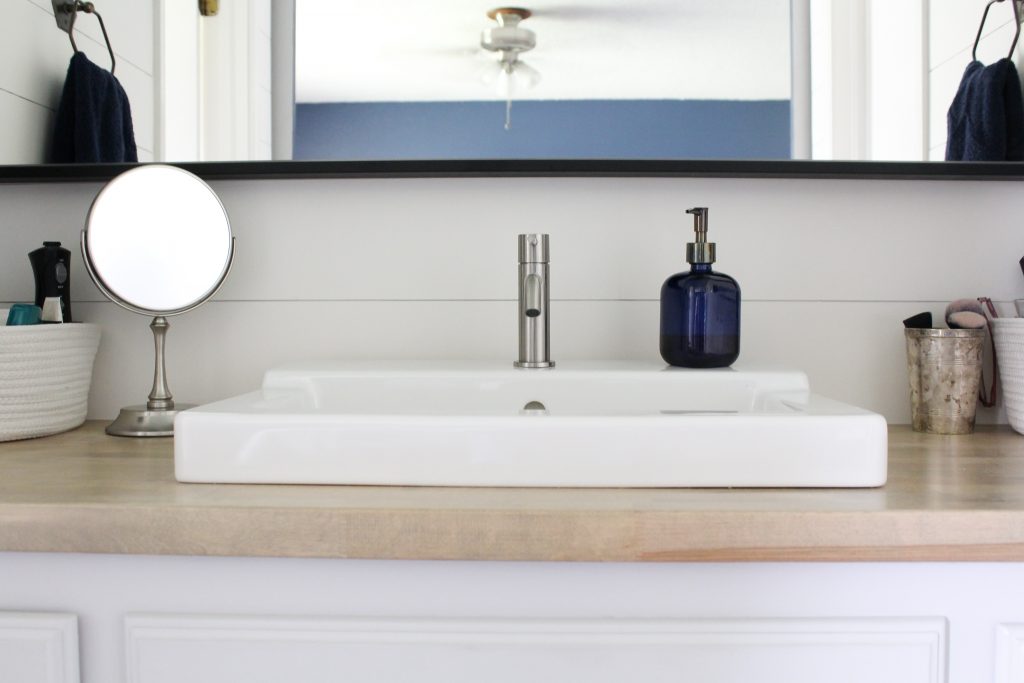 We removed the old and dated counter, and the giant mirror. We installed a butcher block counter and a nice white farmhouse style sink, and a new faucet. The mirror and light really add the modern touch I was looking for.
The light was another tricky thing to find. Since the original light was mounted in the ceiling of the bulk head my options were limited. Most vanity lights are meant to be mounted on the wall. I didn't want to move the electrical (or the light to be that far away from the mirror) and I knew we couldn't remove the bulk head (we've already tried in this house). This was a great find and I love it. It's actual meant to be for a dining room or a island, but it's height (how far down it hangs) is adjustable.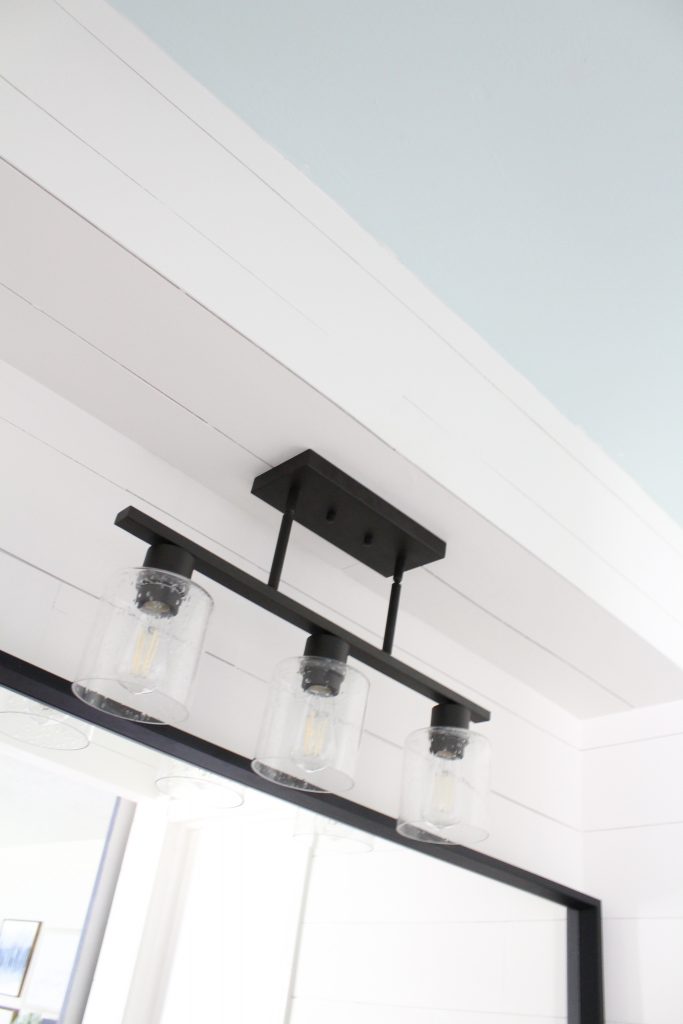 Light Fixture / Daylight Bulbs / Ceiling Paint
We have it hanging at it's shortest height. I love the pebble glass and I used these daylight edison bulbs to get a nice bright white light. Oh, and did you notice I painted the ceiling?? Another one of my favorite things! 🙂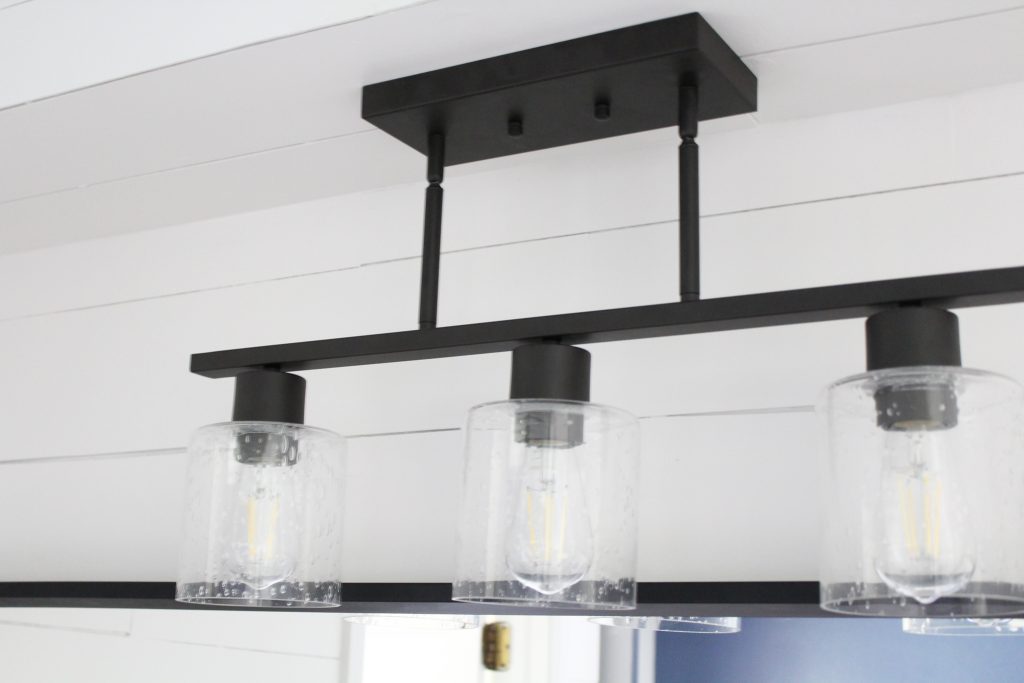 I found a similar mirror to this one at Homegoods, but it had a wood frame. I liked the size of it and I was intrigued by the idea of hanging it longways like this. Then, I saw this one at IKEA for $20 less and I was sold. It really turned out to be the perfect size!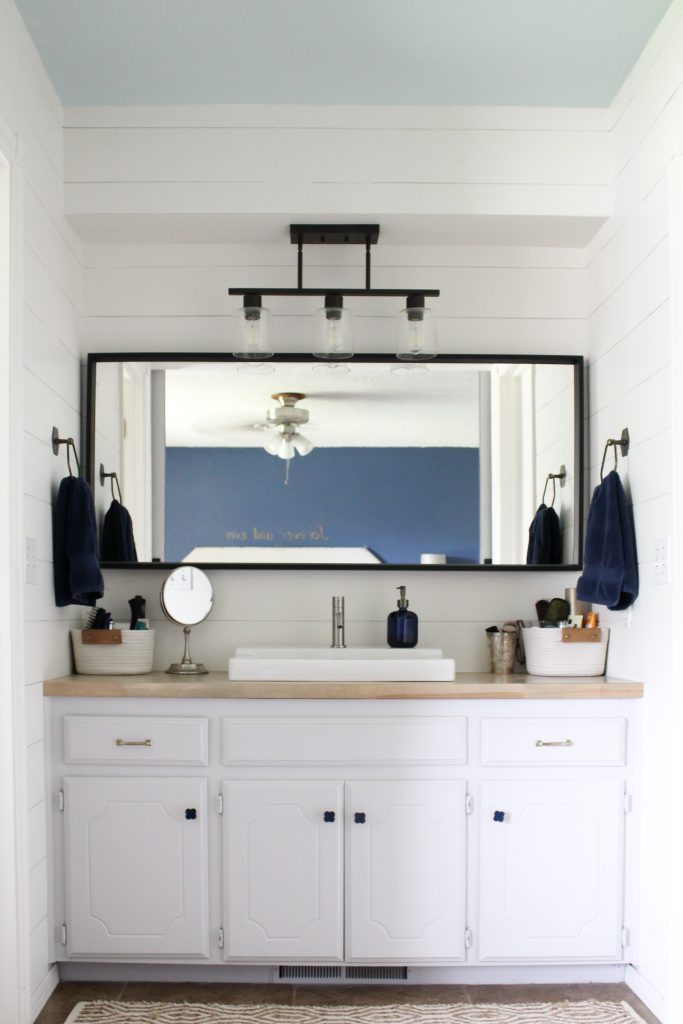 The vanity, and the flooring are the only things that didn't get replaced. I don't mid the tile floors, and they go well with our shower tile. I opted for a much bigger rug however. I also painted to vanity to this nice soft gray and added some new hardware.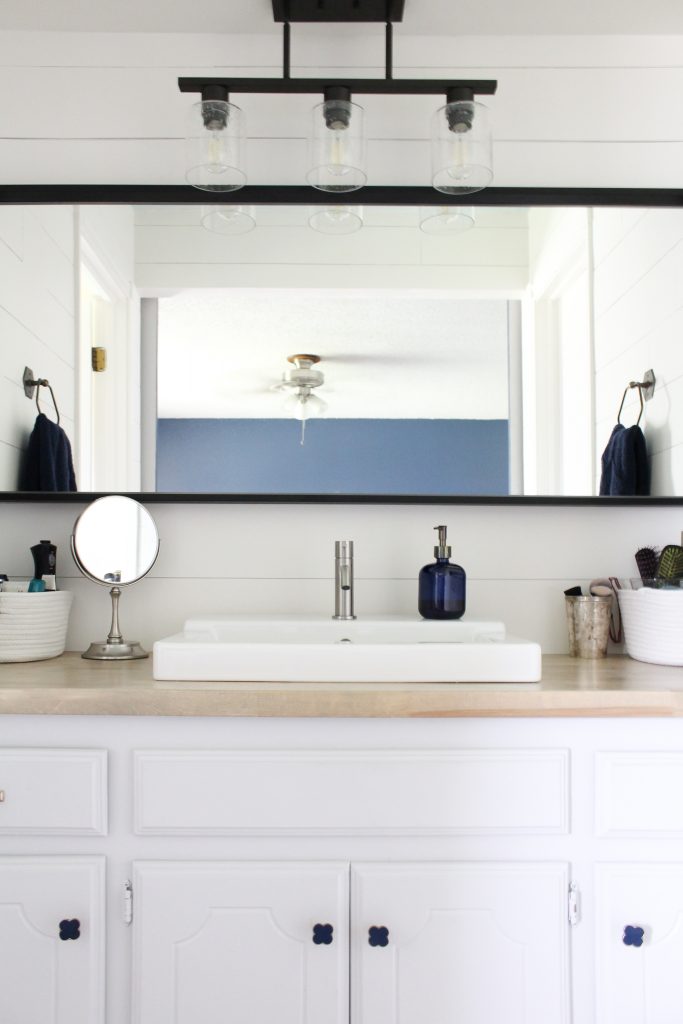 Vanity Paint Color / Cabinet Door Knobs
As for accessories, I didn't go too crazy. The cute blue soap dispenser is from Target, as are the woven baskets.We don't have a ton of storage in here, so having a few things out on the counter is necessary. I like to have a way to corral and somewhat hide it though. I like the trays I had out before, but they were a little too big next to our new sink.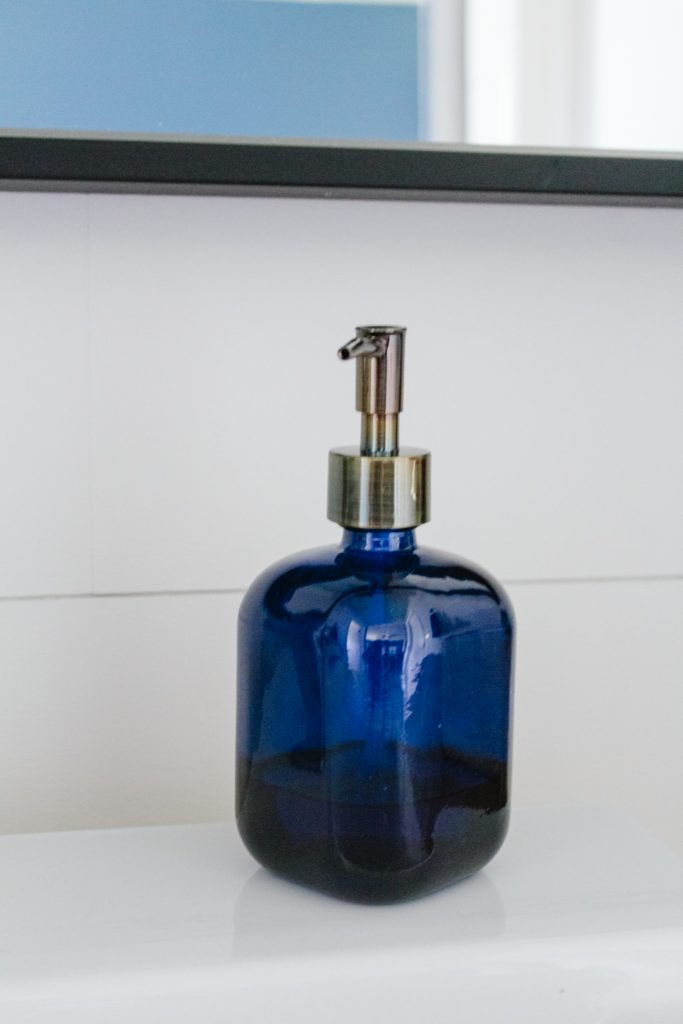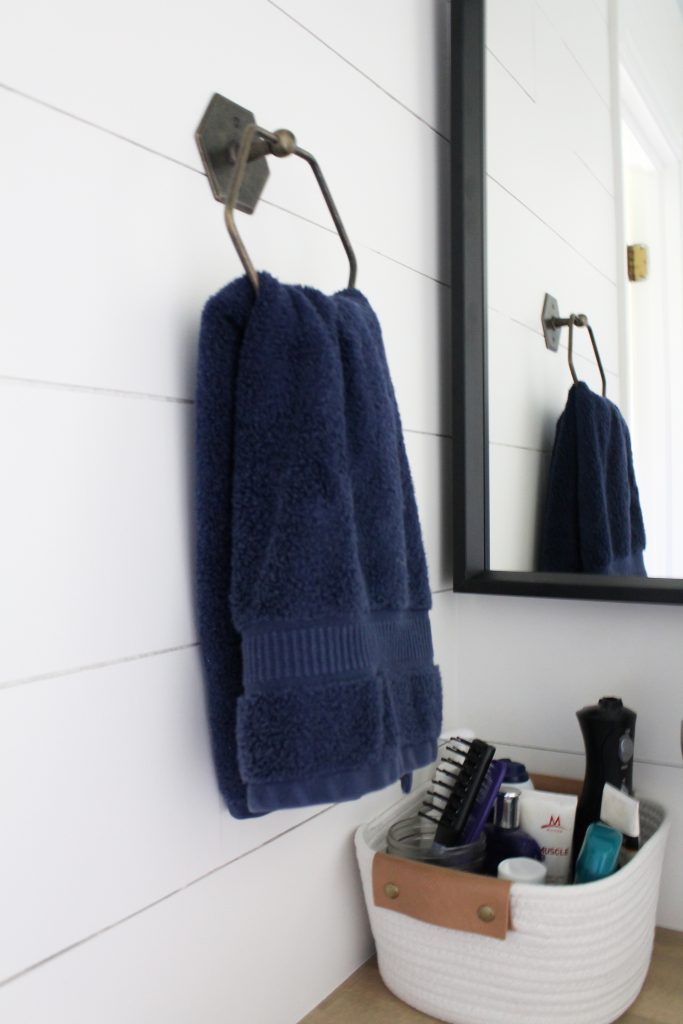 Soap Dispenser / Towel Ring / Woven Basket
The towel rings are from Hobby Lobby. I love the hexagon shape against all the other straight lines in the room.
Seriously love, love, my new and improved view!!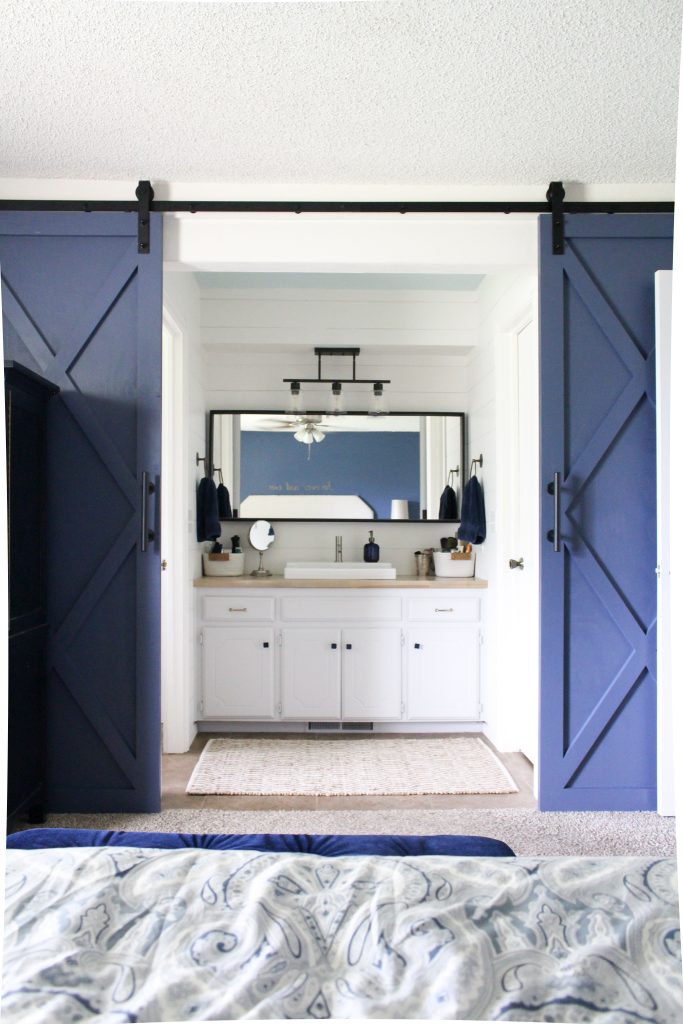 Thanks so much for following along on this renovation! I love the One Room Challenge for the simple fact that it keeps me going. Sometimes when updating a room like this I get stuck. Either with design, or with work. I get tired of doing one thing, and I really just want to quit, or at least take a break. The shiplap for instance took what felt like for.ev.er. But knowing I had a deadline kept me going. I always feel super grateful when it's done! I'll be sharing a few more details about some of the DIYs in the coming days. Be sure to keep your eye out for that!
Please be sure to check out all the reveal's on the One Room Challenge blog! There are some really amazing spaces out there!!