Week 4! You know what that means?? We're halfway through this challenge! This is usually about the time I start to panic, and this challenge is no different! HA! I am thankful that the challenge was extended from the normal 6 week time frame to 8 weeks. We are moving kind of slow and we are definitely going to need the extra time. Need to catch up on what we're doing? Check out previous week's updates here.
Week 1 / Week 2 / Week 3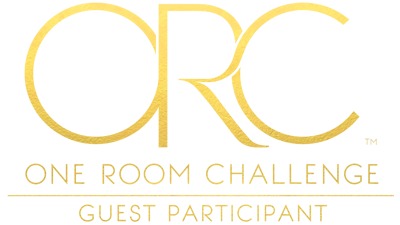 This week I did some painting and finishing. Thanks to the folks at Handy Paint Products for providing some great products that definitely made this process a lot easier and a lot less messy! *all opinions are 100% my own*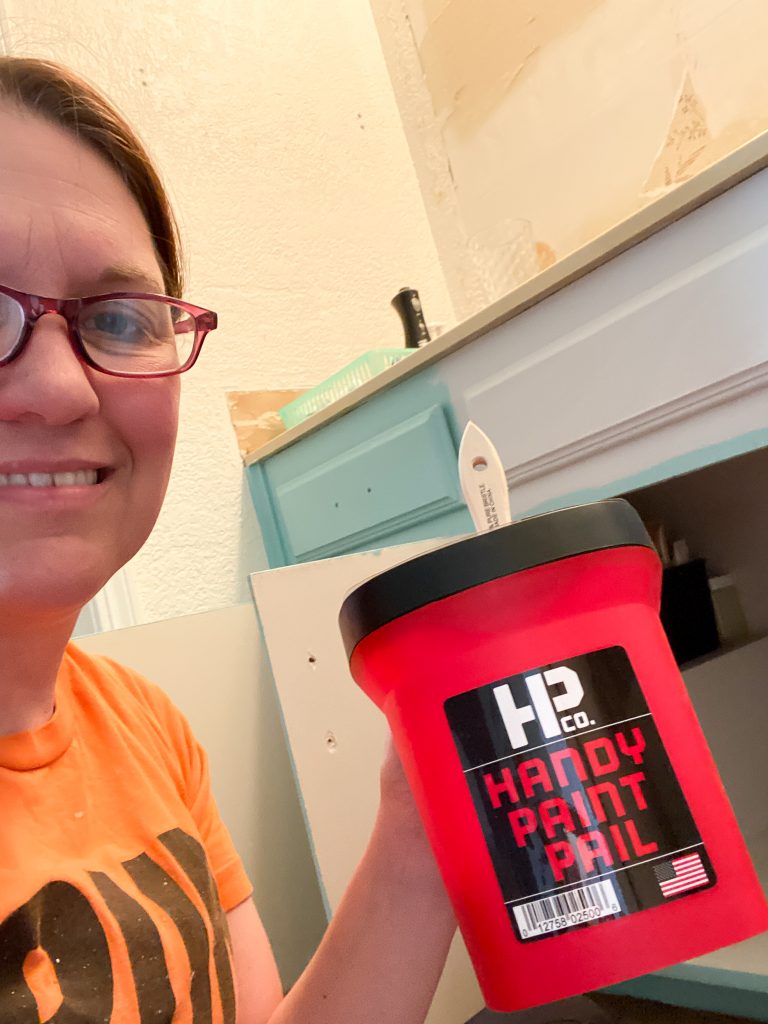 First up – painting the vanity.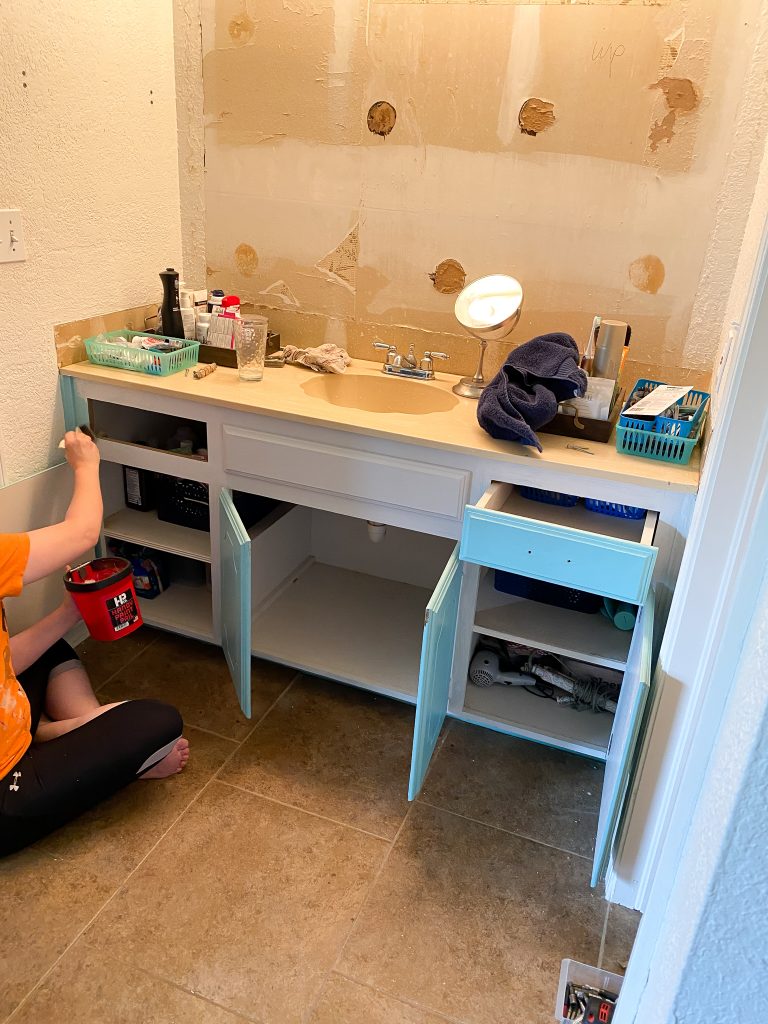 I'm so happy with the color change! I painted the vanity that turquoise color years ago. I loved it, but I was really craving something lighter and calmer. This is probably the first time I have painted a cabinet with the doors in place. But, honestly I just didn't feel like taking it apart, so I went for it. (can we say "lazy"? ya I know)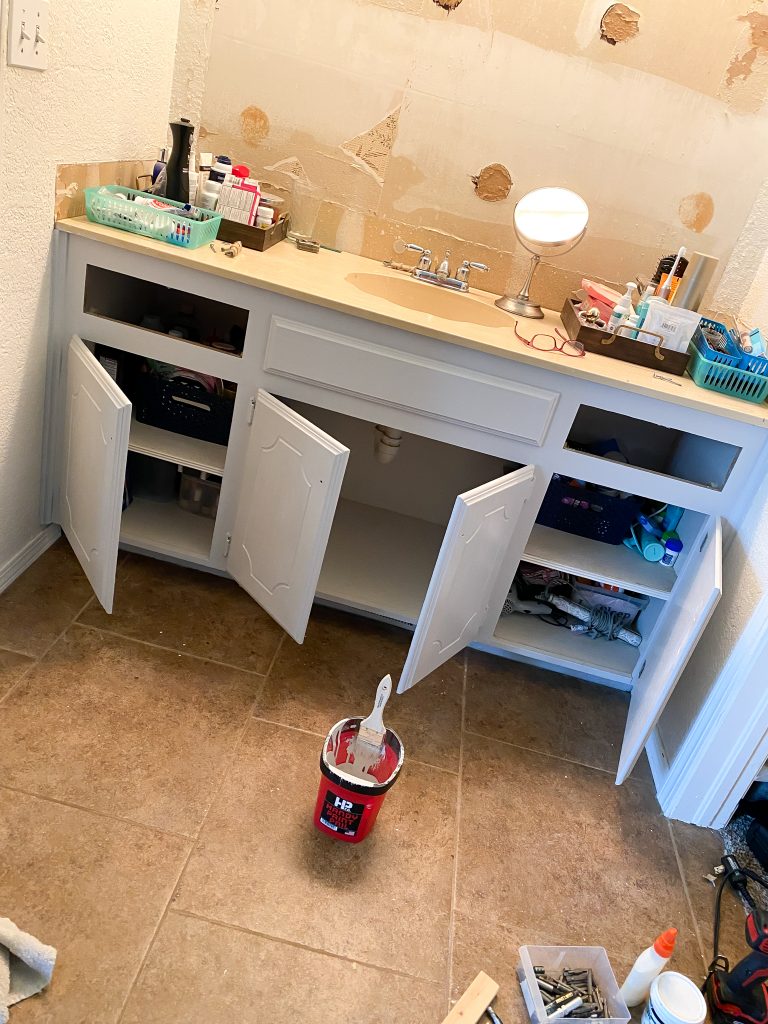 I also knew I was changing the hardware color, so I was either going to have to spray paint the hardware to much, or *gasp* paint it the door color. I decided to just go with painting it the door color. If I hate it I can always take it off and spray paint them.
Some affiliate links used for your convenience. See disclosures for more details.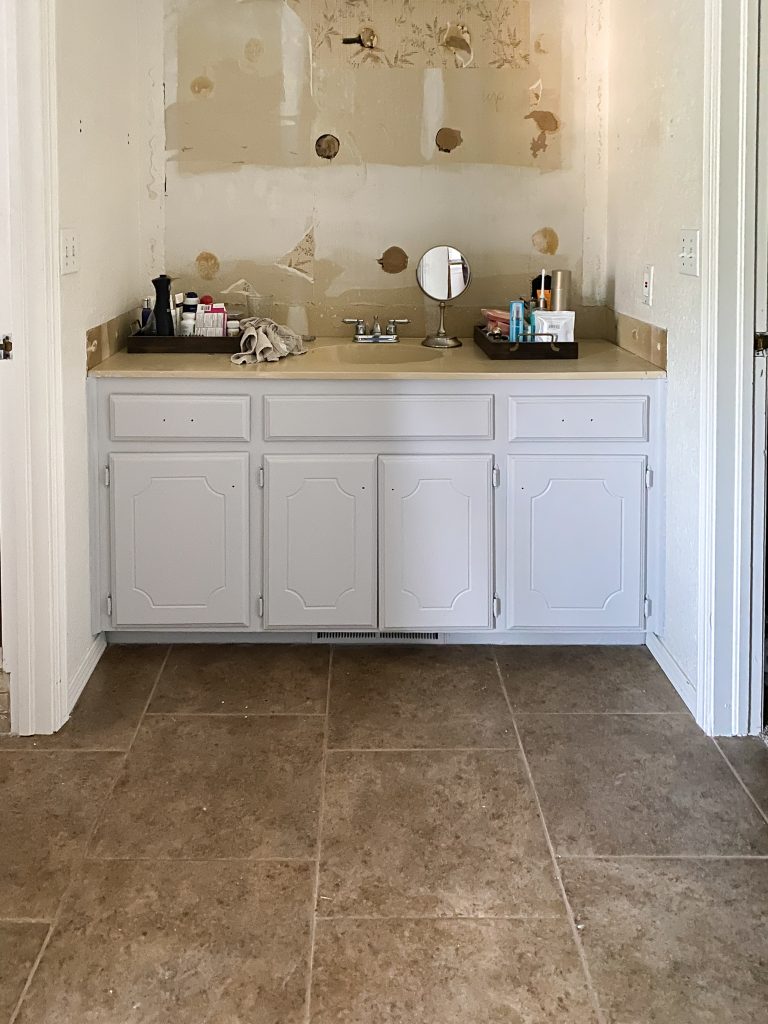 This little paint pail really does all the hard work for you! Between the handle on the back and the magnet to hold your brush it really is the perfect helper! I used to use plastic cups to paint small project, but by the end my hand was cramping, I usually had a mess from trying to refill the cup, and my brush was a mess. This little guy is big enough that you don't have to refill it for most projects. You can also get disposable liners to fit which save time with clean-up. Perfect!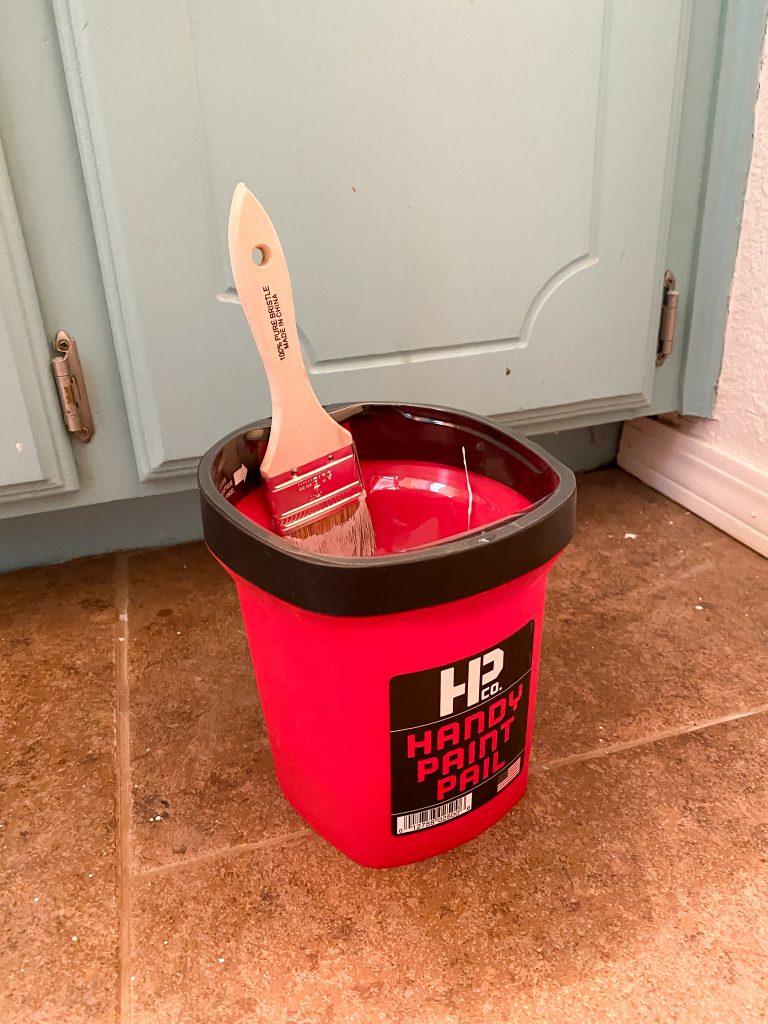 Next up – Cutting to size and finishing the butcher block counter.
Probably one of the most nerve-wracking things we've done over the years – cutting the counter down to size, and then cutting the hole for the sink. When you spend that much money on something mistakes are not an option. Yikes! Hubby was a rockstar though and it looks amazing! We for sure followed the adage "measure twice (or three or four times) cut once".
After cutting, then came finishing. Again with the stress. What color stain? No stain? It took me a whole day to decide something that usually takes me like 30 minutes. Thankfully I'm really happy with my choice. Again, my trusty Handy Paint product to the rescue. This time the Handy Pro Pail was the perfect helper. I used a mini foam roller to roll on several light coats of Polycrylic.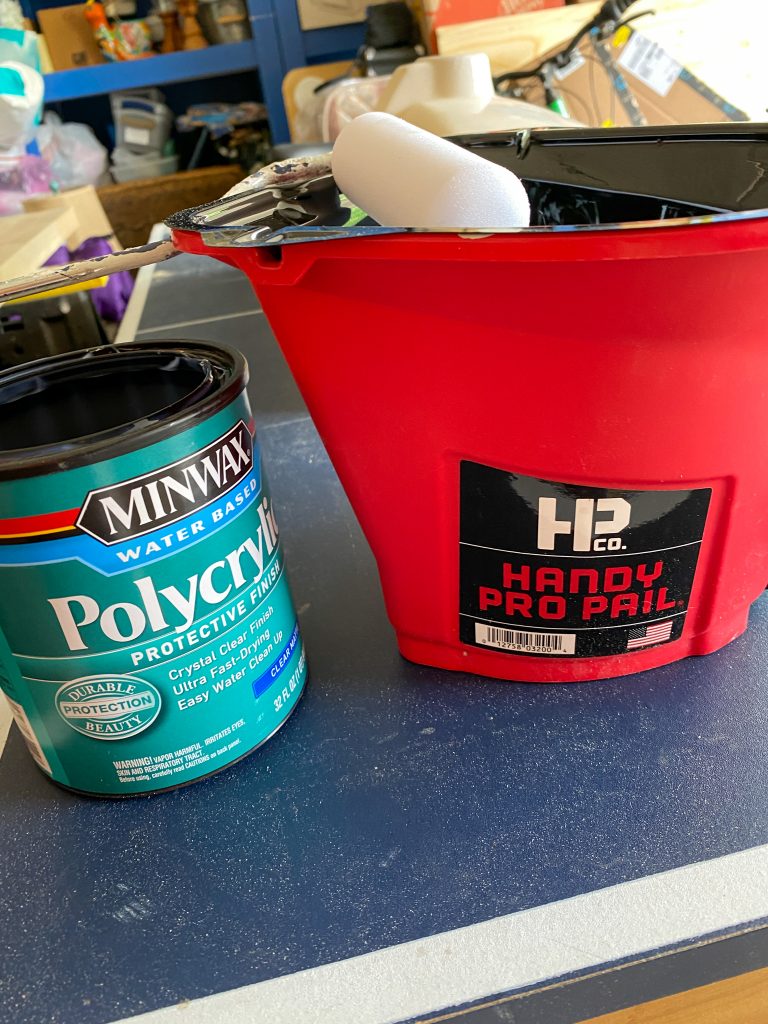 Polycrylic Clear Matte / Handy Pro Pail Liners / Foam Roller
Here's a sneak peek of the result. I'm in love!!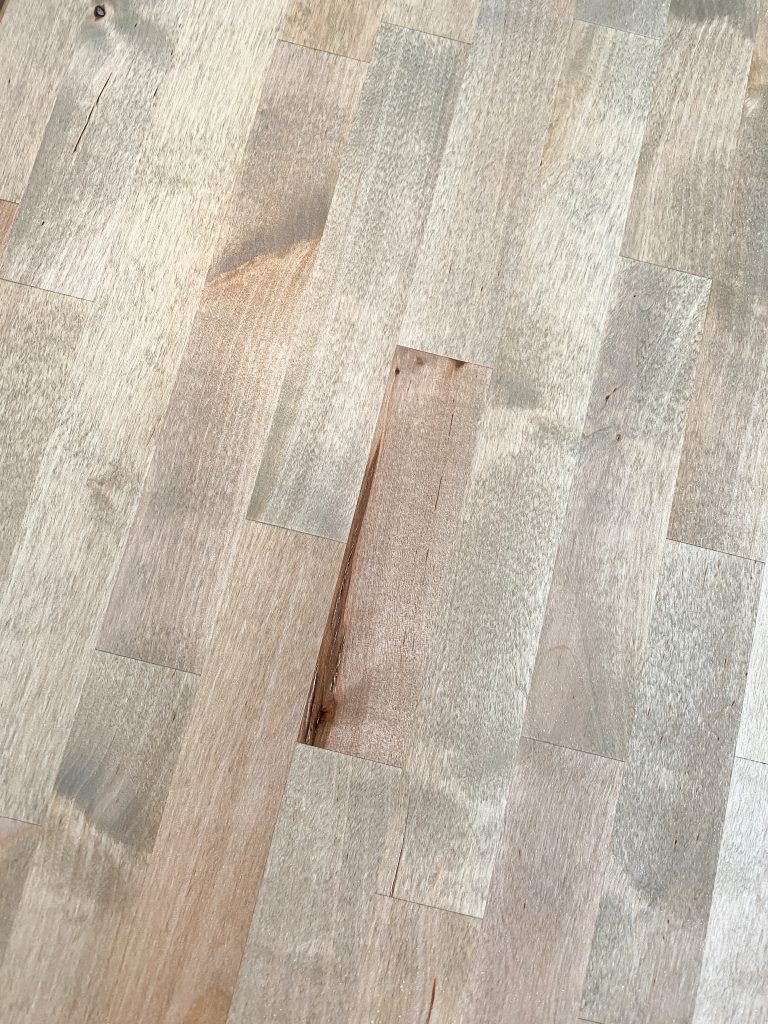 Let's check in on our to-do list and see how we're doing!
Project List
Scrape and paint ceiling (also in closet and shower/toilet room)
Paint vanity
Barn doors to separate bathroom from bedroom
Remove mirror
Shiplap walls
Take out old countertop (halfway there)
Prep butcher block coutertop
Install – butcher block countertop
Install new sink and faucet
Install new mirror
Install new light fixture
Accessorize 🙂
We are getting there! Most of our deliveries have arrived. We have the new faucet and the light fixture (which I'm thrilled about BTW). Oh, and the new cabinet hardware, which I LOVE! We are just waiting on the barn door hardware so we can get started on that. Yay! We have nailed down the design for the barn doors so we just need to get the supplies and get those put together. The shiplap will happen when we get the counter in. That's coming. Hopefully next week!
Lots of great progress happening all over this challenge! Check out the featured designers updates and the other guest participants as well! Lots of inspo to be had! See ya next week!