Today is the day! Today we kick off another One Room Challenge! If you are curious still as to what that is – check out this post for a full description. Things are a tiny bit different this time around considering the conditions with covid19 – we are starting a month later than planned and our organizer has graciously given us 8 weeks to finish instead of the usual 6. So, are you curious what room we are tackling?? Well, lucky for you, you don't have to wait any longer!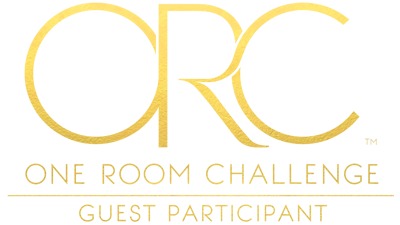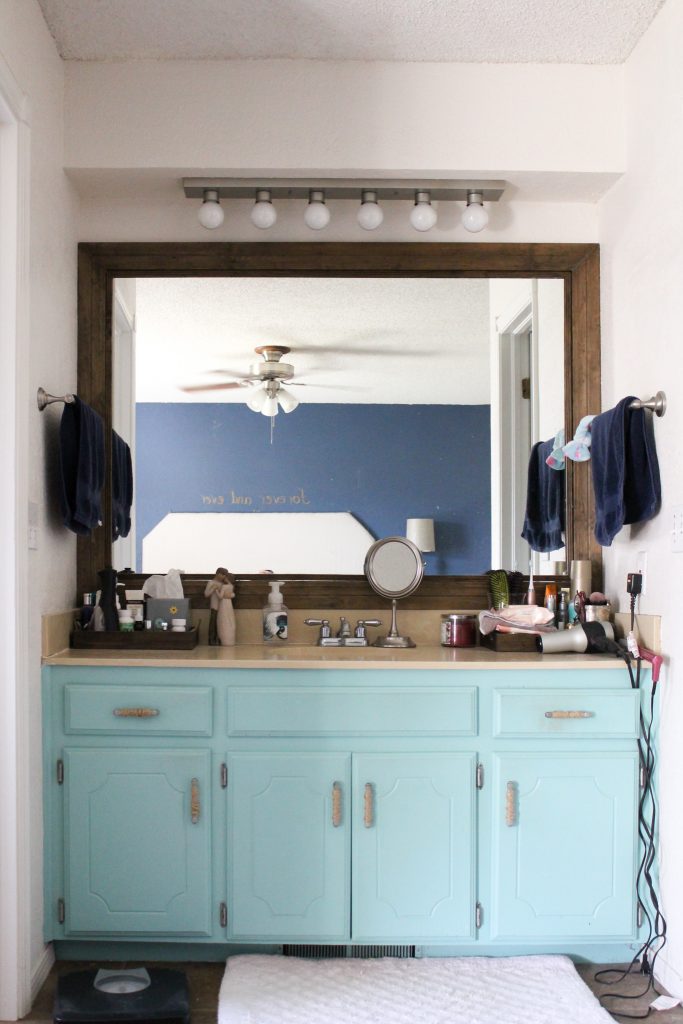 This season we are excited to makeover our master bathroom! A room that has been a thorn in my side since we moved into this house 19 years ago. We have done several small 'updates' of this space, but we've never really taken care of the blaring problems that annoy us the most. So, that's what we're doing this time around.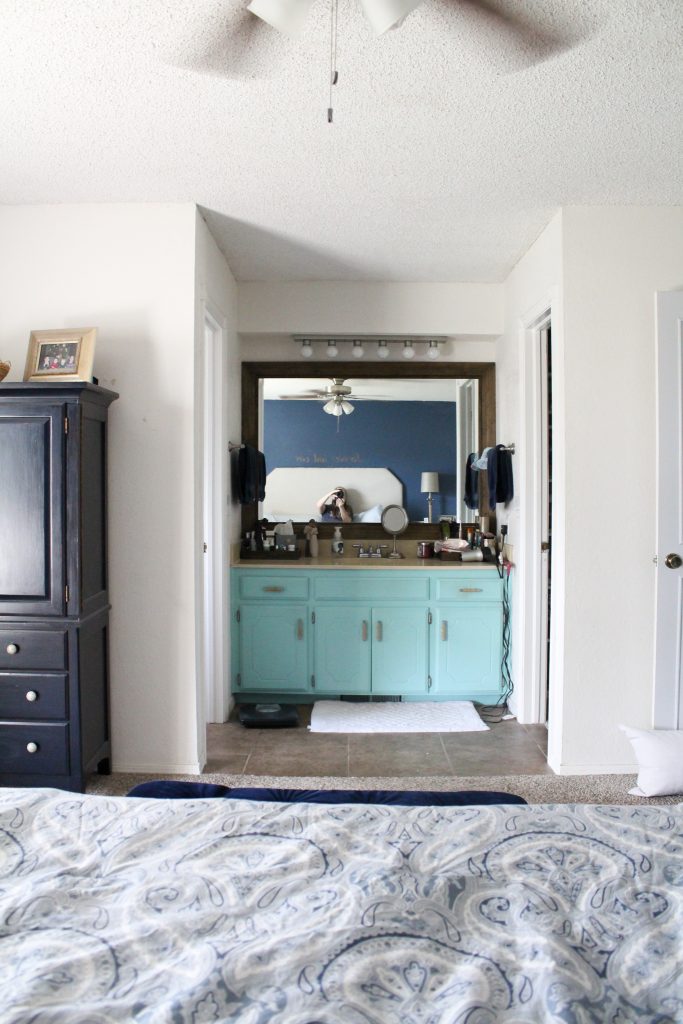 What are those problems?? Well, first and foremost is the fact that the sink part of our bathroom is OPEN to the master bedroom. I know we are not the only ones with this design in their homes. It seems to have been very popular in the 80s when our home was built. Not sure why. We are brainstorming ideas to remedy this!
Next problem?? That terrible sink and coutertop. It's the same as the one we just removed in our second bathroom. Another 80s gem for sure. (ignore the dirty mirror please :))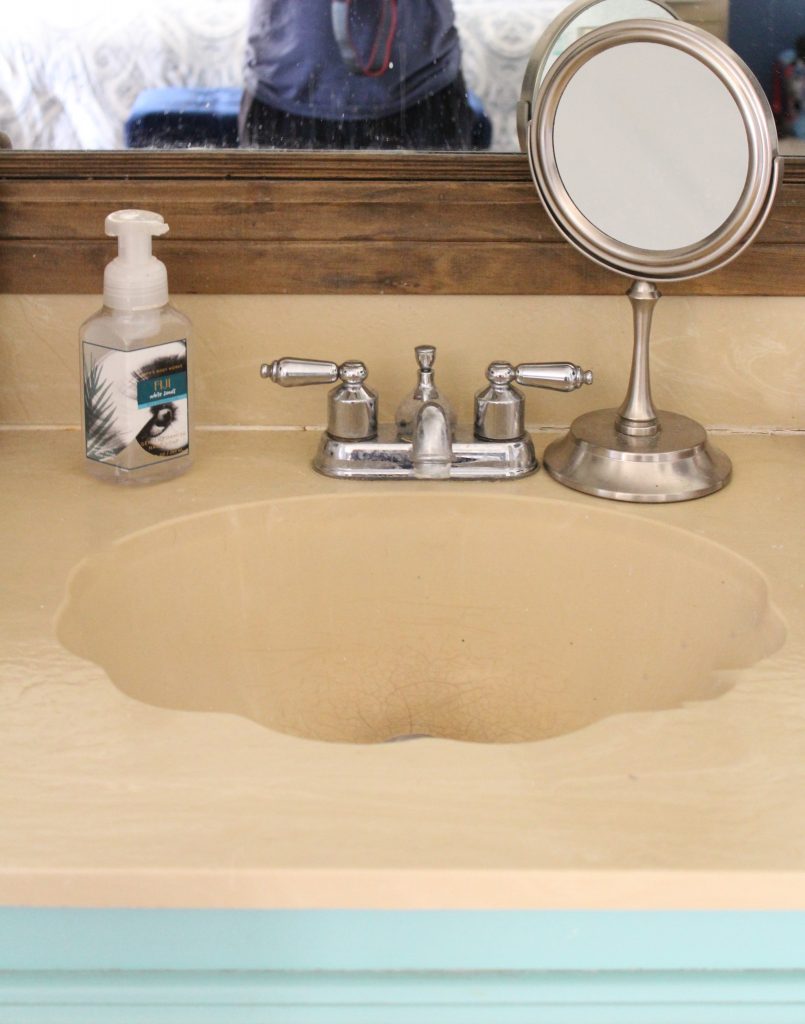 Other problems?? The massive mirror, which I have love/hate feelings for. And, the terrible hollywood lights.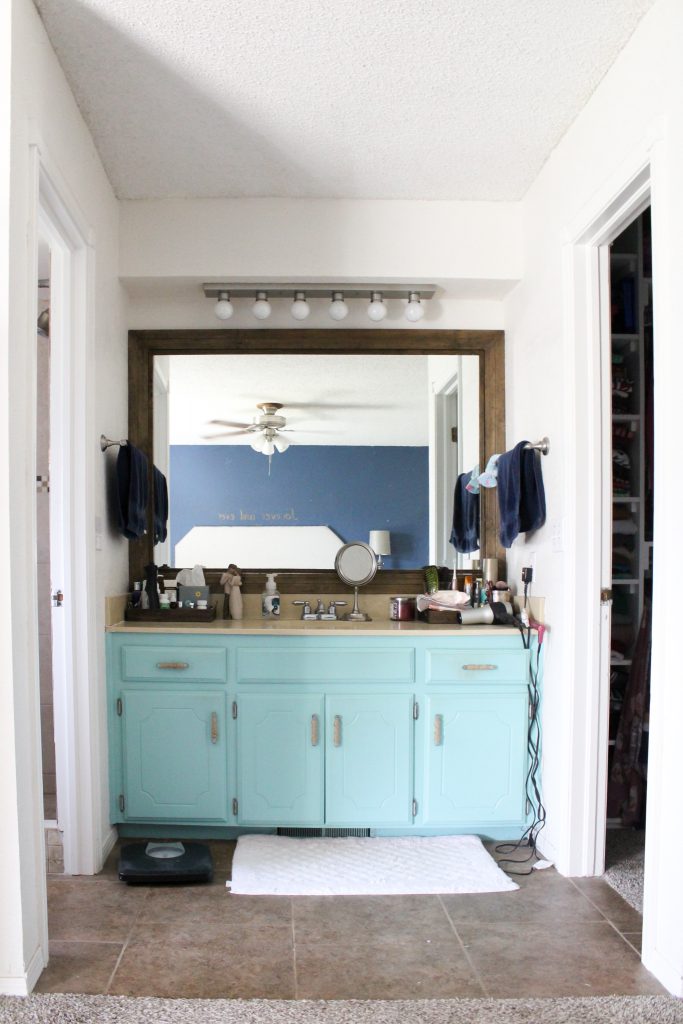 This will not be a total gut-job. We considered that but we just didn't want to make that big of an investment for a home we're not planning on keeping forever. We are planning to keep the whole project under $1000. But, don't worry, it will look completely different when we are finished and all of the problems will be no more!
Not pictured in these before pics is the shower/toilet area to the right of the sink area. We updated that are several years ago by removing the tub and tiling the shower area. It might get a little bit of a spruce up (depending on time) to make the whole space mesh together, but again, no major overhaul.
I would love for you to follow along! I will be posting an update every Thursday until the challenge is complete. If you want to be sure not to miss an update sign-up to receive an email every time I post (box to the right of this blog post), follow me on Facebook or Instagram. If you're following on Instagram be sure to watch stories where I will be giving you a behind the scenes look of the progress and the process.
Also, be sure to check out all the others joining in this challenge! There are featured designers that are sure to knock your socks off with their rooms, and guest participants like myself that will be working hard and wowing you as well! Enjoy!