Hello friends! It's been a hot minute! I have so much to share with you today! I'm so in love with the way this bathroom is turning out that I want to share all of it, but I have to keep something for the reveal! We've gotten a lot done over the last couple of weeks and I'm feeling much more encouraged about finishing on time, and also so thankful for the extra two weeks, because originally today would have been reveal day…ack!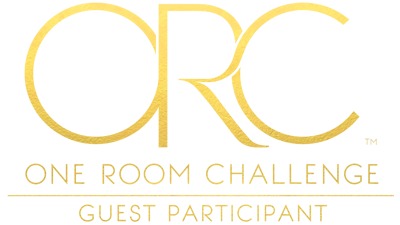 So what's new?? Well, after waiting far too long for our plumbing situation to be fixed, hubby decided to turn to google and YouTube. He discovered pretty quickly that it was actually a pretty easy job that he could most definitely do himself. So, he did! So very thankful for a hubby that is willing to tackle things on his own!
Some affiliate links used for your convenience. See disclosures for more details.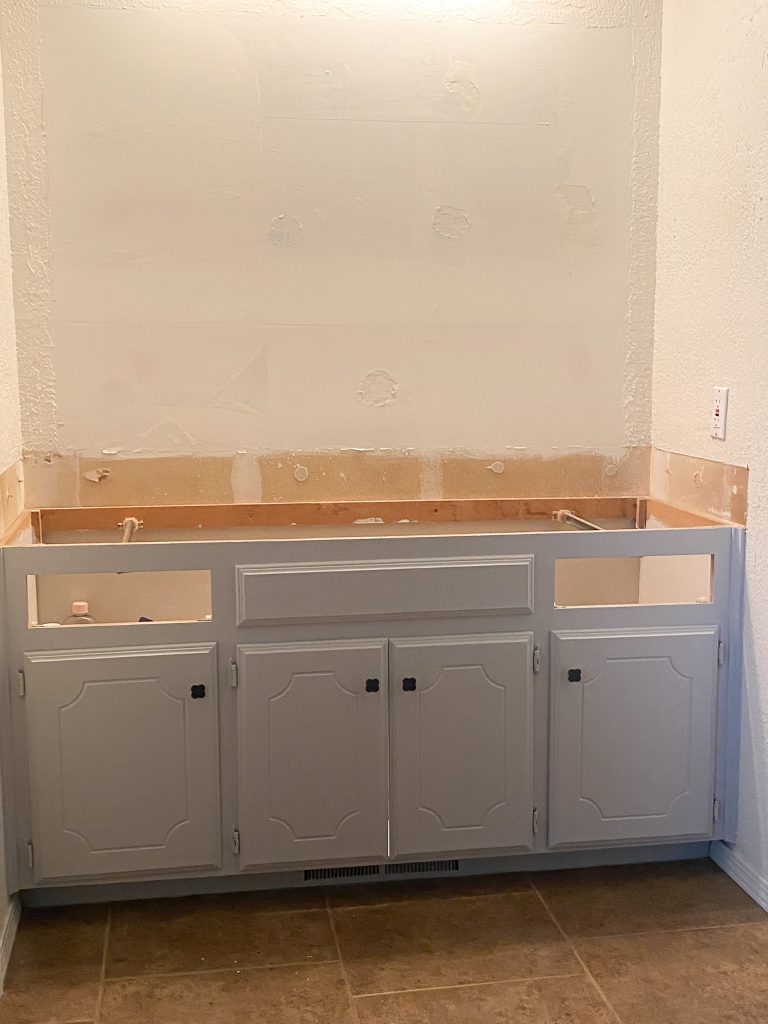 So, with that issue out of the way we were able to move forward with replacing the counter, sink, and faucet. Yay!! What a difference right?!? Yes, I would have loved to do double sinks in here, and technically we have the room. But, honestly that just wasn't in the budget. Most of the time hubby and I don't have a problem sharing this space, so we're good.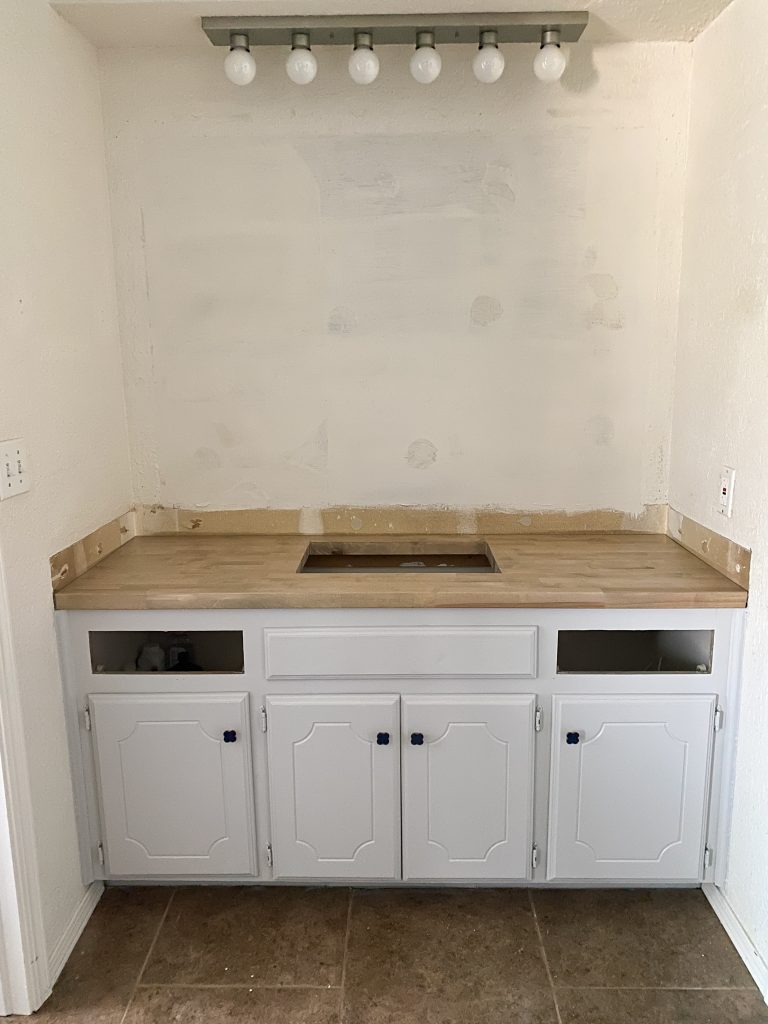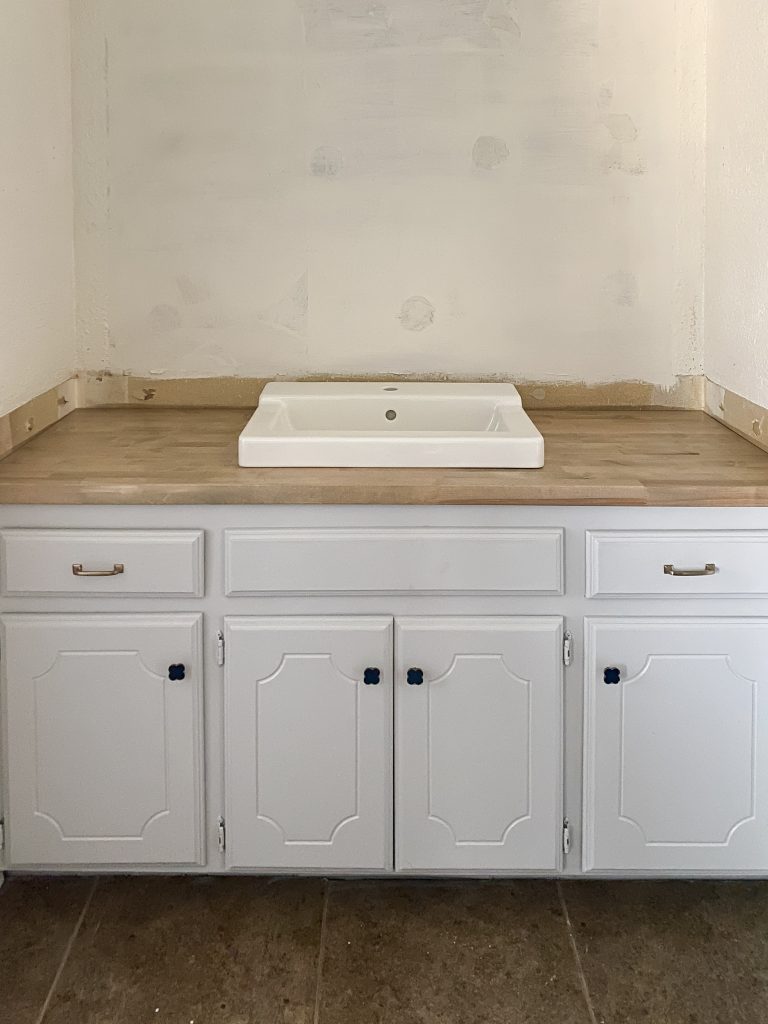 Loving it so much!! In addition to that we also built the header in the opening for the barn doors. Again, something we've never done before, but with a little help from a few several YouTube videos, we felt pretty confident.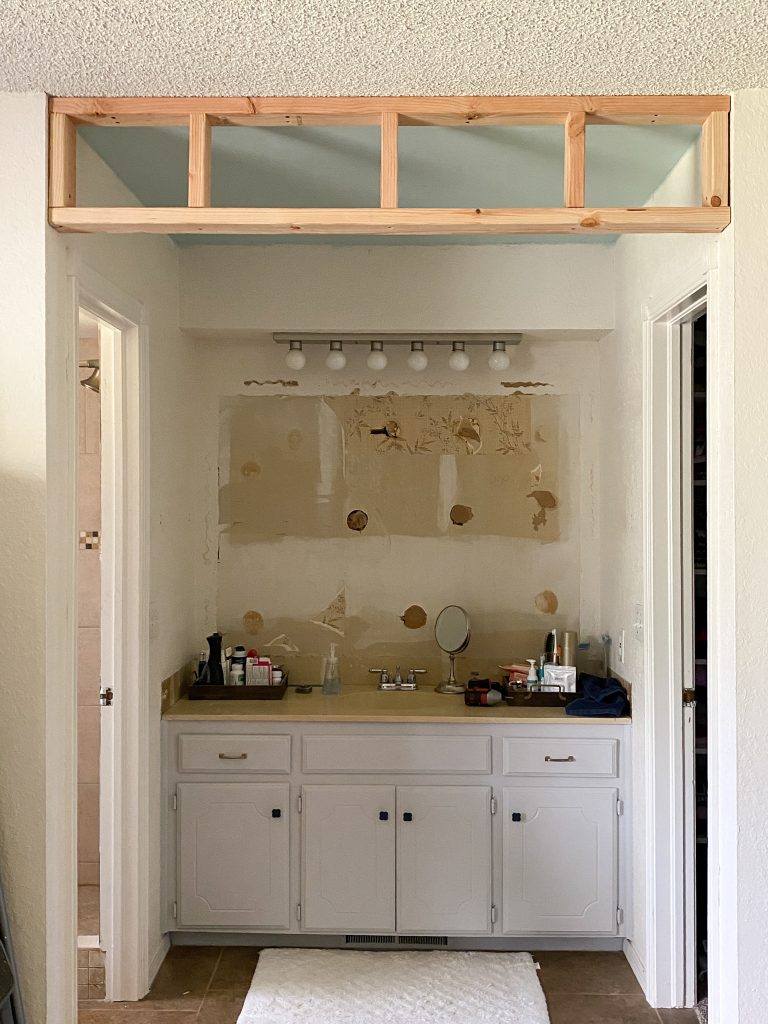 My boys were just dying to hang on it when we were done, to see if it would hold them. I was a tad nervous about that, but thought it would definitely be a good test, so…they did, and it held! I call that a DIY win for sure!! Obviously somewhere in between all of this I painted that back sink wall to prep for the shiplap. Definitely a must so you don't have weird things showing through the cracks in the faux shiplap.
Next task was drywalling the header, and starting the faux shiplap. Two more things we've never done before. We've done a little bit or drywall patch work. But, let me tell you, it's not our strong suit. I'm glad that I only have to mud and tape one side of the header haha.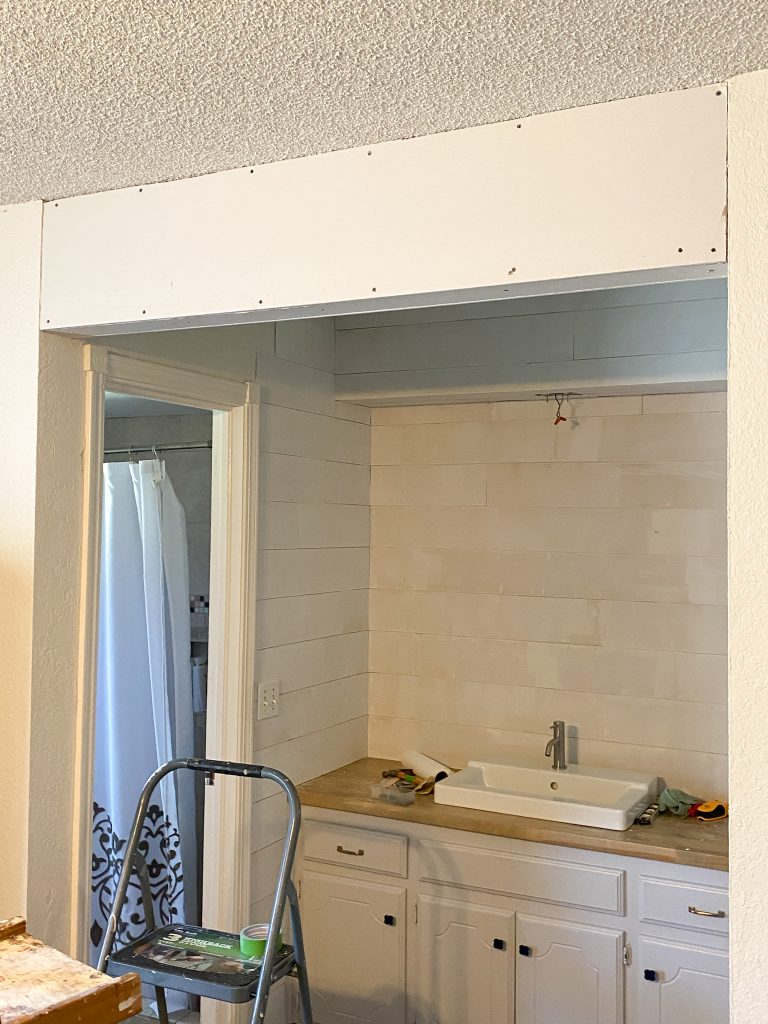 The faux shiplap has not been hard, just somewhat time consuming. Since our bathroom is on the complete opposite side of the house from the garage where the saw was…lots of walking. The chop saw is super messy, so there was no way I was bringing that inside. So, it was measure, walk to cut, paint, walk back to install, measure, walk to cut, paint, walk back to install, and repeat, and repeat, and repeat…you get the idea!
Here are a couple of close ups of the details. In love with all of them!! The countertop is from Home Depot and we love it. The sink is from IKEA and was the best price we could find anywhere for something in this style. The faucet is from Amazon and is amazing quality for the price!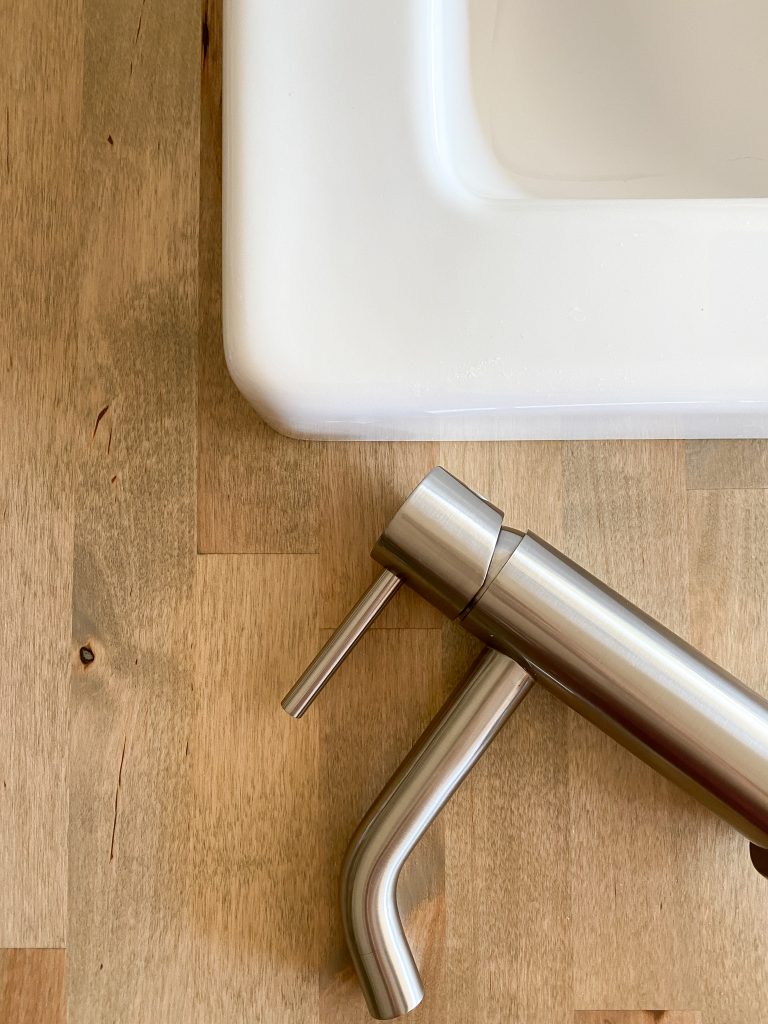 Those knobs were love at first sight!! They are from DLawless Hardware, one of my favorite sights for hardware at fair prices! The pulls are also from DLawless.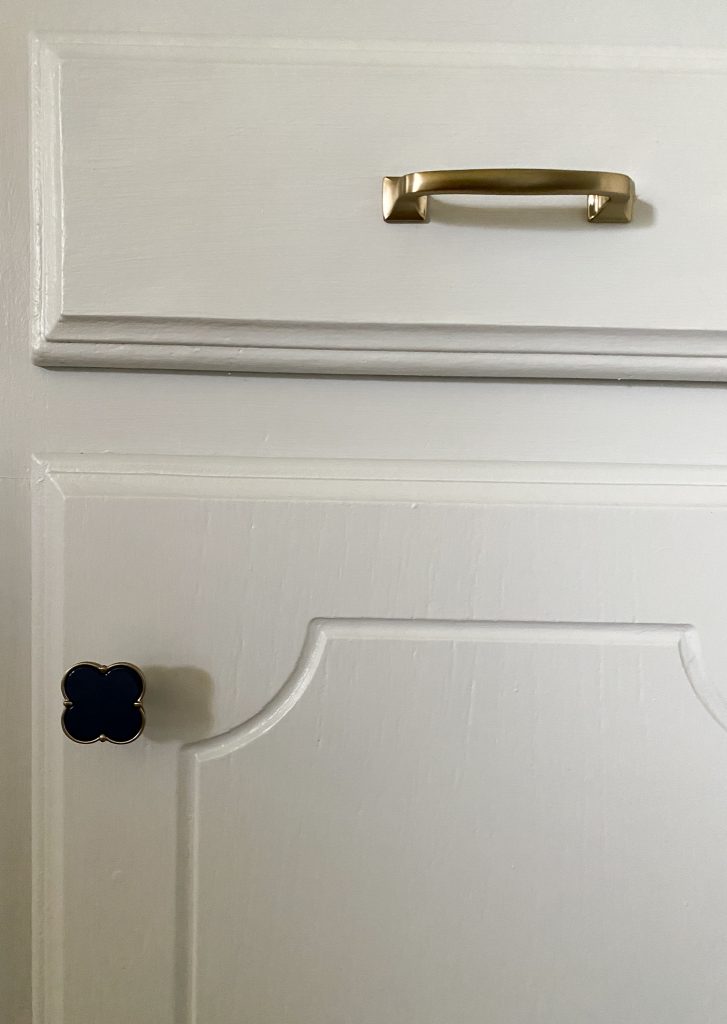 I've had my eye on this rug from Hobby Lobby for a while. I'm glad I finally found a good place to use it! Of course, I bought it when it was 50% off! I'll be sharing soon how I plan and budget for projects like this to make sure we get the most bang for our buck! It takes a little extra time on the front end, but saving money AND getting what I want makes it worth it!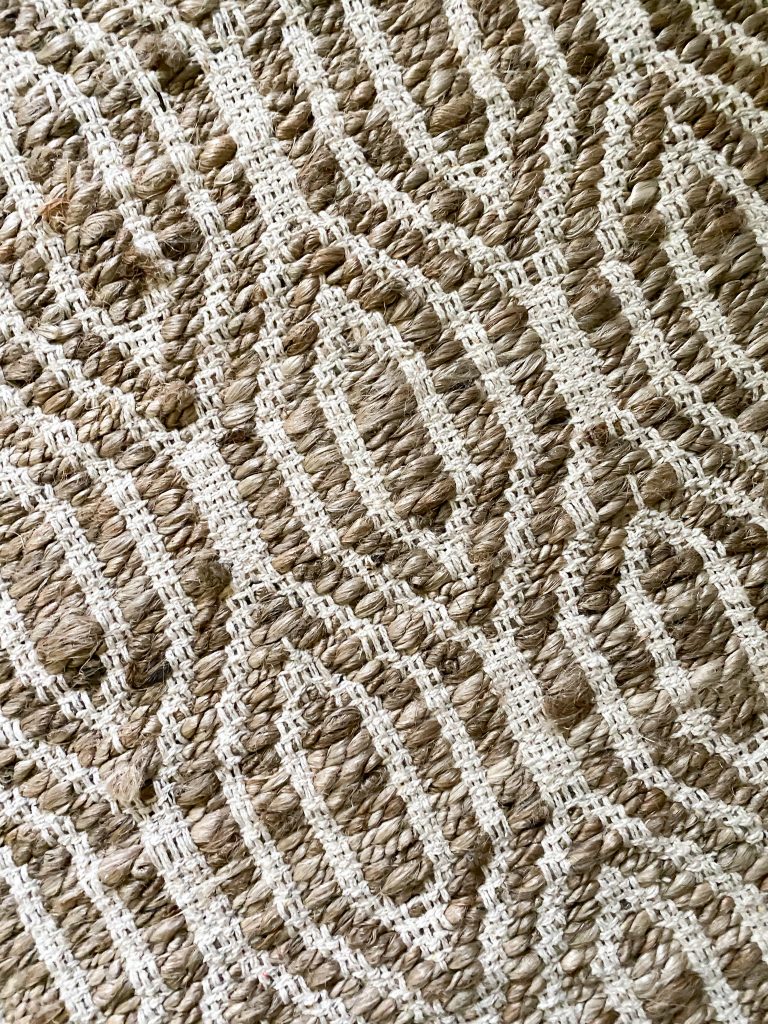 Let's check in on the to do list, shall we?
Project List
Scrape and paint ceiling (also in closet and shower/toilet room)
Paint vanity
Build header for barn doors
Build barn doors
Install Barn doors to separate bathroom from bedroom
Remove mirror
Shiplap walls (halfway done)
Paint shiplap
Take out old countertop (halfway there)
Prep butcher block coutertop
Install – butcher block countertop
Install new sink and faucet
Install new mirror
Install new light fixture
Accessorize 🙂
We are getting there! This is a big install week which is super awesome! I love seeing everything come together!
Be sure to check out all the progress happening with the other ORCers. Featured designers, and guest participants are all doing amazing work. Thanks again for following along! We are having quite a bit of fun with this makeover!