So before we had our small graduation celebration about a month ago, I spent some time finishing up a little patio update that I had been working on. This was however, in the middle of the One Room Challenge and I didn't have the time to photograph and share with y'all. So I'm sharing now!!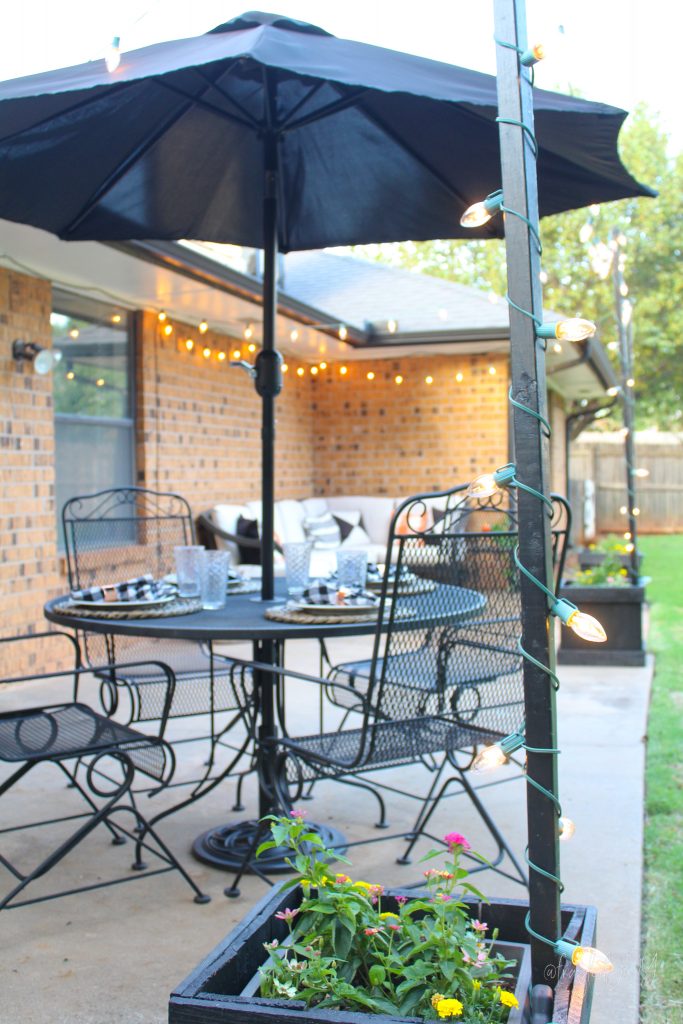 This is what it looked like before.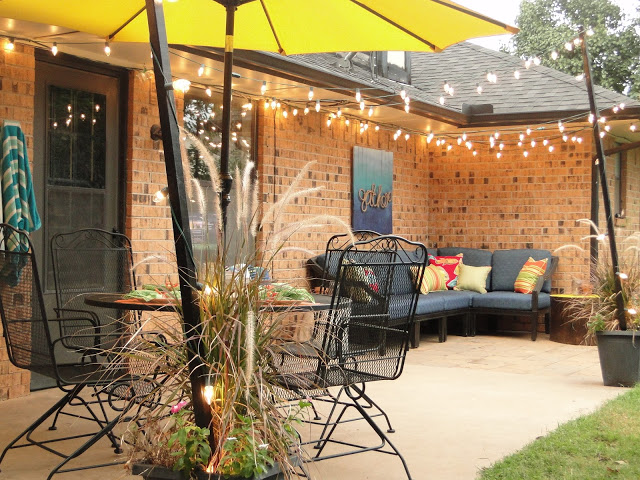 I actually really liked the space, but the covers on the cushions were starting to break down. Like dust would come off on your hands, or your clothes, or whatever happened to rub up against them. And that really doesn't work now does it??  😆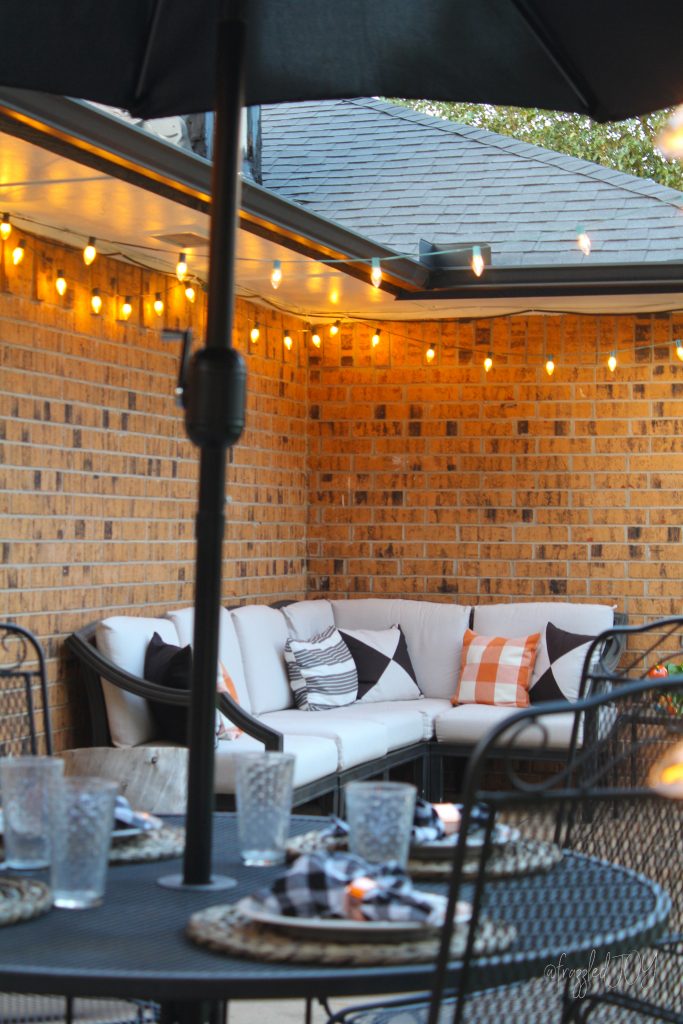 I spent quite a bit of time searching for inexpensive replacement cushions. Because, you see, I had already recovered these once. And it was quite a bit of work. Doable, but very time consuming. And…it's pretty difficult to find inexpensive outdoor fabric.
But, I just couldn't find an affordable option, so I decided to go ahead and recover them myself. I wanted something light and bright, so I decided to go with one of my favorite go-to 'fabrics' – canvas dropcloth.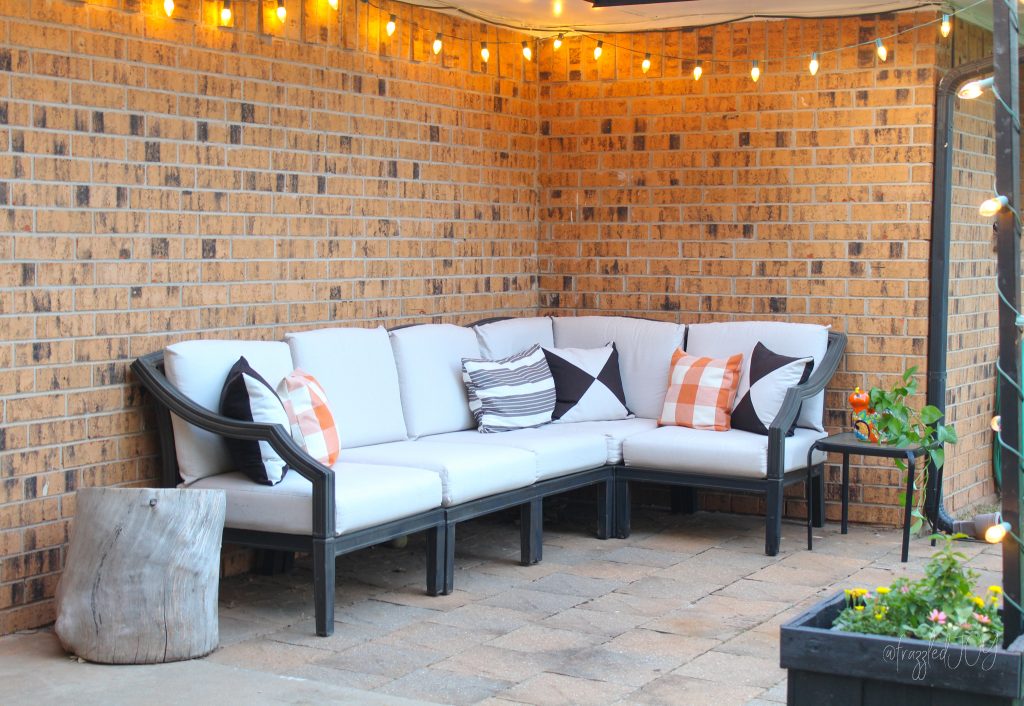 Some affiliate links used for your convenience. See disclosures for more details.
I knew I could get a couple of large ones for way cheaper than any other fabric option, and I decided to sew more of a slipcover this time this could be removed and washed. I used two of these heavy duty canvas dropcolths. They have a seam down the middle, but I was able to work around that with no problem and little waste.
I found this roll of continuous zipper on Amazon and it was perfect for what I needed. Long zippers are expensive y'all and it's hard to find just the right size. Don't you just love the gold and those cute zipper pulls (which are included)??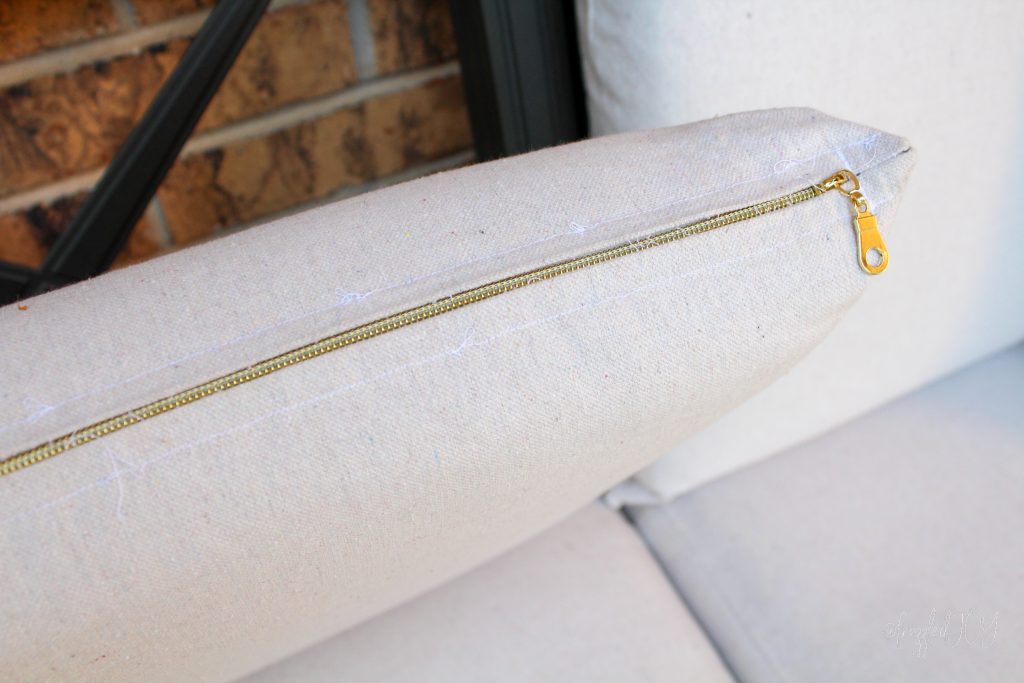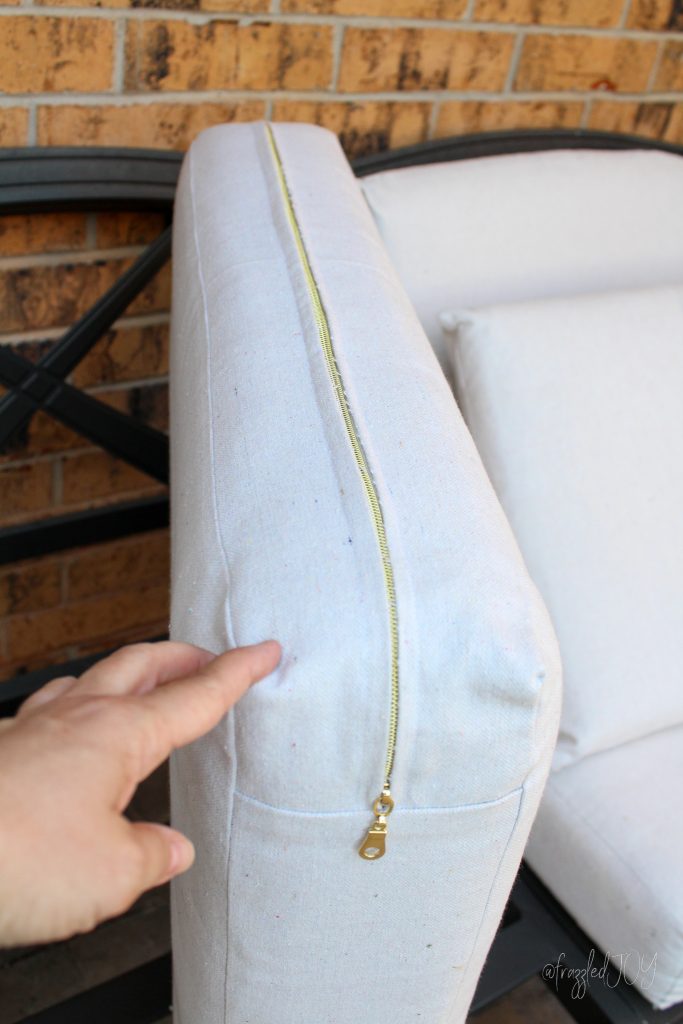 It took me a minute to figure out a good pattern for the seat cushions that would look tailored, but I did it! Thanks to all those years of 4-H sewing lessons! 🙂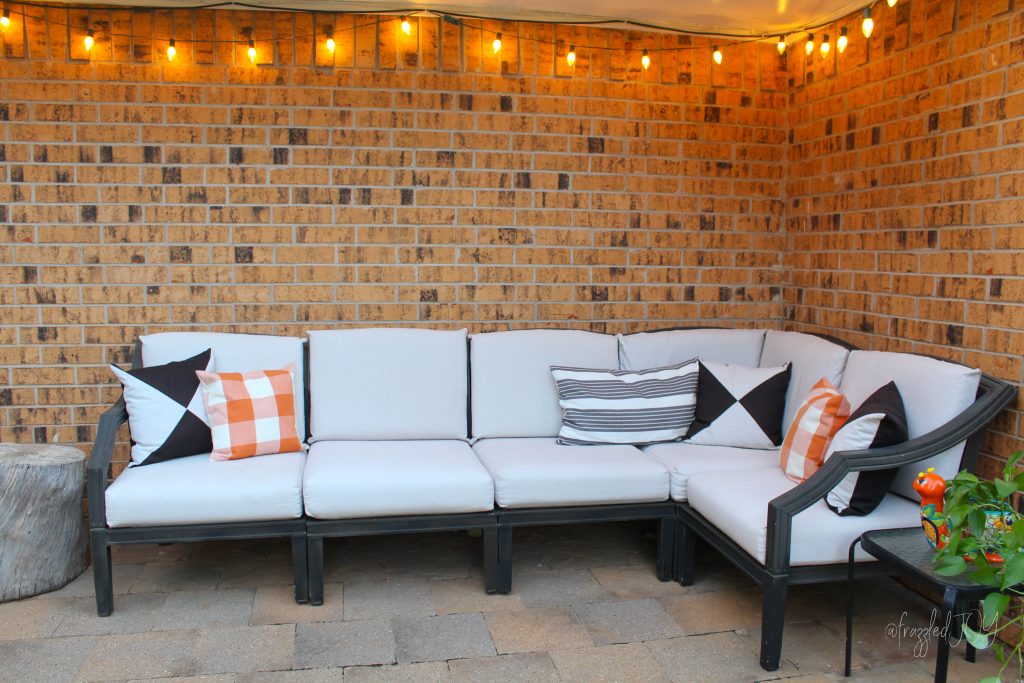 I love how they turned out. They might not last forever, but for now they are great! We do bring the cushions inside when we are expecting rain since our patio is not covered at all. But, I would probably do that even if the cushions had true outdoor fabric on them.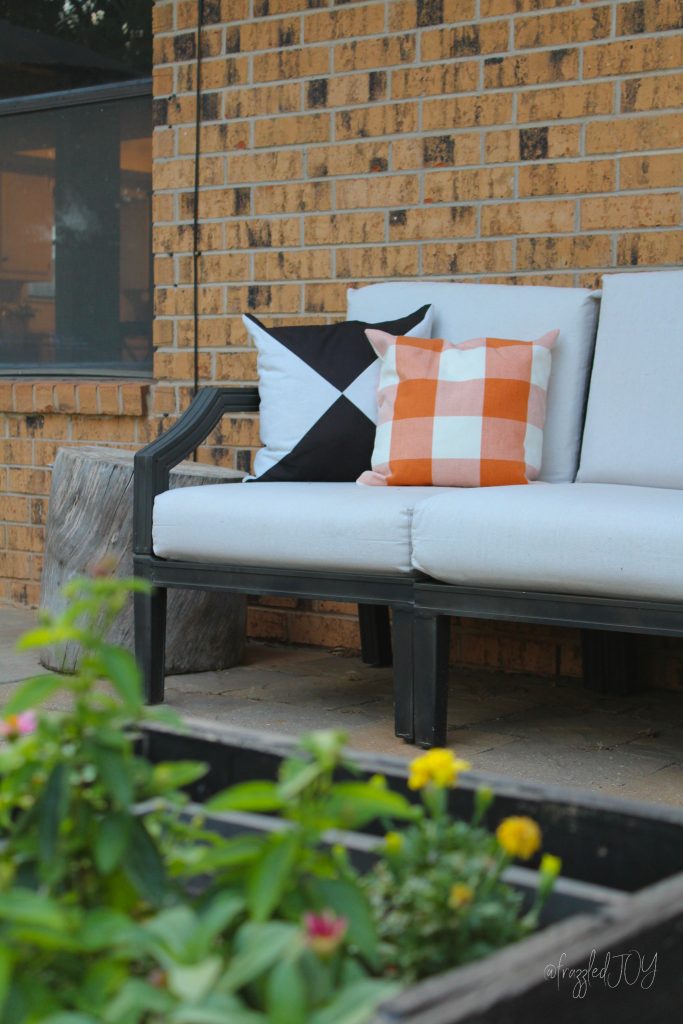 The two small orange pillows are from Amazon, the long pillow is an IKEA pillow cover, and the other pillow covers I made.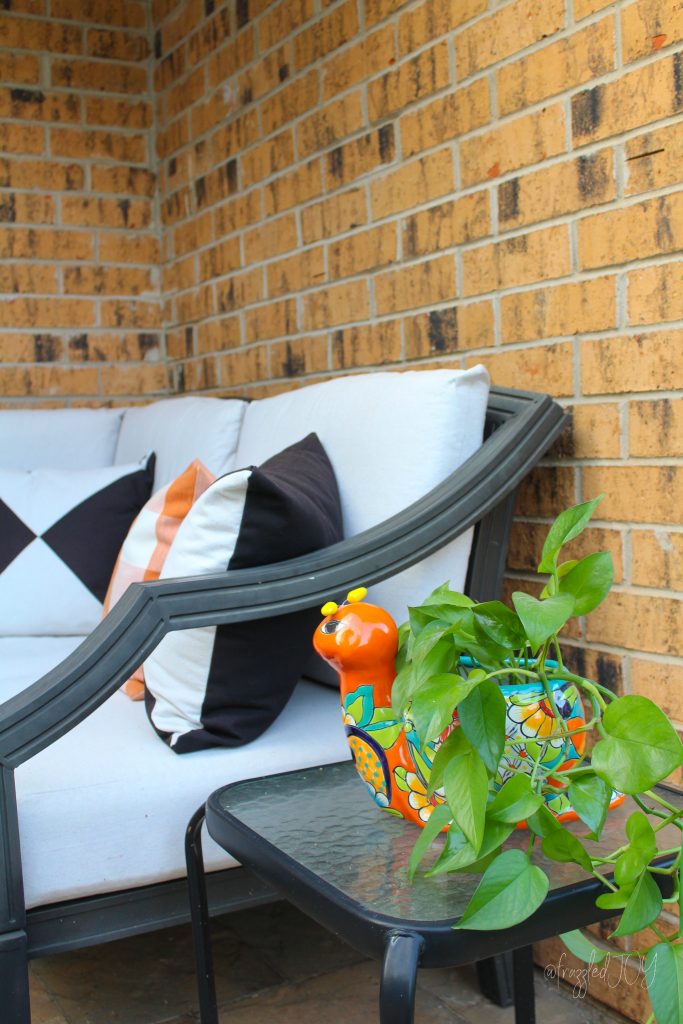 I love the simple geometric touch to an otherwise plain space.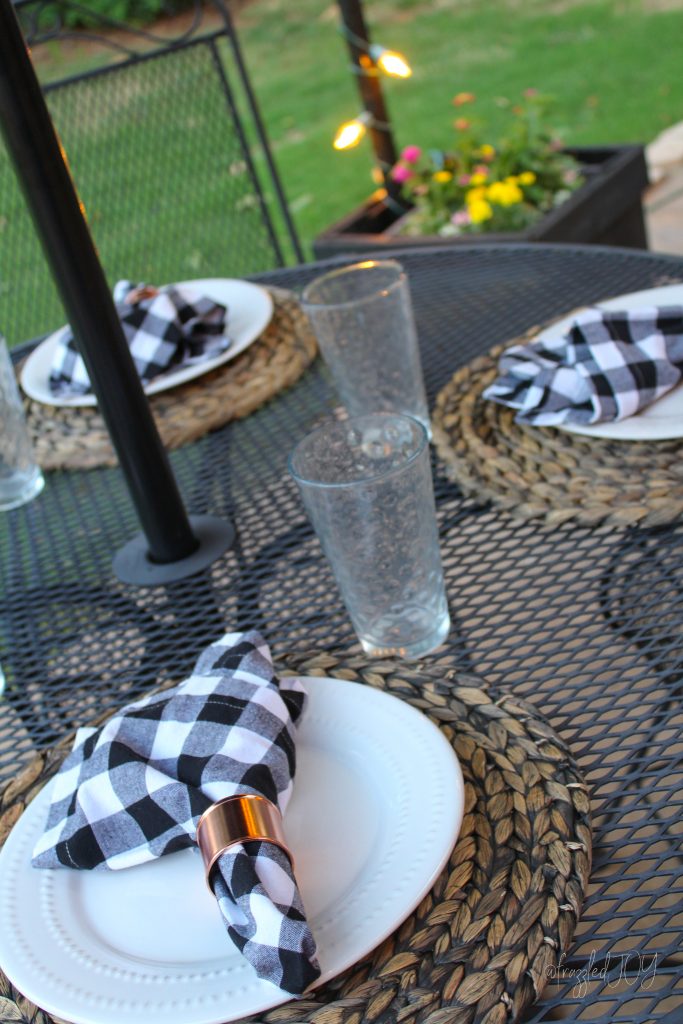 We bought a new coordinating patio umbrella for our table. We re-built our wood planters (using the same wood) and painted them black like the poles for the lights. Again, they're not perfect but they do the job and I love the cohesive look of everything!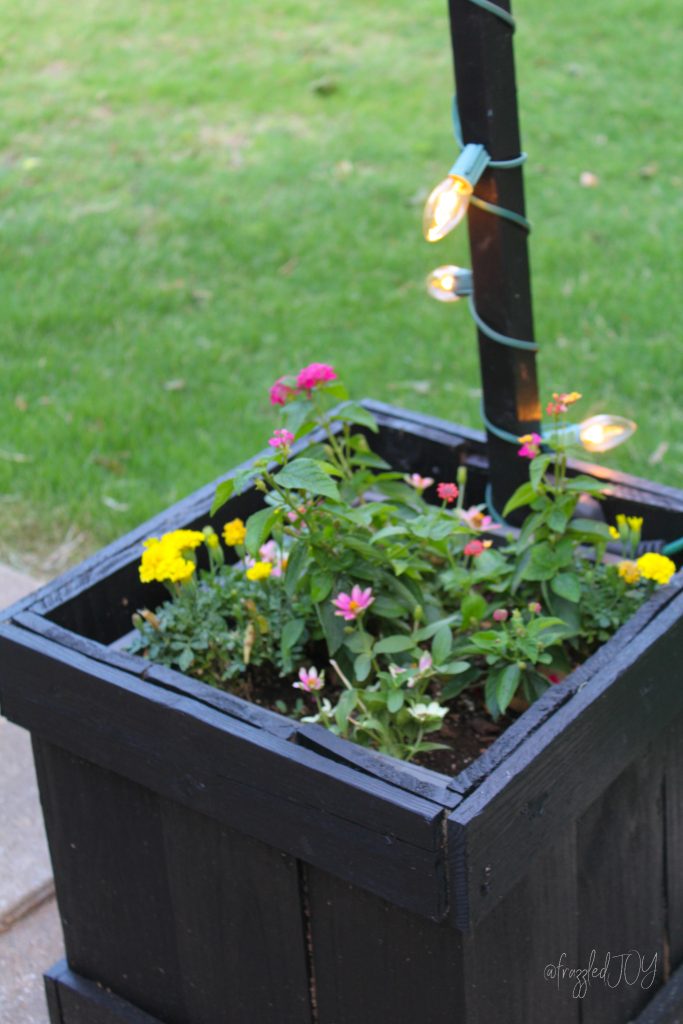 I love the tall ornamental grass I usually plant in the planters, but I also like to mix things up. My kiddos bought me flowers for mother's day this year, and I think the lantana will be great in here for the summer!!
I enjoy sitting out here every morning for my quiet time. It's really just the best spot!