Hey there friends! Every time I finish a big project like our bathroom makeover, I'm just tired. Physically, mentally, and creatively. It takes me a few weeks to rest my brain and get my creative juices flowing again.  😆 Well, thankfully I can report that the juices are flowing and I have several projects on the docket. Which means lots of great content coming your way! So, I thought I would give you a run-down. Just in case you might like a peek inside my brain. (trust me, you might not haha)
After finishing the vanity portion of our master bathroom, the shower/toilet portion is looking a little boring. Not too much going to happen in here, but just enough to freshen up the space. I'm planning to use the rest of the 'shiplap' wood I have leftover – not exactly sure how yet. I found a new shower curtain on clearance at Target, but it needs a little dressing up, and I plan you dress up the faux roman shade to match. I also need to go ahead and paint the ceiling to match the other bathroom portion and the closet. I've got some sanding and patching work to do first – since this was the first ceiling area I ever removed the popcorn from – it's a little rough.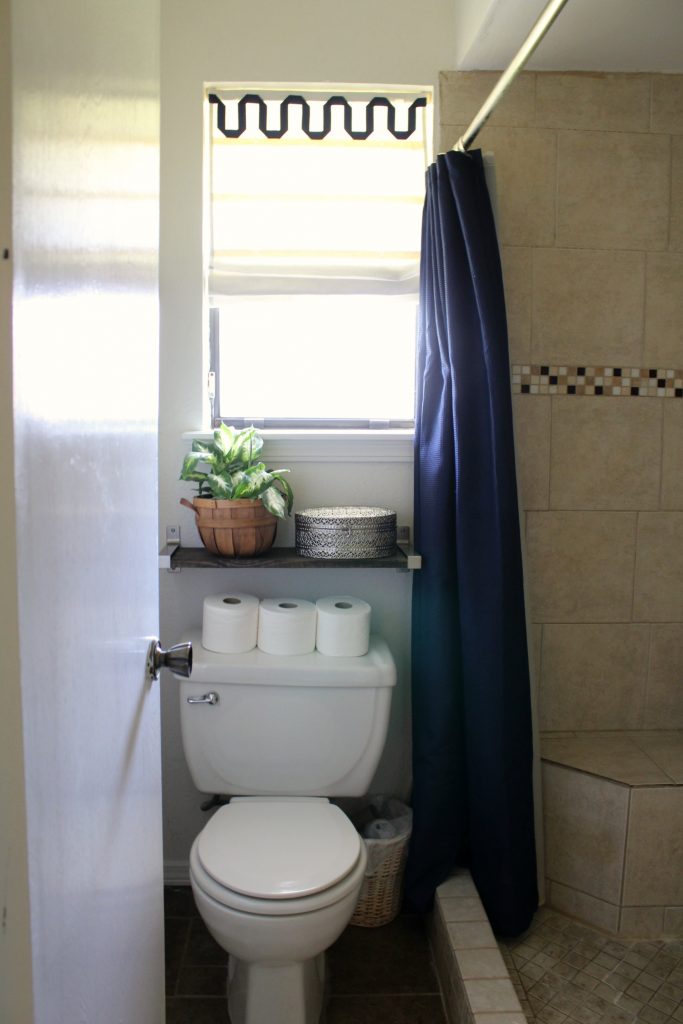 Hubby and I picked up a FREE table and chairs set about a month ago. It's solid and in great shape! I don't care for the color of the wood of course, and I'm not sure about the chairs. I wasn't sure about the size at first – but the interwebs tell me I can fit 6 chairs around a 48″ table. So, we're gonna give it a shot. If I like it, then there will be a table makeover coming! I've wanted a round table for a while now so I'm really hoping it works!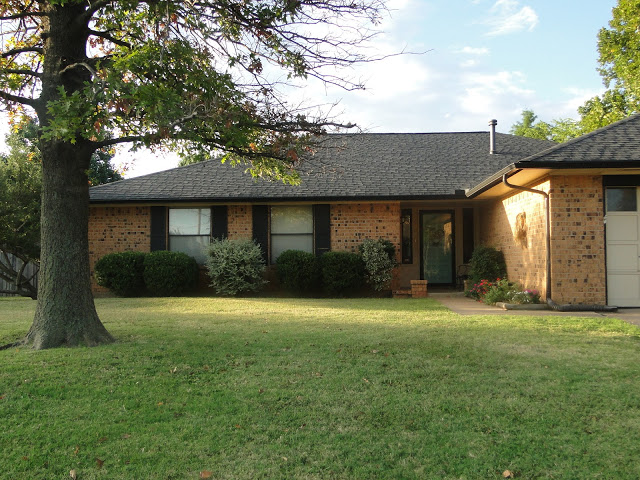 We have been working on our curb appeal for the past few years. (This is what it looked like before we started.) We've come a long way, but there are a few projects that still need to be done before I'm ready to show the world. 🙂 This particular project will probably wait until fall because I hate to sweat. 🙂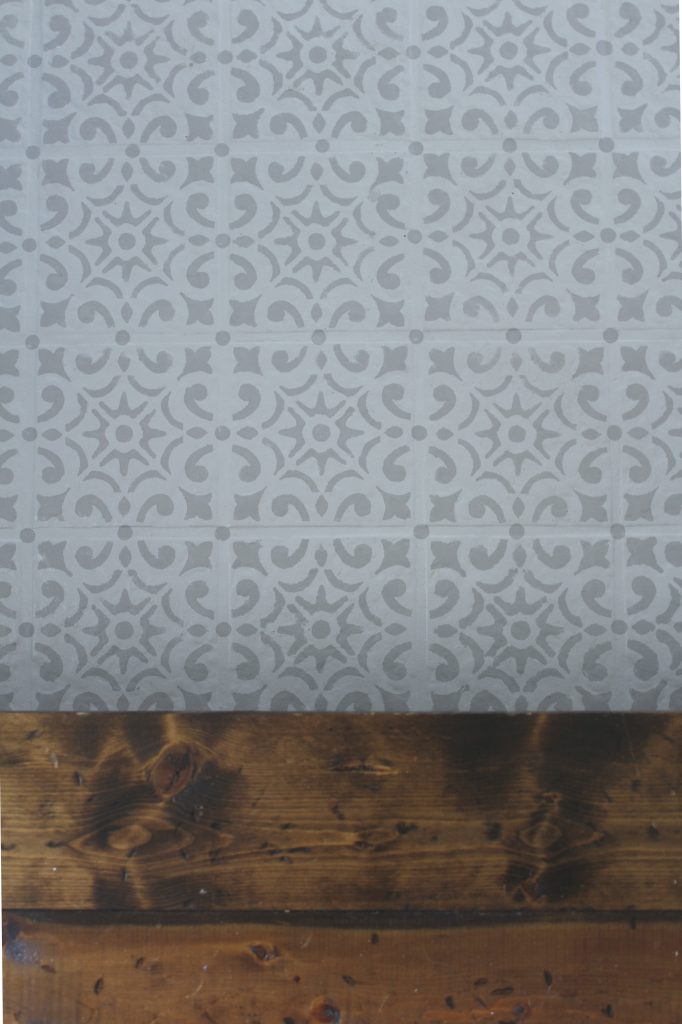 If you remember, I painted and stenciled our entryway tile a while back. And, while I love it, I didn't take the time I should have with the protective coating. Probably could've used a couple more coats. There are a few chips. Annnddd, I don't really like the design. It's just too busy for the space, considering the wall is stenciled as well. I have a plan, I just need to wait until the house isn't as occupied as it is now to get this done. Who knows when that will be.
And, last but not least. August will bring the great bedroom shuffle #1587951 and the last shuffle. As our middle son will be moving to college, our youngest son will FINALLY get the big bedroom. I have plans for his current room which aren't grand – an additional twin bed, a second nightstand, possibly some furniture painting, and probably new window treatments. I would love to do a side by side twin bed look, but alas, the room and the placement of the doors/window does not allow for it.
Whew! That's a lot! I told you, my brain is always thinking, scheming and moving on to the next project, whether I'm done with the current one or not. You guys are the absolute best cheerleaders and you are always so invested in my crazy projects and I thank you for that! Hopefully you are inspired by something along the way!