Back in October, after we got our college kids moved into their perspective homes, and I got our home back in order somewhat, I decided to spruce up the last bedroom. We were getting ready to host my son and daughter-in-love for the month of November as they transitioned to their new home in January. Over the years with kids moving out the room had been stripped of just about everything. All that was left was a bed, a bookshelf, and a dresser.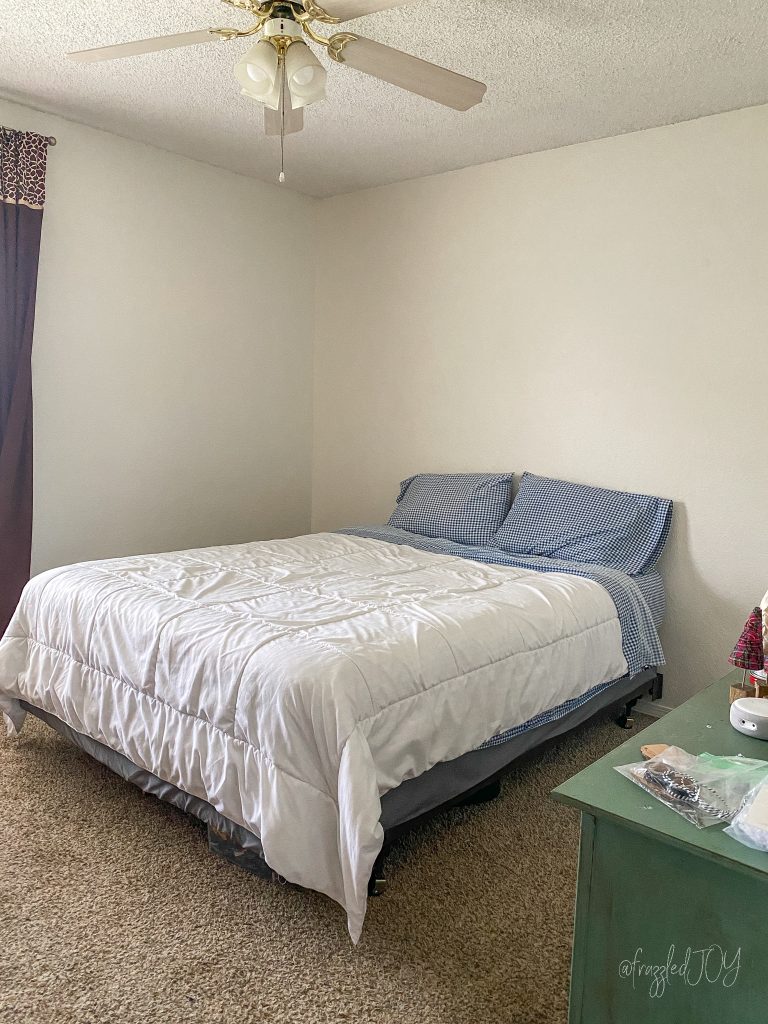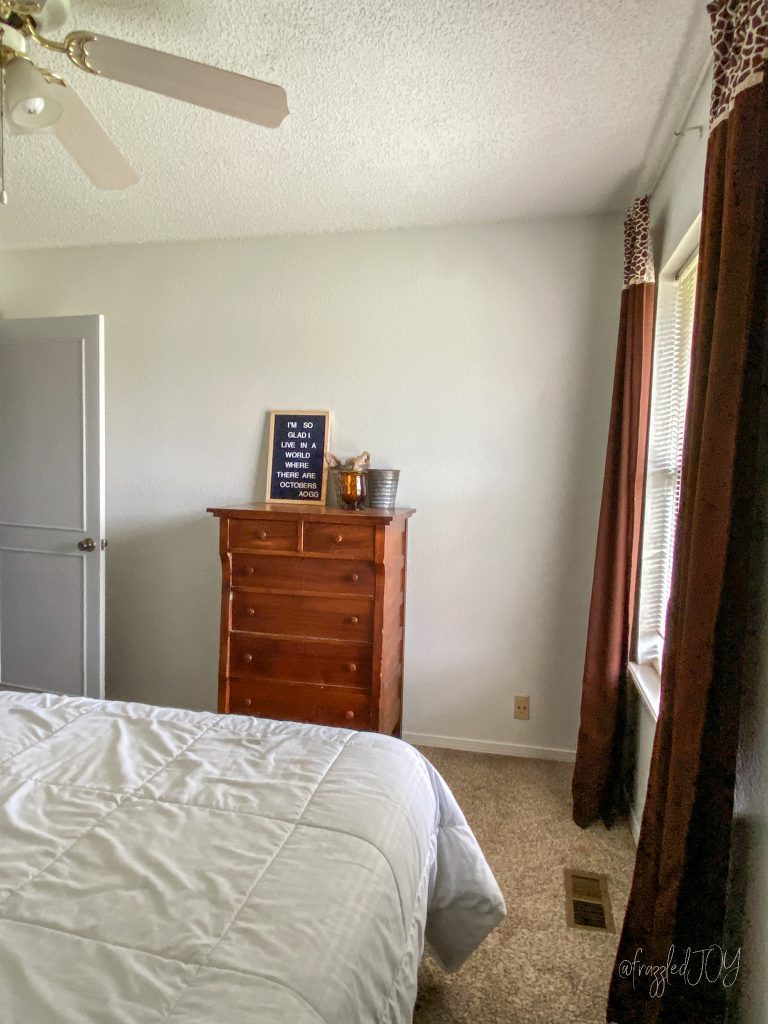 The bookshelf got moved out and I started shopping Facebook marketplace for beside tables and some sort of headboard. I scored both within a few weeks for under $100 for all of it.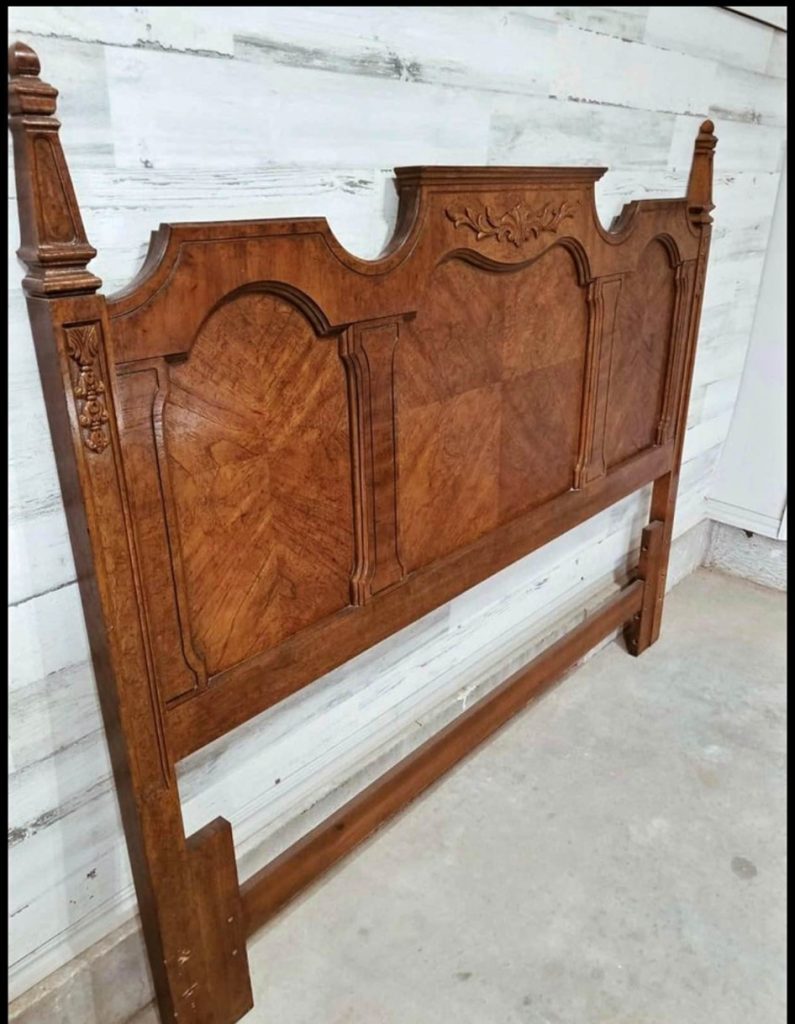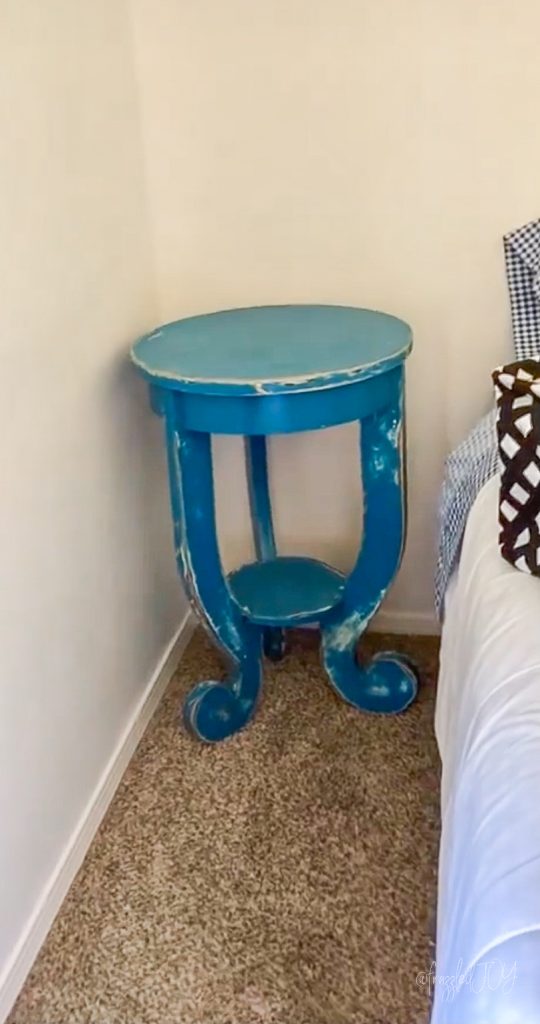 The headboard got a little overhaul. I removed the short spindles from each corner as well as the ornate molding. I had to do a little sanding to remove the glue remnants and molding fragments that were left behind (it's not perfect but I'm ok with that – a little more time sanding might have taken care of that but I didn't feel like spending time on something so tedious that would probably never be noticed – grace friends, give yourself grace!). Bad blogger that I am, I forgot to take a progress pic. Haha! I'm a little out of practice. Anywho! All the pieces got a good cleaning and then I got to painting. The paint covered so well!! I did two coats just to make everything seamless, but I love the outcome.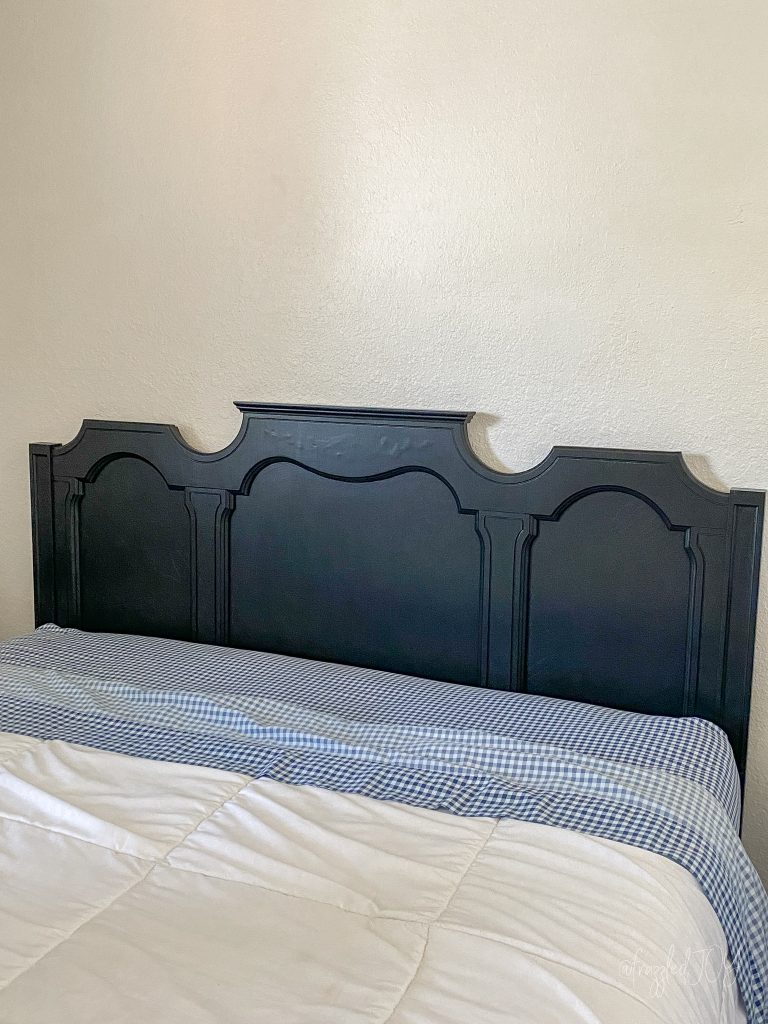 All that was left was lights, art, and some new bedding pieces to pull it all together! Homegoods, TJMaxx, Marshalls, and Amazon to the rescue! Here is the final result!
Some affiliate links used for your convenience. If you purchase from these links frazzled JOY receives a small commission at no cost to you. Thanks for supporting what we do around here! See disclosures for more details.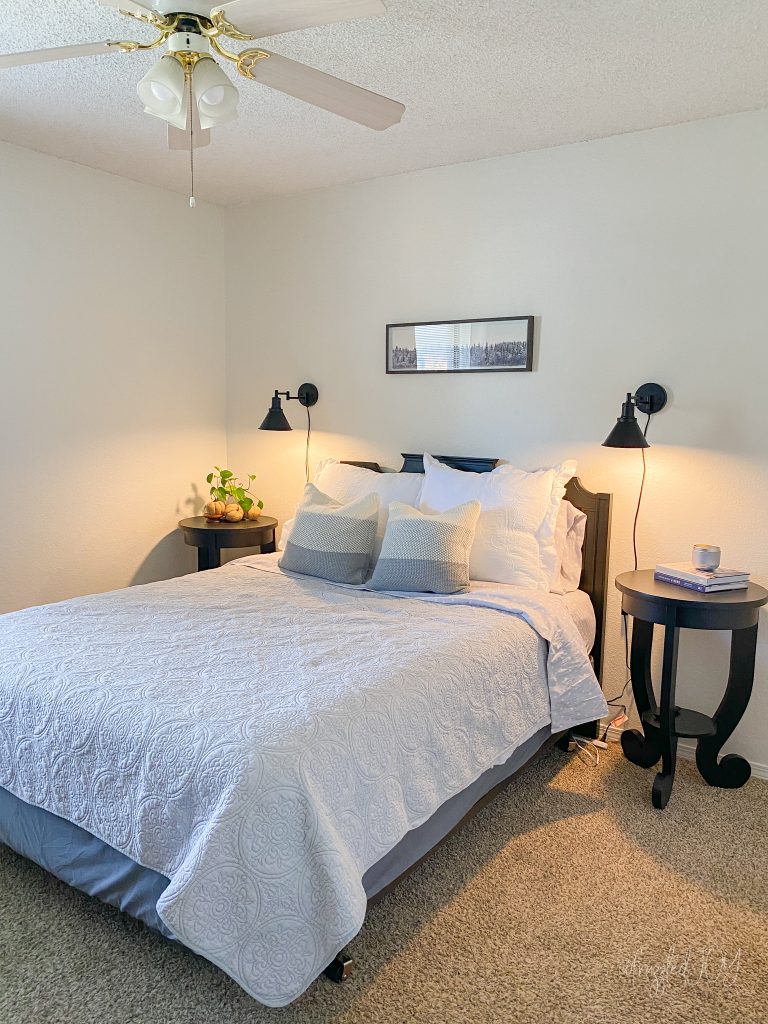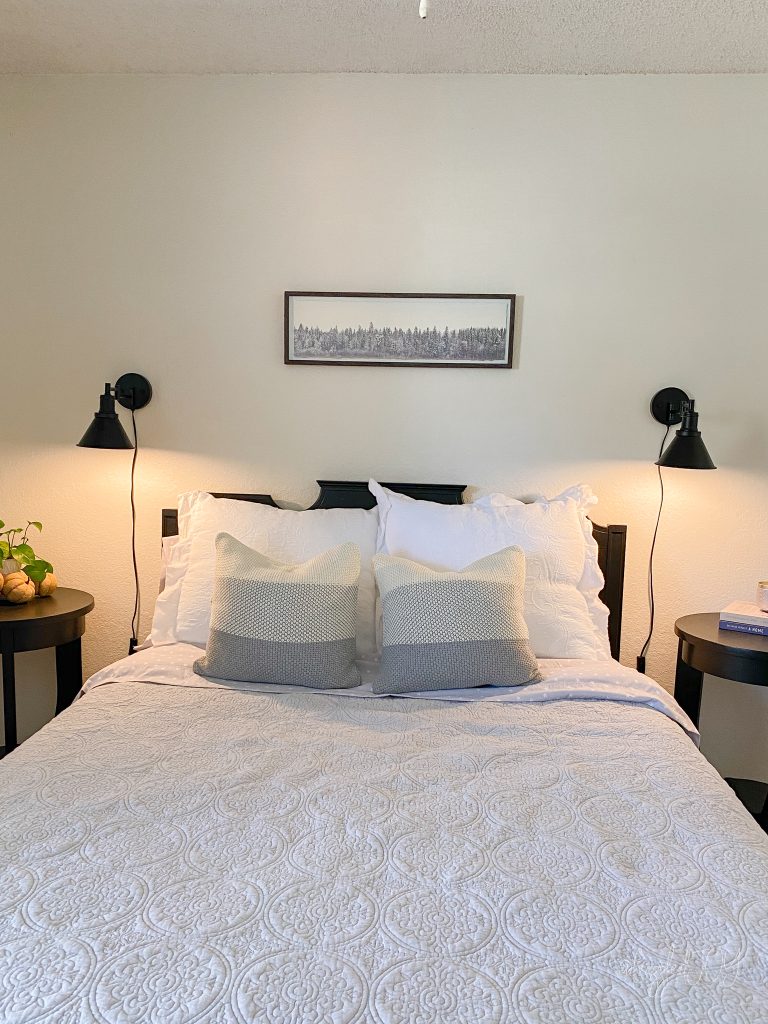 The sconces are able to hard wire or just plug-in which is great! And they are very affordable! This left the tables open for whatever else you might need. The black paint really elevated these furniture pieces! The curtains came from the other bedroom. I couldn't find anything that I liked that wasn't super pricey, so I just stole from there haha. It will be easier to find something for in there honestly.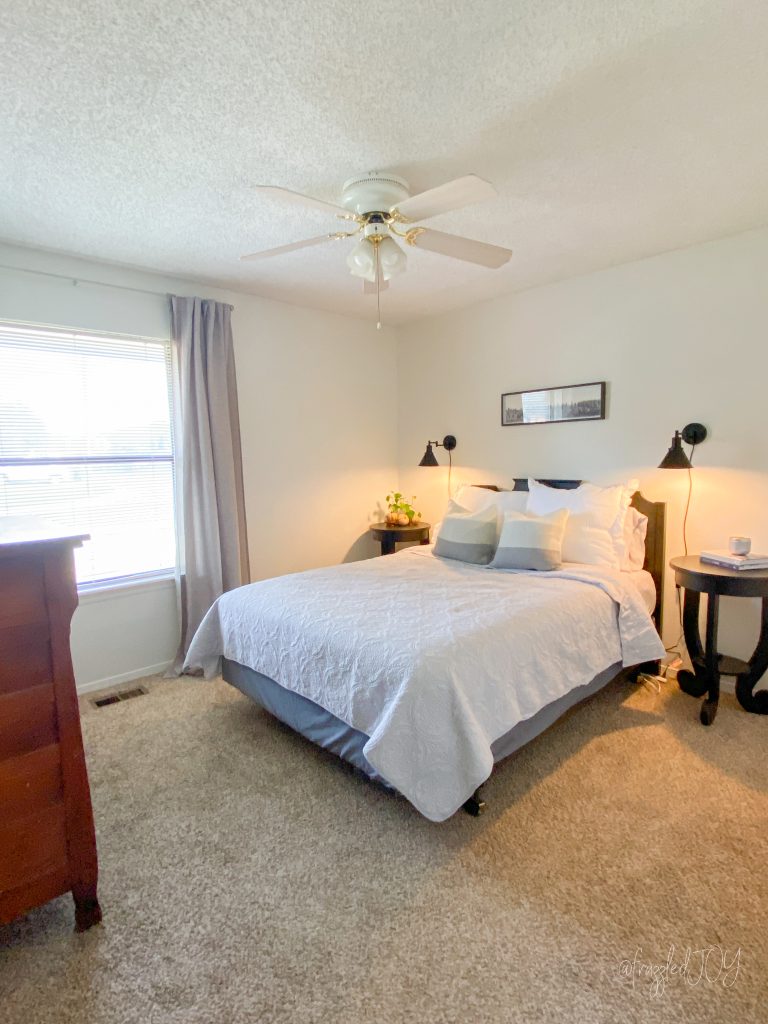 Our guests really enjoyed the new room! I'll be sharing the update that I gave the dresser real soon so keep your eye out for that. Trust me when I say you don't want to miss it!