Hey there friends! Last week I shared with you our updated guest bedroom. You may have seen the wooden dresser in the before pictures and in the corner of one of the after pictures. When I first updated the bedroom, I wasn't ready to change the dresser. I purchased new hardware (that I ended up not liking) but that was it.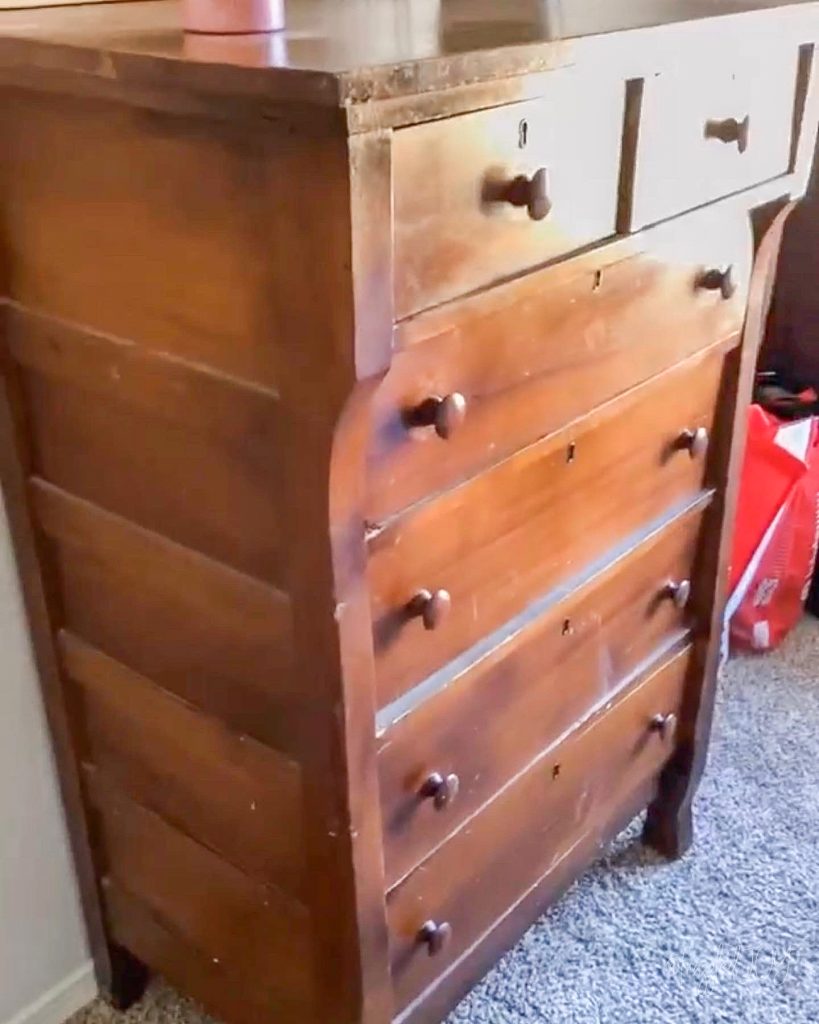 The dresser is old (used to belong to my parents) and it has some sentimental value to it. But, after the room was done, it just didn't fit…at all. So, I decided to give it a face lift.
Some affiliate links used for your convenience. If you purchase from these links frazzled JOY receives a small commission at no cost to you. Thanks for supporting what we do around here! See disclosures for more details.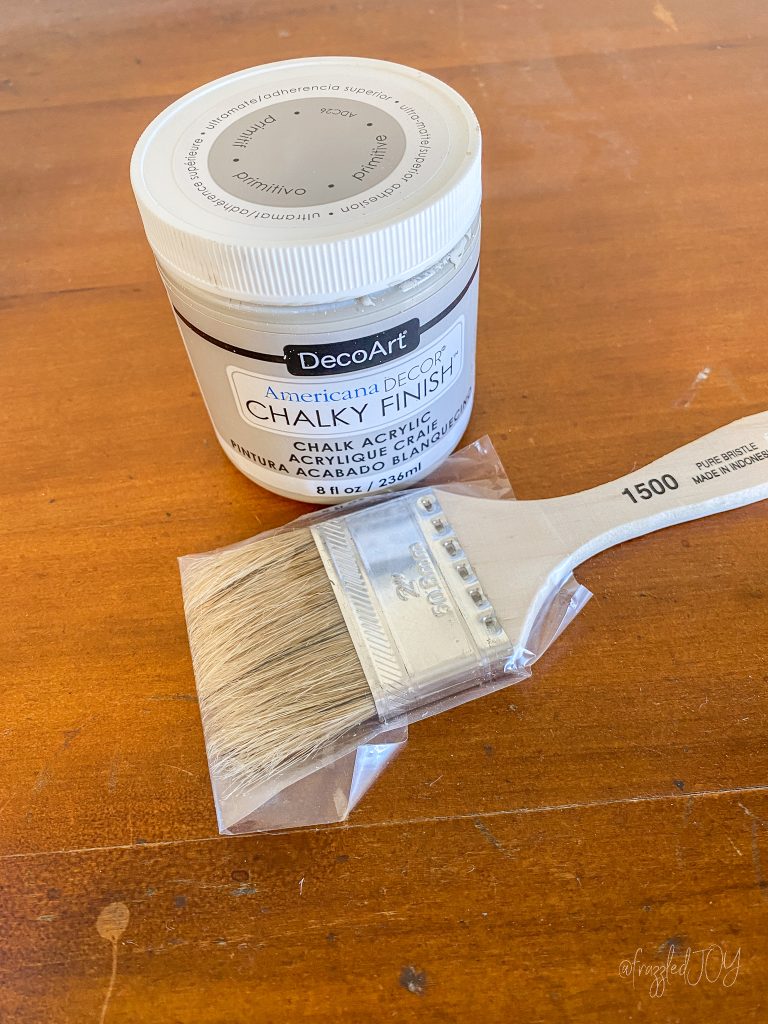 I started with trying my favorite light gray chalk paint. Another fail. It just did not look good in the room and it showed a lot of the flaws of the old piece. So, I needed another plan.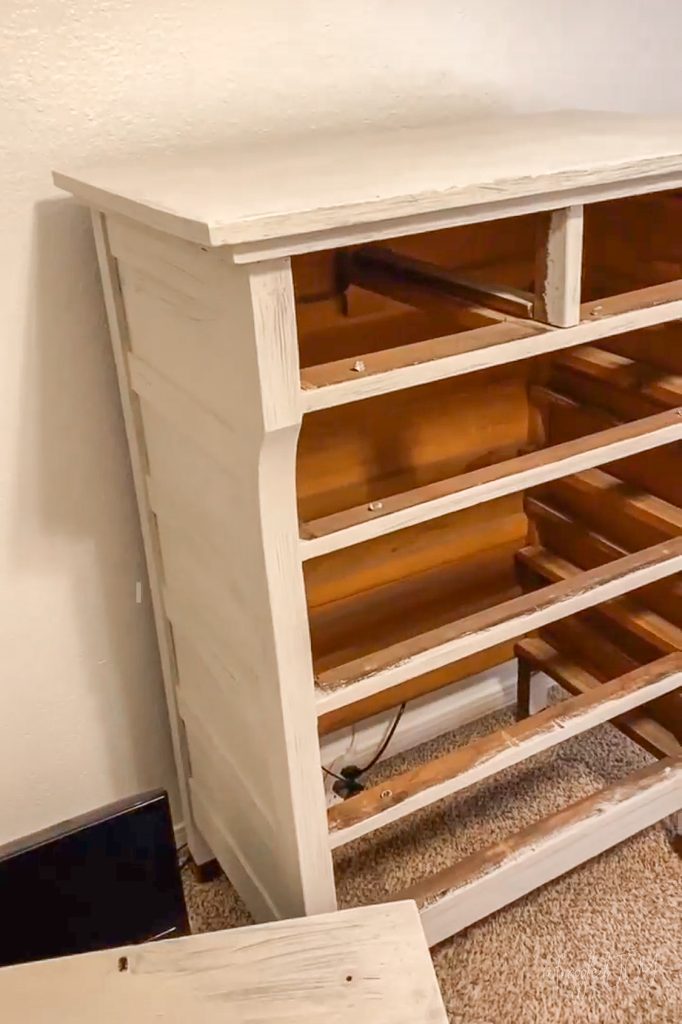 I had seen people on Instagram using oven cleaner to strip finishes off of wood, so I decided to give it a try. But, I didn't want to do the whole piece. I'd never done a two-toned dresser before and I thought this might be the perfect subject for that.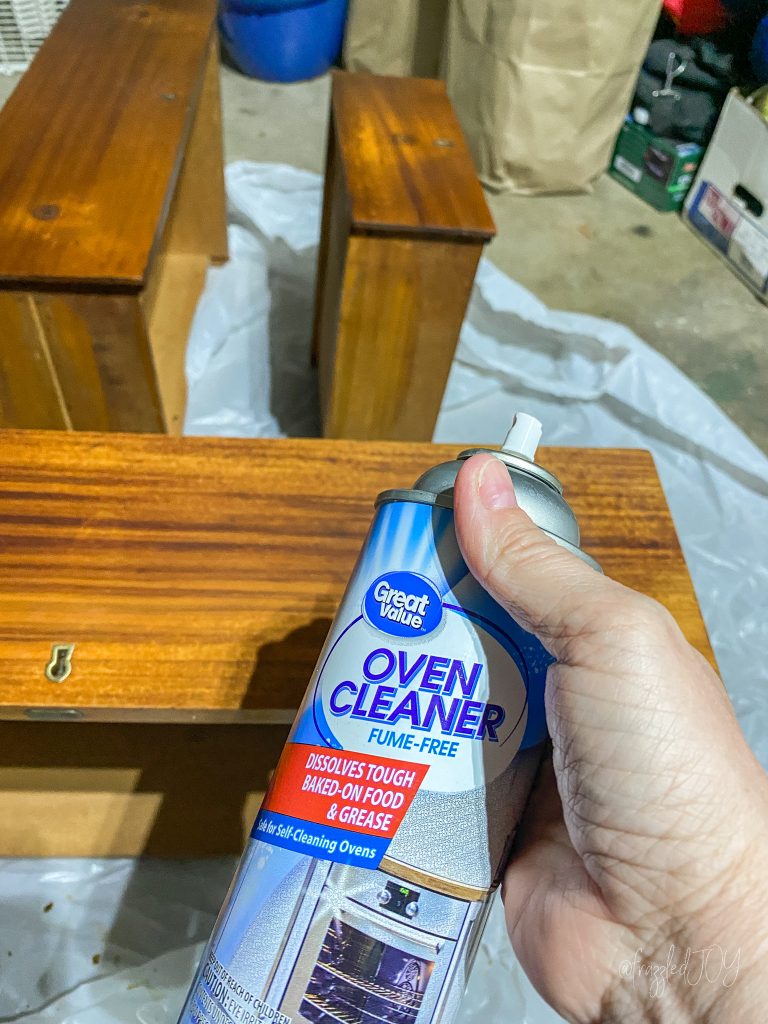 The oven cleaner truly was magic! Here's a before and after for you.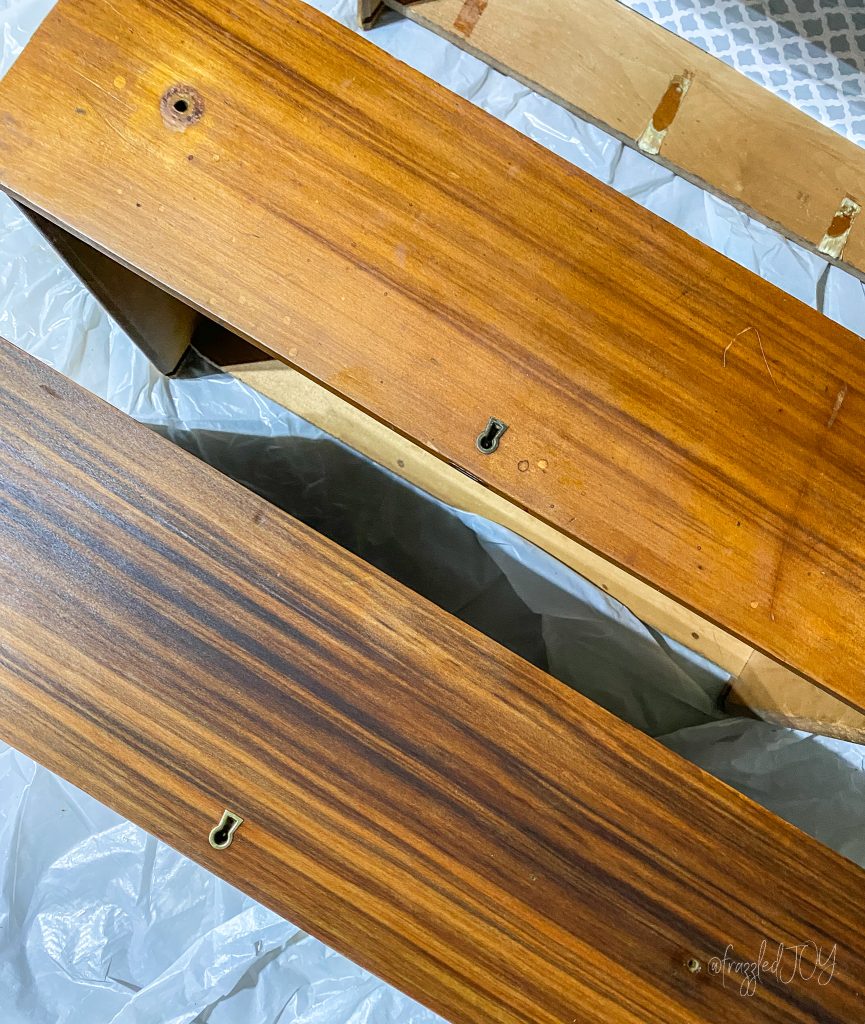 Isn't that amazing! Years of dirt and grime, stain, and finish revealed a beautiful wood grain that I couldn't possibly cover up! So glad I made the choice to try this! This is what it looked like when it dried.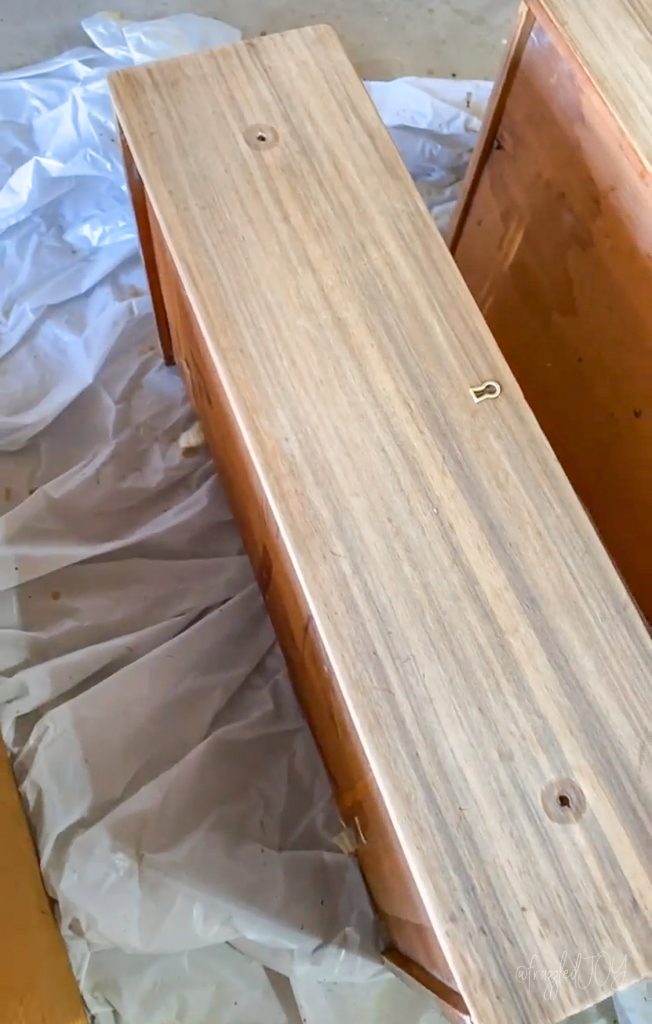 I also really love the color of the wood so I chose to just add a couple of coats of my favorite wood finisher – clear matte polycrylic.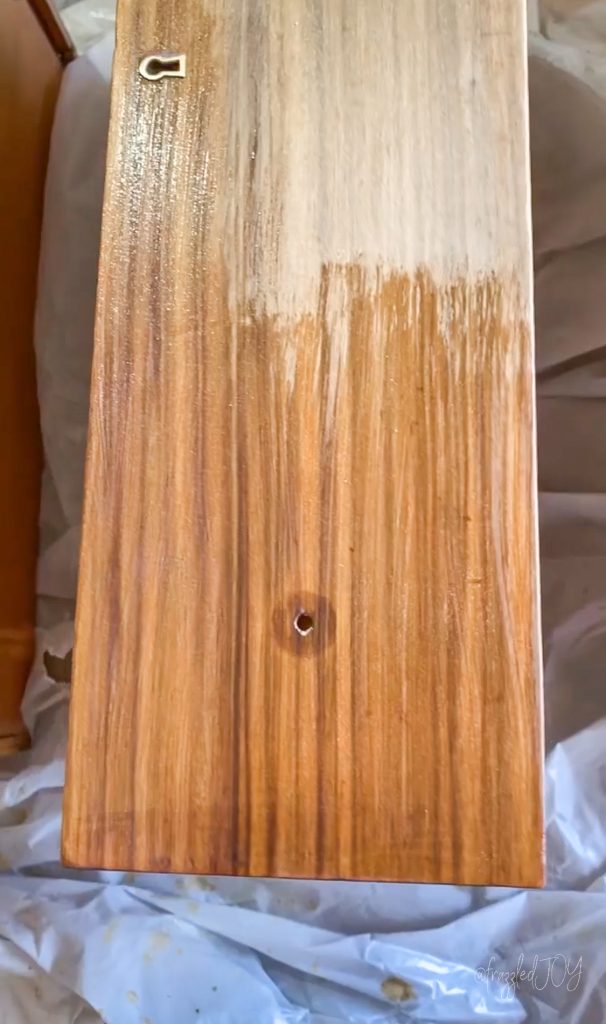 Another bonus of stripping the drawer fronts was that the beautiful brass on the little key holes coming clean! This made the hardware choice easy for me. I had seen these at Hobby Lobby the first time but didn't really want to spend that much money on them. But, in the end they really were the perfect and only choice. The final step was to paint the body with Tricorn Black from Sherwin Williams to match the rest of the furniture in the room.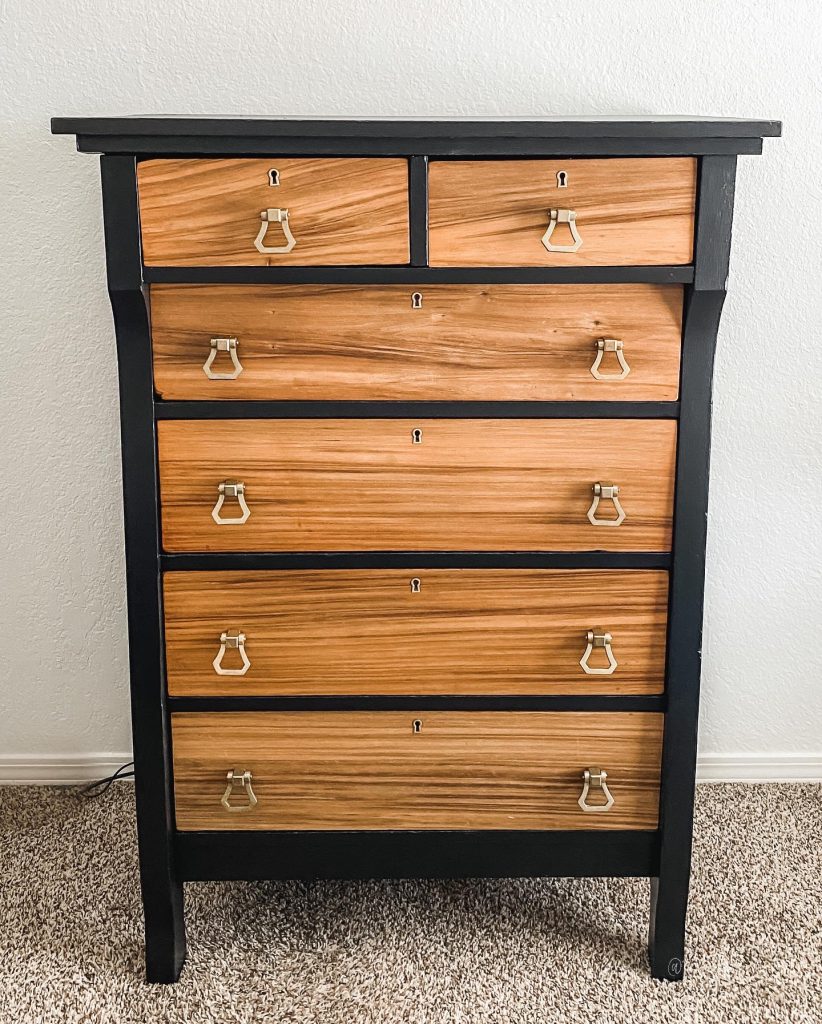 She's a beauty now and no one believes it's the same piece when they see it! haha! My mom came to visit last week and she said "is that the dresser we used to have??"
Moral of the story – never give up on a piece you love, or a piece that's been around for a while. Just because it was passed down to you, or has sentimental value, doesn't mean it has to stay the same forever. Take some time and restore it to it's old glory. Or revitalize it to it's new glory!!