Hey there friends! Thanks for the love on the DIY spring wreath. Today I'm going to share where I put it and how some of the rest of the house looks after I spruced it up for spring! Do you decorate for holidays, for seasons, or both? I do both. But, in the spring and summer it's really more about the season than any particular holiday. So, it's about the colors and the feel of our home.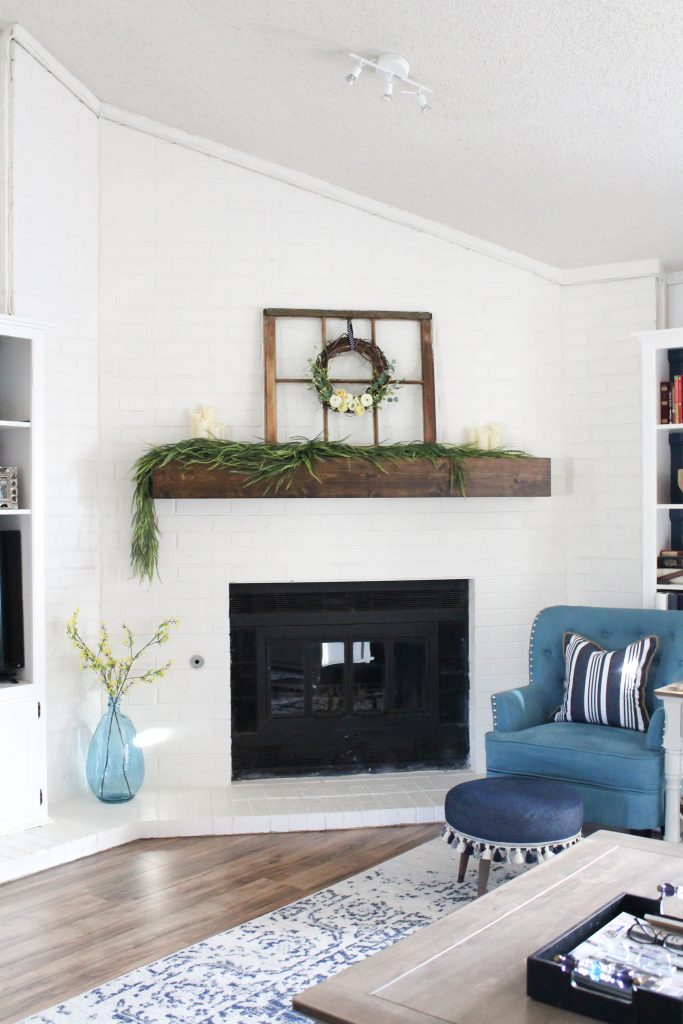 I gave you a sneak peek of the wreath placement in my post, so if you guessed it went on the mantel, you are correct! I pulled back out this window that I bought a few years ago, added the wreath and boom, spring decor done! I left the greenery and the candles because, well, I love them!! And I think actually look great for spring!
Some affiliate links used for your convenience. See disclosures for more details.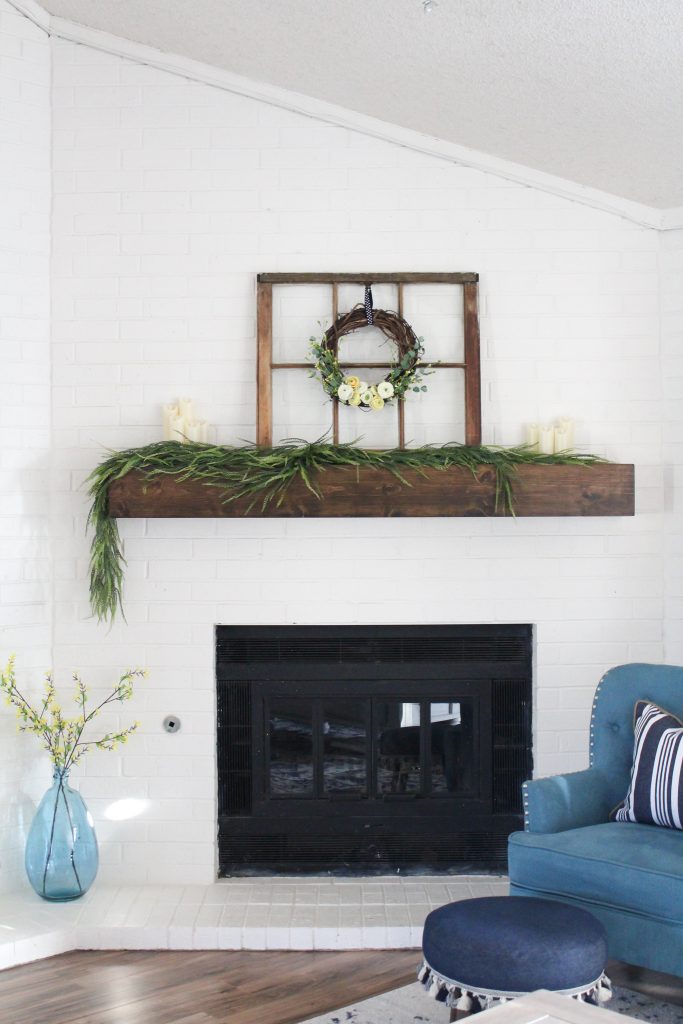 Next to the fireplace on our extra large hearth I placed a large glass vase (TJMaxx) with a few yellow floral stems (had from Hobby Lobby) just for a pop of color against all that lovely white.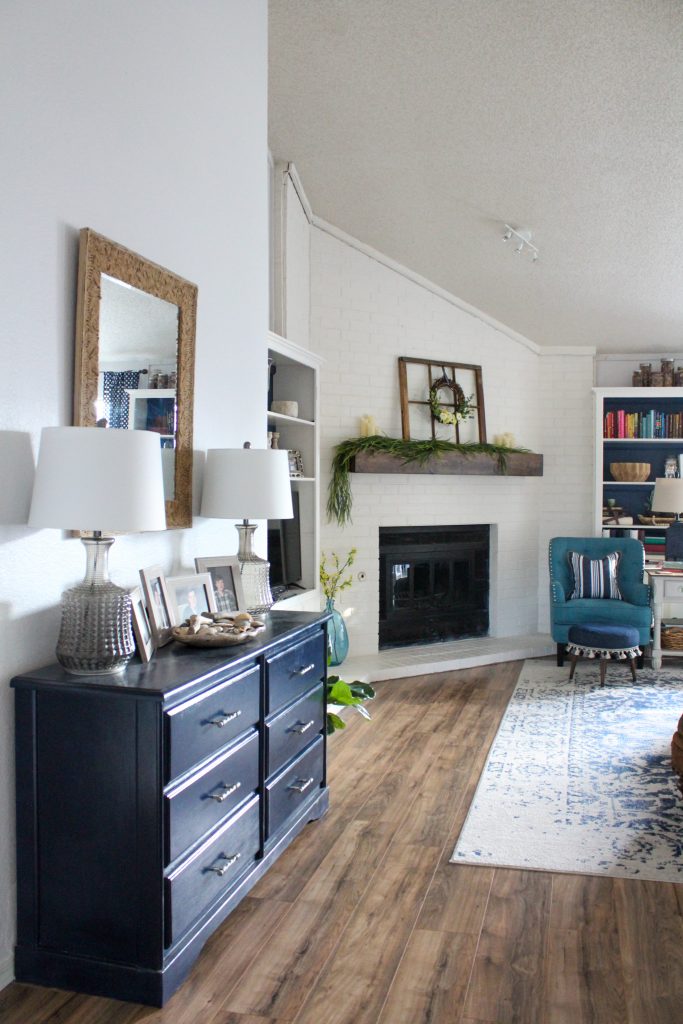 A friend gave me a Hobby Lobby gift card for my birthday and I decided to purchase some new pillow covers with it when they were 50% off. These striped pillows look so good on my blue chairs! They coordinate so well with the cute foot stools that I recovered a while back.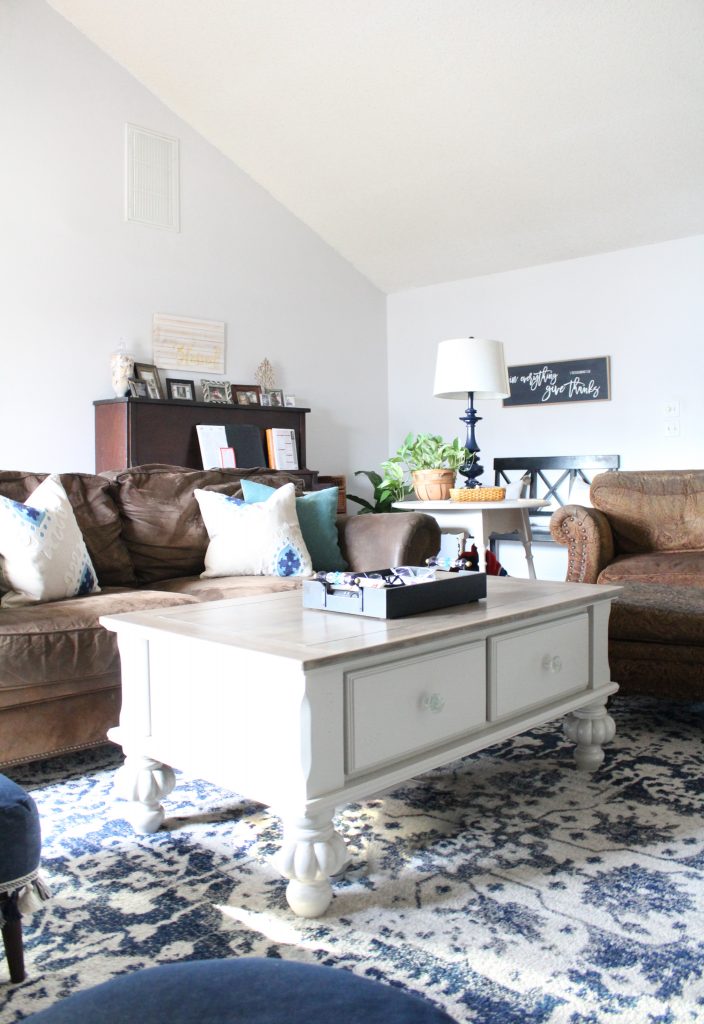 The other two are on the couch. And I love them as well! I hardly ever show this side of the room because I really want to replace this brown furniture. But, alas, the budget. It's just not a top priority yet. But, it keeps creeping up the ladder! I'm looking for a floor lamp for that corner by the piano, and trying to decide what, if anything, to put on that wall.
After we finished the floors and put things back in the family room and moved things around. I took quite a bit of stuff off the walls. I was ready for a fresh clean slate. I like the look of it honestly. I've added a few things in for the really bare spaces, but the blank space here and there is actually really nice.
The only other place I really touched was of course the shelves in our breakfast area. I have really enjoyed styling these as the seasons/holidays change just like I knew I would.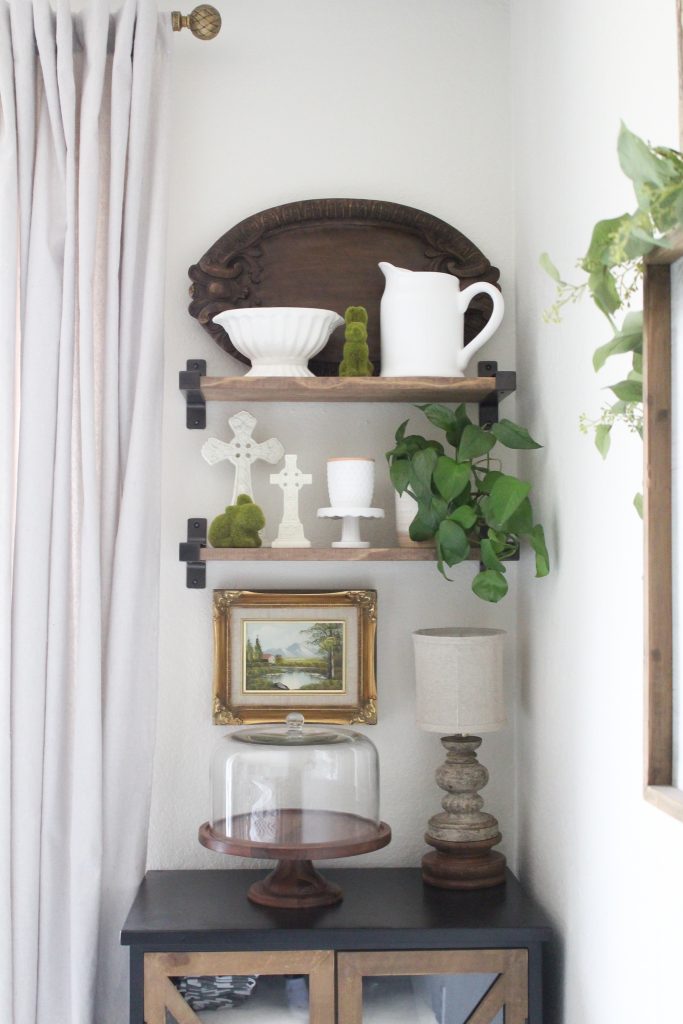 I bought nothing. Which was nice. If you follow me on Instagram (and if you don't you should :)), you might have seen me organizing my home decor and moving most of it out of the garage into my hall closet. While I was moving things, I pulled out what I thought I might like to use in here.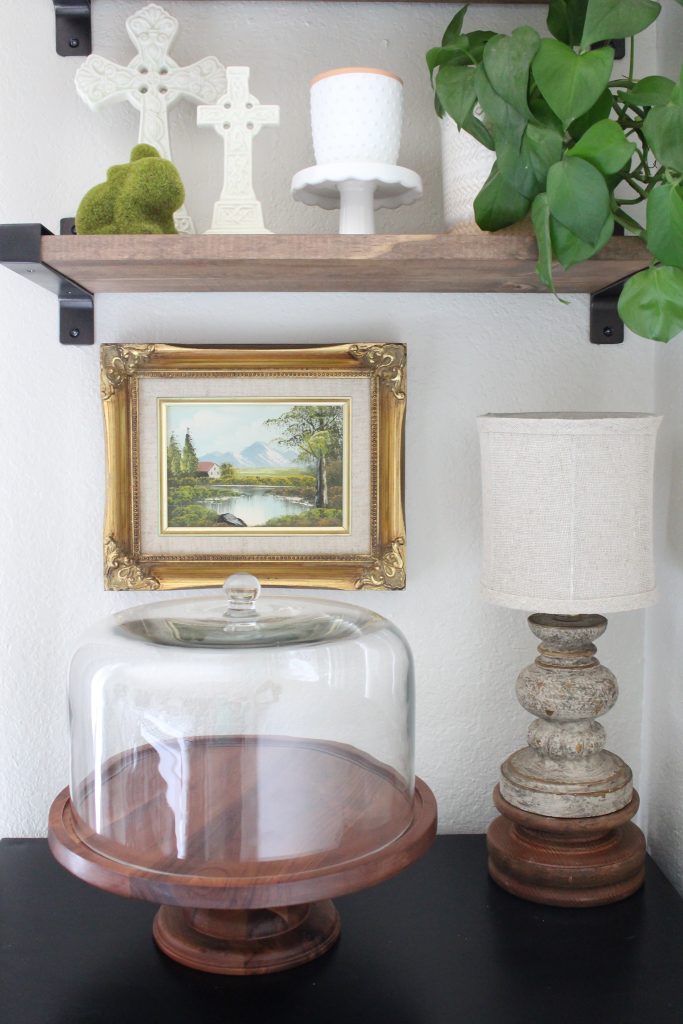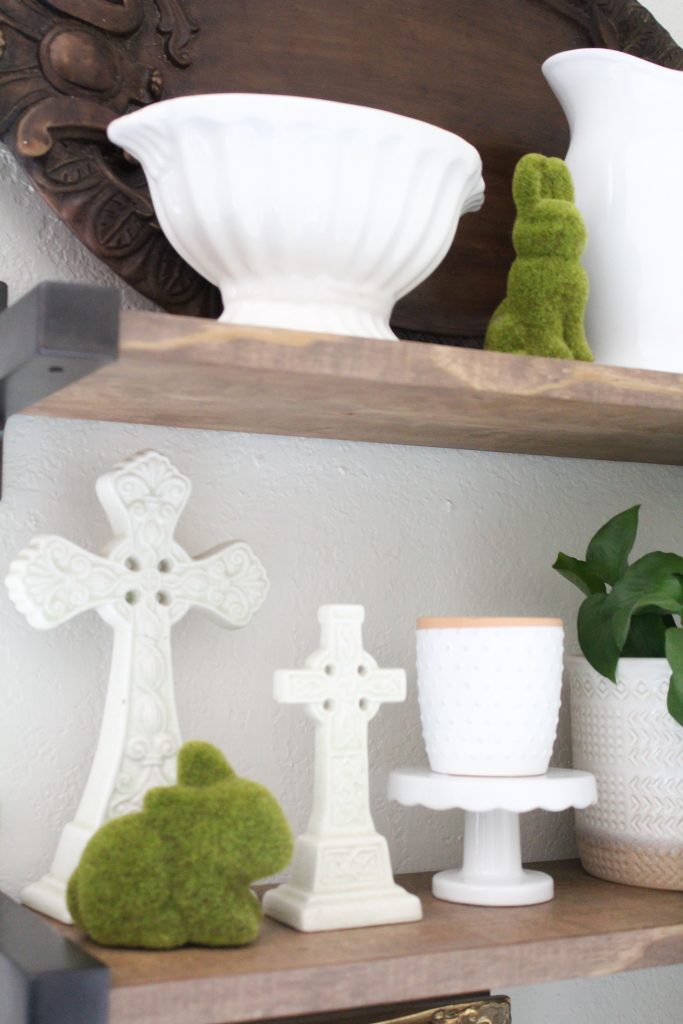 So, a moss bunny here and there, a cross here and there, and a garage sale painting and voila! Spring!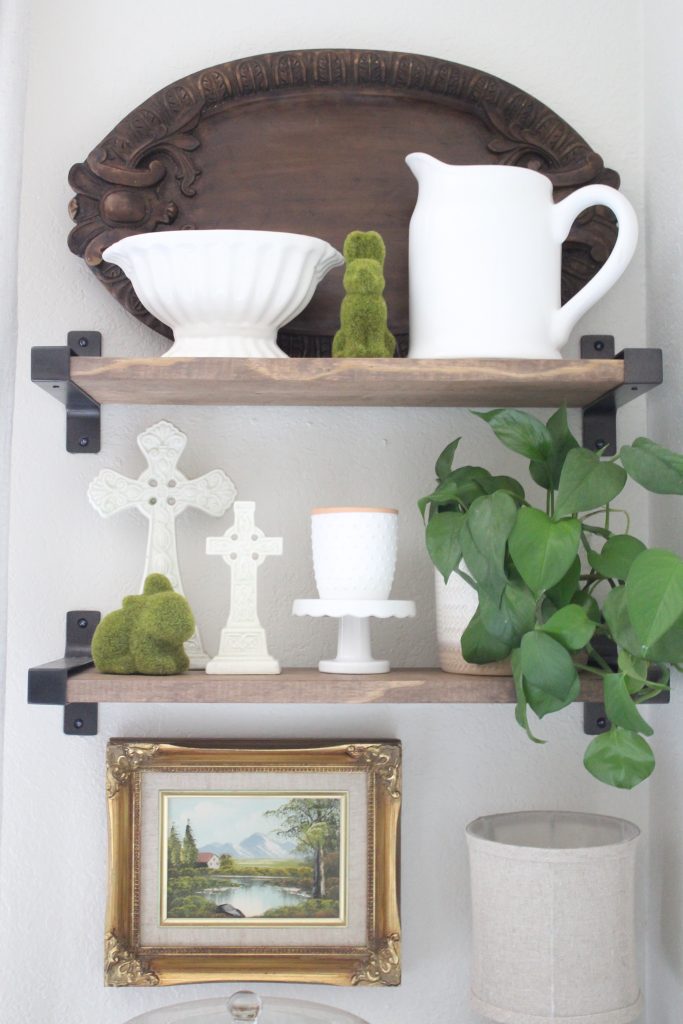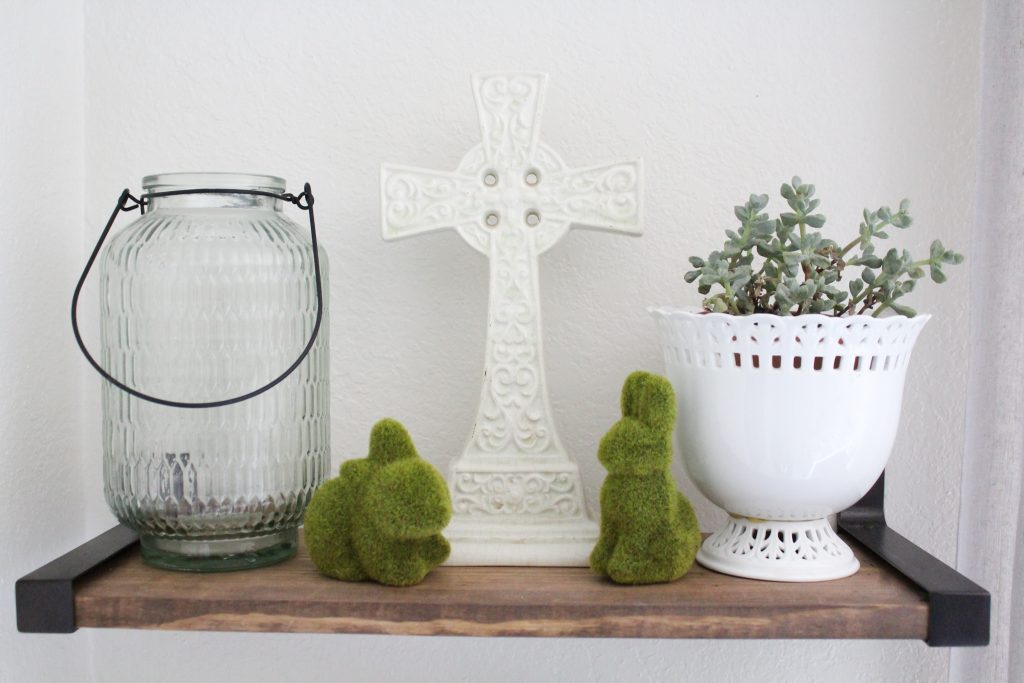 I love how they turned out! I like when I can shop my house and my stash and create a space. I think that's the best way! Of course I like to buy things here and there. But, honestly, I usually buy things after the season on clearance or at thrift stores and garage sales.
I love to look for things that could be used year around. Things that are evergreen. It makes it so much easier to pull things together like this. Then, add in a seasonal item or two (like the moss bunnies that I got super cheap at Hobby Lobby a couple of years ago) and you've got spring decor that doesn't look like it came from the Easter aisle. 🙂
I hope that wherever you the sun is shining and the temps are warming up. Get out and enjoy it friends! I plan to!