It's finally time!! If you follow me on Instagram then you know we replaced the carpet in our family room and hallway with laminate flooring a few weeks ago. This is a project that has been on our list since we moved in, but it just kept getting bumped by other things. But, we finally got it to the top of the list, they are done, and we love them!! Here is the before for reference.

So, let me give you a little back story. We had a little money left over from the bathroom renovation. Our garage was a disaster – filled with so. much. stuff. So, we decided to have a one day only garage sale. The deal being, if we made enough money we would do the floors. This was around labor day, and a bunch of places were having sales on flooring. Well, much to my surprise, we had a pretty good turn out for labor day weekend, and we sold a lot of obscure stuff. Which was great for two reasons – money for floors and cleaning out our garage. Yay!! (although you wouldn't be able to tell right now, our garage is a mess again  😳 )
We shopped around and found several options at different flooring stores around the metro. We were narrowing it down, and decided to hit the big box stores that we had passed over earlier that day – i.e. Home Depot and Lowes. Well, much to our surprise they had some good options for less than we had already found. Again, yay!
Some affiliate links used for your convenience. See disclosures for more details.
We found our flooring at Home Depot. It was a steal of a deal, and I loved it! So, we bought what we needed plus a little extra just in case the price went up before we finished our project. LOL. We went with Lakeshore Pecan.

We piled the boxes in a corner and got to work on demo. (if we never have to remove tile again, it will be too soon) We knew it would be several weeks before we got around to actually installing because we wanted several days in a row to work considering our amateur status.

I found this guy on you tube that installs these floors for a living and watched all he had to offer. They are very informative and very detailed. If you decide to take on this project yourself I would highly recommend watching them!
We lived in a state of demo for longer than I would have liked, but really it was fine. When it finally came time to install, we were all ready!!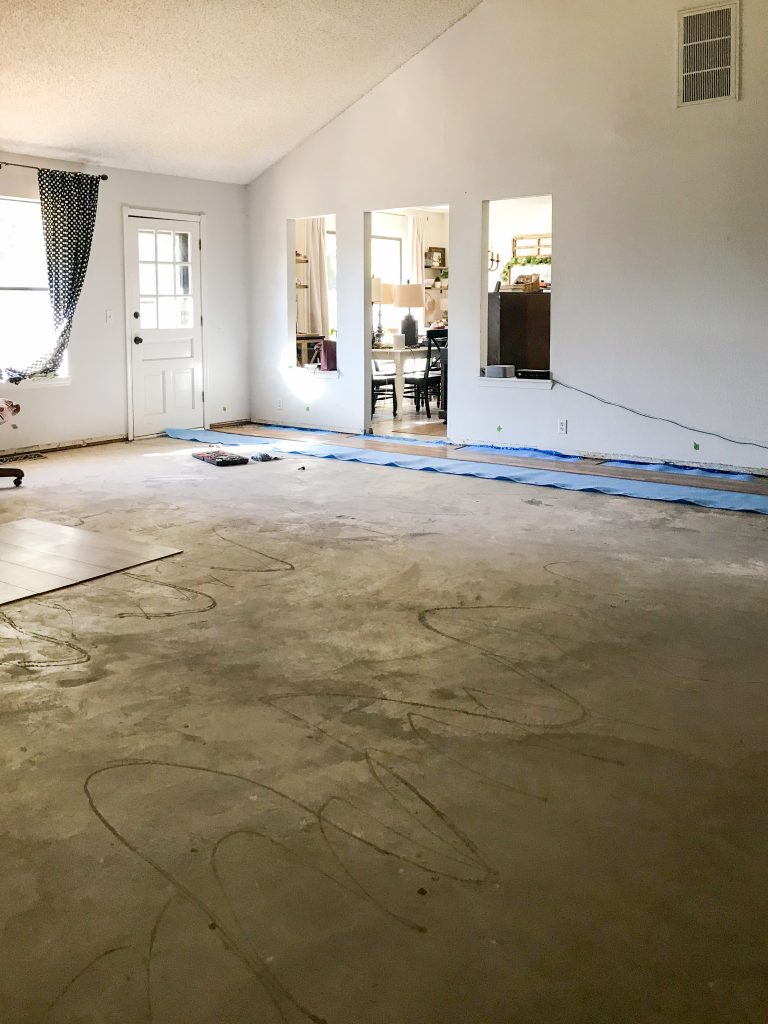 We moved out all the furniture, took out all the baseboards, and got to work. The first few rows took some time to figure out. But, once we did, man we were cruising!! This is how far we got and the end of a day and a half.

We finished the installation in the family room and into the hallway the next day. Then of course there were all the finishing details of thresholds and carpet transitions. All of that is now complete!! My only other job is the caulk, and touch up all the baseboards. I think I am putting that off because I'm don'e crawling around on the floor!  😆


It also took us a while to settle on an area rug. In all of our married life together we've never shopped for area rugs, so we were a little overwhelmed. But we absolutely LOVE the one we chose! It's pretty thin, so we may invest in a rug pad at some point.


Two things I will say. The flooring is not top quality, but for our budget is was perfect! We also did not spend a ton on the underlayment (we went middle of the road) so the floor is a little noisy. But again, for our budget, we are pleased. This is the underlayment we purchased. It had great reviews and it was very easy to use. I also ordered this installation kit which was great – exactly what we needed to get the job done!


Again, we LOVE the floors. Surprisingly they really seem to brighten up the room! Even though they are not necessarily a lot lighter than the carpet. Can't explain it, but the pictures don't lie! I'll leave you with one more for you to enjoy! Next up, an update for the table next to the bench, a couple of large plants to cover up some cords and outlets. Oh, and a couple of new couches.

I'm already looking ahead to where the Christmas tree is going to go! Of course the place that I chose might require a new tree.  😉