Are you having fun with decluttering?? I know that sounds like a weird question, but honestly I think it is fun! It's so rewarding and freeing to relieve yourself and your home from all the excess clutter that is just filling up space. Today we are talking closets. Ugh. I know this is a hot topic for so many. Closets seem to get ignored since they typically go unseen. But, wouldn't it be nice to be able to walk into a clean and organized space every morning? A space that makes it easy to get ready in the morning instead of a struggle?? I can tell you from experience that it most definitely is! We dealt with this situation for YEARS.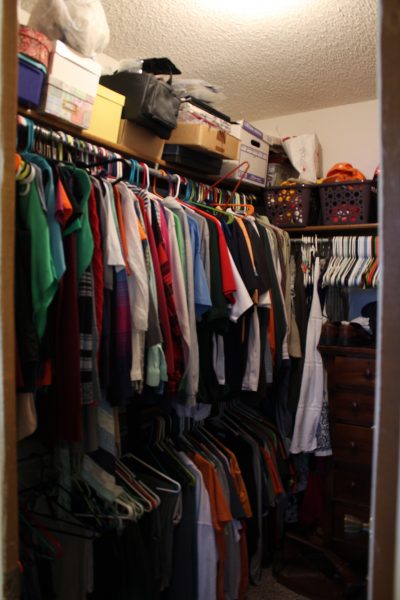 And then, about 4 years ago we tackled it and this is what we have now! We DIYed the entire thing. Built, and designed it ourselves. Probably my most favorite project we've done in this house to date.
Before the update we used a lot of different techniques to make the space work for us. Many of which were helpful!
One of my favorite closet organizing tricks is to start each new year or each new season turning all of your hangers around backwards in your closet. Then, as you wear things and they get hung back in your closet, turn the hanger around. This will help you to know what clothes have been worn or not at the end of the year or the season.
Again, baskets and bins are great for small items that need a home. Scarves, socks, handbags. Shelves are great for folding clothes like t-shirts or jeans, and for shoes. I love having our shoes off the floor and easy to find. If you don't have shelves in your current closet, and you have room, pull a inexpensive bookshelf.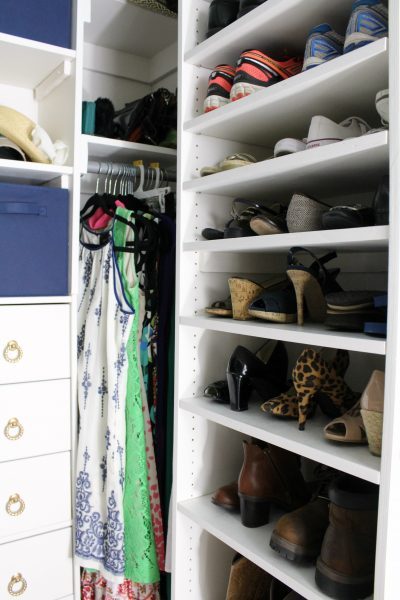 Drawers are great for all things small and all the things you don't necessarily want out in the open. You know the ones I'm talking about. Before we did the update, we pulled a dresser inside the closet in a corner. We loved not having that piece of furniture in the bedroom, so when we redid the closet we made sure to include drawer storage.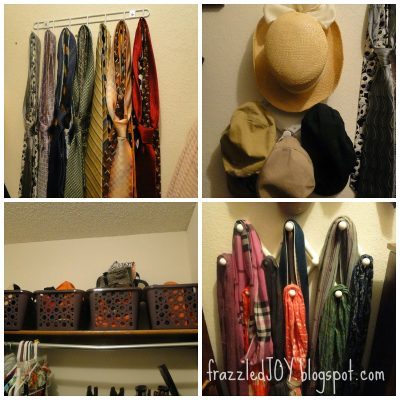 Use vertical space to hang things like belts, ties, hats, robes.
Then, when you get it all organized, make it pretty. Paint it, add some inexpensive wallpaper to one wall. Add some art, a rug, a mirror. Make it a space that makes you smile when you open the door each morning. You don't have to have a huge space for it to be amazing! Our closet, though a walk-in, is only 5ft x 7ft.
Here is a link to my pinterest board with all kinds of closet organization ideas and inspiration.
Keep at it friends! You won't be sorry! Here's a link to the 30 day de-clutter check list. Join us if you haven't yet!