So, probably like everyone else in America, I've been cooking a lot more lately. No more quick runs to Taco Bell, or Pizza, or Chikfila because we are trying to stay at home. We've done take-out a couple of times during quarantine- for my sons birthday and one other time when mama was just tired and out of ideas. Maybe that's you. Maybe you're out of ideas. Well, that's why I'm sharing a few of our tried and true family favorites with you today. I love trying recipes that friends have recommended because they have already been tested. 🙂 I'm just sharing a few today, maybe a few more to come later.
One that gets a five star rating is this hearty and super easy dinner from the Pioneer Woman. Can she do any wrong?? I love that most of her recipes don't require a ton of ingredients or a trip to the store. I have all her cookbooks! I can't seem to find it online to link to so I'll share it here for you!
Skillet Lasagna
Ingredients
2

Tbsp

Olive Oil

1 ½

Pounds

Ground Beef

2

cloves

Garlic

minced

24

Ounce

Jar of Marinara Sauce

1

Tbsp

Italian Seasoning

½

Cup

Sour Cream

½

Cup

Grated Mozzarella cheese

12

Ounces

Bow-tie Pasta

cooked
Instructions
Heat the olive oil in a large skillet over medium-heat. Cook the ground beef with the garlic, until it's completely browned, then drain off the excess fat.

While you are cooking your ground beef is a good time to be cooking your pasta, then everything will be ready at the same time. Follow the package directions for that.

Pour in the marinara sauce. Then add the Italian seasoning and salt and pepper to taste. Stir, reduce the heat to low and simmer for 15 minutes.

Remove from heat and add the sour cream. Stir to combine. Then add the mozzarella and the cooked pasta. Stir to combine.
Another tried and true is Poppy Seed Chicken. I'm sure there are many variations of this out there but this particular recipe came from my friend Jennifer of Dimples and Tangles and it has become a family staple. Yummy and easy of course! Serve it with a salad and your favorite rolls and you're good to go. This is usually all that is left in the dish after my family is done chowing down. HAHA! (side note – food photography is not my specialty, need to work on that)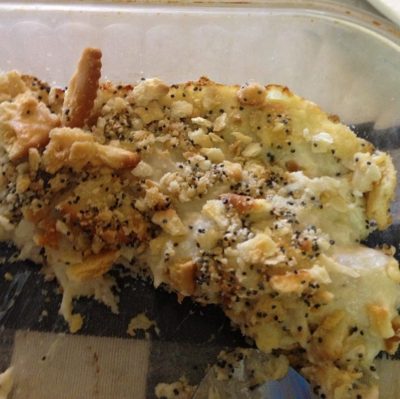 Poppy Seed Chicken
Ingredients
2-3

Pounds

Chicken Breast

1

Can

Cream of Mushroom Soup

1

Can

Cream of Chicken Soup

8

Ounces

Sour Cream

2

Sleeves

Round Butter Crackers (like Ritz)

1

Stick

Butter

2

Tbsp

Poppy Seeds
Instructions
Boil chicken and cube or shred. (You could cut up before you boil, but I do it after. And, I almost always use my Kitchen stand mixer to shred the chicken.)

To the chicken add the cream of chicken, the cream of mushroom and the sour cream and stir to combine.

In a microwave safe dish, melt the butter. To the butter add the crushed crackers, and the poppy seed.

Sprinkle about half of the cracker mixture on the butter of a greased 9x12 baking dish. Then add the chicken mixture. Finish with the remaining cracker mixture over the top.

Bake for 25 to 30 minutes.
And this idea I got from my friend Erin of Simple Purposeful Living. It's not really a recipe but it is a great go-to quick dinner. This pulled pork from Sam's is delish and we use it for several different dinners, but one of our favorites is street tacos. A little bit of pico (or salsa) some shredded cheese, maybe some avocado if you like and voila! You can get street taco tortillas now too. (maybe you could before and I was just clueless until they became trendy – thank you Fuzzy's and Torchy's) I prefer the corn tortillas but the boys prefer the flour.
I hope this has been helpful and maybe you have found something new to try! Hang in there friends! We've got this! There is an end and hopefully it's coming soon! What is something you plan to do differently on the other side of this virus? I know that I plan to have our door open to visitors more often. I always make excuses for not having people over, and I really want to be better about that. Being isolated from the rest of the world has made me realize how precious those friendships and relationships are. I can't wait to hug my friends and have them over for dinner!!