In honor of St. Patrick's Day I thought I would round up all things green from Amazon! Are you ready?? I searched high and low for some fun home decor goodies and some great fashion finds, and all green. Here we go!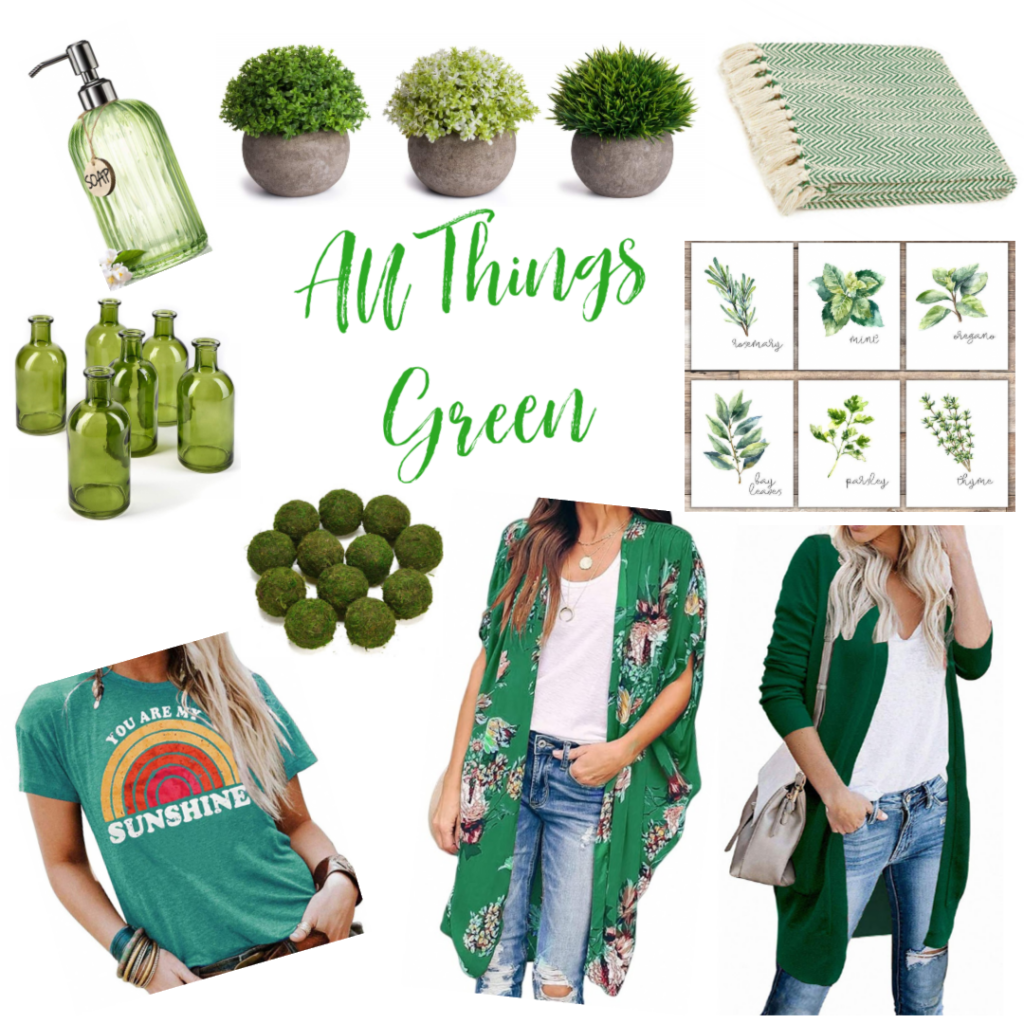 This page contains affiliate links for your convenience, including Amazon.  As an Amazon Associate, I earn a small commission from qualifying purchases. Thanks for supporting frazzled JOY in this way! See disclosures for more details.
Green glass soap dispenser – I just thought this was too cute, especially the little "soap" tag. Would be perfect in the kitchen or bath.
Set of three faux potted greenery – This is in my cart as we speak! I have been looking for something just like this for the kids bath. I have tried several 'low light' plants in there and they have all died. Because truthfully that bathroom gets no natural light.
Green chevron throw – So cute and cozy! Even in the spring I sometimes want a soft throw!
Green glass bottle set – These little bottles (only a little over 5″ tall) would make the cutest bud vases or even shelf fillers.
Moss balls – I have been looking for these also – cute for spring decor. I have a dough bowl they would be perfect for. They come in a set of 6, not sure why the picture shows more.
Set of herb botanical prints – what a cute set for a kitchen or breakfast nook. Great price too!
Now for a few things in the fashion department!
You are my sunshine tee – I am a little late to the graphic tee train, but I'm all about it this year. I used to sing this song to my kiddos when they were small. 🙂
Green floral kimono – Kimonos are my transitional go to for spring. On those days it's too warm for a cardigan, but I still want an extra layer. This one is gorgeous and on it's way to me!!
Green open front cardigan – Of course the evenings are still cool here and cardigan are always nice to have on hand. This one comes in lots of colors, but I really do love this green!
Well, I hope you enjoyed this round up of all this green!! I have really become an Amazon Prime junkie lately. My hubby says I have a problem, he might be right. HAHA Are you a Prime member?? They offer a 30 day free trial if you'd like to give it a test spin. It is really nice to be able to shop from home and get most things on your door step in a couple of days!! Thank you in advance for shopping my links and helping to support frazzled JOY in this way! It is what allows me to keep doing what I do here.