Hey there friends! Spring has arrived in Oklahoma! I'm taking my chances and calling it! The weather has been fabulous the last couple of weeks. A couple of cooler nights here and there, but we're getting there and I'll take it! Hearing the chirping birds in the morning just make me smile. 🙂 How about the time change?? Are you grumpy about it or happy about it?? This one kind of throws me for a loop and takes me a couple of days to get used to, but man I LOVE having more daylight at the end of the day so I am definitely happy about it! So happy that I decided to put together a spring tablescape for y'all, with these pretty tulips taking center stage!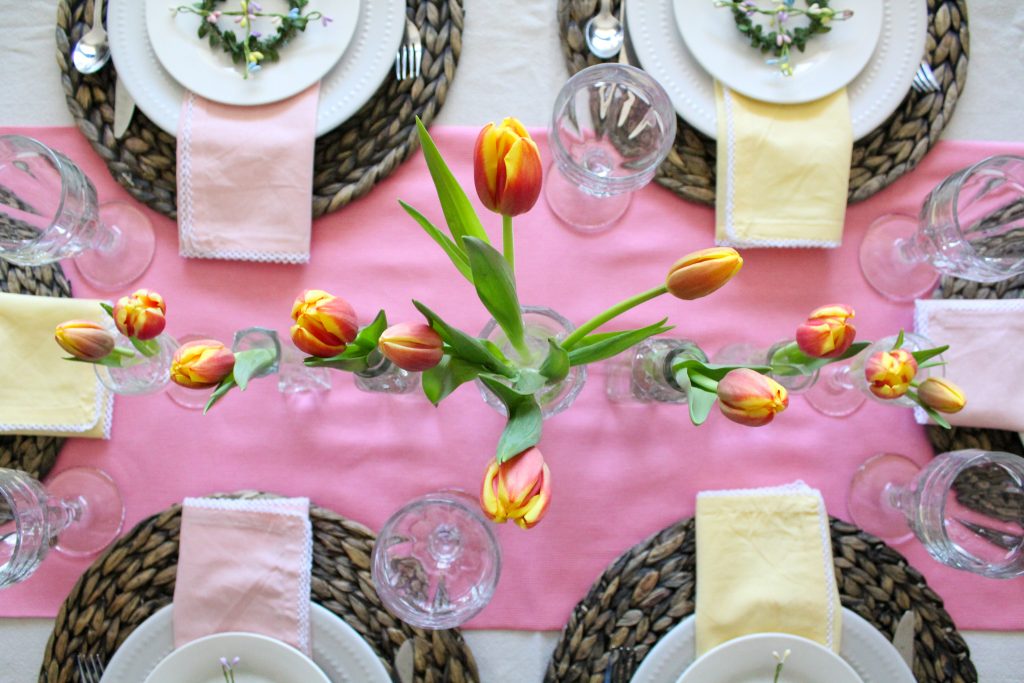 Some affiliate links used for your convenience. See disclosures for more details.
A couple of weeks ago I found these sweet napkins at Hobby Lobby and I had to snag them. The price was right (about $1 a napkin) and I just love the sweet scalloped edge! Then I found this cute wired mini garland, which I divided and made into sweet little crosses. Perfect for Easter.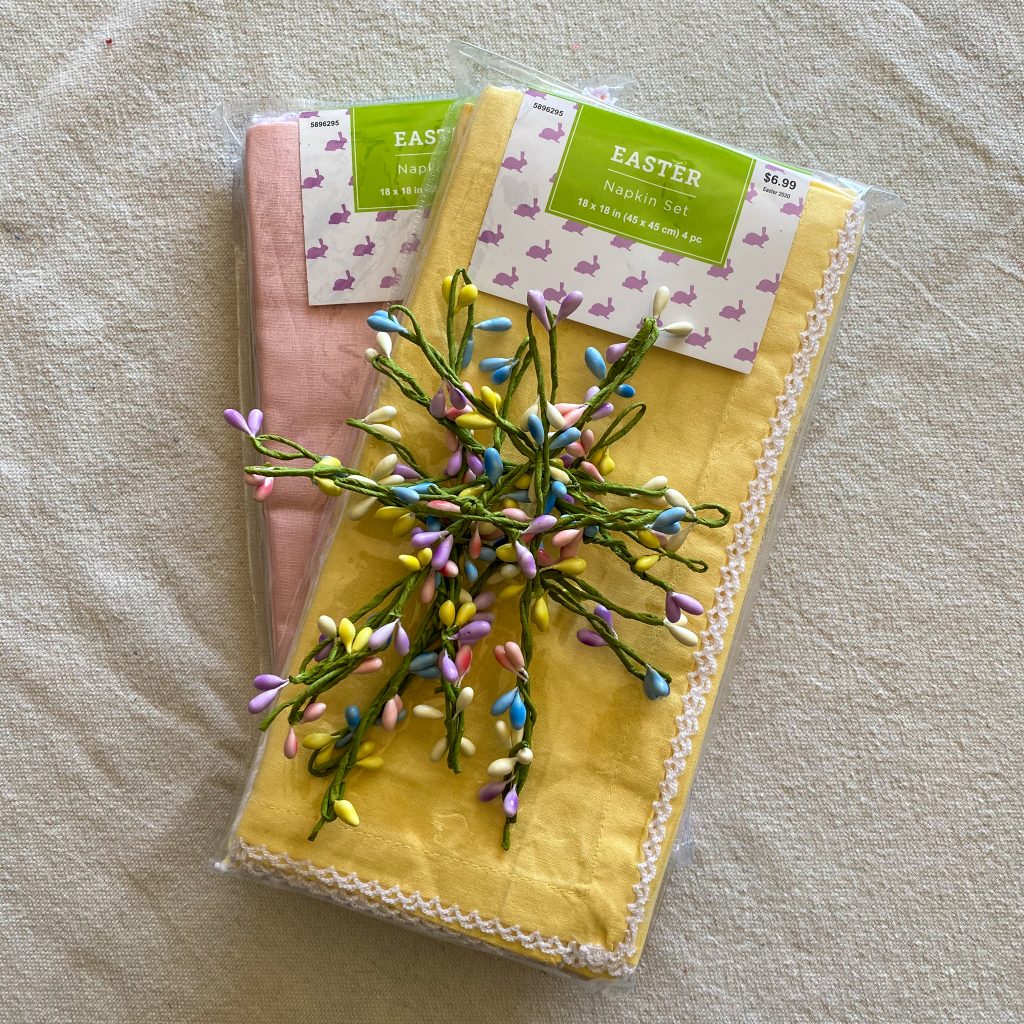 Don't you just love how it all came together?!? I sure do!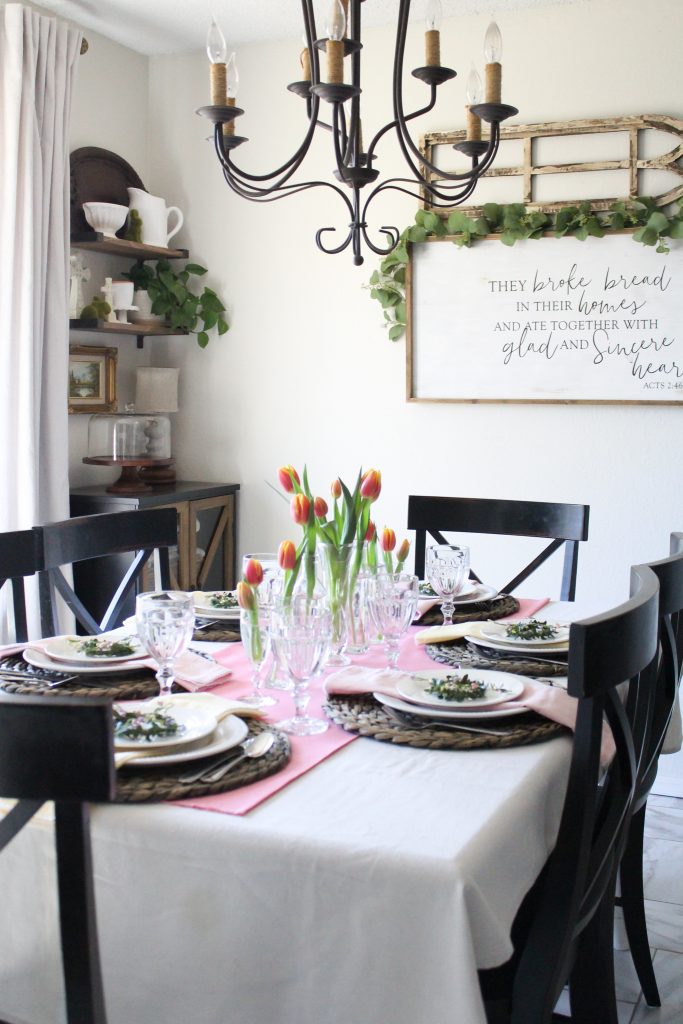 I shared in my Instagram stories that I did some thrift shopping for the table a few days ago. What was I looking for?? A few more glass vases in varying sizes. I couldn't find very many small ones, but I found these cute glasses that worked great for tiny vases!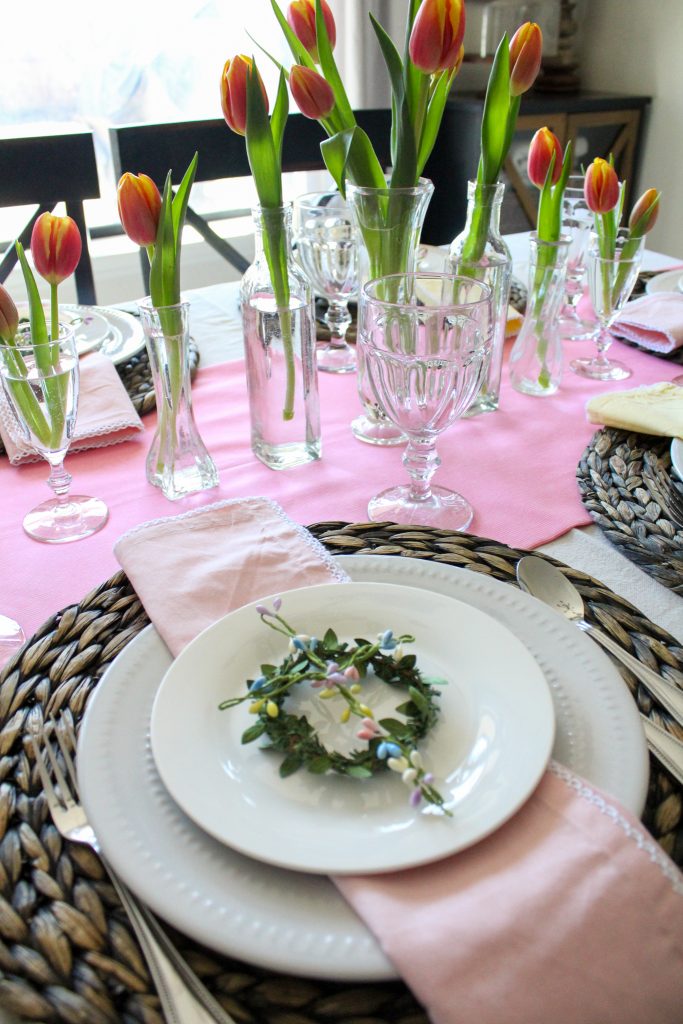 The tulips came from Walmart ($5 a bunch and I used two bunches). I couldn't resist the pink and yellow of course to match the napkins.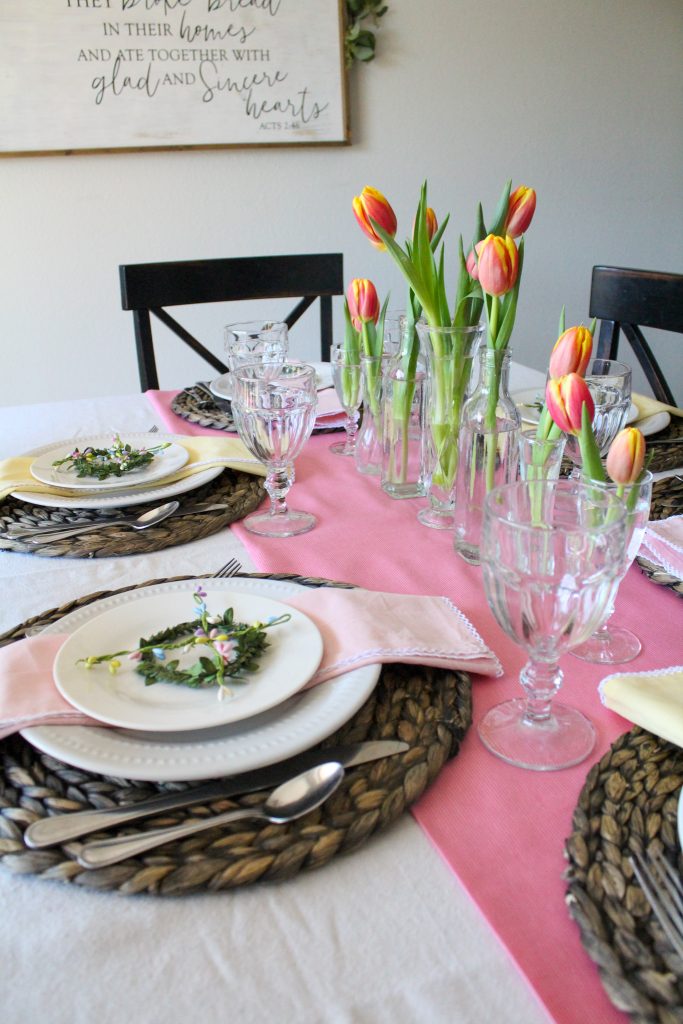 The chargers are actually considered placemats that I found at Hobby Lobby last year, but they are back and 40% off! (unfortunately they're out of stock online – check your local stores)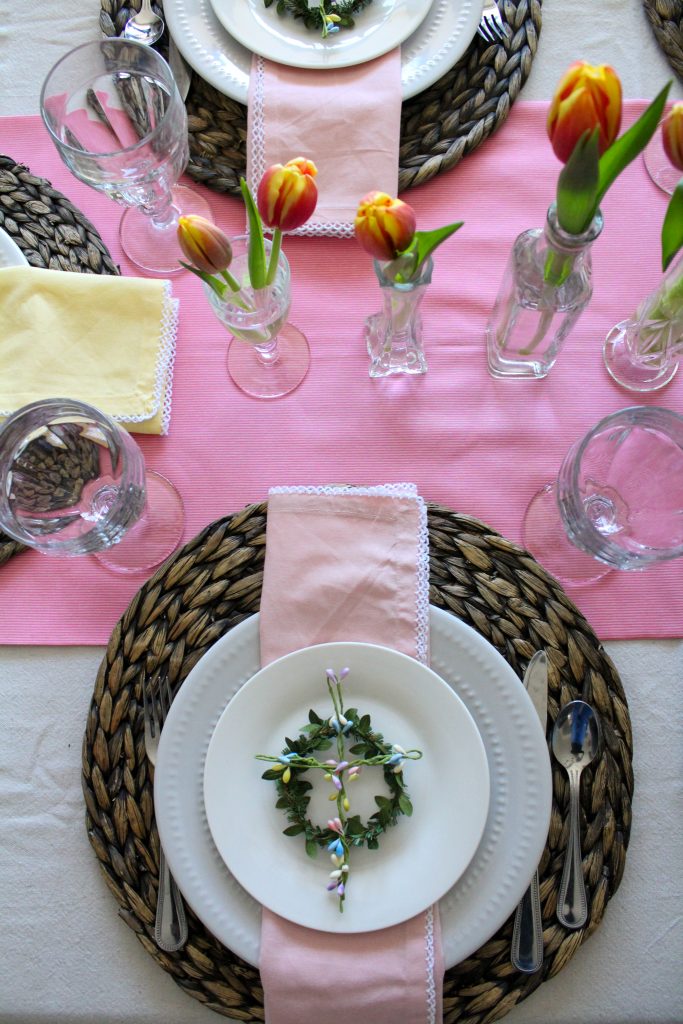 The plates of course are Dollar Tree, as are the glasses. I've had them for years and they have held up great! Can't go wrong with plates for $1!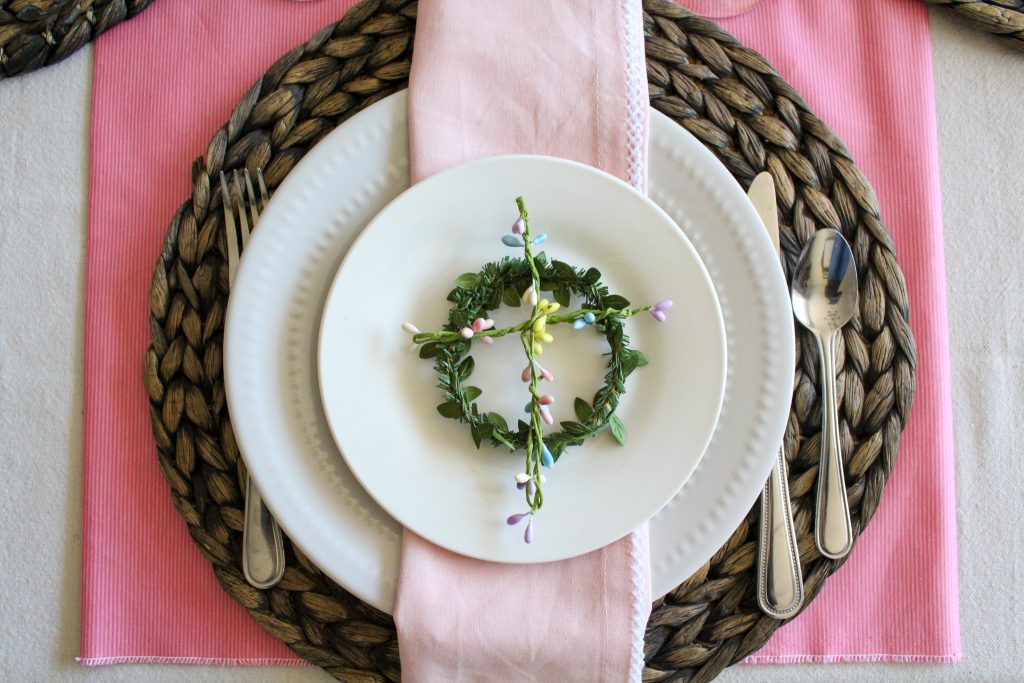 Now you can see the cute little crosses I made. I set them on top of these cute mini wreath that I also made back in the winter for another table. Simply another wired mini garland wrapped around some evergreen chenille stems. Obviously you could remove the cross if you weren't using the table for Easter.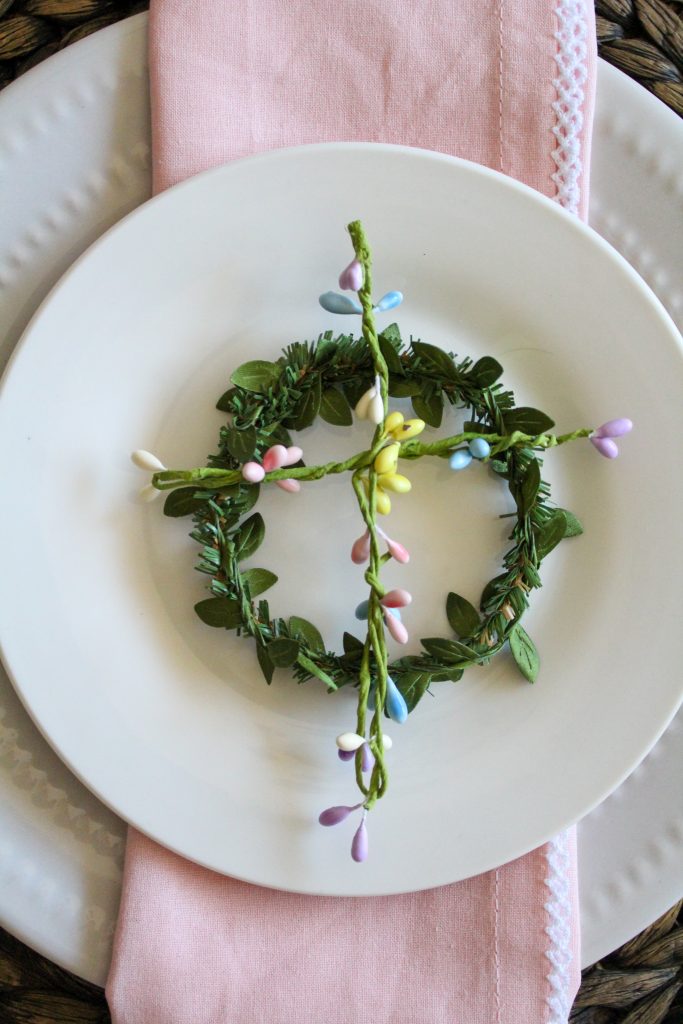 The pink runner is just a piece of fabric from my stash. Here is a close-up to see the stripes. I love the way the hot pink stripe ties in with the tulips and the light pink stripe ties in with the napkins.
One of my favorite tablescapes to date! (although I'm pretty sure I've said that before lol)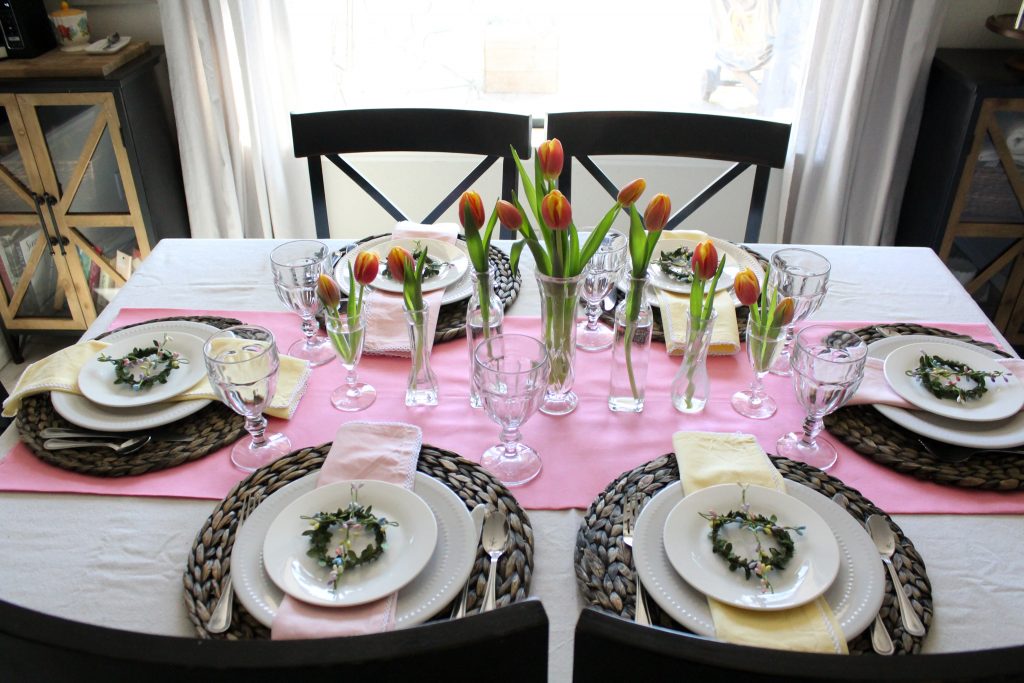 I really do love this view now! Tablescape or everyday, the cabinets and shelves we added last summer just make this space look complete!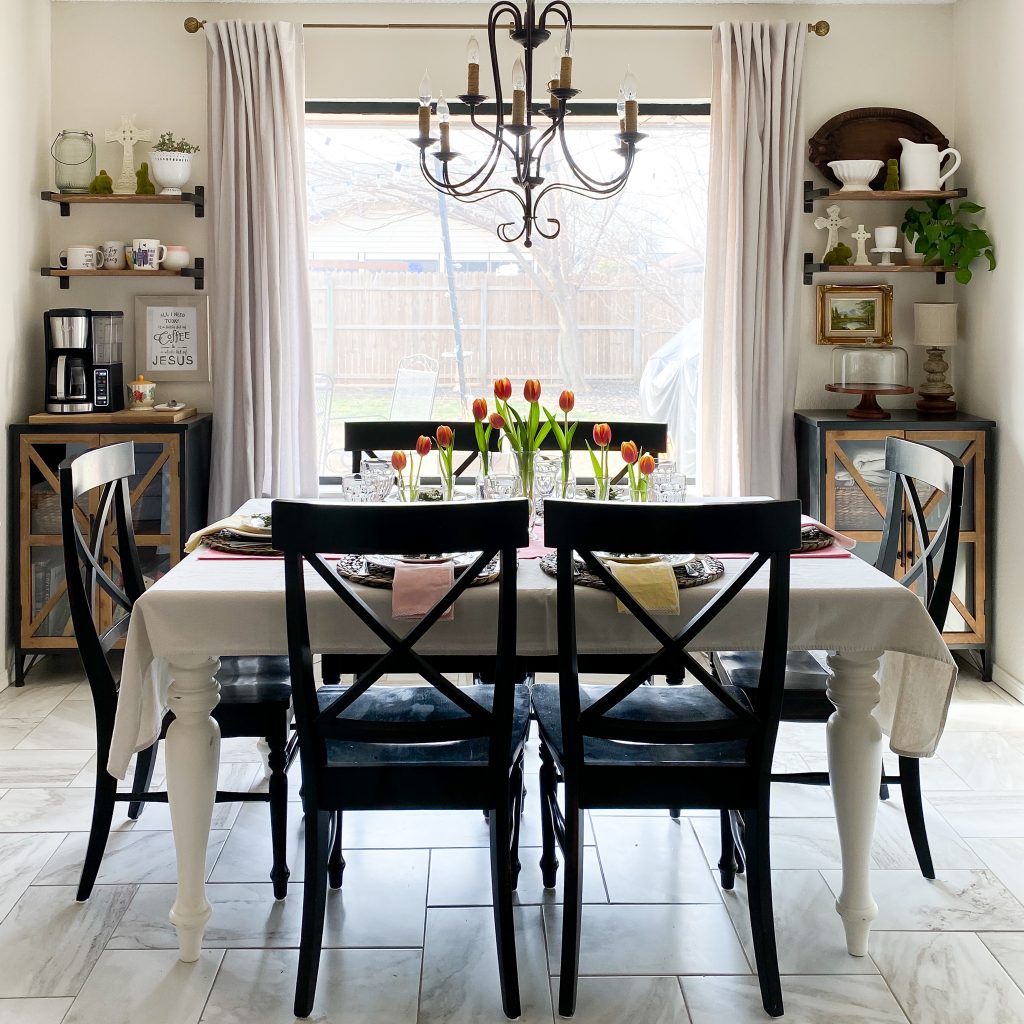 Happy Spring!!!