I think deep down inside, most of us know that credit is not the ideal way to purchase things. However, we revert back to children sometimes, and we want things NOW, and so we use credit. Many financial experts will agree – the only way to financial peace is to alleviate all credit from our lives. What?!? (in my best minion voice;)). It is possible folks, not easy, but possible. I know there are those who tell you that in order to make big purchases, like a car or home, you have to have established credit. Well Dave Ramsey tells us there are ways around that – you can check out his explanation on that because he is way smarter than I am!!

So, how do we "destroy" debt? The first step – stop creating debt. Get rid of the cards in your wallet. Not very many people have the kind of will-power it takes to not use them if they are there. If you are brave, and seriously ready for a change in your financial story – cut them up. If that terrifies you – freeze them in a LARGE block of ice. Whichever you choose – DO. NOT. CARRY. THEM.
The second step is intentionally working to pay off the debt. Everyone knows that "minimum payments" are just there to keep us hooked in. If we only make minimum payments, we could be paying on this debt forever, and in the end paying hundreds or thousands of dollars more than what we actually spent.

Dave's method is called a debt snowball and it looks something like this.


Debt Payment

$150

$50

$50

$50

Debt Amount

$300

$450

$500

$1,000

Month 1

$150

$400

$450

$950

Month 2

–

$350

$400

$900

Month 3

Add 150 payment to Debt #2

–

$150

$350

$850

Month 4

Add extra 50 to Debt #3

–

–

$250

$800

Month 5

Add $200 payment to Debt #3

–

–

–

$750

Month 6

Add $250 payment to Debt #4

–

–

–

$450

Month 7

–

–

–

$150

Month 8

–

–

–

–
Many of us would probably try to tackle the debt with the highest interest rate. Which, would make sense. But, Dave appeals to our need of instant gratification and satisfaction by suggesting we start with the smallest debt and work our way up to the largest one. This way we are able to actually see, and feel, the progress. The snowball effect happens when we take the amount we were paying on the original debt (after it is paid off) and adding it to the amount of the next debt payment.

As we work through this process, we chose to pay the minimum on everything except debt A, and then paying as much as our budget would allow on debt A, to make paying that off easier. Also, during this process you can dump whatever "extra" money you might have left over at the end of the month because of your mad budgeting skills – into debt A to help pay it off quicker.

Remember – we are working to DESTROY the debt.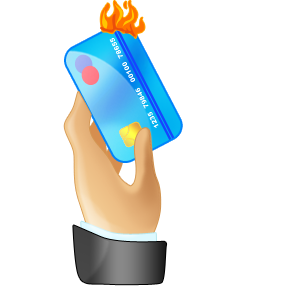 The third step should be common sense, but I must admit we fell victim. Once you destroy the debt – don't get more debt. In order for all of this to work, you must change your habits along with your bottom line.

This is a tough one for most – so extra blessings to you!!