It's week 5 of the One Room Challenge, which means there is only one week until reveal. I should be panicking, but thankfully I'm feeling pretty good. Monday was a long day of work, but that long day of work resulted in an almost finished space! I have to say that I am so thankful my hubby encouraged me to jump into this six weeks of mayhem to get the closet done. Because, honestly, it would have taken me months otherwise. Working for hours in a tiny space is not my idea of fun! The finished product though…man, just you wait! It is totally worth it all!!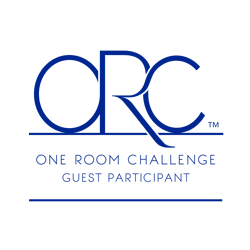 And yes, sorry you are going to have to wait, until next week to see it all. We started loading things back in last night and we are tweaking where and how everything will be best stored. In fact, I know that won't be perfected for a while, but let me tell you it is so much better already!!  Woo HOO!!
So, here are some small peeks at what things look like in there. (pardon the variation in color of the built-ins and some grainy photos – small space, bad lighting, inexperienced photographer doing her best 🙂 )
We have shelves and lots of them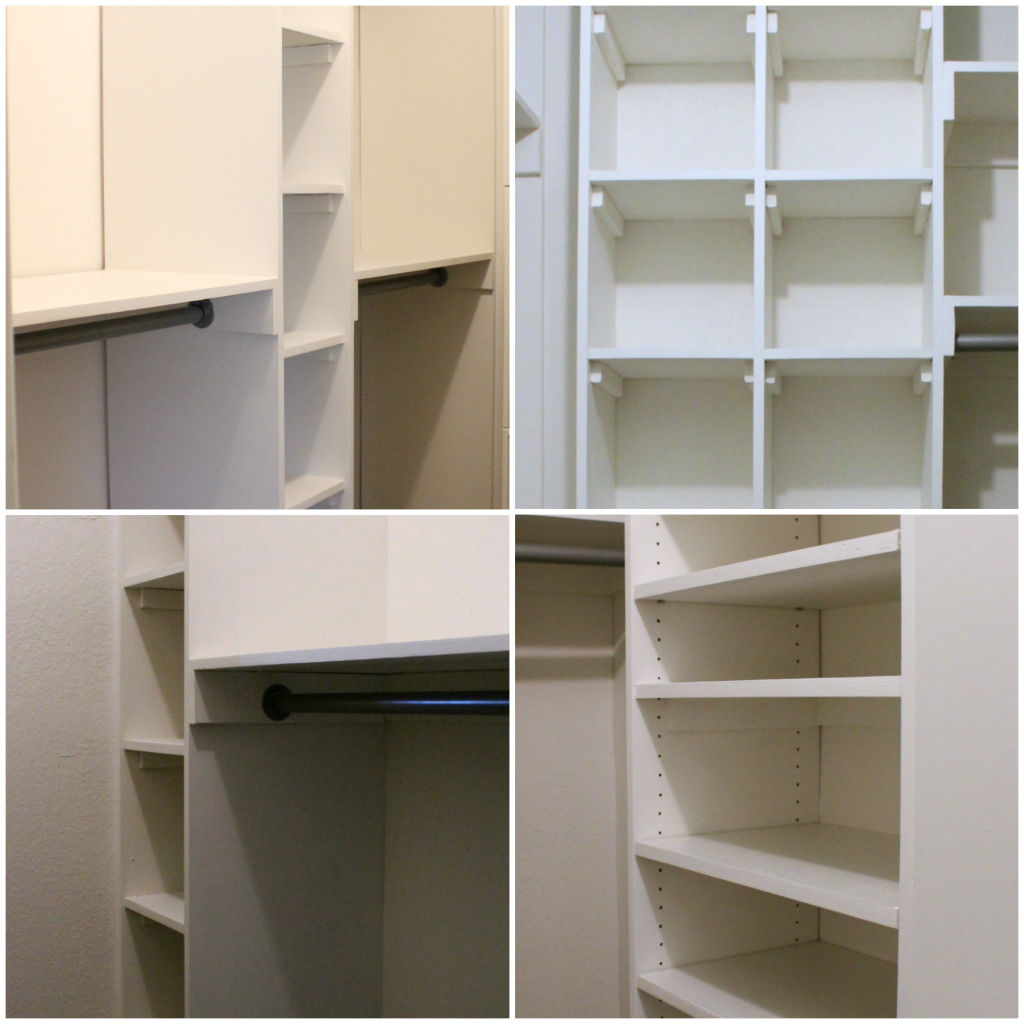 We have rods – short ones as opposed to really long ones, that will hopefully help tame the chaos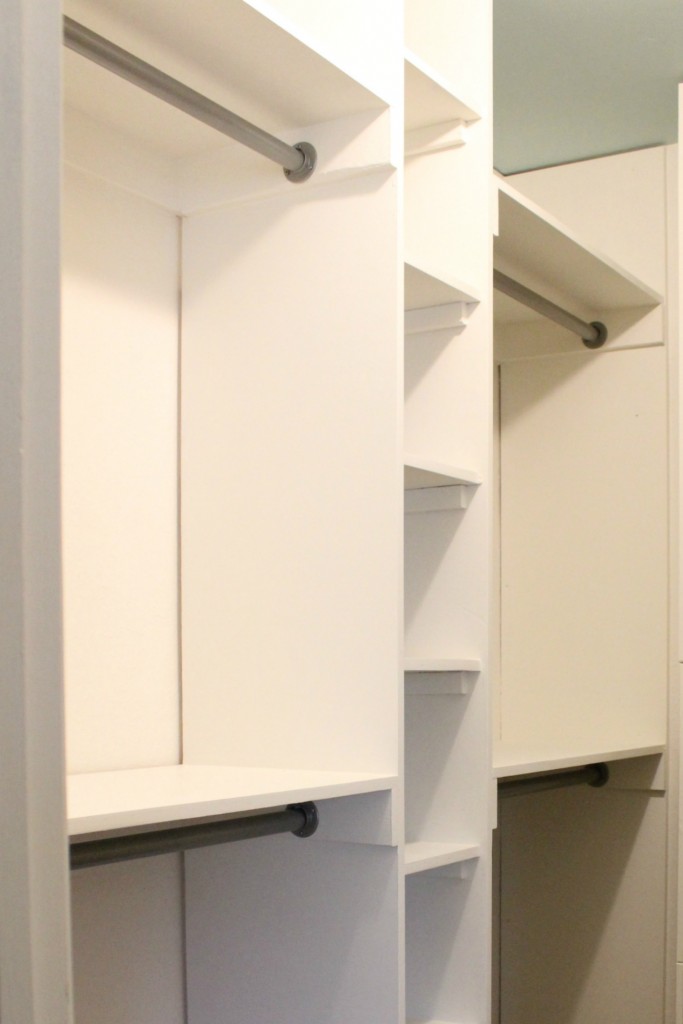 And we have drawers (not as many as needed, but they are helpful and they just look so good!)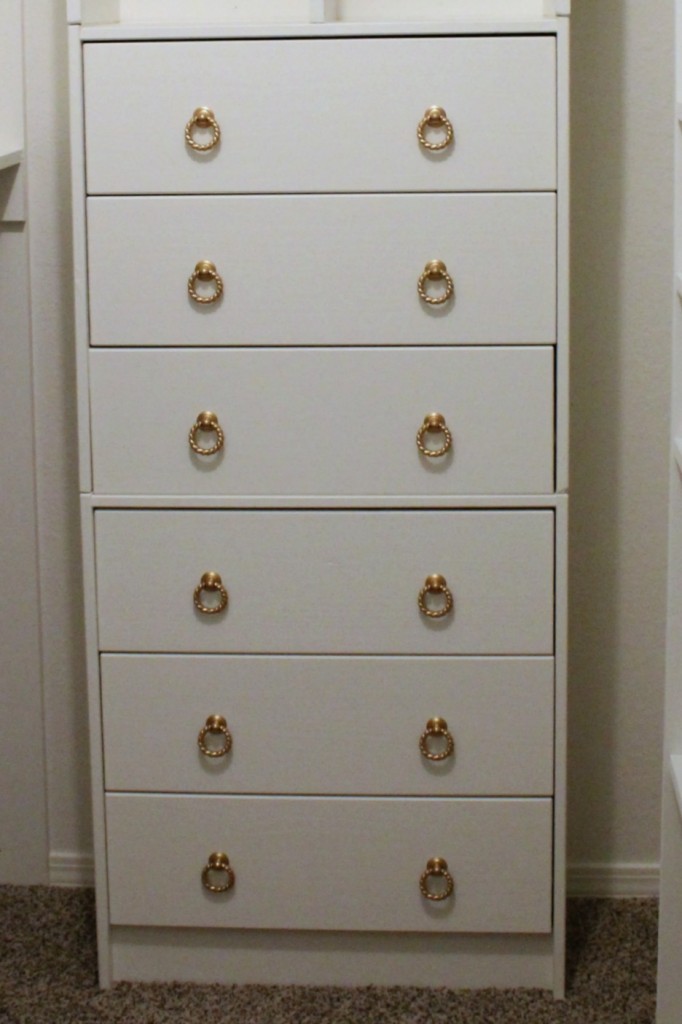 I have reworked my jewelry box, and it now fits the décor in the closet and functions in less space than before.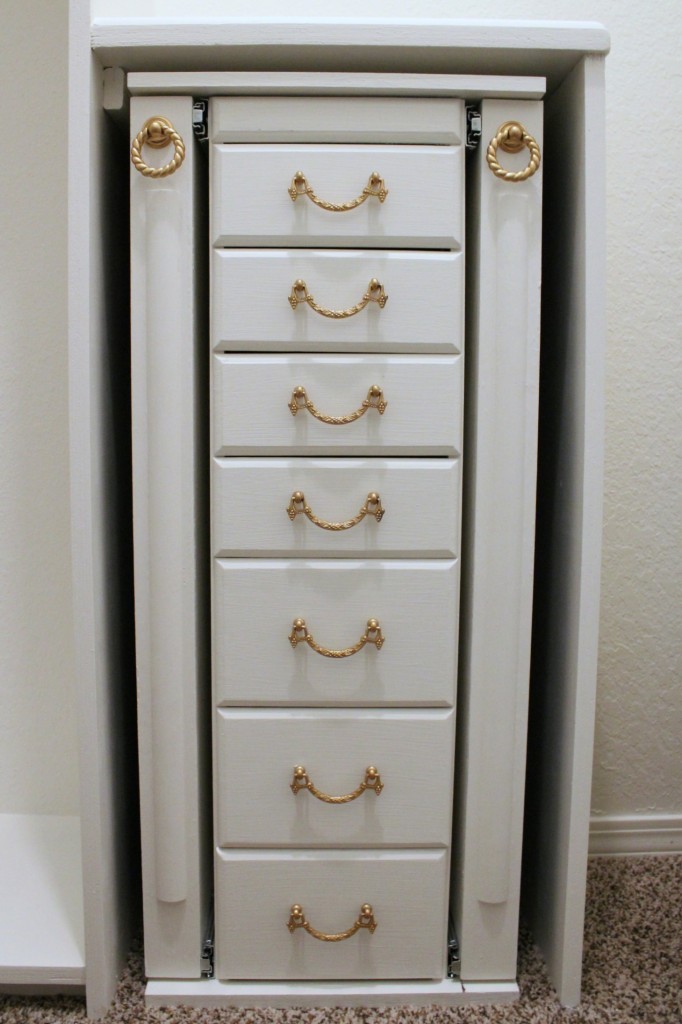 The best decision that I made in the beginning was to paint the walls and the built-ins all with the same paint – same color and sheen. It looks seamless and cohesive, and really made painting everything SOOO much easier!
We were not working with a large space, and I believe we lost zero floor space in the redesign, so even though there is more in there it doesn't feel closed in or smaller at all.
There are still some details to iron out – baskets/bins for some of the shelves, still waiting on the new light fixture to arrive (supposed to be here today), and hanging a few more things on the walls. Make sure you come back next week to see the full reveal! It's going to be epic. 😎
Be sure to stop by Calling It Home to check out how all the other linking participants are doing in their challenges, and you most definitely want to check out the inspiring rooms that the featured designers are working on!
Need to catch up? Be sure to check out previous updates
Week 1 / Week 2 / Week 3 / Week 4