Hey there friends! I've got another edition of Friday Finds for y'all filled with all sorts of random goodness!!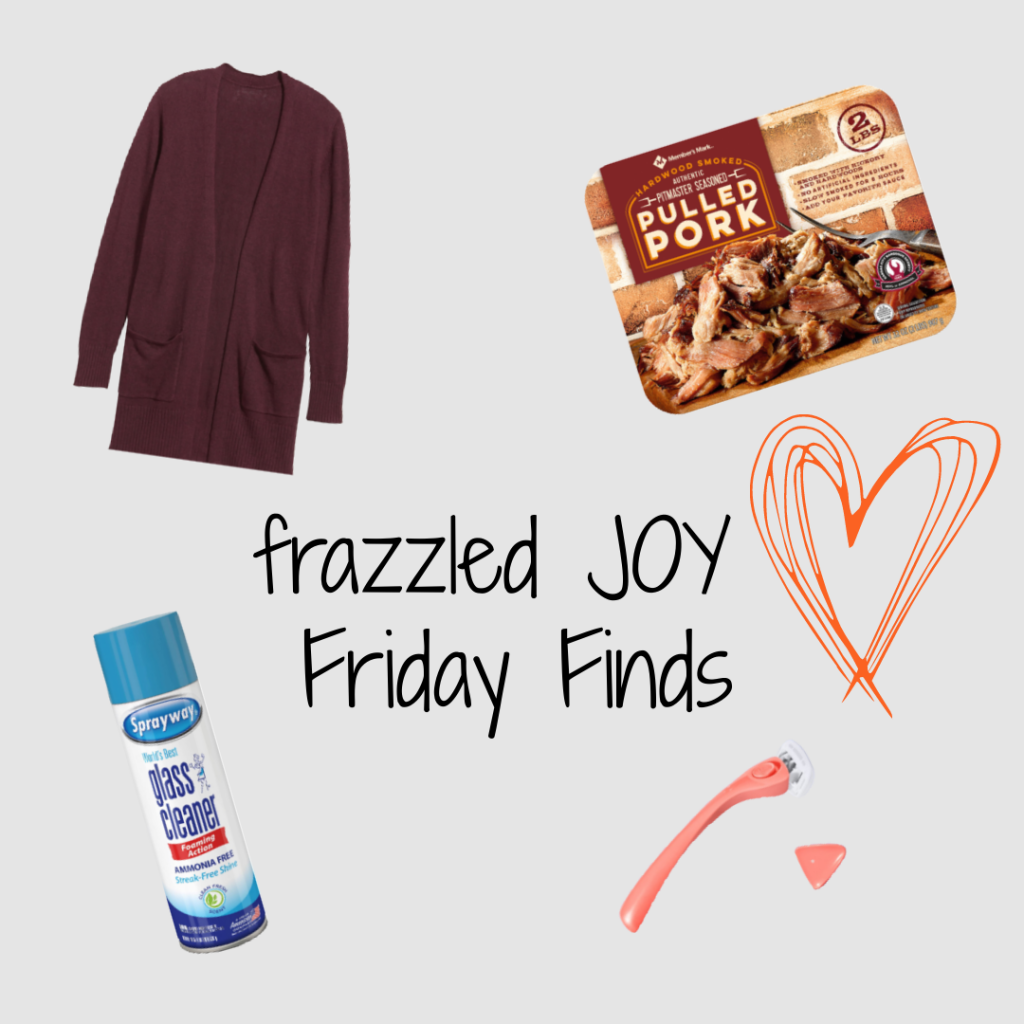 Some affiliate links used for your convenience. If you purchase from these links frazzled JOY receives a small commission at no cost to you. Thanks for supporting what we do around here! See disclosures for more details.
Are you ready? Here we go! First up, this window cleaner. Super boring I know but man does it work! I've been struggling lately even with name brand window cleaner getting my windows clean AND streak free. This stuff does the job very well!
Next, this razor! I know, I know, you've probably seen it already all over social media. I had too, and that's why I finally decided to check out the hype for myself. I've been using cheap disposable razors for years because I just couldn't bring myself to pay the ridiculous price for nice razor blades. Enter Billie. It's an amazing razor – closest, smoothest shave I've ever had, and it's a great price point. Bonus – it's a subscription, which means you'll never run out!
Now for some fashion. This cardigan is my all time favorite. It's light weight and super comfy – perfect to transition to fall! I love it so much I have it in a few colors! It's on sale right now so be sure to grab one, or two! Lots of great fall colors but I love this raisin color!
And one more thing that is actually a family favorite and a life saver at meal time! Do you have a Sam's club membership? Well, these packs of pulled pork are delicious! Fully cooked, refrigerated not frozen, microwave for 6-7 minutes, and endless dinner possibilities! We use it for pork street tacos, BBQ pork sandwiches just to name a couple. Been thinking about getting a Sam's club membership? Here is a great deal for you – join now for $45 and receive a $45 Sam's club gift card! So basically a year's membership for free! Follow this link for the deal – Sam's club membership.
See, I told you random!! HAHAHA! But, maybe one of these things is just what you've been looking for! My college kiddo is coming home this weekend and I'm super excited! Have a great long weekend friends!