One of my favorite things (out of many) about our new laundry room is the word art that I made with some amazing scrapbook paper.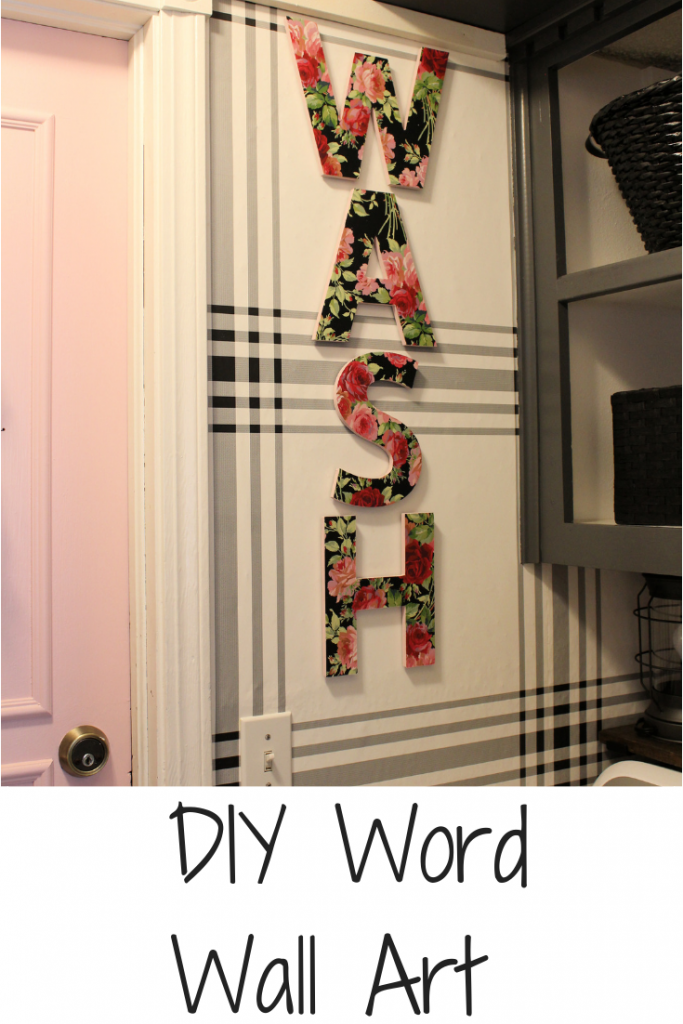 Today, I'm sharing a tutorial on how-to make them! They are super easy to make and very inexpensive!
Some affiliate links used for your convenience. See disclosures for more details.
To start pick out whatever word you want to spell and buy the letters you need. These are the letters that I used, but they do have several different sizes at Hobby Lobby to choose from. (Don't forget they put these on sale often – 50% off!) Then choose the paper you like! This paper had my heart immediately! As soon as I saw it, I knew it was just what I needed to pull the room together.

The first step is to paint the sides of the letters with a color that coordinates with the paper you chose. I painted mine with the same pink I had used on the door.


Then coat the top of the letter with Mod Podge.

Place the letter on the paper – glue side to the back of the paper as shown. Smooth the paper over the letter. You will need to be careful with some of the letters – make sure you glue the paper on the right side to ensure the letter will be facing the right way when you're done. (speaking from experience here – you don't want to end up with a backwards S)

Next, it's time to trim the excess paper off. I used a hobby knife and a cutting mat (similar).


Once you've trimmed off the excess paper, add a coat of Mod Podge over the top of the paper. This seals the paper, helps it stay attached, and protects it.


Now you have beautiful letters to hang in your space.

Here is how they look in my laundry room!! I love them so much!!


Easy and inexpensive just like I said right?? Happy crafting!!