I'm so excited to be participating with the girls at remodelaholic again in another challenge. This time it is Christmas themed. And, I'll have to be honest, up until they proposed this challenge, I hadn't even thought about Christmas! HA! I'm glad for the challenge if nothing else to get my mind revved up for all things Christmas! (be looking for lots more coming to the blog this month!) Be sure to hop on over to Remodelaholic to see more of the Creative Christmas Challenge and to check out the link party which will include so much more inspiration. Also, be sure to scroll through to the bottom of this post for links to all other projects in this challenge. And, the girls at Remodelaholic will be sharing Creative Christmas inspiration all week!! Just in time to get things ready for Christmas at your house!
Last year our church built some large wooden trees to decorate the stage and I loved them! They were so simple and yet so cute. I knew immediately that I needed some for our yard. So, I thought they would be the perfect project for this challenge!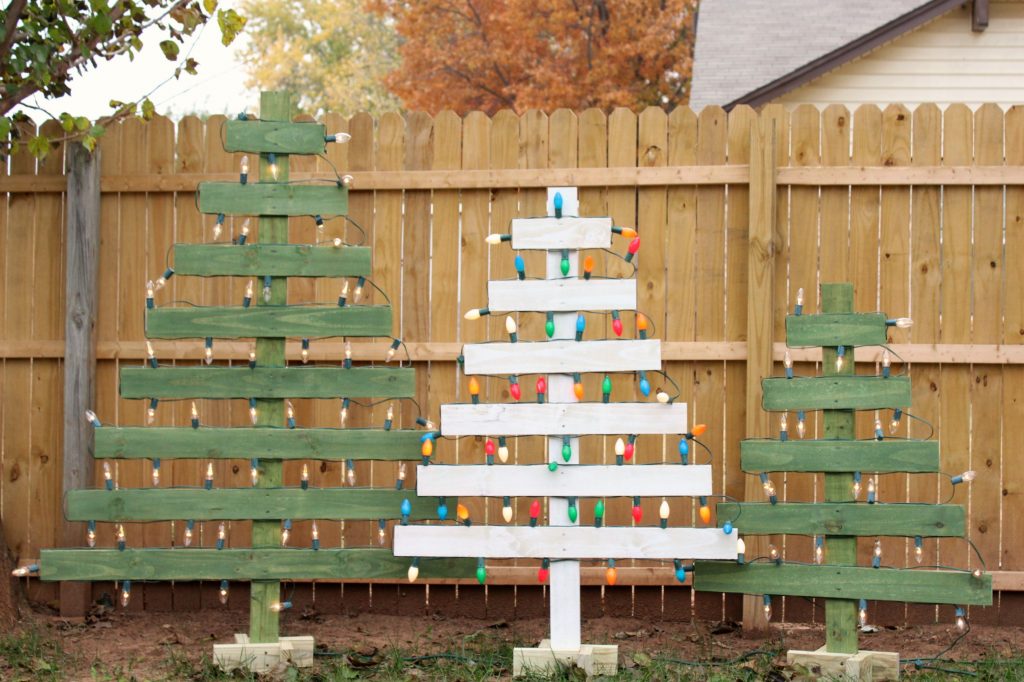 Some affiliate links used for your convenience. See disclosures for more details.
I started with pressure treated wood since they were going to be outside. 2×4's for the 'trunk' and base and fence pickets for the 'limbs'.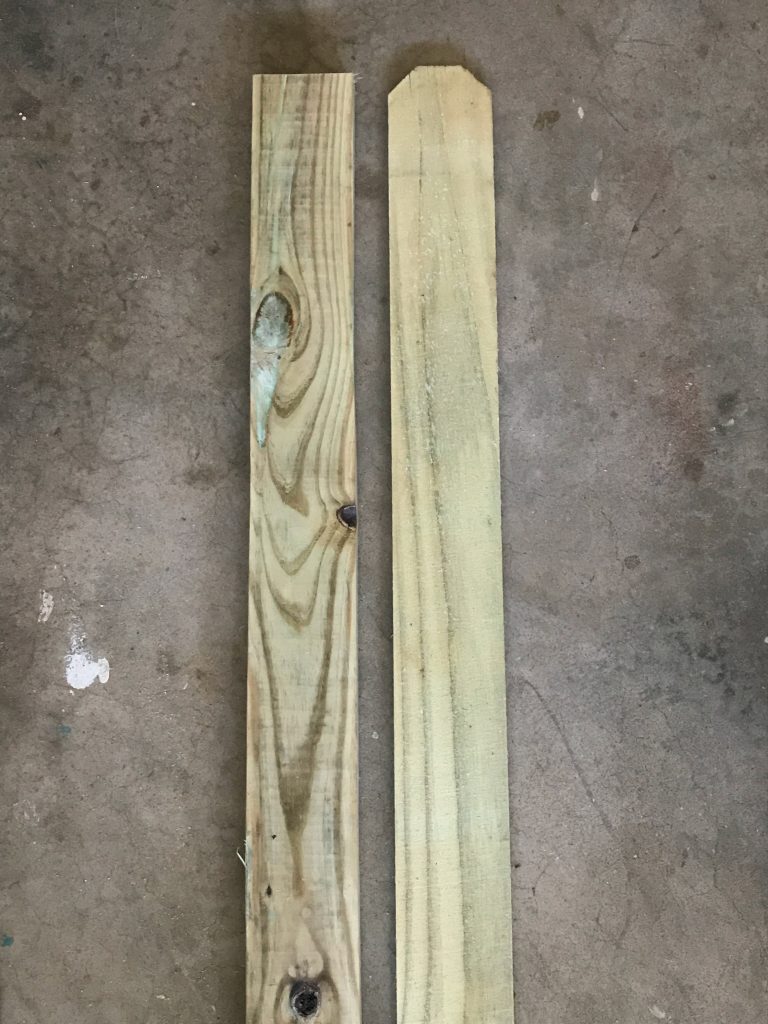 The treated pickets were super dusty, but a light sanding did the trick!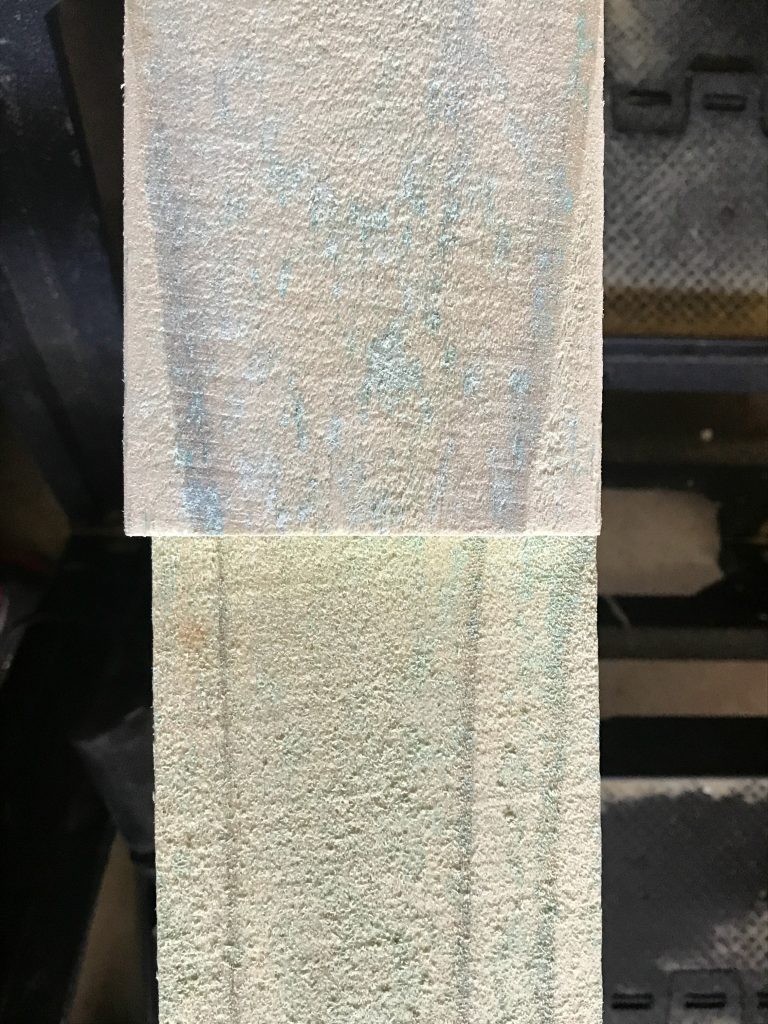 After I cut all the pieces, (see below for the measurements for each tree) I got to building! First step was to find the center of the 2×4 and then mark.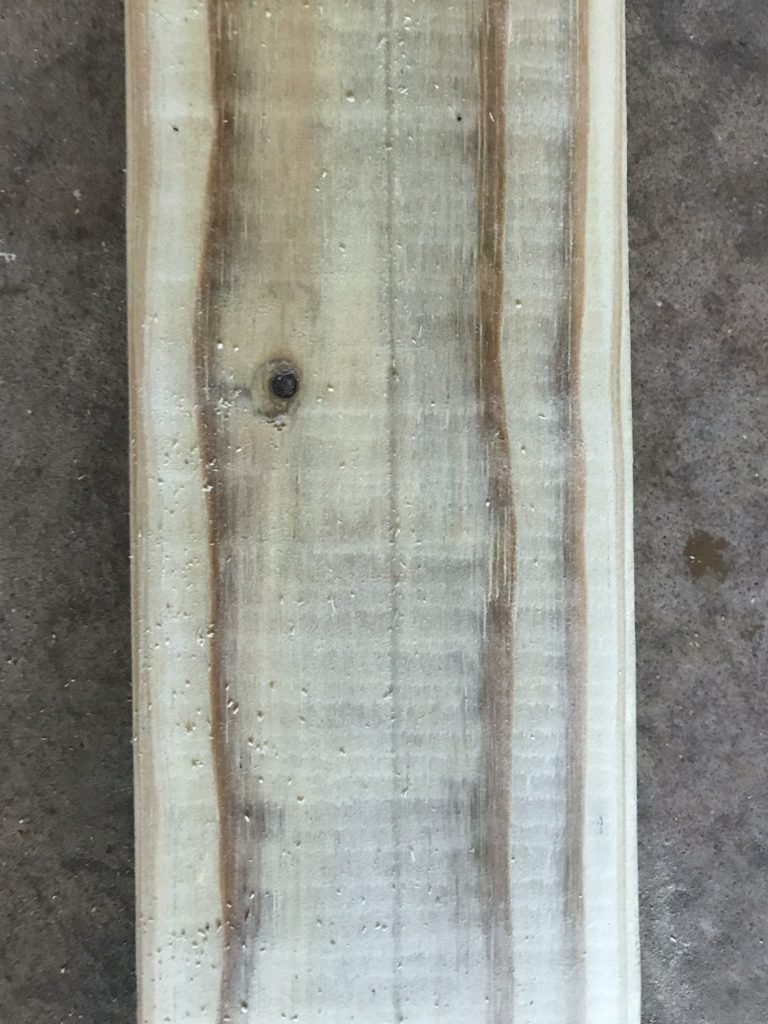 Then I marked the center of all the cross boards or 'limbs'. I did this in order to ensure that the limbs were centered.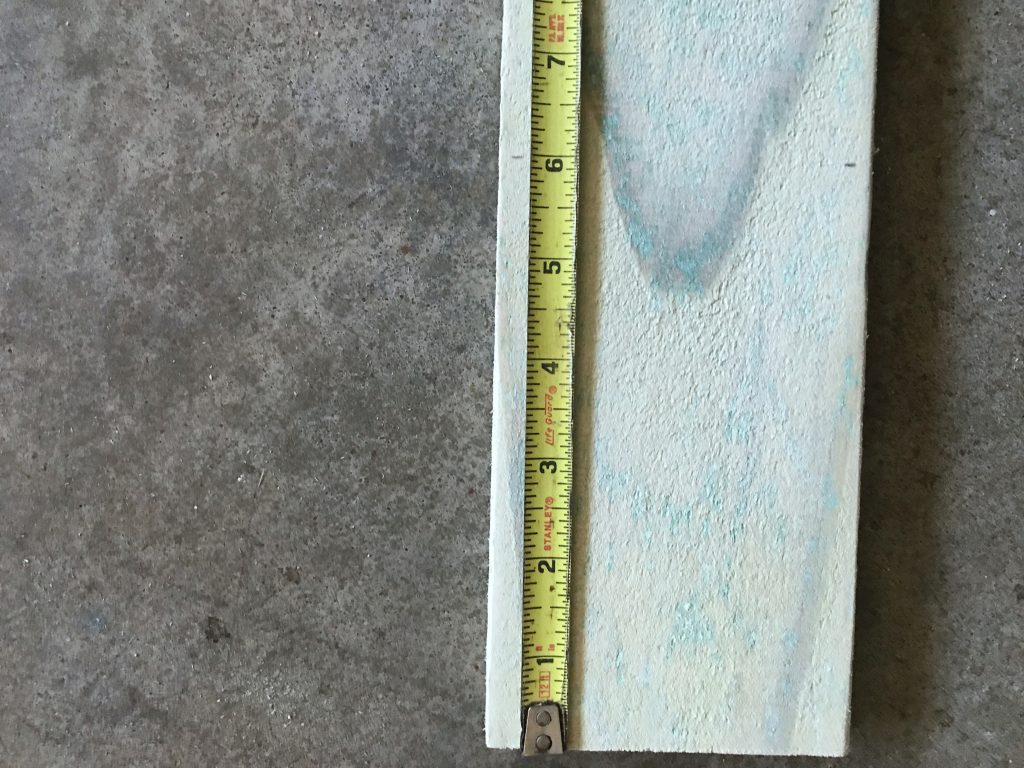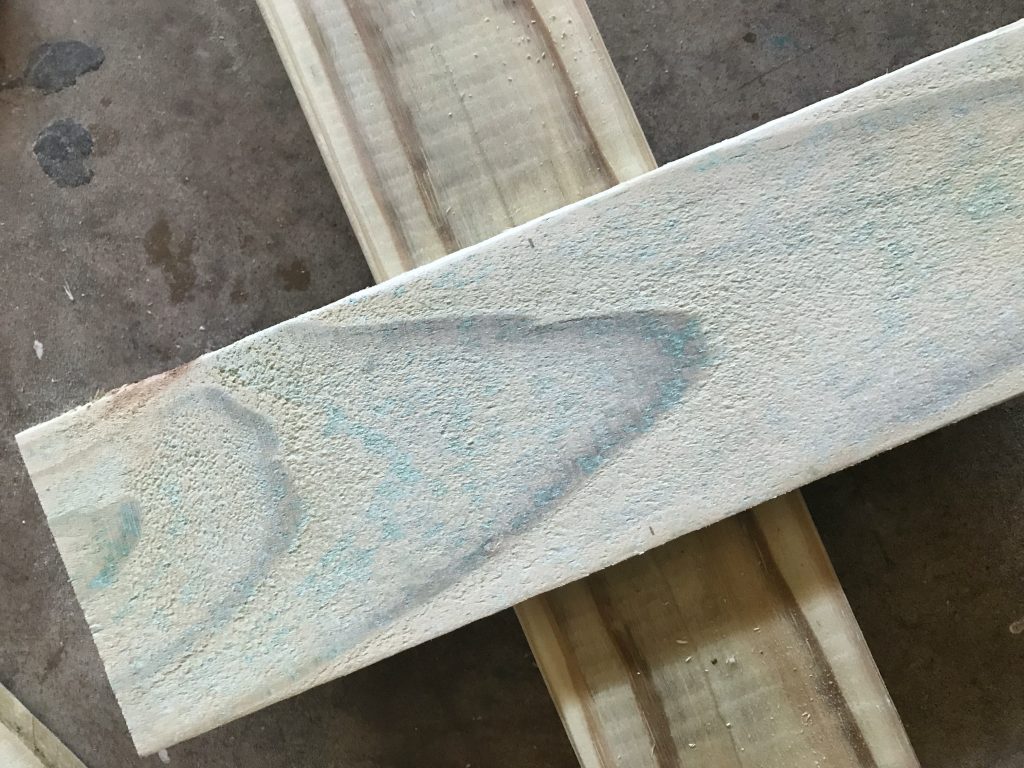 I screwed each piece on using outdoor screws like these.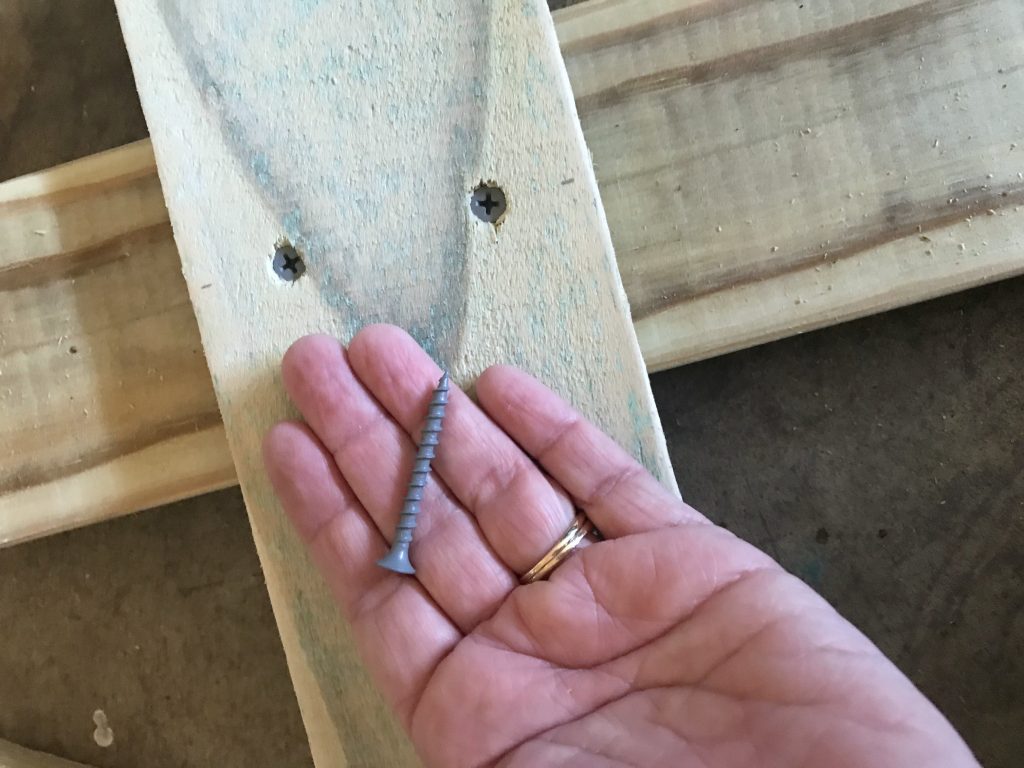 I used a piece of fence picket as a spacer in between each 'limb'. The spacer not only makes sure that each 'limb' is the same distance apart but also helps keep each 'limb' level.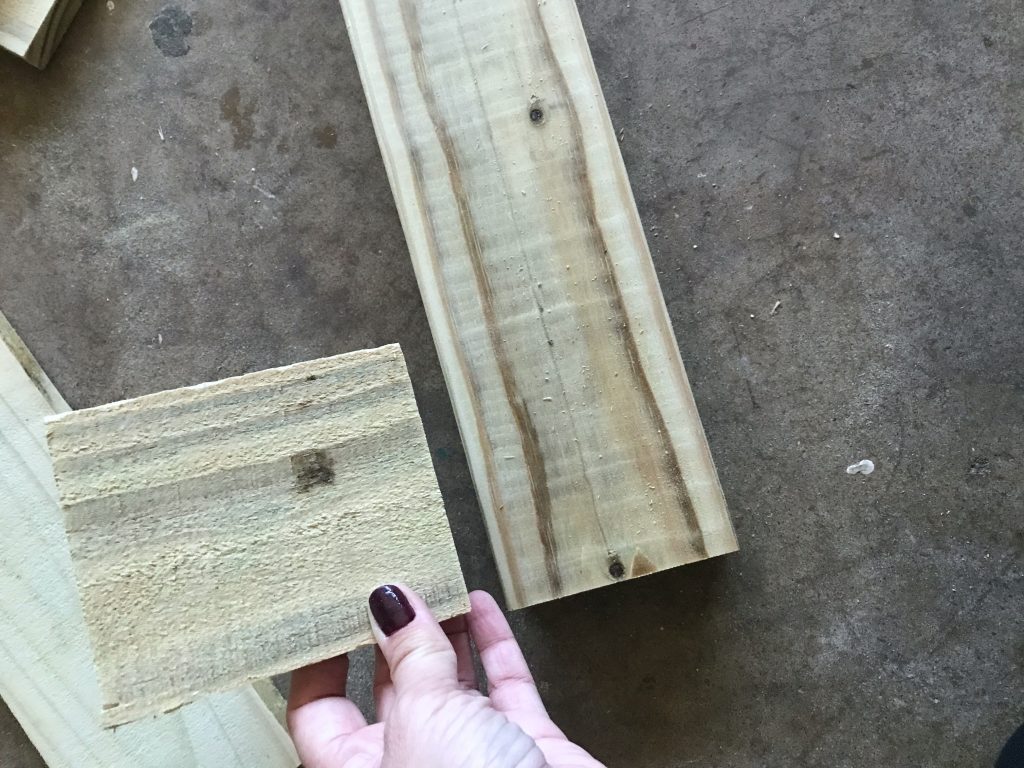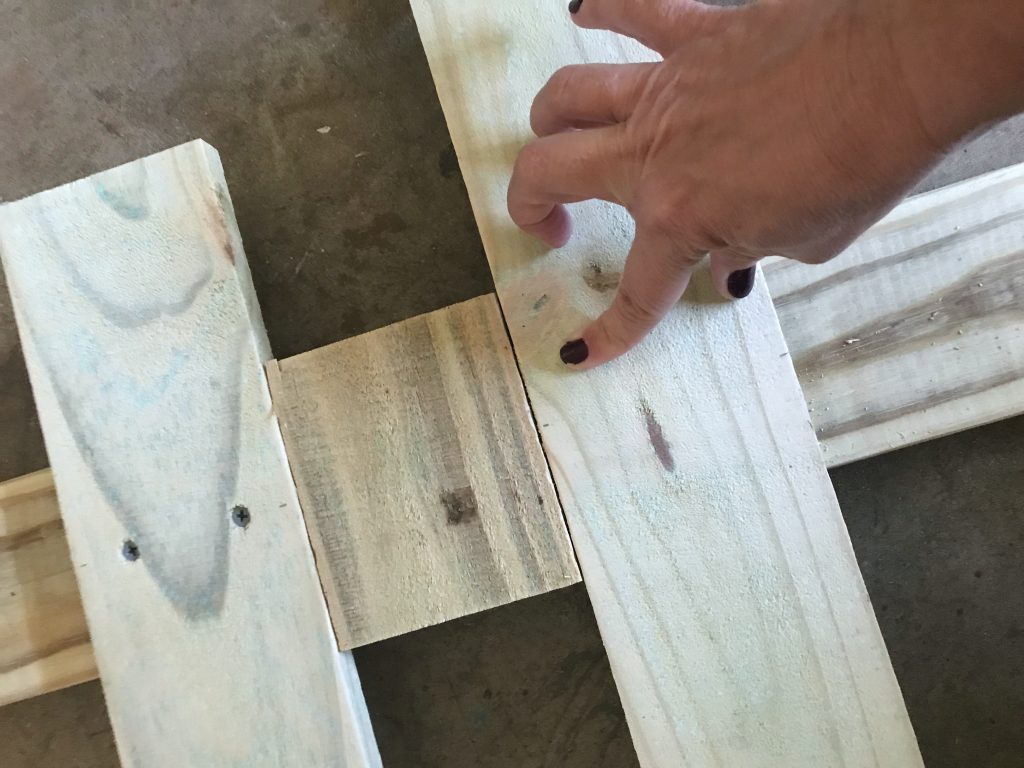 These were so easy to put together! Here is a look at one of the completed trees.
Lumber lengths for each tree:
6 foot tree
2×4 – one 6′
Fence pickets – one each at 4 1/2′, 4′, 3 1/2′, 3′, 2 1/2′, 2′, 1 1/2′, 1′ – 8 total pieces
5 Foot Tree
2×4 – one 5′
Fence pickets – one each 3 1/2′, 3′, 2 1/2′, 2′, 1 1/2′, 1′ – 6 pieces total
4 Foot Tree
2×4 – one 4′
Fence pickets – one each 2 1/2′, 2′ , 1 1/2′ , 1′ – 4 pieces total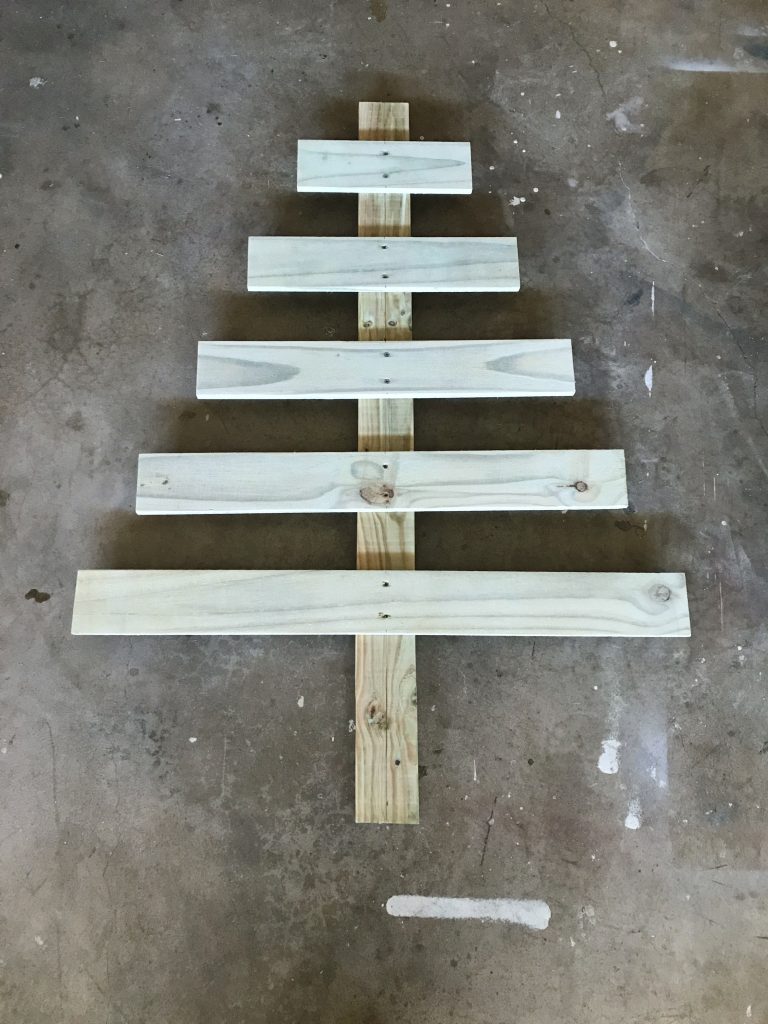 I used four pieces to make a base – the longer pieces are 8″ and the shorter pieces are 6″. I will say that the small two trees felt secure on this base, but the taller tree was a little wobbly. I would suggest making the pieces for the base a little longer for the taller.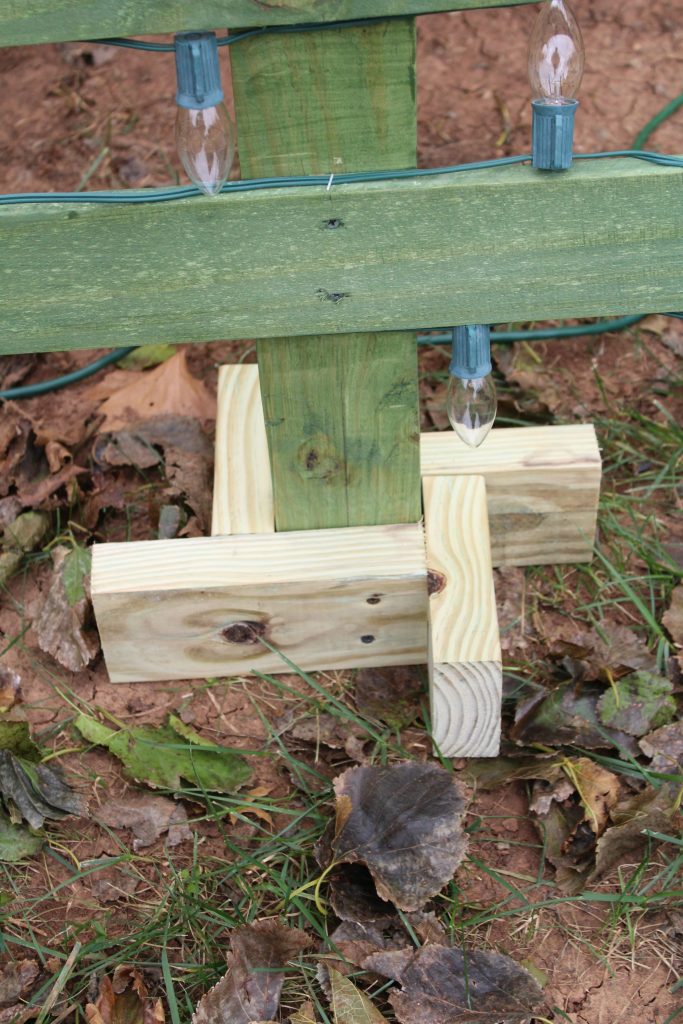 Honestly, I couldn't decide how to finish the trees – green with white lights, or white with colored lights. So, I decided to do both. Even after they're done I don't know which is my favorite. I love them both! The green is a semi-transparent stain from home depot – tinted in Ponderosa Green The white is simply painted with some leftover paint that I already had. 
I attached the lights to the trees with a staple gun. I know that is a big no-no so if you don't want to do that you can use these.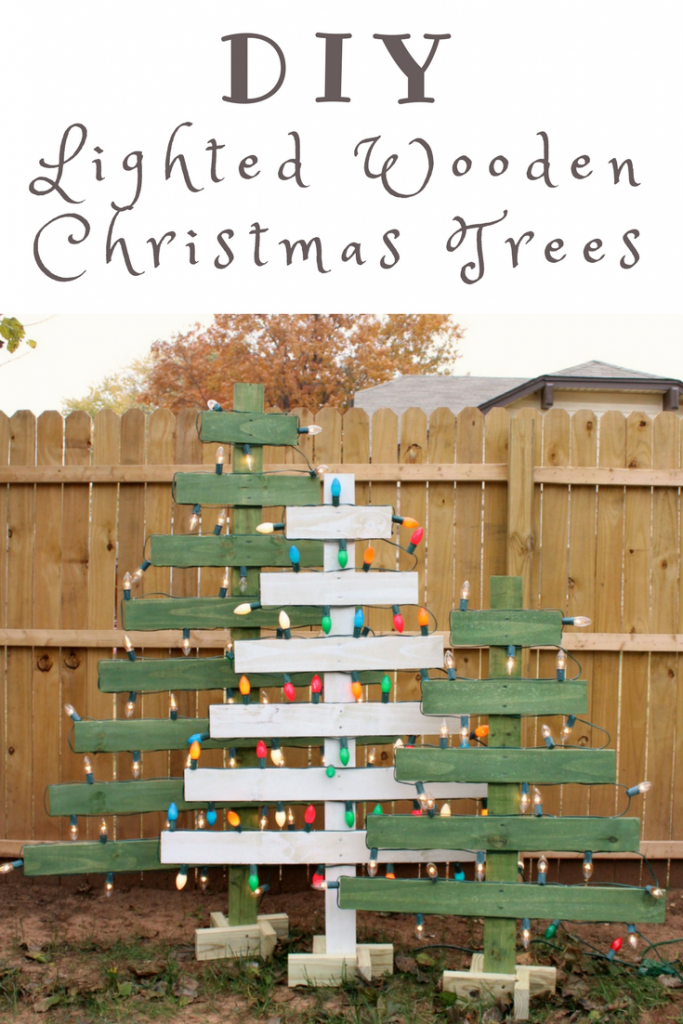 They might be my favorite decoration this year!!
Be sure to check out all the other awesome participants in this challenge!! So much inspiration!!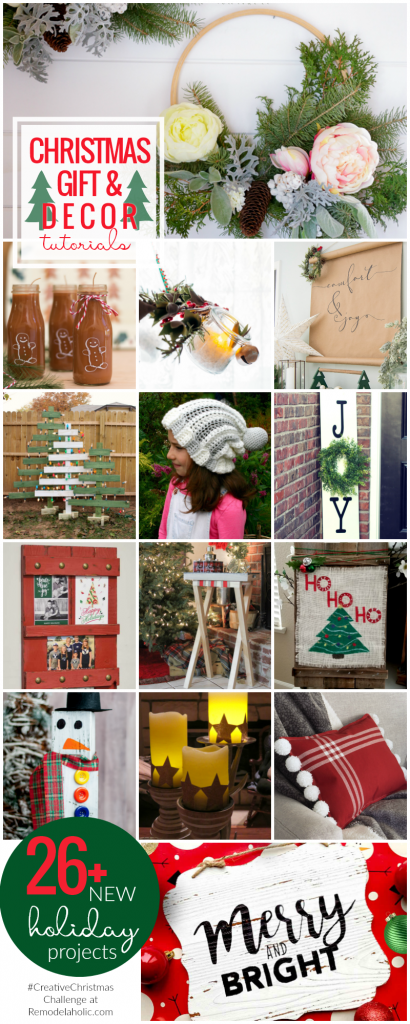 DIY Christmas Gifts and Decor
Christmas Pine Hoop Wreath | This Mama's Dance
Gingerbread Man Candles | Nourish and Nestle
Wire and Glass Chandelier | Home with Cupcakes and Crinoline
Christmas Scroll Wall Art | Grace In My Space
Lighted Wood Trees | Frazzled Joy
Crocheted Christmas Hat | Luz Patterns
Christmas Card Photo Display| Hertoolbelt
JOY Porch Sign | Ginger Snap Crafts
Folding Bar Cart Table | Everyday Party Magazine
Wood and Burlap Christmas Sign | Leap of Faith Crafting
Wood Block Snowman | Anika's DIY Life
Holiday Candle Wrap | Dragonfly & Lily Pads
Christmas Pom Pom Pillow | Small Home Soul
Handlettered Wall Art | Smiling Colors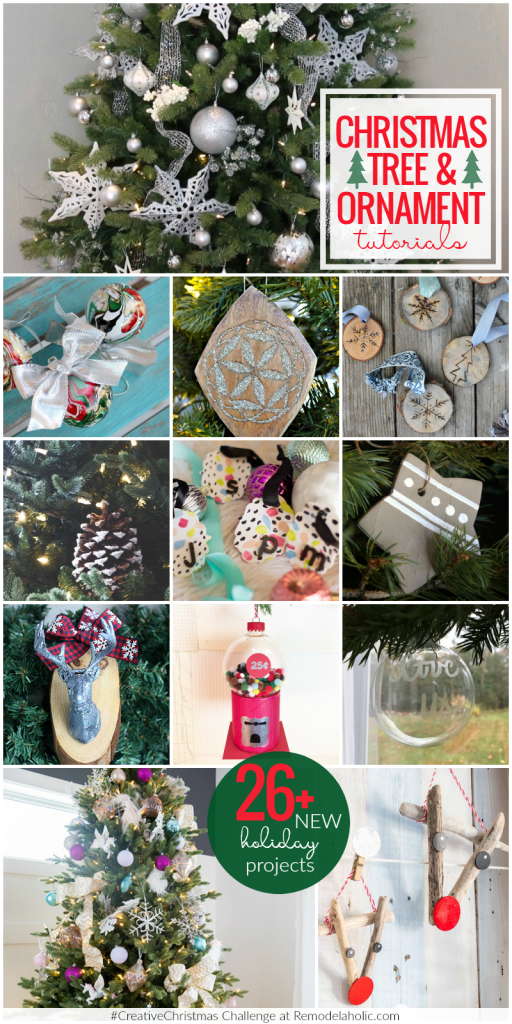 DIY Christmas Trees and Ornaments
Wintry Silver Dollar Store Christmas Tree Decor | Remodelaholic
Marbled Christmas Ornaments | Doodlecraft
Scrap Wood Inlay Ornaments | The Ugly Duckling House
Woodburned Wood Slice Ornaments | Sisters What
Flocked Pine Cones | Practical and Pretty
Abstract Monogram Ornaments | Domicile37
Concrete Christmas Ornaments | The Palette Muse
Wood Slice Deer Ornaments | Our Crafty Mom
Vintage Gumball Machine Ornaments | Beth Watson Design Studio
Etched Glass Ornaments | Just Call Me Homegirl
Unicorn Inspired Christmas Tree | The DIY Mommy
Driftwood Reindeer Ornaments | Sustain My Craft Habit
Be sure to check out the video playlist as well for the super awesome folks that included a video for their tutorial by following this link.