Are the temps getting cooler where you are?? We were forced to turn on the heat about a week ago because we had a night with temps below freezing. When it gets cooler outside, I always feel like getting cozy. That means pulling out all the cozy sweaters, cozy bedding, soft blankets, and pillows. The softer and the fluffier the better! Am I right? I had been on the lookout for a new comforter for our bed. I only had a few requirements: it needed to match our current color scheme – navy blue and white/cream/beige, it needed to be 100% cotton, and it needed to not break the budget. TJ Maxx to the rescue!! And it's so fluffy!! Not too warm, and not too light. Perfect!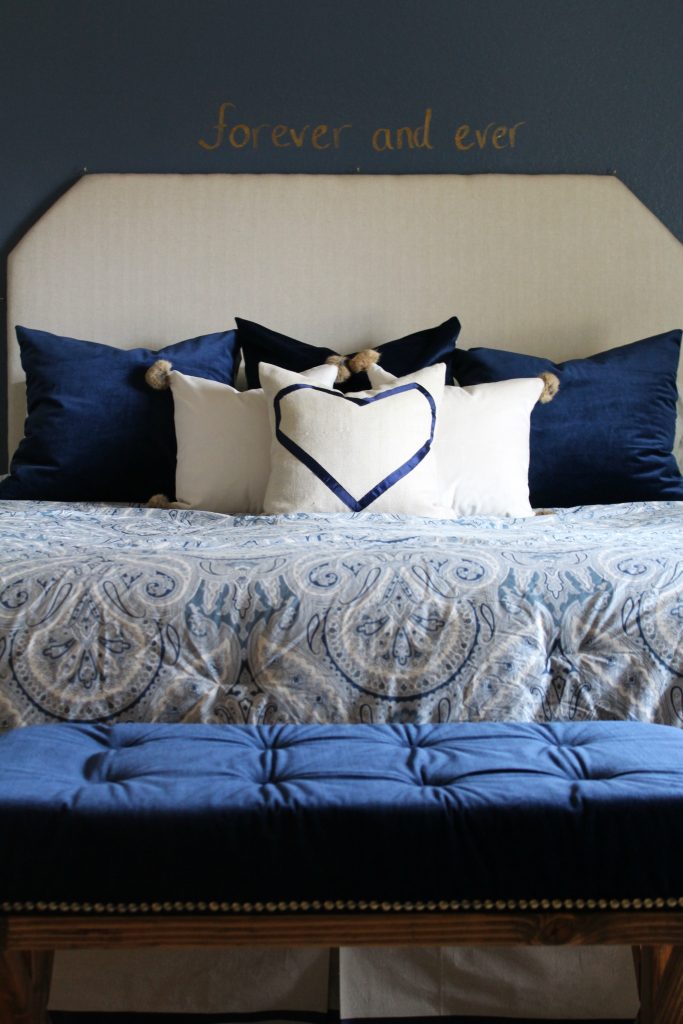 Next up for coziness, I needed new pillows. The shams that came with the comforter were nothing special. King sized, and the same fabric as the comforter. I'm not really into the matchy, matchy so I decided to make my own. When I order fabric to cover the bench we made, I ordered enough just in case I went this route. I made three euro shams and I love them! (what you can't see is that the back is navy gingham, perfect for spring and summer  😉 )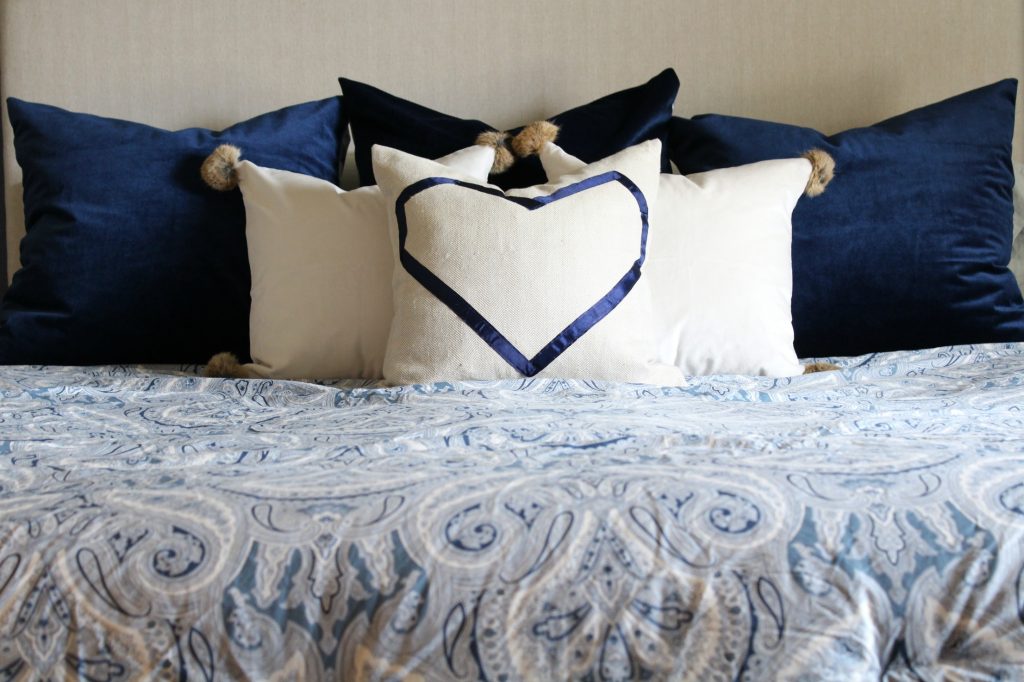 But, you can never have too many pillows, so I decided to check out the selection of pillow covers at Hobby Lobby. Have you every thumbed through those? They literally have something for everyone. And, if you can be patient, you can get them for half-off which is a great deal. When I spotted these cream velvet pillow covers with the fur pom poms, I knew I had to have them! Give me all the soft things! (unfortunately I couldn't find them online, but check your local stores – they were regularly 15.99 each)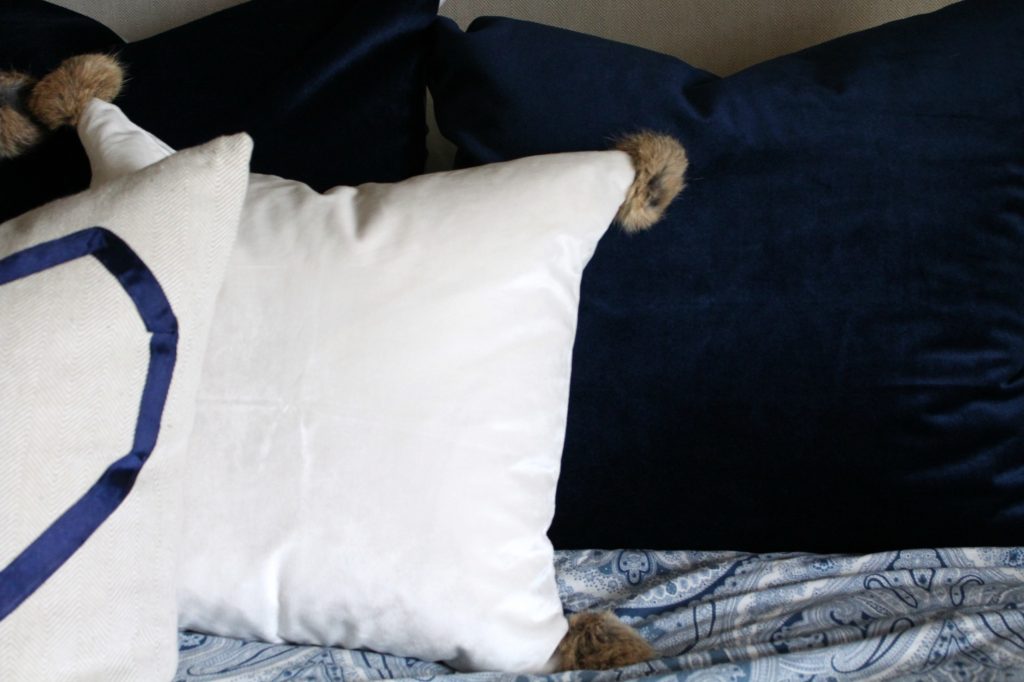 The last touch to my cozy bed – another pillow. This one is from my stash. The fun heart pillow I made a while back from leftover fabric from covering our headboard and some grosgrain ribbon for the heart.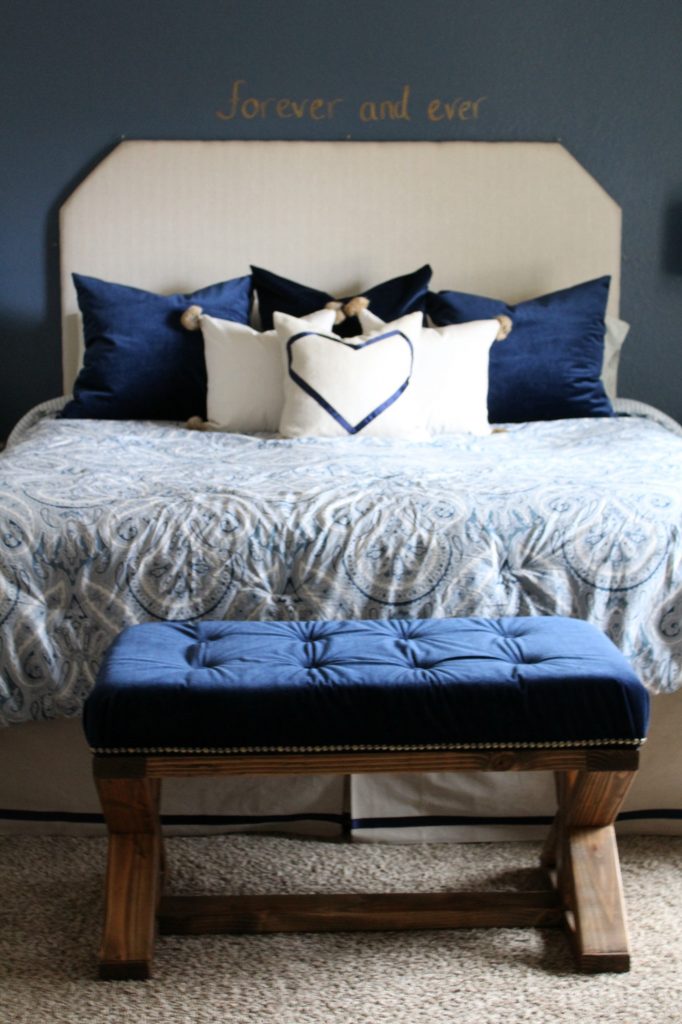 I can't wait to crawl into this loveliness at the end of everyday! Who knows, I might actually make my bed every morning if it looks this good! Ha! Who am I kidding?!?
How about you? Do you make your bed every morning?? Is your bed all cozied up and ready for winter?? I know some of you have already gotten snow!!