Hey there friends! I talk a lot about "budget" around here at frazzled JOY when we are doing projects. Because, to be honest, our budget determines what we can and can't do in this house. There are some really BIG projects that we would love to take on but…budget. So, I thought I would share with y'all today how the budget for the One Room Challenge went down and kind of how we work through that for every project.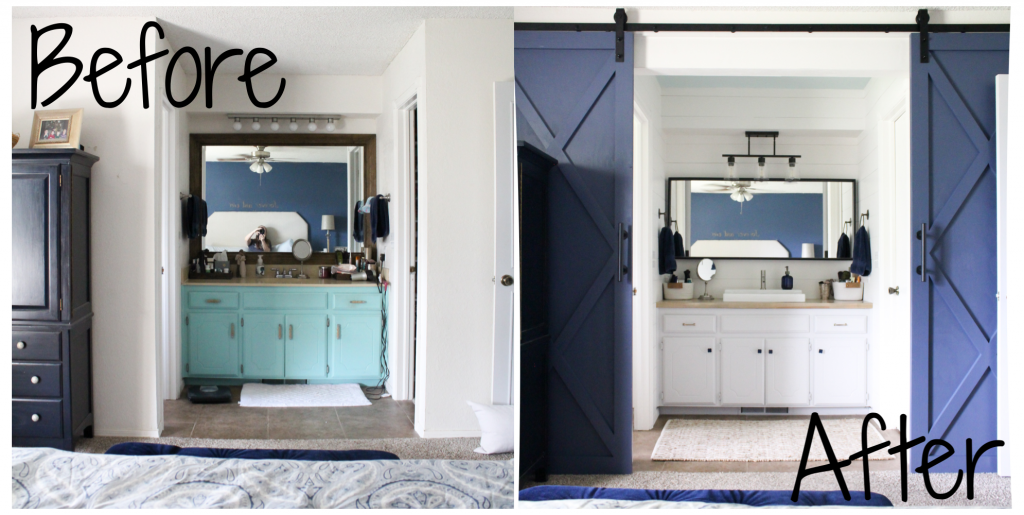 For this project, and most others actually, I came up with two scenarios. One "dream" scenario – doing all the things that would make this space amazing, and a "make it better" scenario – working with what we have to create a much better space.
The dream scenario included double sinks, which would have required a new vanity, which in turn would have required new flooring. It also included building a small wall, and then only one barn door. Also, moving electrical for the lighting and removing the bulkhead. The estimated cost for this scenario was $2145.00.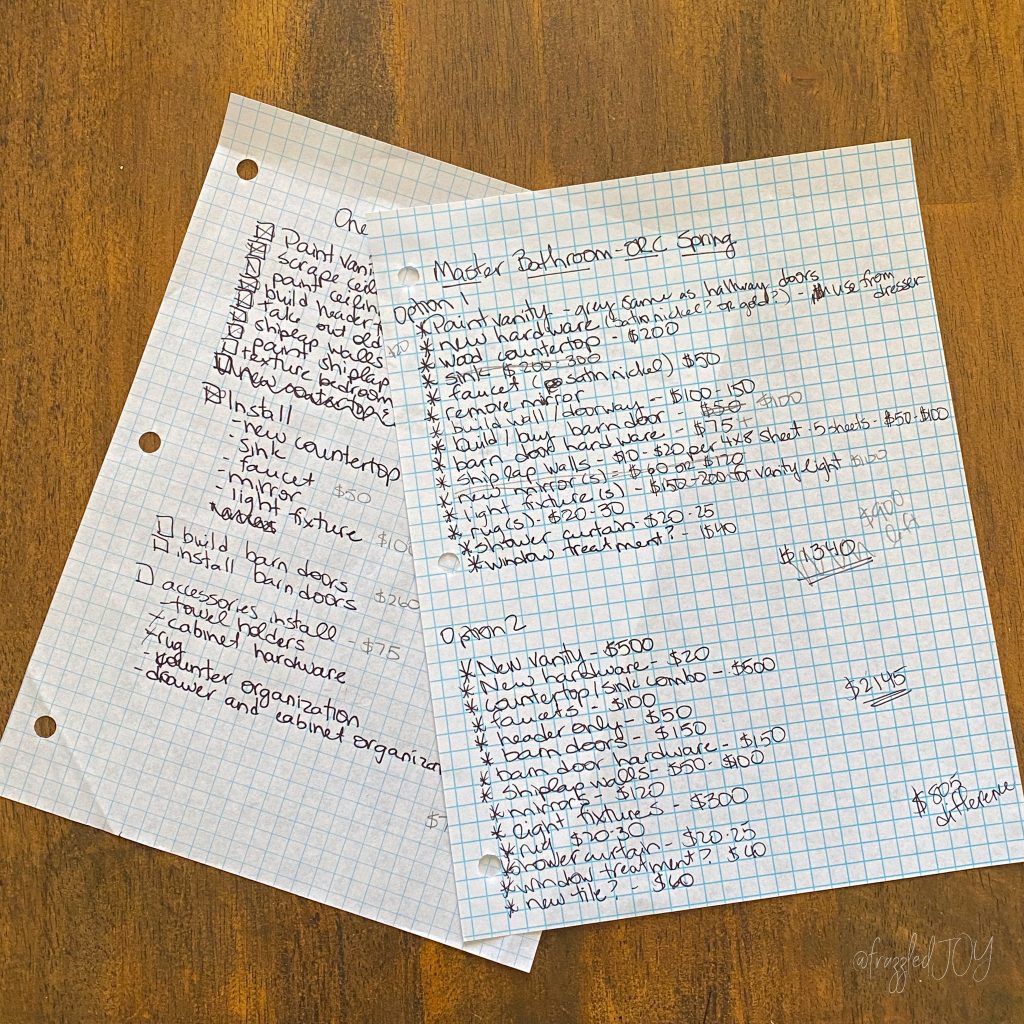 Although all those things sounded wonderful we knew that was just out of the question, so I then started pairing down that wish list into something that was attainable but also affordable. Which was what you see in the finished project. That estimated cost was $1340.00. The final total came in just under $1000.00!! Woohoo for Amazon and finding some great budget friendly alternatives for hardware and such!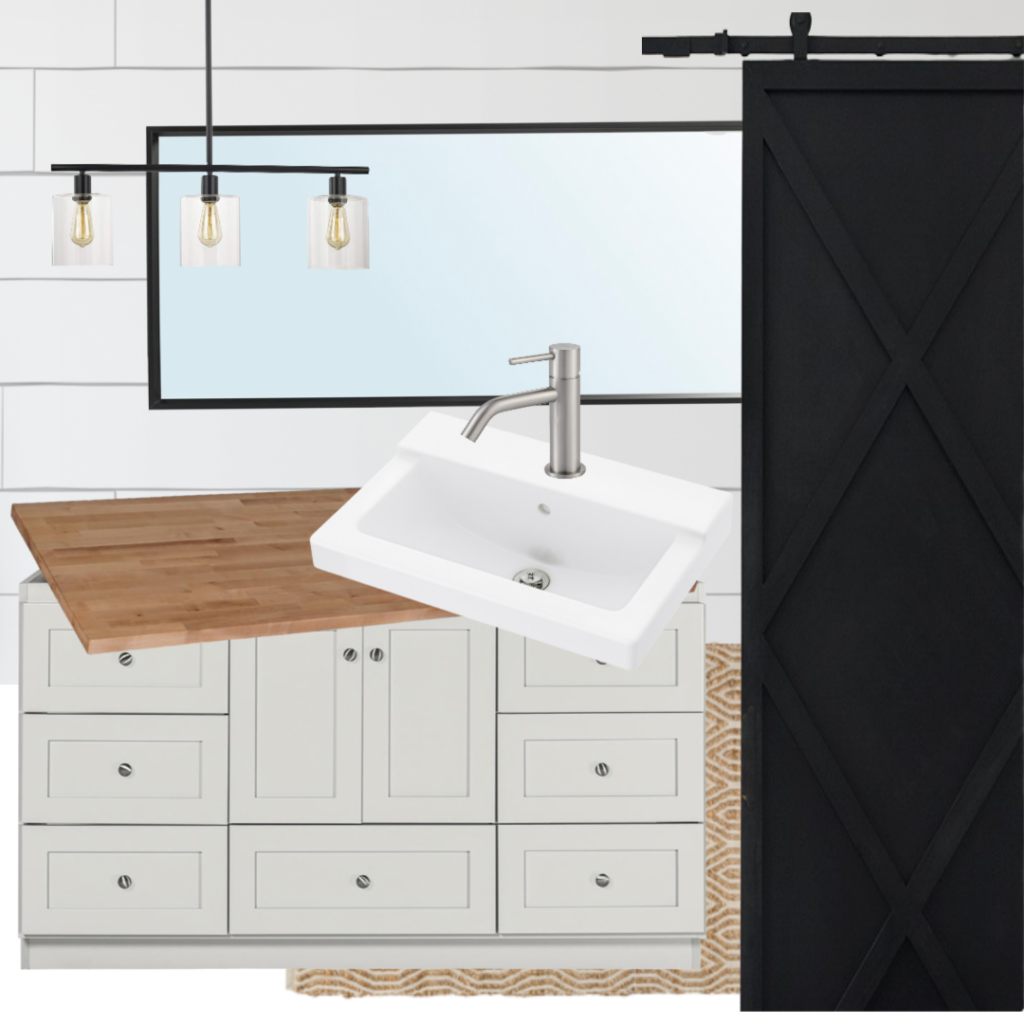 I love the way the space came out and I don't regret making the choice for the smaller budget! I'm here to tell you that you don't have to spend a ton of money to get a ton of impact. You don't have to gut every room and start over! You can still get the look you want by working with what you have, within the budget that you have. 
Another thing that's important to consider is the value of your home. We have done SEVERAL updates to this house over the years. And, while I think those updates will definitely help the house sell when we are ready to move, I'm not sure that we will get a great return on investment. We haven't done a lot of the bigger projects (like tearing down walls, specialty counter tops, painting the outdoor brick, etc) because we know that we have most likely topped out the house value in our neighborhood. Every improvement is chosen and weighed against that reality. And, I have NO regrets for what we have chosen and not chosen to do!! Just remember any improvement is just that, an improvement!!
I hope that this is helpful and gives you a little insight into my process. If you are thinking about starting a project on your own, I have created a DIY Budget Planner that will help you get organized. If you are interested, click here and I'll get it to your inbox!!
Happy DIYing friends!!