If you've been around here for even a little while then you know I love navy! So, this table might be my favorite!! I'll be honest, I was struggling coming up with inspiration. I had been to Hobby Lobby, Target, TJMaxx, Micheals, searching for some sort of spring inspiration to hit me, but it just wasn't. I finally remembered I had this silver trophy vase I had bought at Vintage Market Days last year that I have been dying to use. That was a start at least. I opened my craft storage closet looking for fabric. I had actually purchased some light purple daises while at Walmart the day before. So, I started to look at my lavender fabric stash. Then I spotted the navy gingham I had left over from the euro shams I made for our master bedroom. And then the creative wheel finally started to turn! If I had gone the lavender route, I would have had to make 3 more napkins, but navy – I had plenty of those! Win, win! (and besides I went the lavender route last year haha)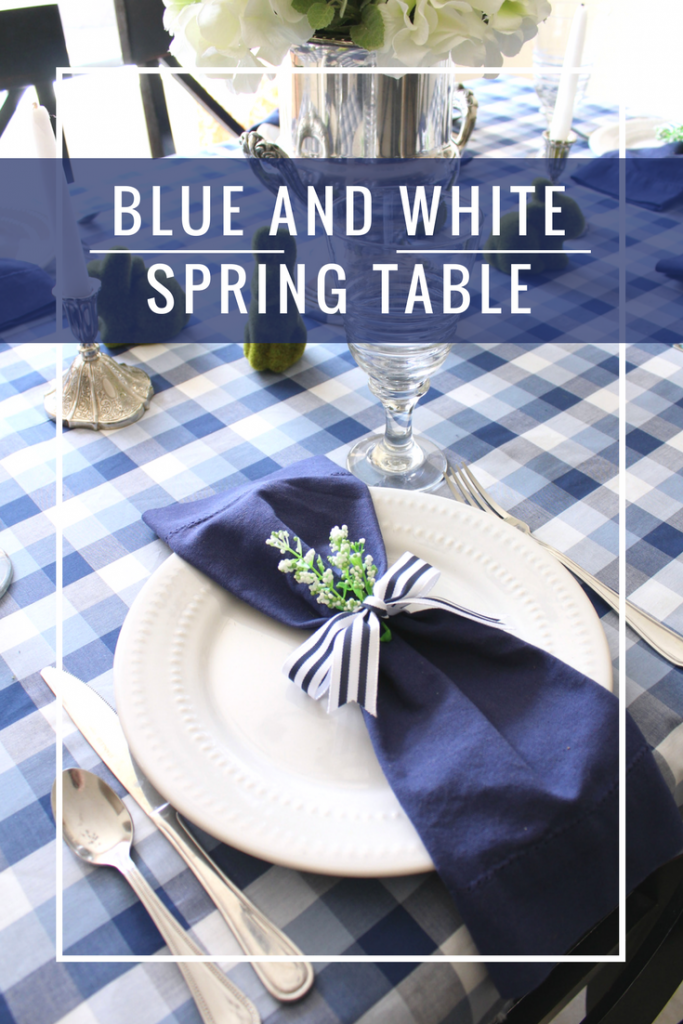 So, here's how it went down. I started with the navy and white gingham fabric as a tablecloth. I did not hem it for this purpose as I often don't do. You can just press down the edges or use some temporary hem tape if you really want to hide the raw edges. Most of the time the raw edges don't bother me.
Some affiliate links used for your convenience. See disclosures for more details.

Then, I added my go to white plates from the Dollar Tree. As well as my Dollar Tree goblets. 🙂 You really can't go wrong with dishes from the Dollar Tree! Next year maybe I'll pull out my Grandma's china from the attic for a spring tablescape.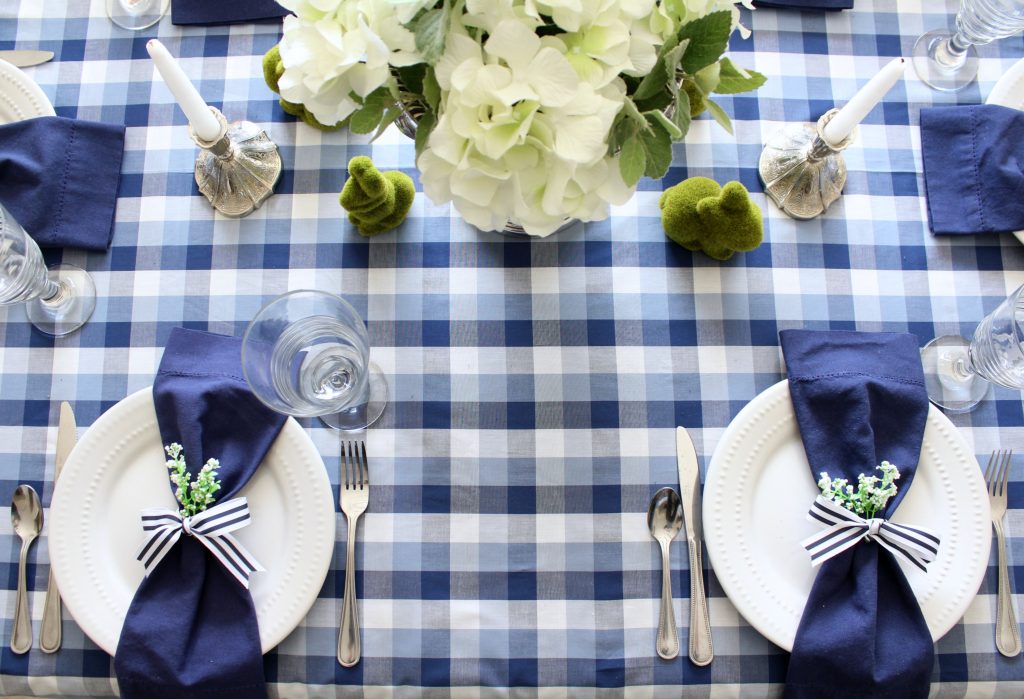 Next up, those navy napkins I mentioned earlier. I bought these on clearance from At Home a couple of years ago, but you can find similar ones here.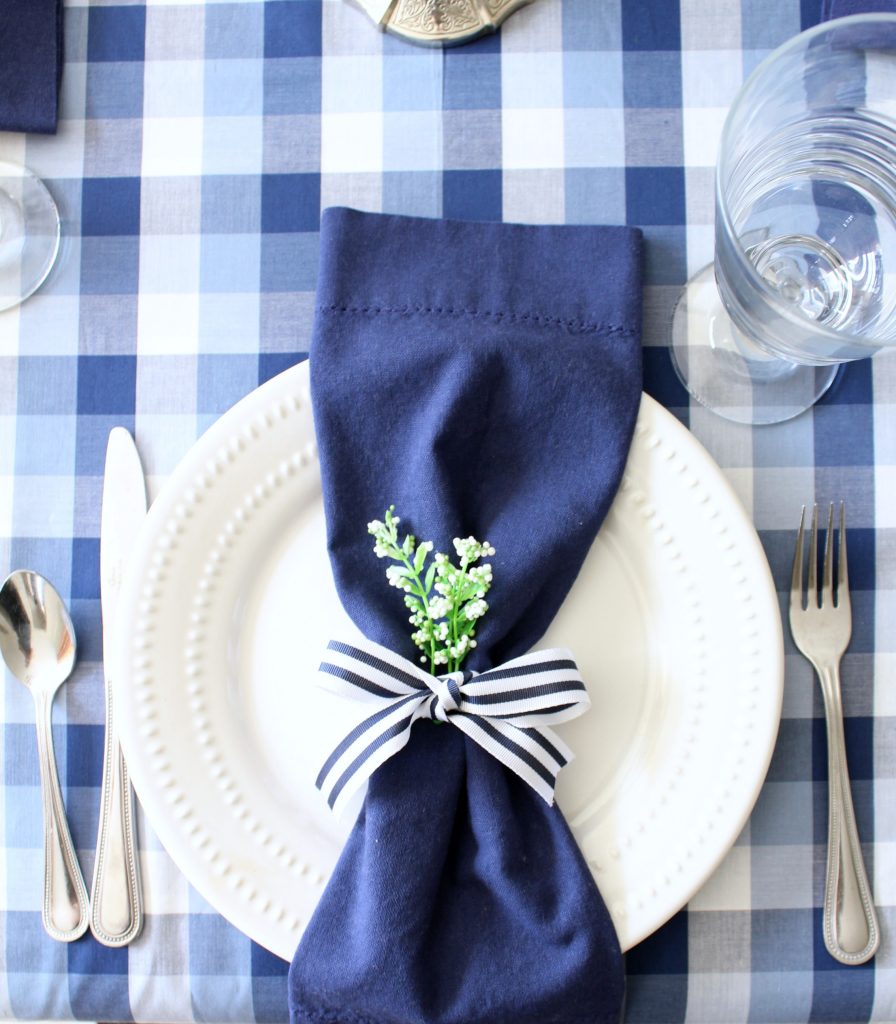 Ribbon is one of my favorite napkin 'rings'. It's cheap, easy, and customizable. I love a crisp stripe so this navy and white striped ribbon was a great addition. The faux stems of green and white I found in the floral section at Hobby Lobby. They actually all came in a little bunch for only $1.99.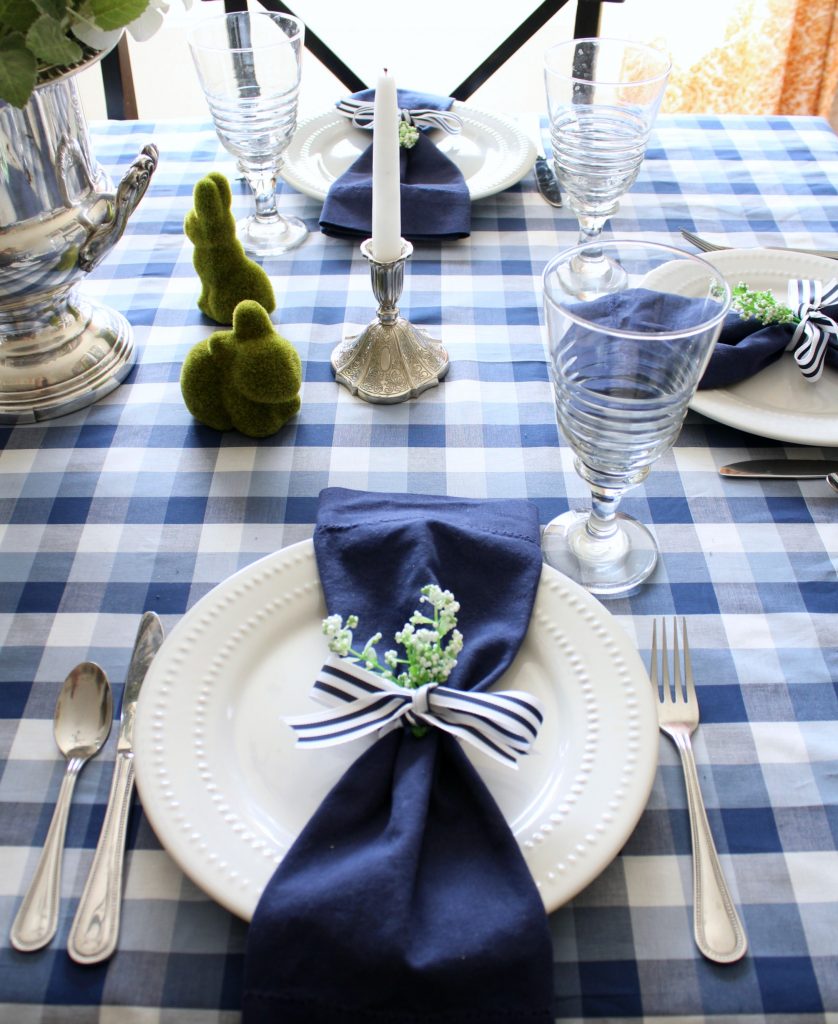 For the centerpiece, I used the silver trophy vase from Vintage Market Days last year. It needed a little polishing, but with the help of some Bar Keeper's Friend and a little elbow grease it looks nice and shiny now. I didn't want perfection, so I left a little patina here and there. The silver candlesticks were a gift from our wedding. They were looking a little sad too, so they also got a cleaning.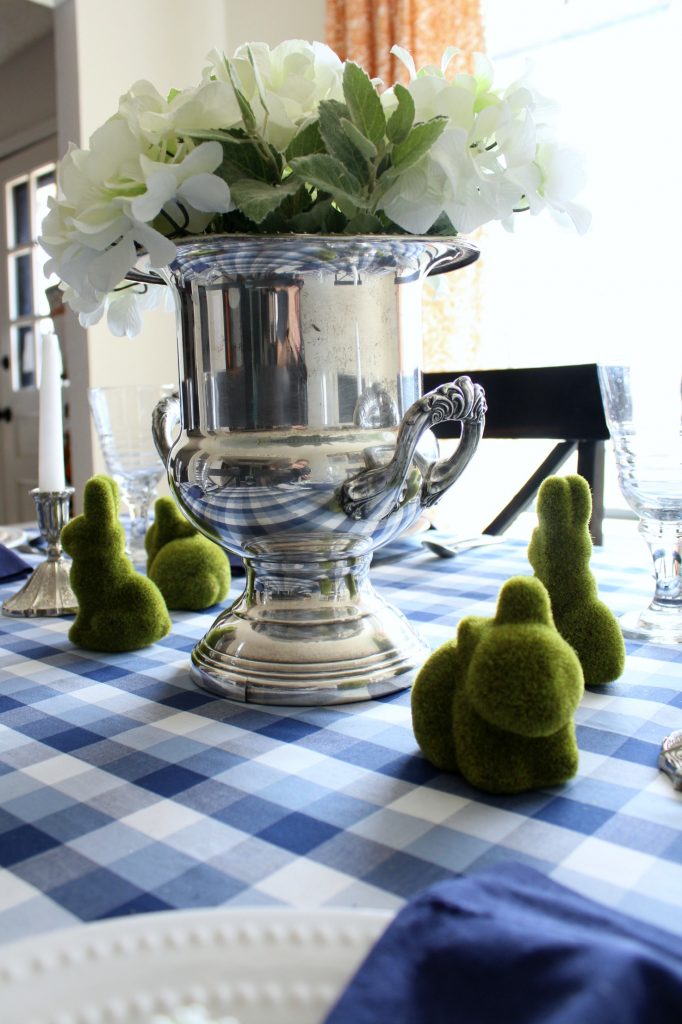 I hardly ever use faux flowers in an arrangement anymore. But, let me tell you, these hydrangeas are fake. I'm sure I could have made the trek to Trader Joe's or Uptown Grocers and found real ones, but to be honest, I just didn't feel like it. So, these did the job this time! And bonus, I can use them again! White candles and some cute moss covered bunnies finish up the centerpiece.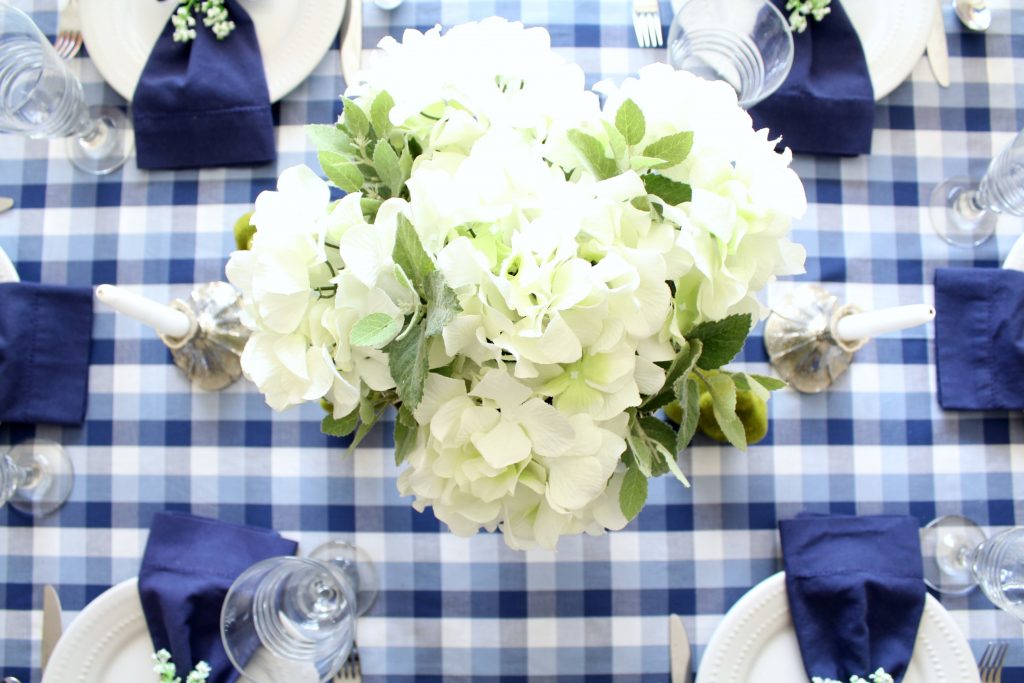 The bunnies were another Hobby Lobby find. You may have seen on my Instagram stories, but they came as picks and with just a little finessing, I removed the stem so they could just sit on the table. Cute, right??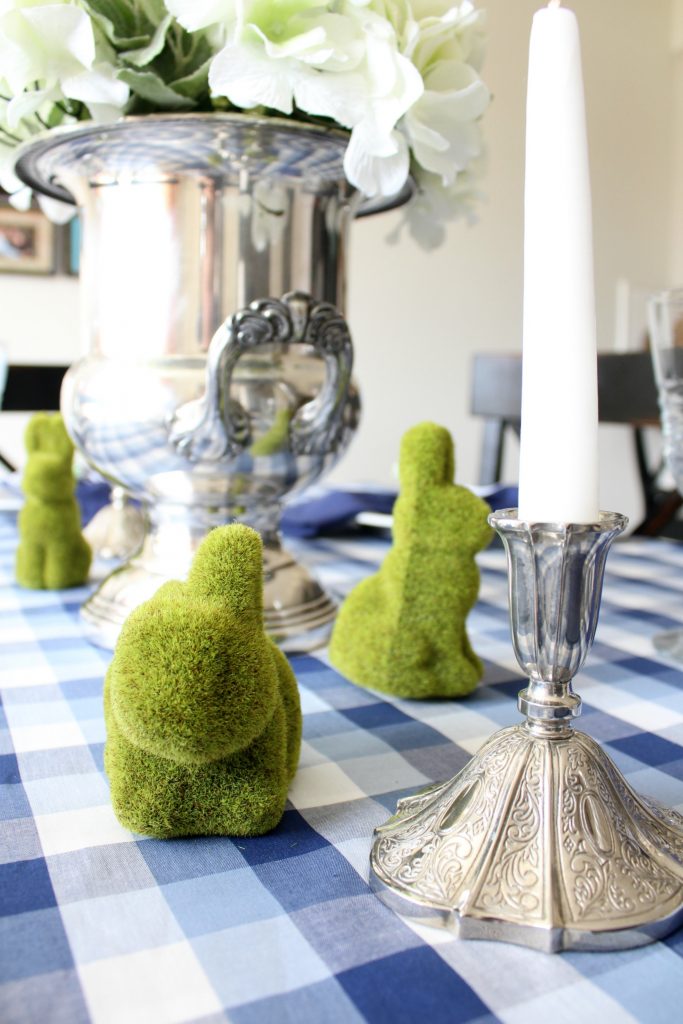 I was not feeling a whole lot of fuss this time around for this tablescape, so I kept it simple and like I said, it might be my favorite yet!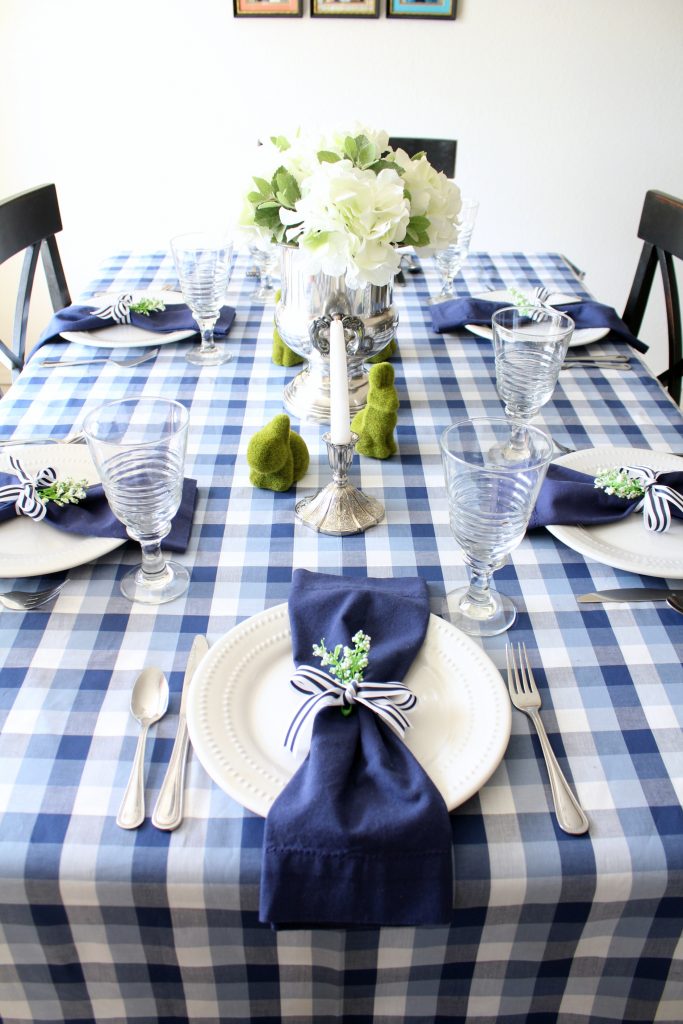 If you want to see my Spring/Easter tablescapes from last year you can check it out here.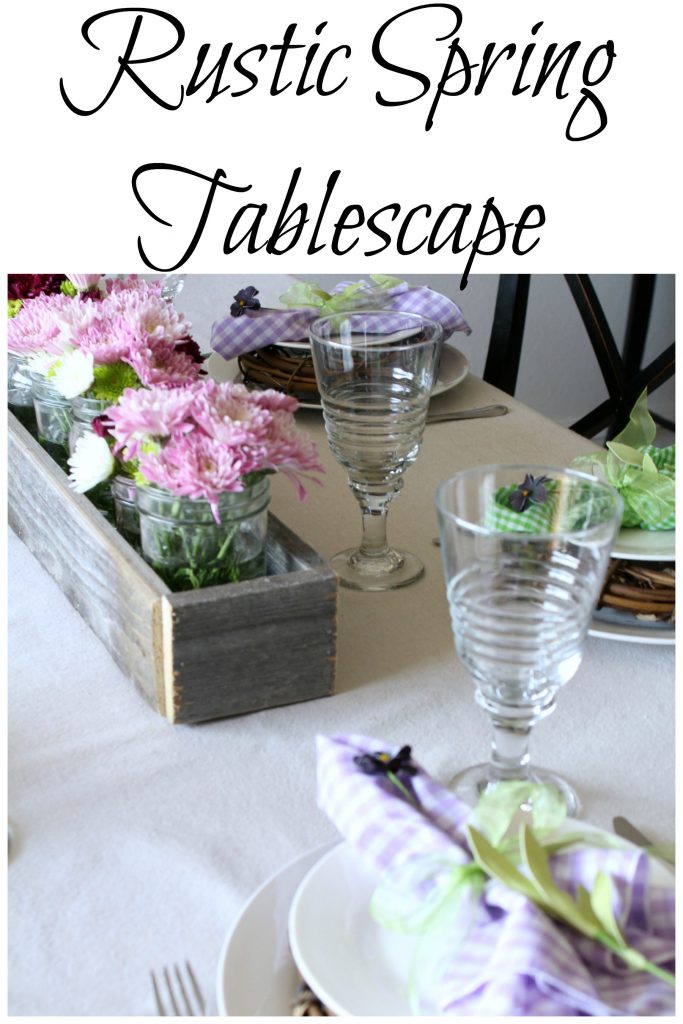 And be sure to check out all of my talented friends who joined me to share their tablescapes! Fifteen altogether! Lots of inspiration out there for every design type! Just follow the links below! 🙂
---
More Spring Tablescape Inspiration Below!
Wednesday
Intelligent Domestications | Shirley
North Country Nest | Brett & Kelly
Thursday
Friday
2 Bees in a Pod | Jenn & Vicki
Life on the Bay Bush Blog | Amanda
---