Something about me saying I was going to try to not spend extra money in the month of September must have made the devil mad, cuz he has been throwing all kinds of stuff my way. Ha!  My friend shared this scripture on instagram this morning and yes, this and so many other truths are what I have been leaning on through this mess.  


My soul finds rest in God alone; my salvation comes from him.  He alone is my rock and my salvation; He is my fortress, I will never be shaken.  Psalm 62:1-2

You may have seen this picture from last week.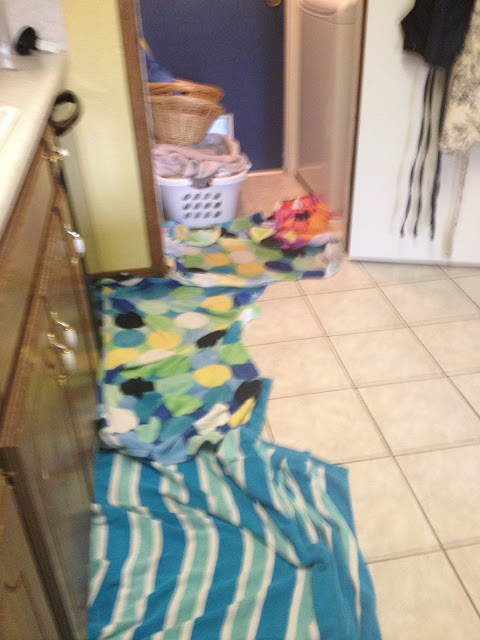 When my washer drain backed up all over the floor, and in the kitchen sink.  Well…
The very. next. day. my dryer stopped heating…
At this point I was over it.  Not panicked in the least – me and my Lord don't crumble that easily, but I needed something to distract my attention from the piles of laundry.  So, I dove into a project that has been swimming around in my head for a while.
I have never been a fan of painted brick.  I don't know why, it's just not my thing. With that said, I do not like the color of the brick on our house.  It has that same orange glow that everything in the house has.  It's fine outside – I mean I can live with it, we painted the trim in such a way that it seems to tone it down.  But, inside – ick.  I knew I would never paint it, but then over the past year I have seen several white-washed looks floating around.  I was intrigued.  I liked that, depending on how much paint you used, you could still see the brick look.  So, in light of my current circumstances, I decided why not – what else could go wrong- right (never say that by the way ;)).  

I went to the garage and found some leftover white paint I had (the same paint I used in my laundry room), a container, a brush, and a rag.  I decided to try a really small amount of paint at first, knowing I could always make it darker, but never lighter.  So I used a ratio of 1 part paint to 3 parts water.  Not enough paint. So I ended up with a 50/50 ratio, and that got me the look that I was after.  I have seen white washes that are really close to just painting, but I really just wanted a cloudy top coat to tone down the color of the brick.  Here are some pictures to see how it went.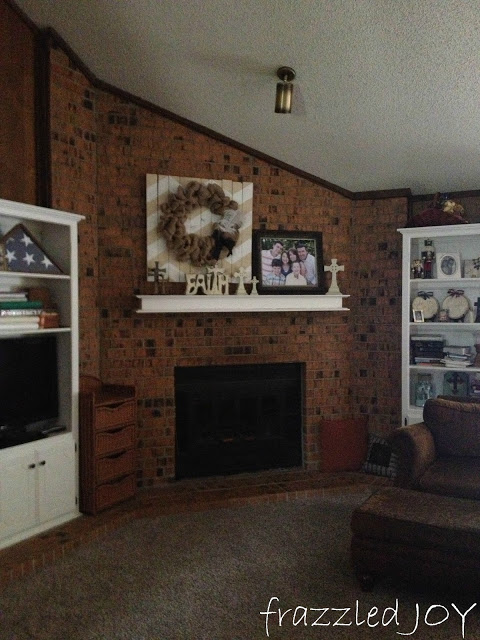 Here's a before just so you know what we were starting with – orange brick.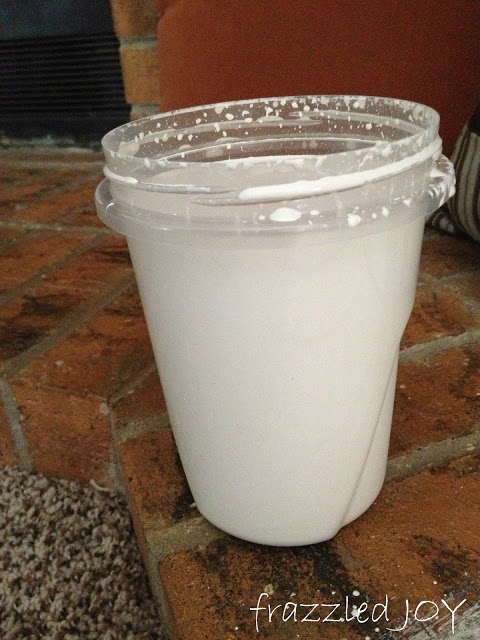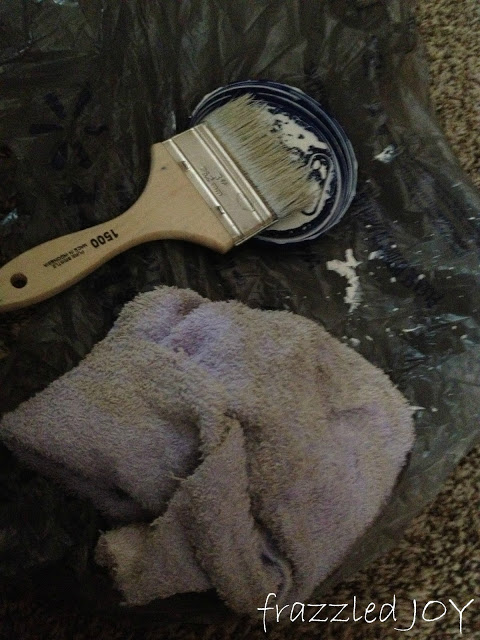 The tools – a cheap brush, and an old clean rag.  I did dust off the brick before I started, and brushed out the corners, but nothing else needed to prepare the surface.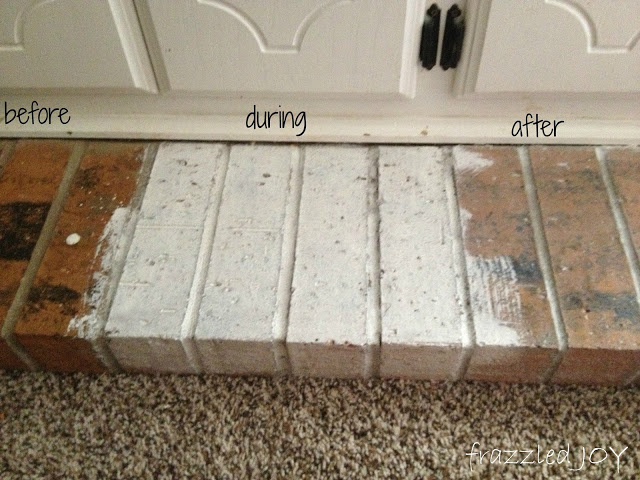 Just brush the watered down paint on, let it soak in for a little bit (maybe a minute or two), and then wipe it down removing the excess paint.  The longer you let it sit, the more will soak in and the harder you wipe, the more paint you will remove.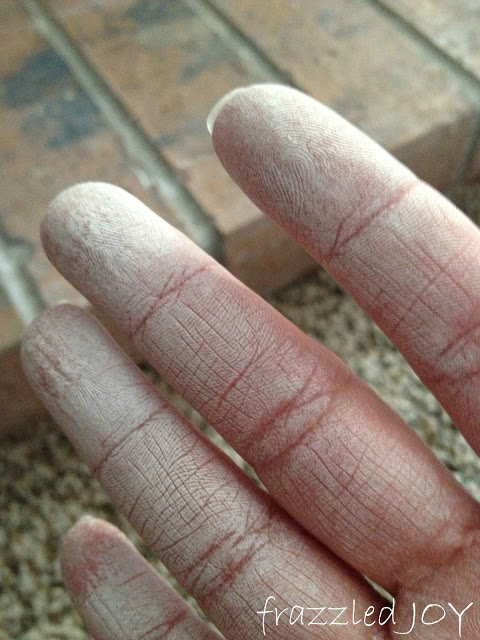 Just know – it's a messy project!!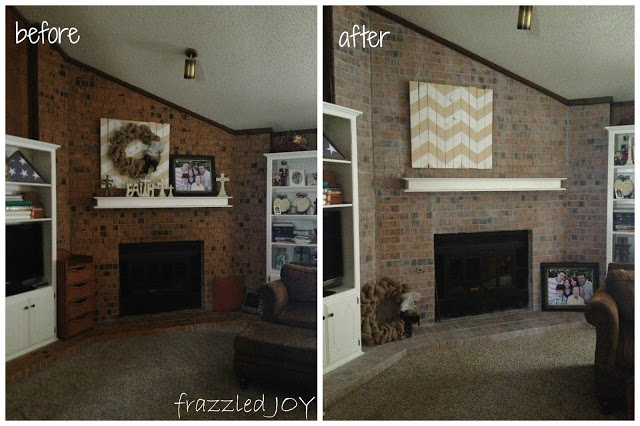 Here's a side-by-side before and after.  Just a subtle change, but really exactly what I wanted.  No more orange glow and it seems to make the corner feel a little big bigger.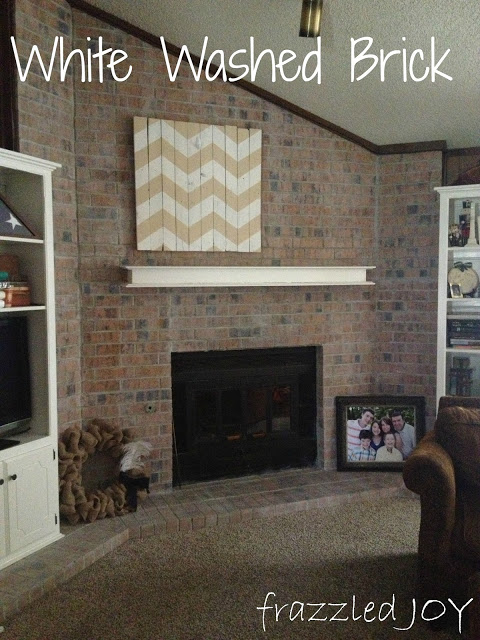 I'm really happy with the end product.  The hardest thing about this process was not letting my perfectionist self try to over work it.  Reminding myself frequently that the beauty of it lies in the imperfections.  🙂
Good news!!  As I was writing this post, my handy hubby finished fixing my dryer!!  Now, I have to face the mountain of laundry awaiting me – can't hide my head in the sand forever…or can I?  🙂
Blessings to you and yours!!
Curious to see how this room looks now? Check out this post