We are one week away from the day of love! Are you ready? Do you celebrate really? Hubby and I don't do a lot, a small gesture to each other but nothing big. We haven't gone out ON Valentine's Day but maybe once or twice our whole married life, because when we did it was crazy crowded and not that much fun. We can go out to dinner any time and it will be just as special. But, I do sometimes set a pretty table for our family and make a special dinner. I have even been known to make everyone dress up for dinner. 🙂 I'm sharing with you today another simple tablescape that might inspire you to do the same!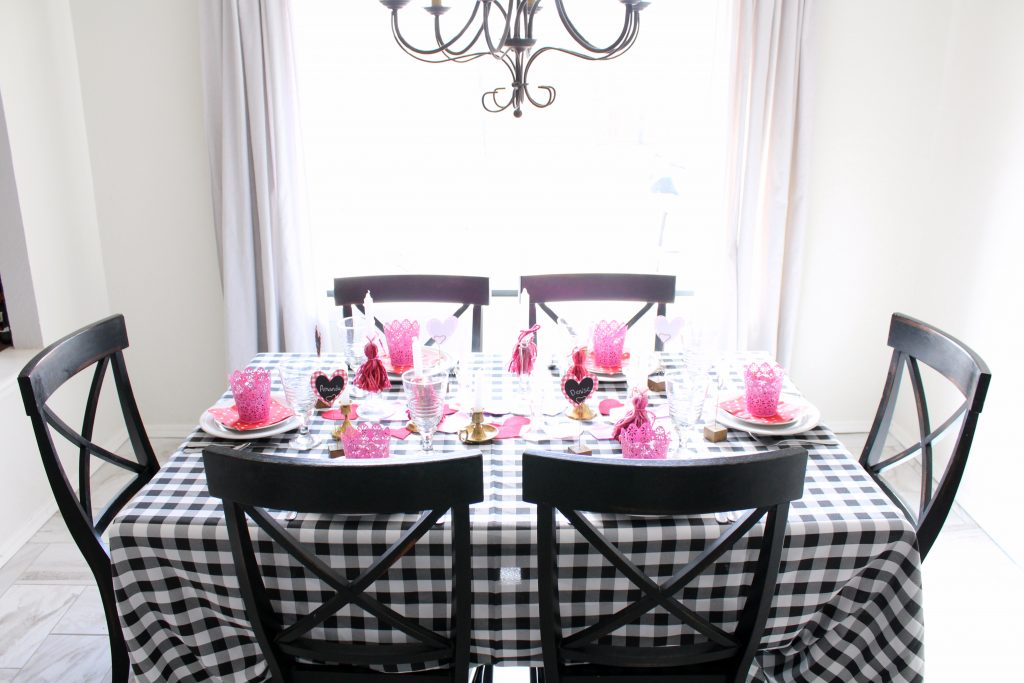 I knew when I made these black and white gingham tablecloths for our son's rehearsal dinner that I would most definitely use them again! It's just such a fun classic look that goes with most any season or holiday!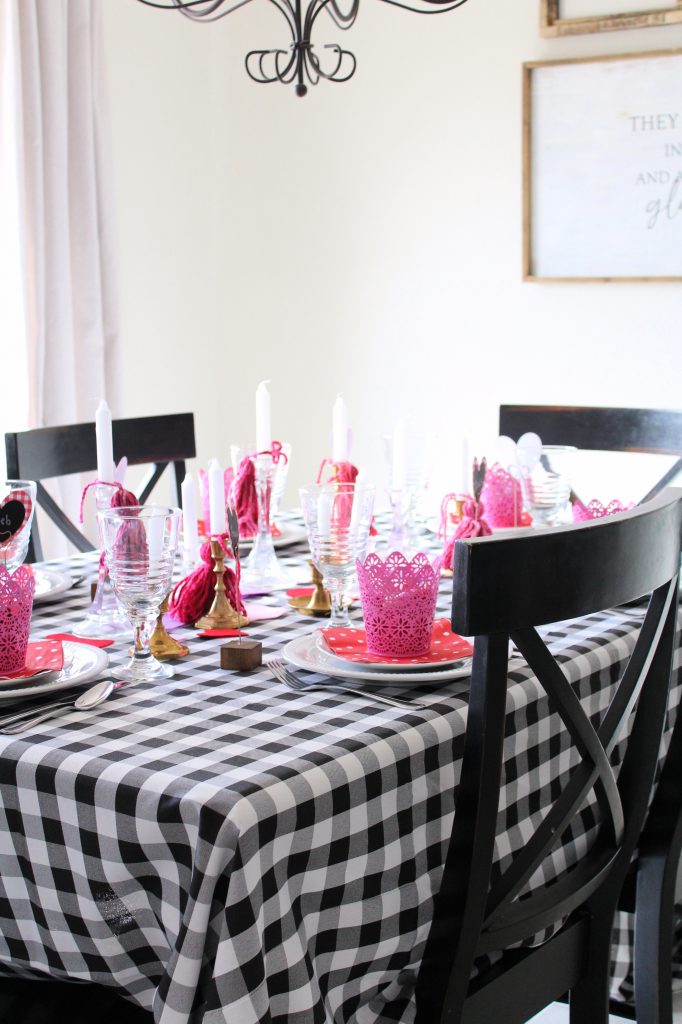 Some affiliate links used for your convenience. See disclosures for more details.
I purchased these tablecloths from Amazon. I actually pieced together two or three for each to make sure they were floor length, but a regular sized cloth would be just as cute for this table!
Next are my stand by white dishes (salad plates) and glass stemware from the Dollar Tree! They go with everything and if they break – no big deal!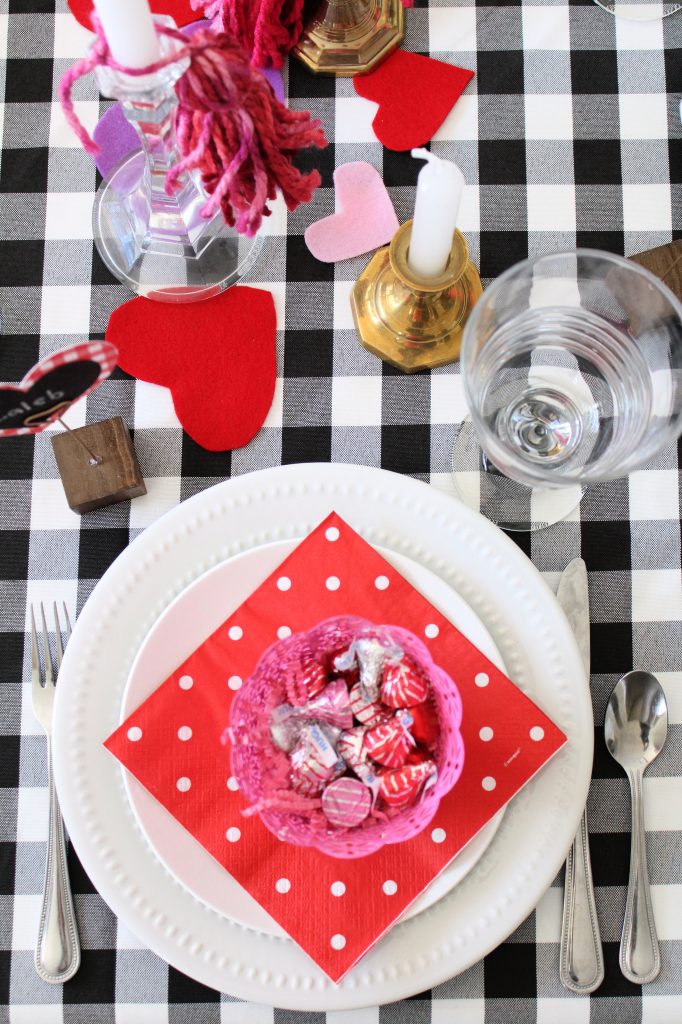 I'm using paper napkins this time around which is just fine, and hey – less to wash and put away am I right? There are so many cute Valentine's paper products that it would be a shame not to incorporate something in your decor!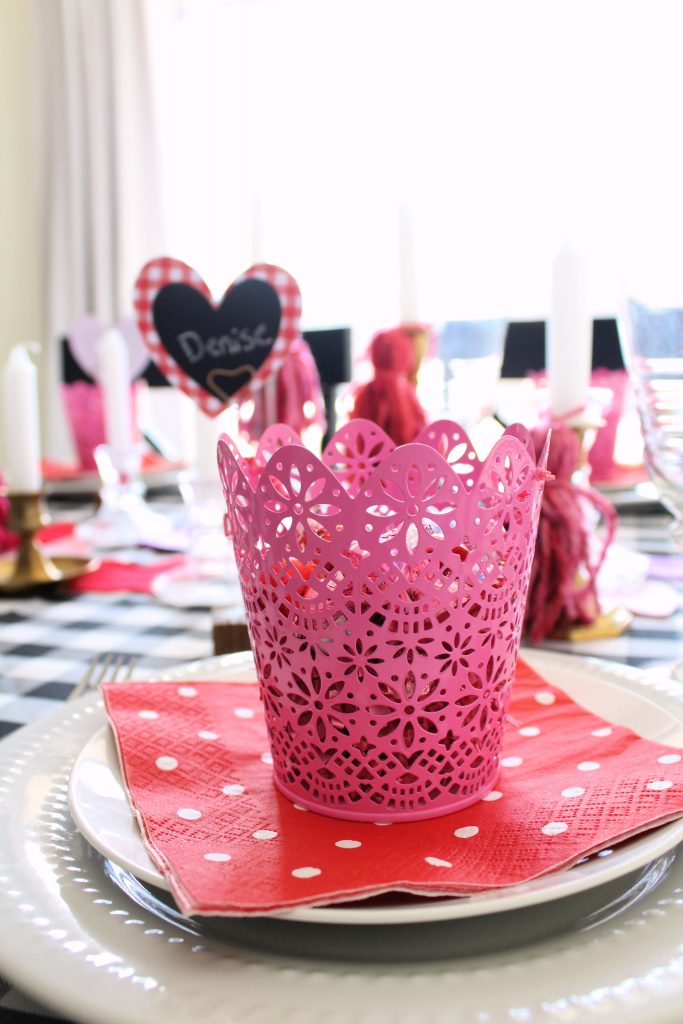 These cute metal lacey treat buckets are from the Target Dollar Spot. They have all the Valentine's Day colors and they are only $1. Do you see a theme here??  😆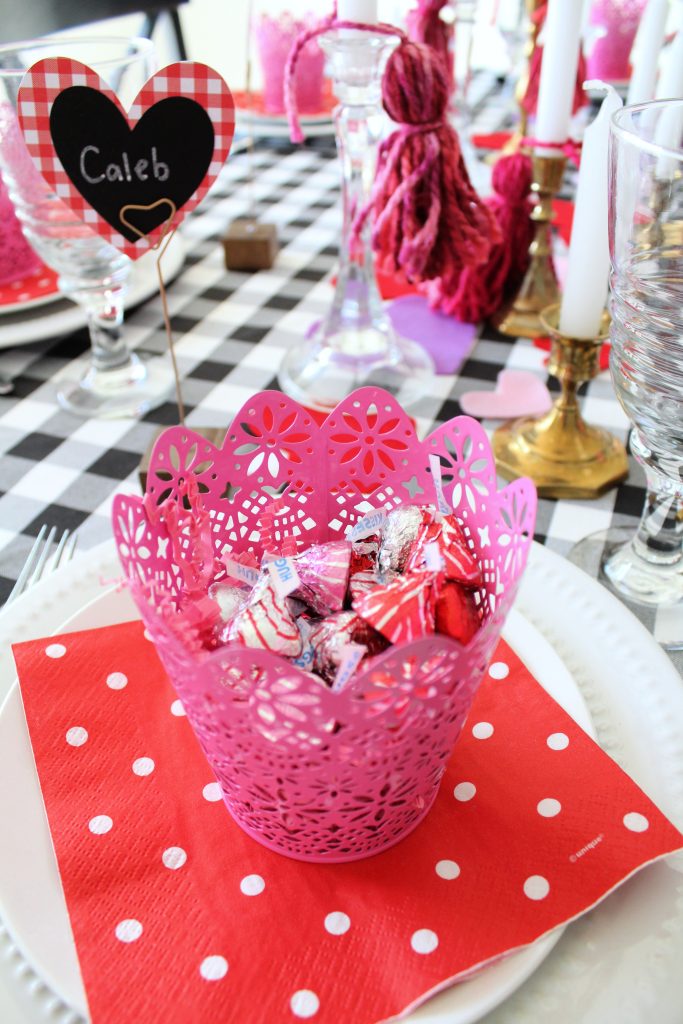 I filled the buckets first about halfway with some pink paper shred, and then added some Hershey's kisses and hugs, also in Valentine's colors.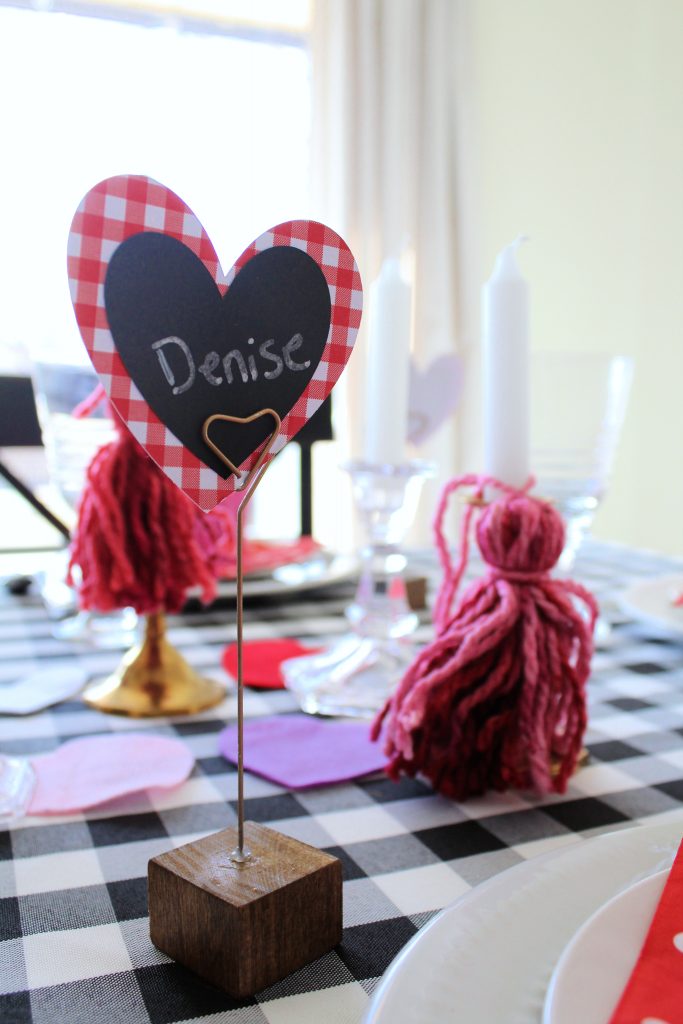 I also made these cute place card holders for our son's rehearsal dinner. I used them then to hold photos, but they work great for name cards too! I made them with a stained block of wood and these metal hearts from Amazon. I made the name cards using my cricut, but you could easily cut hearts yourself!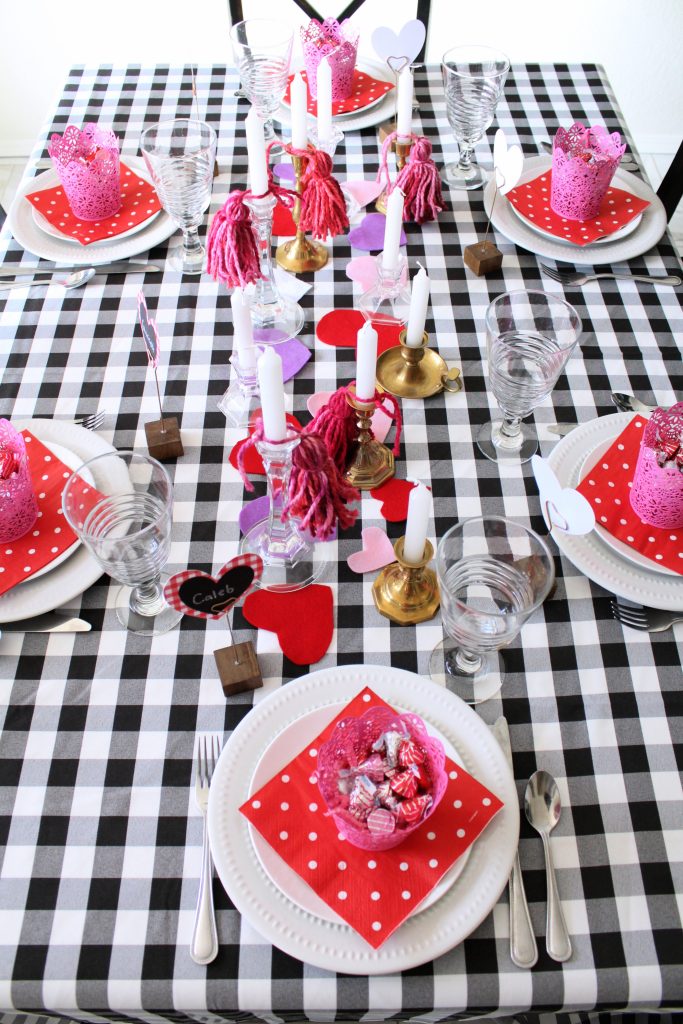 The centerpiece is super simple and I love it!! Candlesticks collected over the years from thrift stores and garage sales – brass and glass, and these "emergency candles" again from the Dollar Tree. 🙂 I love these candles because they aren't super tall – no obstruction of your view across the table, and they come 6 to a box…for $1!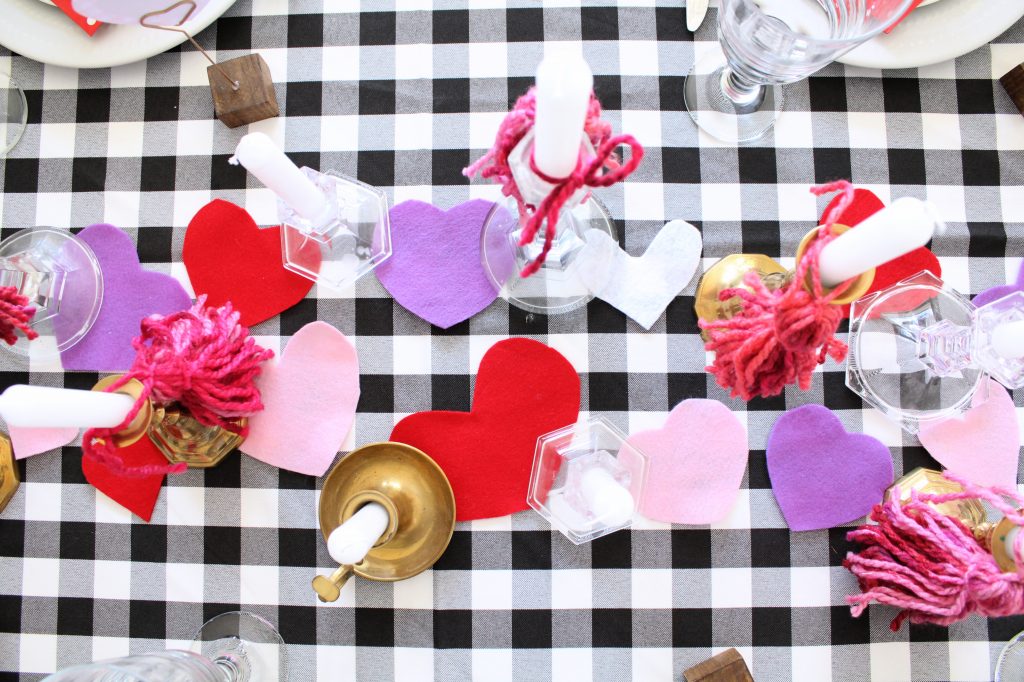 The hearts are made from felt, that I cut out myself. Various sizes and colors just scattered down the center of the table. Easy peasy!
I made these tassels a few years back from some fun yarn I found at Hobby Lobby. I think they make a great addition to a few of the candlesticks.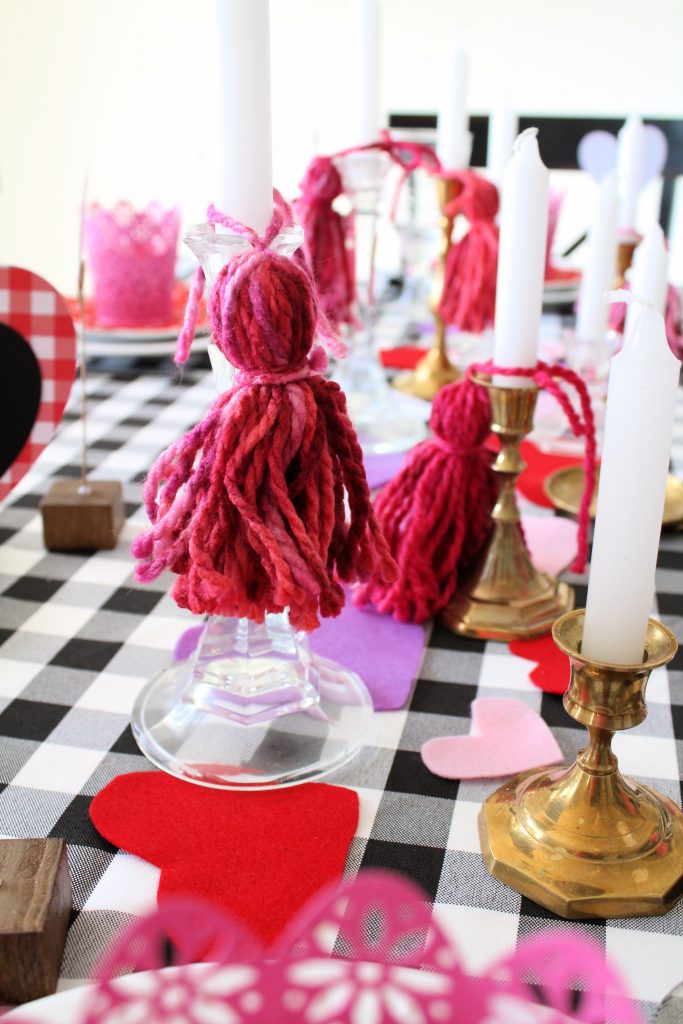 I just LOVE the colors of Valentine's Day!! I feel like it's the one time of year when it's okay to mix pink and red. Anybody else grow up being told pink and red didn't match?? And then add in the black and white and I'm all heart eyes over here friends!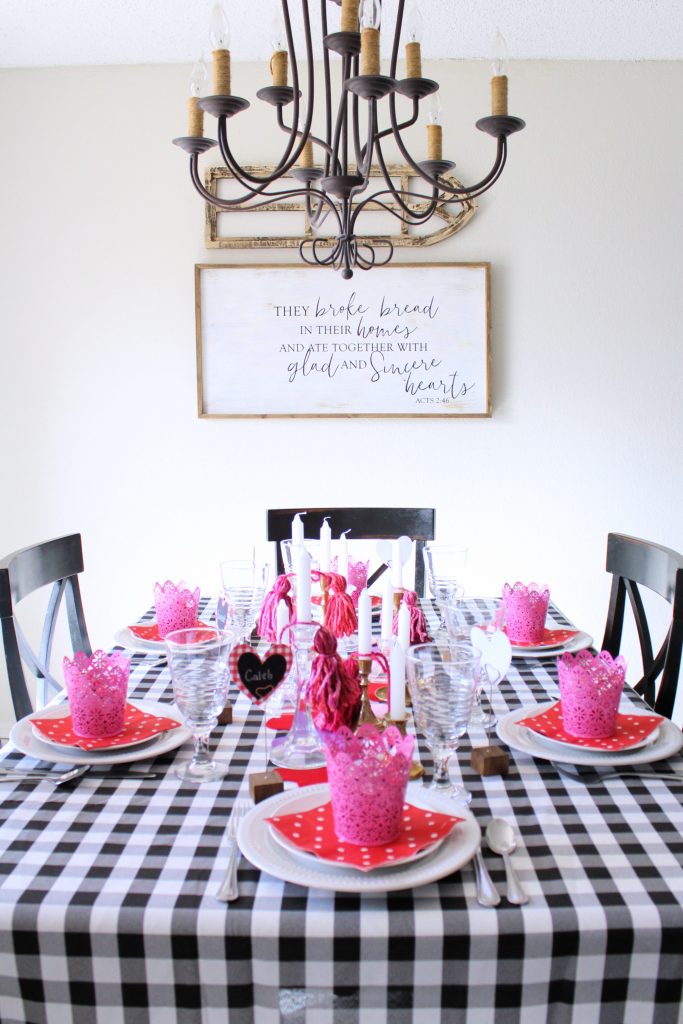 I hope you love it as much as I do, and I hope you are inspired to set your own table! Remember it doesn't have to be complicated, fussy, or fancy. Just do you!! I made a fun time lapse video of me setting the table that I shared on Instagram. If you're not following me there you should be! 🙂