Hey ya'll!! Hope you had a wonderful weekend! Summer is amping up around here and we have been busy with kid stuff. I am going to do my best to keep a fairly regular blog schedule through the summer, but it is summer and as The Nester so sweetly reminds us, there are only so many summers left with my kiddos.
I'm sharing the last (I think) of the closet projects with you today. This cutie.
I knew I wanted some sort of stool in the closet to help with reaching some of the higher shelves. I would have loved to have room for a bench, but really there just isn't space for that. I scoured thrift stores and antique stores and came up with this beauty for $10.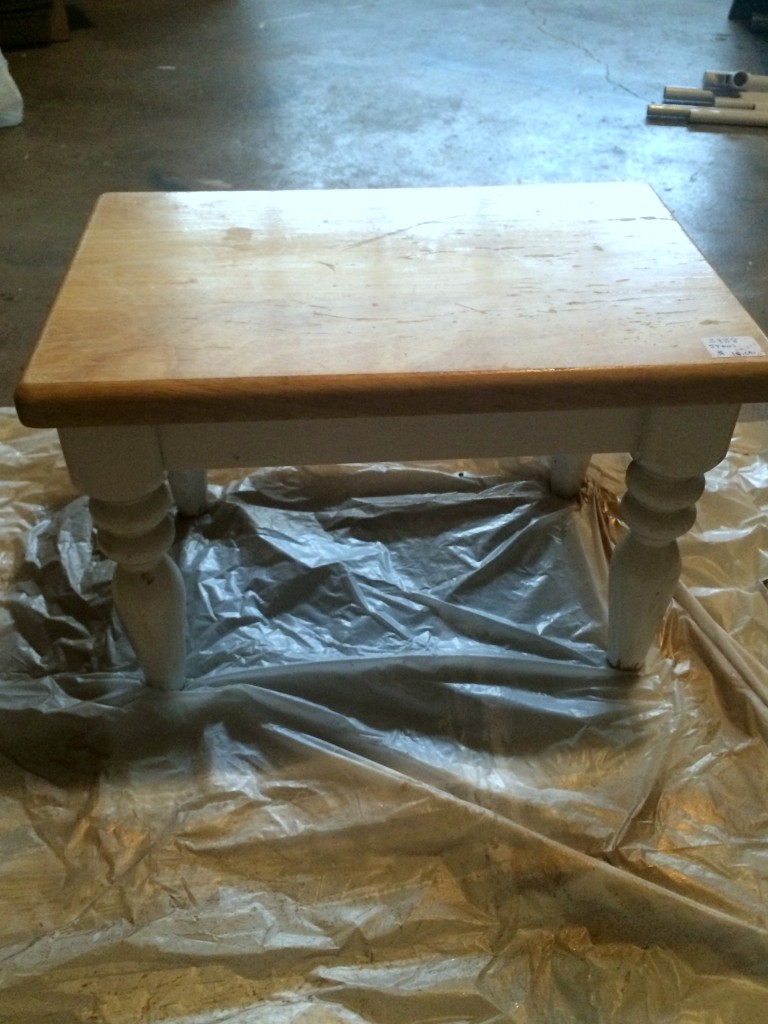 The stool had to be sturdy enough for me and hubby to stand on. Many were cute, but just not hefty enough for standing. This one passed the test, but wasn't very cute. No worries! I can fix that!  😉
I started by spray painted the legs with the same gold spray paint that I used on all the hardware and a few other accessories.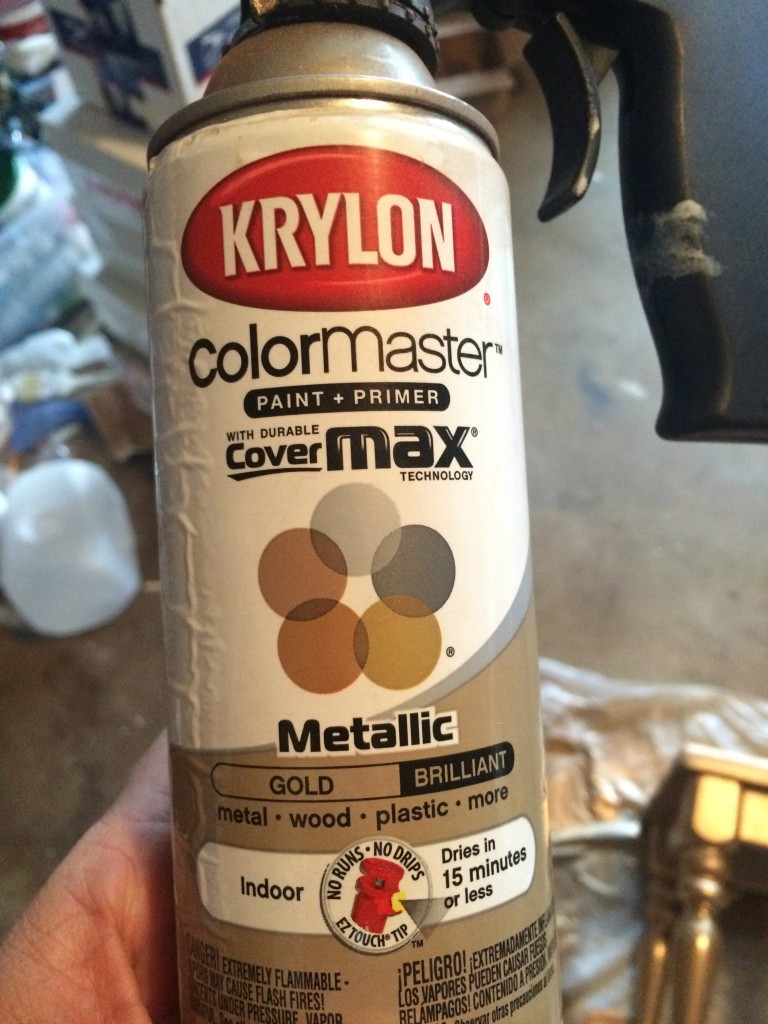 Next, I added about 3 inches of foam to the top. It doesn't have to be perfect and I actually pieced together a couple of different pieces to get the size I needed, and attached them with spray adhesive.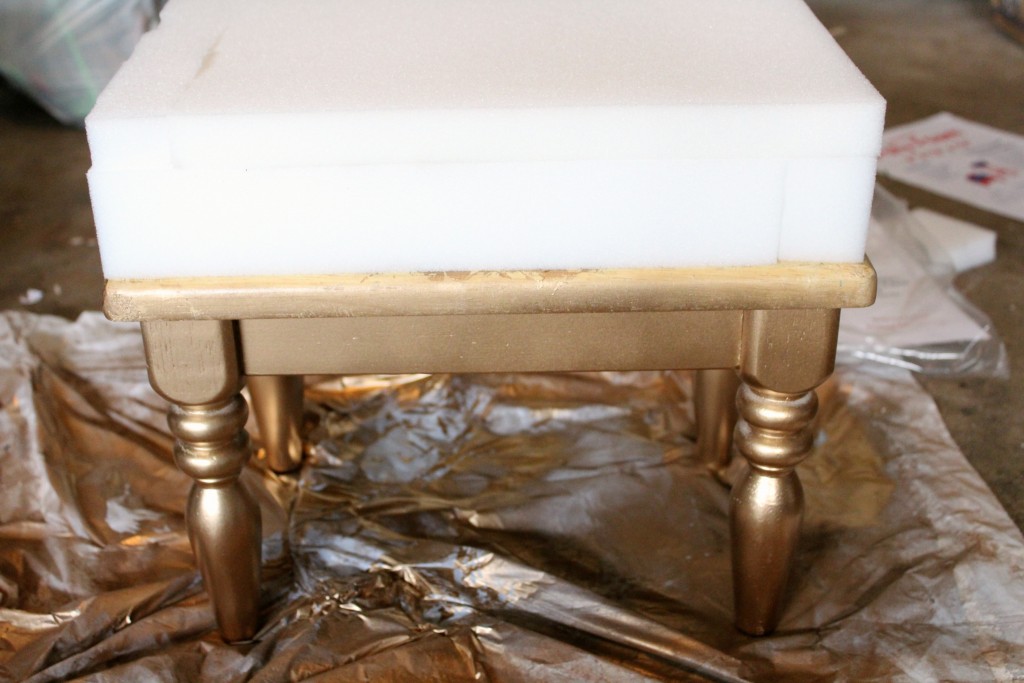 Then, cover with a layer of batting to smooth everything out. The corners can be tricky and there are lots of different ways to do it, but the key is to get it as smooth as you can. I attached to batting by stapling into the bottom edge of the stool top.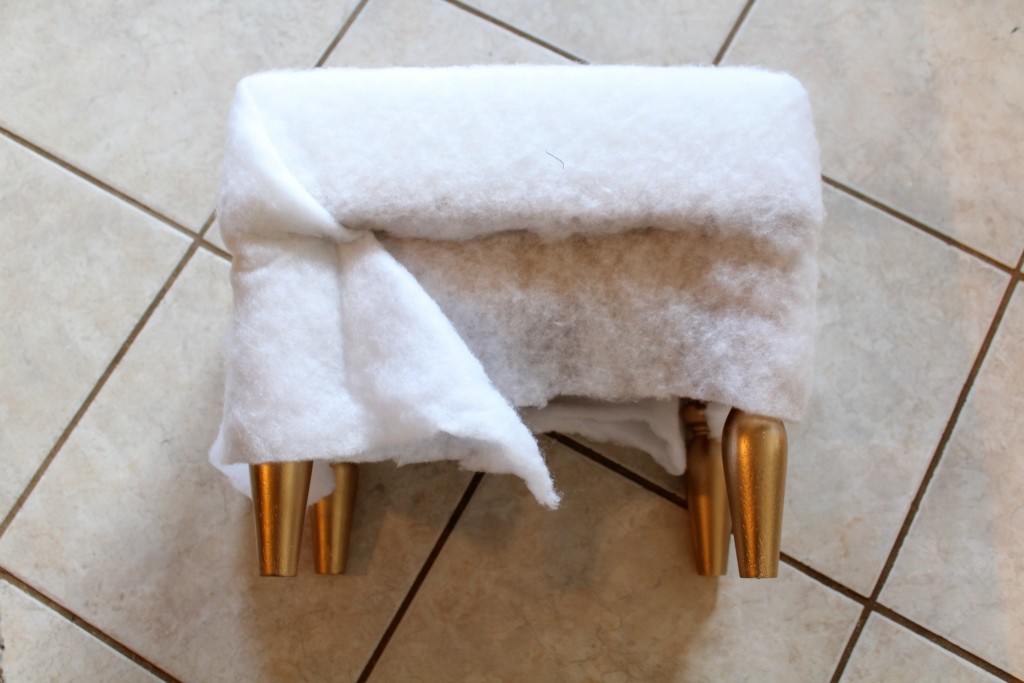 Fabric is next. I attached the fabric with staples just as the batting. The corners are a little more important in this step. I usually staple in the middle and then fold the sides in to make sort of a pleat on each side of the corner. (sorry, I wish I would've gotten a picture of this)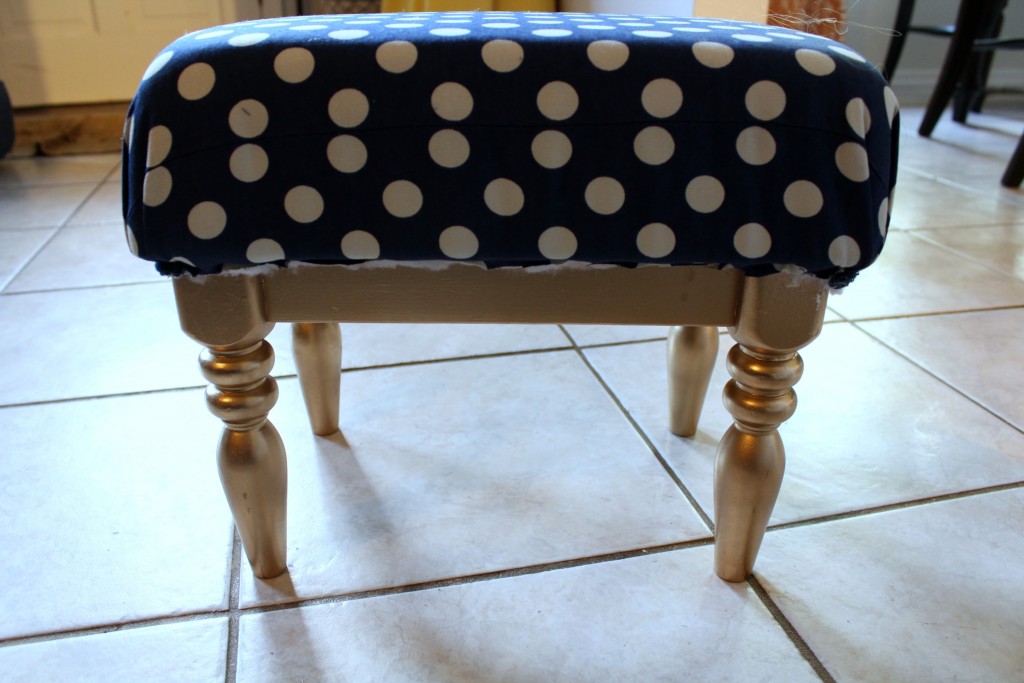 Then I was left with this mess underneath. And since it wasn't all the way underneath it needed to be covered up.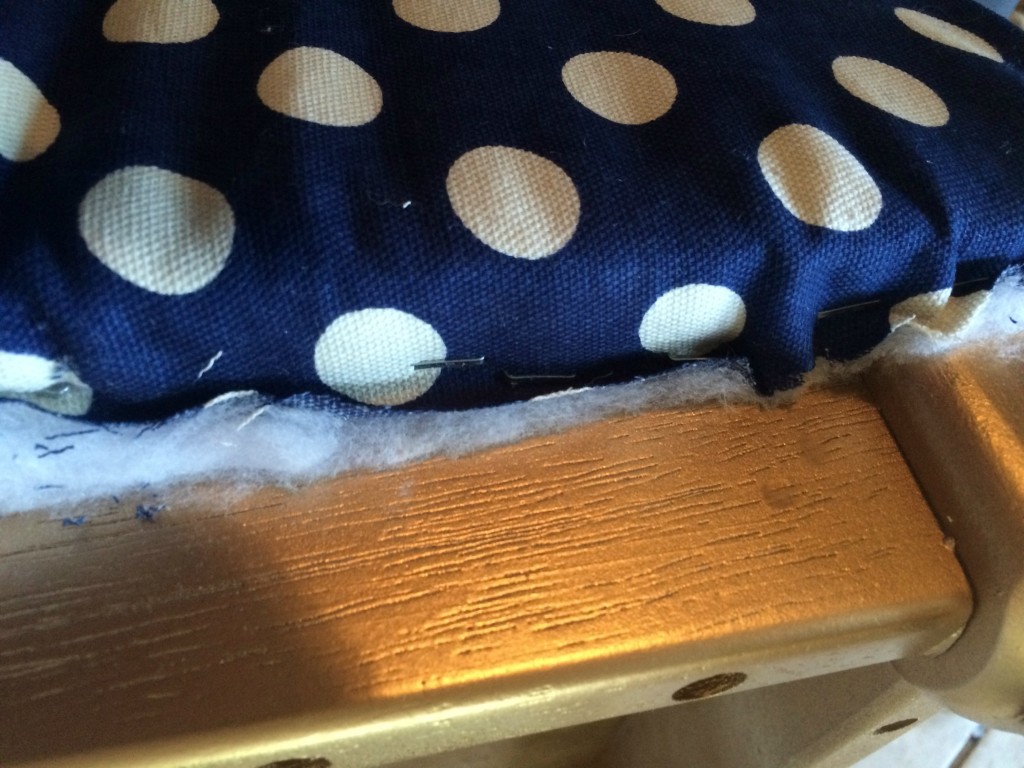 You can cover this up with any kind of trim. But, I happen to have some rope that was leftover from this ottoman redo, and decided to use that.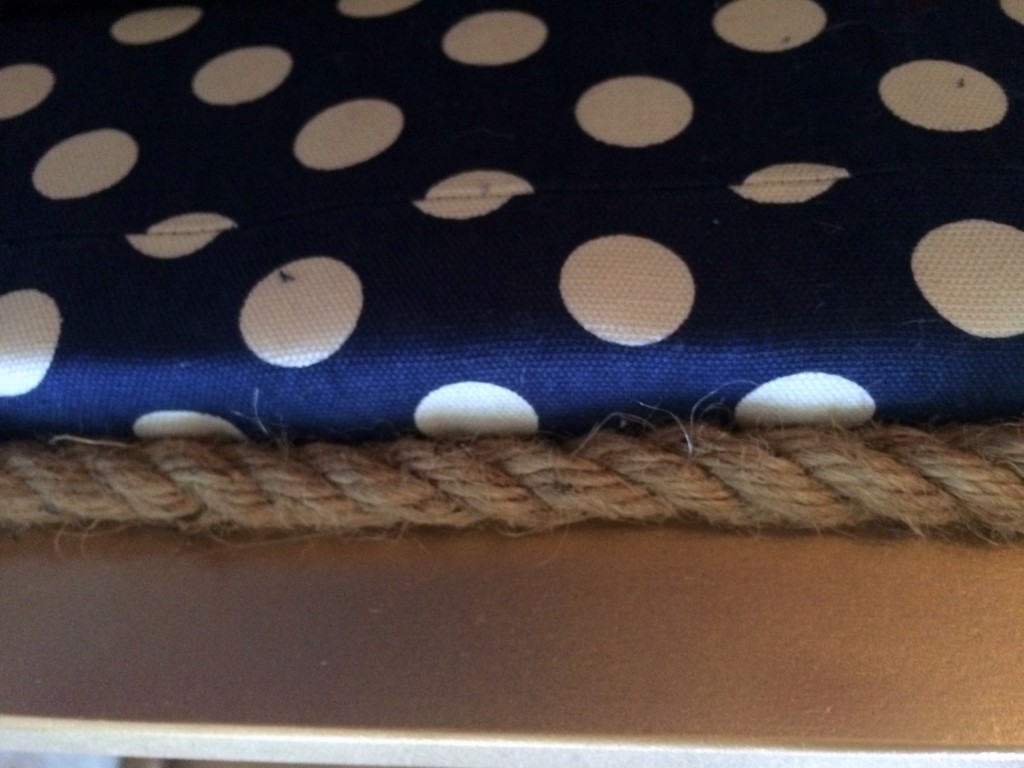 I wanted this piece to have a little bit extra so I added some nail-heads, that I spray painted gold, to finish it off. (I went back later and touched up the paint on those  😀 ) This was my first time using nail-heads, and it is not exactly an easy task! They are far from perfect for sure! But, to quote The Nester again – "It doesn't have to be perfect to be beautiful."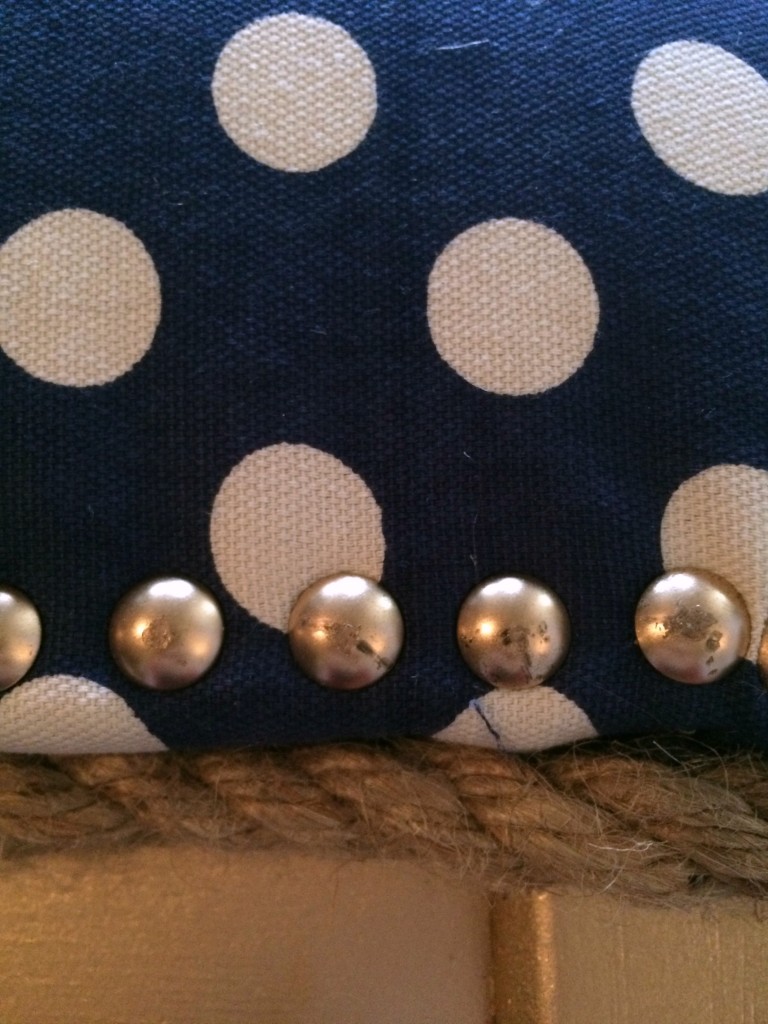 And there you have it! A new and improved and totally custom stool for the closet!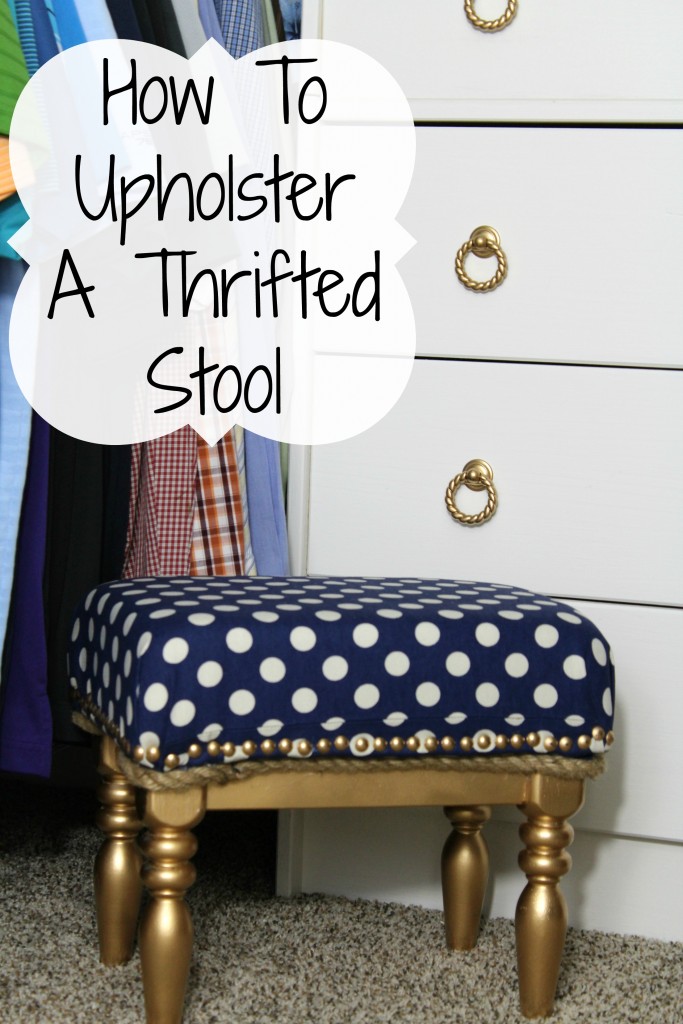 Taking something old and giving it new life really does make me smile!!   🙂


Linking up with Tutorials & Tips Link Party / Inspire Me Monday / Show and Tell Link Party / The Creative Circle / Create It Thursday