A couple of weeks ago I shared with you a craft I did – a wooden arrow made of scraps of wood I found in our garage. Yes, arrows are on trend, and they are super cute, but for my hubby and I they have a little more meaning.
As the days of summer tick on I am reminded daily that August is looming. This will be the month in which my first baby will move across the country to start the next chapter in his life. On his first deciding to attend school so far away (1600 miles away – a 26hr drive), my mommy-heart was naturally saddened. But, I knew he had earnestly prayed about his decision and really felt this was where God was leading him. I am beyond proud of his academic accomplishments, and the blessings those have afforded him. But I would only be kidding myself if I didn't think the distance was going to be difficult. Since the time of his decision, God has made it clear over and over again that this indeed is where he wants my baby to be. He has answered prayer after prayer concerning the transition – a church whose pastor has Oklahoma ties, a BCM director whom he has already connected with, and so on. As I study his face and his countenance I know that he is ready, and I feel confident sending him out into the world.
Back to the arrow.

The Bible tells us that children are like arrows in the hands of a warrior.

As my hubby and I pondered this verse, we agreed. A warrior most likely is not going to keep his arrows in his quiver for safe keeping. No, he is going to shoot them out into battle. So, as the days pass this summer I am soaking up every moment – trying to memorize his face – and my hubby and I are cramming in those last moments of instruction as we prepare to shoot our first arrow out into the world. May he be a light for You Lord.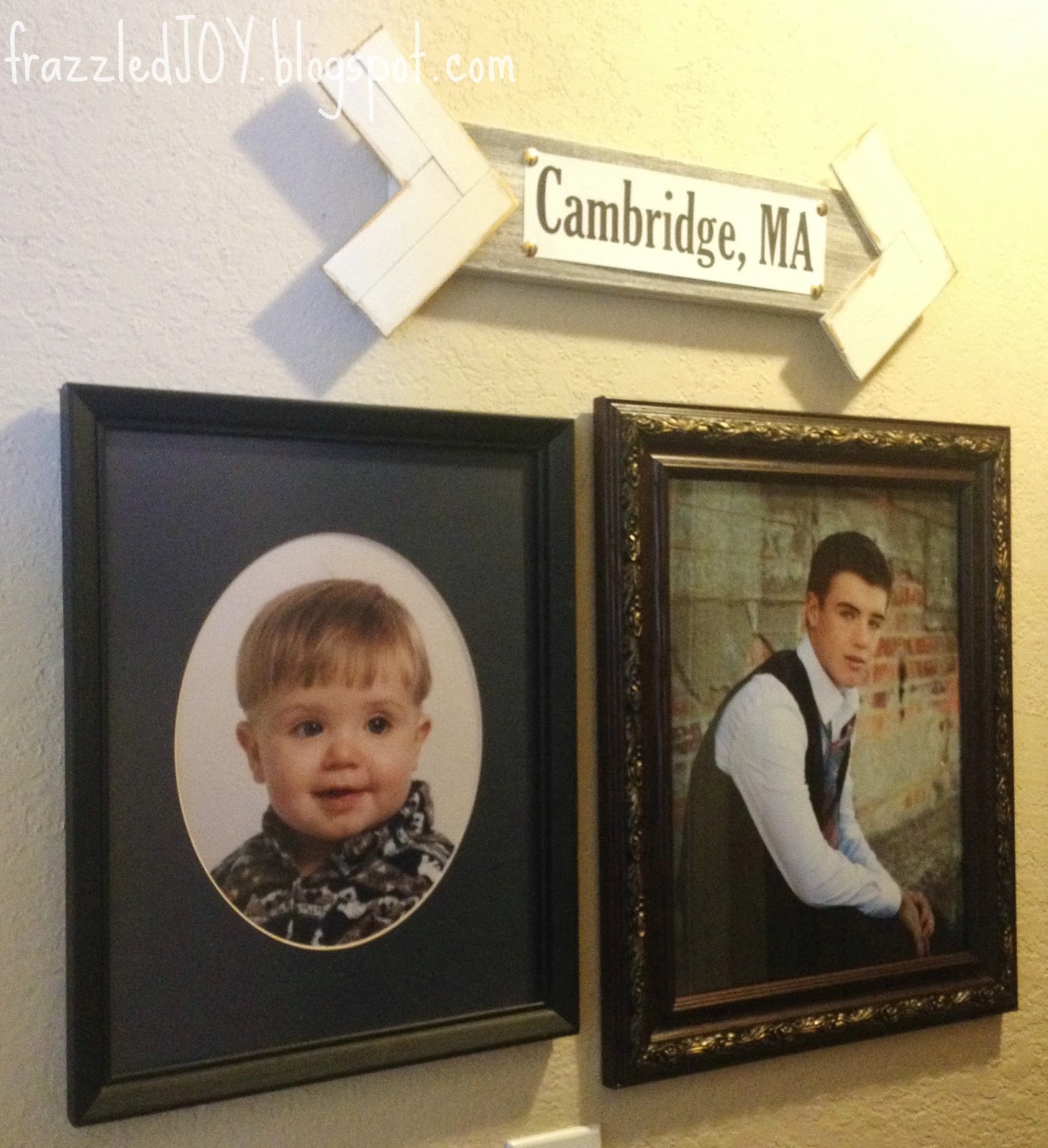 You can see the arrow got a little extra decoration in the form of a piece of card stock printed with his destination attached with gold thumbtacks.

This portion of our hallway (dark skinny hallway – impossible to photograph) has been lined with pics of all the kiddos at their 1st birthday (the pic on the left of course) for years. Entering into this new phase – this will be the new tradition: senior pic next to 1 year pic, with arrow of destination above. I love being able to celebrate with my children and I am excited to watch their lives unfold in the hands of The Lord.