Hey there! How are ya?? I have to be honest, styling bookshelves used to intimidate me. Like for real. I was awful at it. But, over the years, I've learned a thing or two from people who seemed to be naturals at it, and now I think I'm not too bad. HA!! I also have to admit that I hadn't touched our bookshelves in our family room for several years. Aside from adding in and taking out a few seasonal items here and there, they stayed basically the same. Here are some before pics that I had to hunt for, because I have become a terrible blogger in that I keep forgetting to take before pics!! (not great quality because they are phone pics and not meant to be before pics haha)


About a month ago I got an itch for a change. It was about summer time and I just wanted to simplify things. Do you do that?? I don't always do it with decor, but these shelves were just starting to bug me. So, I took EVERYTHING off the shelves. I dusted (because I hadn't done that in a while either), and then they sat empty for a couple of days as I thought through what I REALLY wanted to put back on them.
I find that to be super helpful when I'm decorating a space. When it comes down to the details and the fluffing, sometimes it's good to just live with it empty for a while so you can truly see what you might want or need for the space instead of just filling it to be filling it.
I knew that I wanted to group all the books together, and I was really wanting to try my hand at a rainbow bookshelf. I started by removing all the book jackets. Underneath all that marketing on the paper covers, there are usually pretty and uncluttered books! Next, I sorted all the books by color. Then I put them on the shelf. I decided to somewhat evenly disperse the books on two shelves since they wouldn't all fit on one. Which I actually like better than if they were on just one anyway.
Some affiliate links used for your convenience. See disclosures for more details.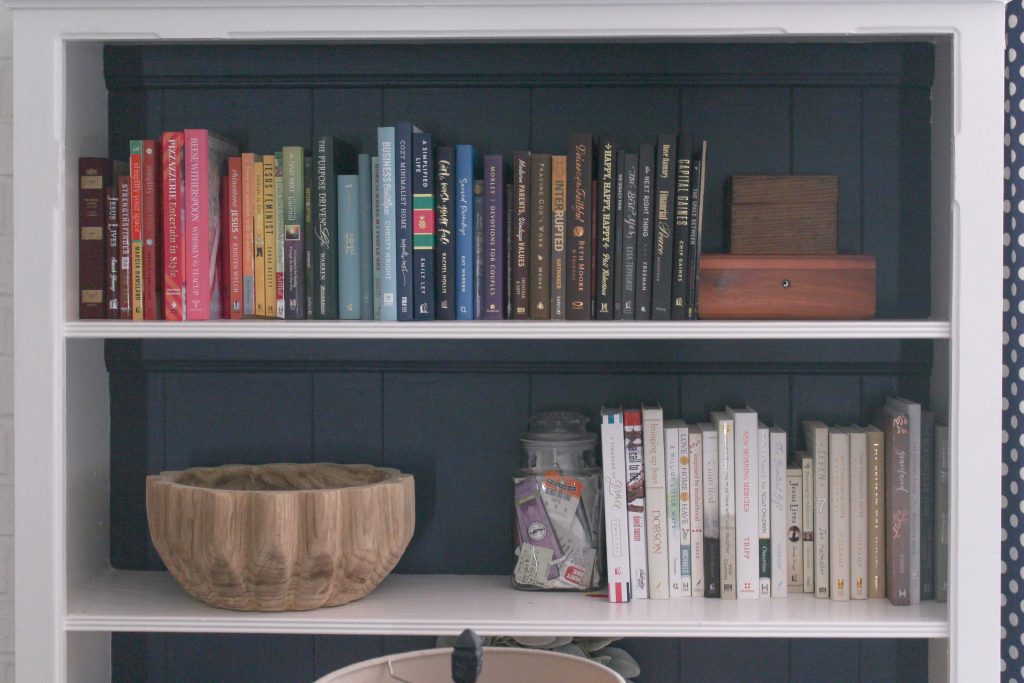 Beyond the rainbow books, I really had no idea what I wanted to go where. So…I just started slowly filling in with the things I loved. I wanted it to feel simple and less cluttered than before so I tried to use bigger items, and limited the photos to just a couple. I love family photos, but it had kind of gotten out of hand. Don't worry though, they found a new home.


Grouping like things together helps them to have greater impact.


Stacking books helps fill the space vertically, as does actually hanging things on the back of the shelf like this art piece that I found at a garage sale a few years back.

Mirrors are a fun way to bring a little extra light (through reflection) to a dark corner on a shelf. And I love adding live plants! They bring so much life and movement.

Bringing in natural greenery is great, but if you have a spot like I do on one side of built-ins, where there is little to no natural light, faux greenery works nicely as well!

These twinkle lights were inspired by Brooke at Nesting With Grace. She uses them throughout her home and I just love the warmth that they bring!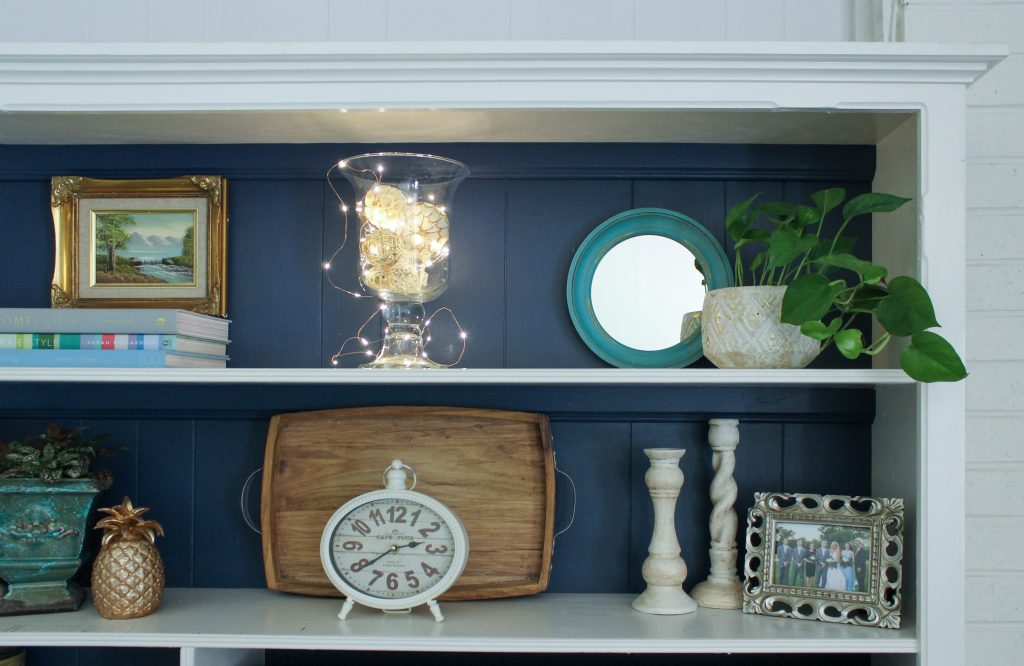 I'm loving these new and simplified summer shelves!! And, if I'm being honest, this is probably how they will stay for quite some time. And, you know what?? I'm ok with that!! 🙂