This is one of my favorite times a year around here because this is one of those times when my friends and I get together to share great tablescape ideas!! This time around it's Fall Tablescapes. I know, I know, it might be a tad early, but in blogland that's just how it goes. After all, if you are planning ahead for a fall gathering, now would be a good time to be gathering some inspiration…am I right??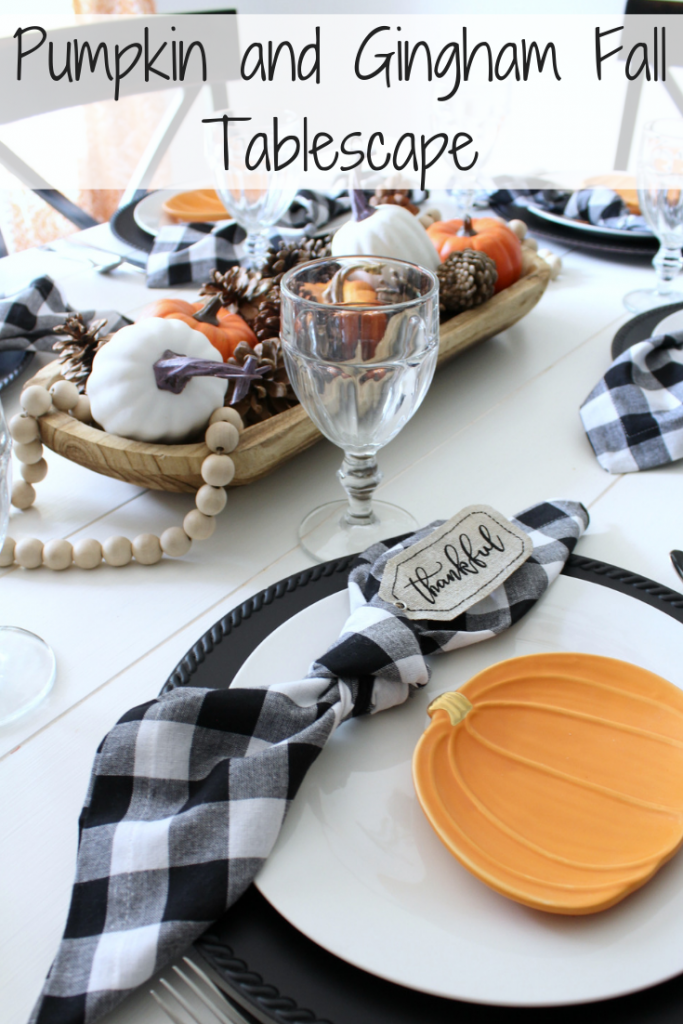 Some affiliate links used for your convenience. See disclosures for more details.
Every time I put together a tablescape, I approach it a little differently. Each time I usually have one inspiration piece, or jumping off point. This time, that was these napkins that I found on Amazon.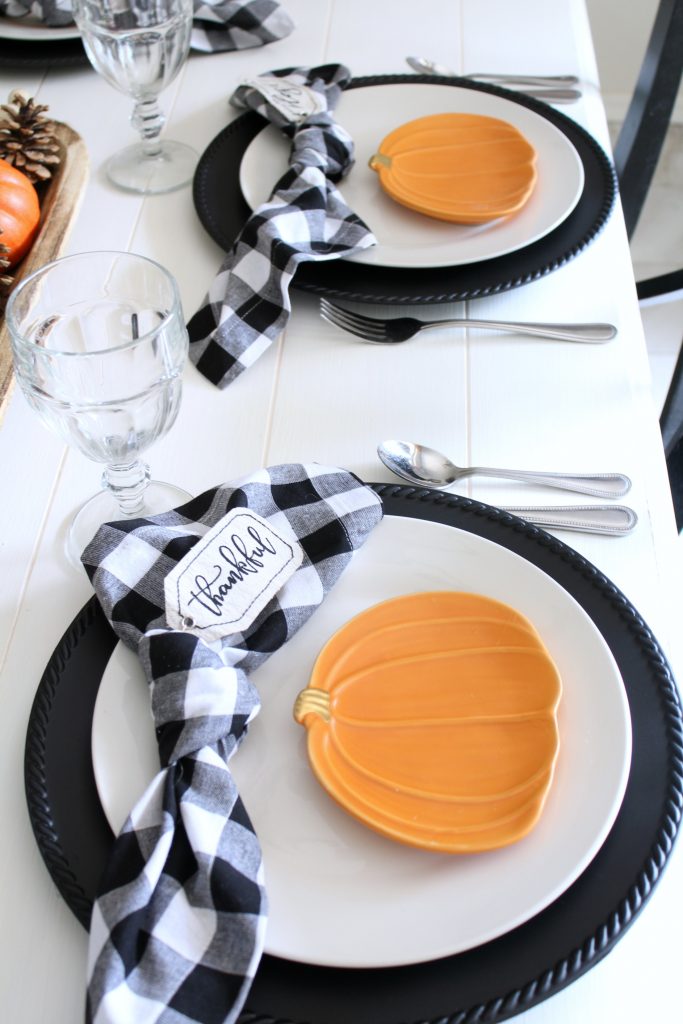 I ordered plenty to use for our family's Thanksgiving dinner, but I knew that I wanted to use them for this as well!! This was my first time working with my white table, so I was a little unsure as far as table coverings. I decided against a tablecloth, and opted not to use the woven placemats that I have on the table for everyday as well, but I knew I needed something dark to ground all the white.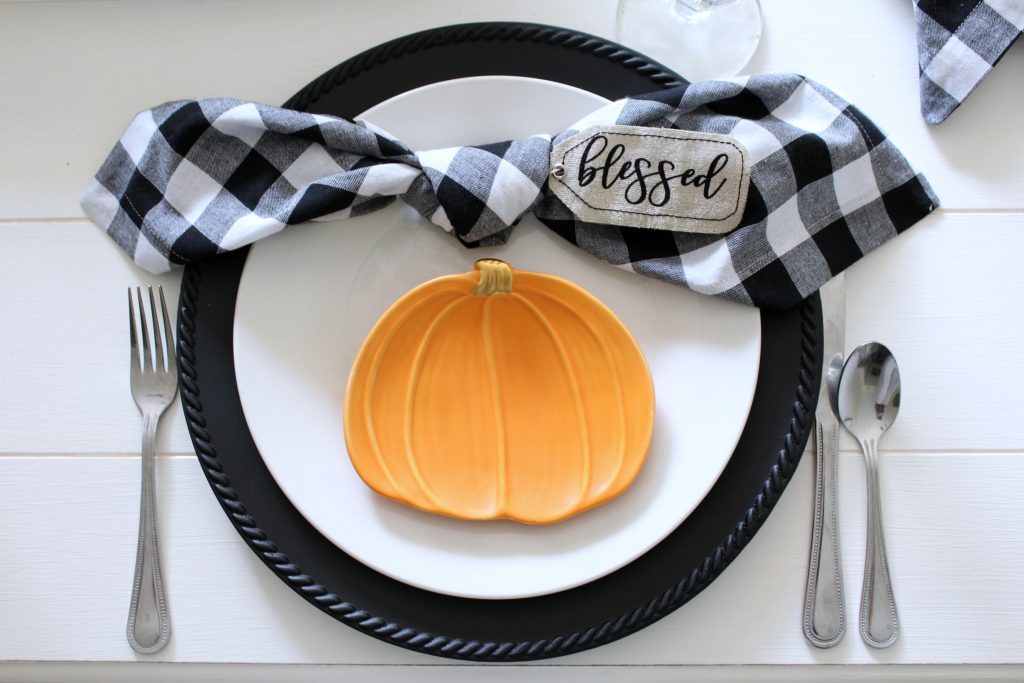 I dug out some old plastic chargers that I've had forever. They were shiny and red. A can of flat black spray paint later and they were the perfect base to my place setting. (or you can buy black chargers here) I again used my white plates from the Dollar Tree – can't go wrong there. (The glasses are also from Dollar Tree.) But, again, I knew I needed something to spice up the plate. And, when I found these cute orange pumpkin plates in the Target Dollar Spot, it all started to come together.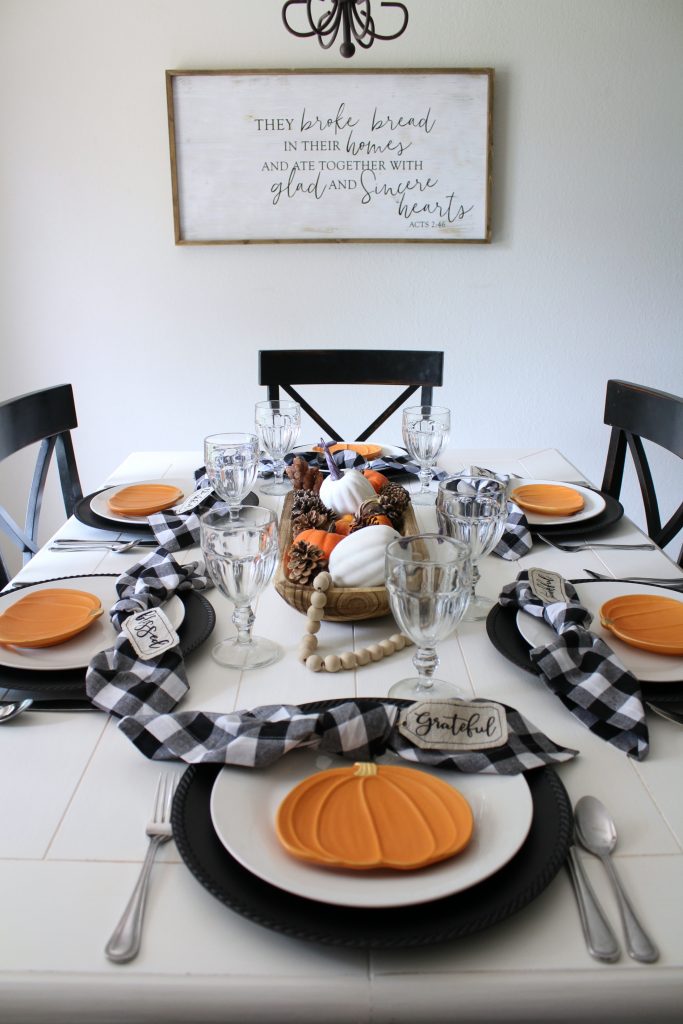 I haven't done a traditional orange table for fall in a long time, and it was just what I was craving!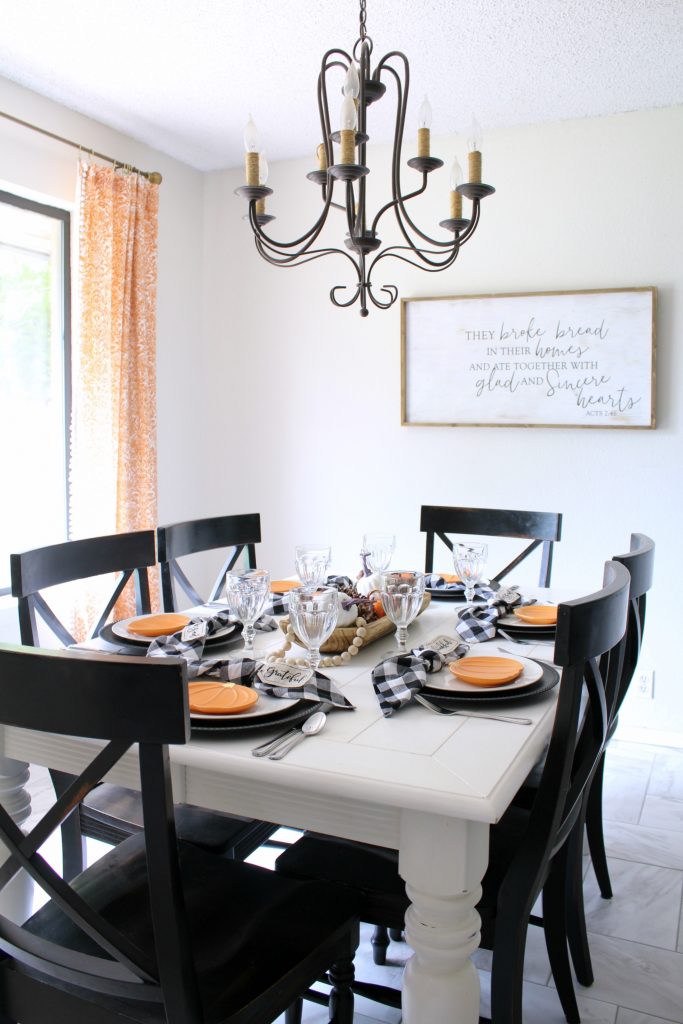 I knew I wanted to keep the rest simple, just some pumpkins and maybe some pine cones.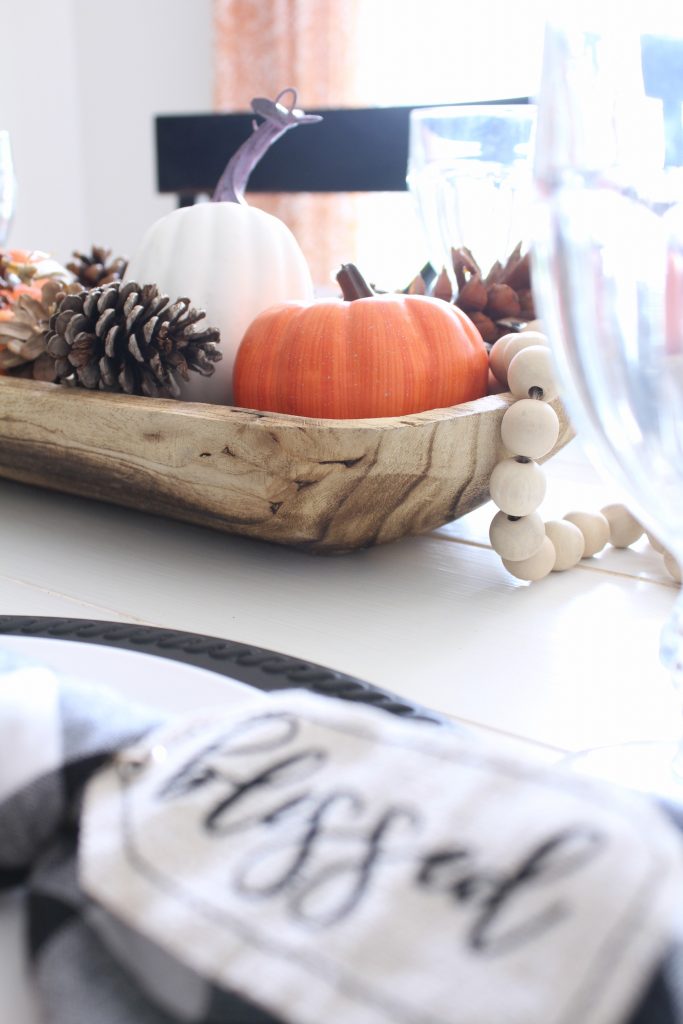 I found this wooden trough at Hobby Lobby in their fall section, and at 40% off it was a great deal.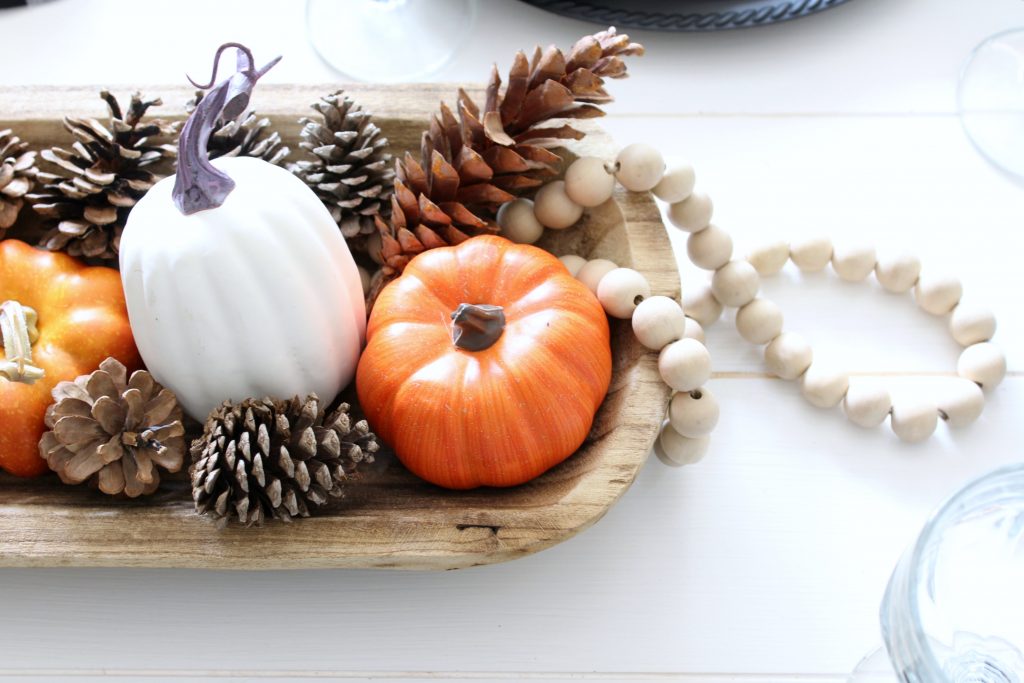 The wood beads were also from Hobby Lobby fall section, as well as the "grateful, thankful, blessed" tags that I stuck in the knot of the napkins.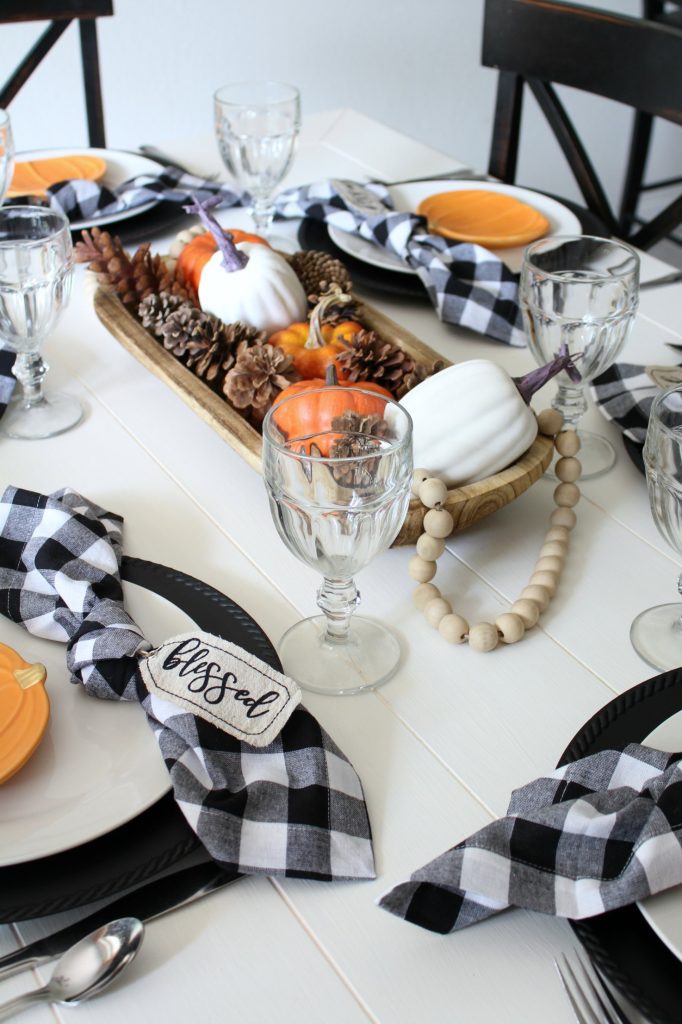 Since I was going with traditional, orange pumpkins were a must, but I had to throw in a couple of white ones for contrast of course. It's still pretty warm here, so these are faux pumpkins, but you could certainly use real ones if you wanted.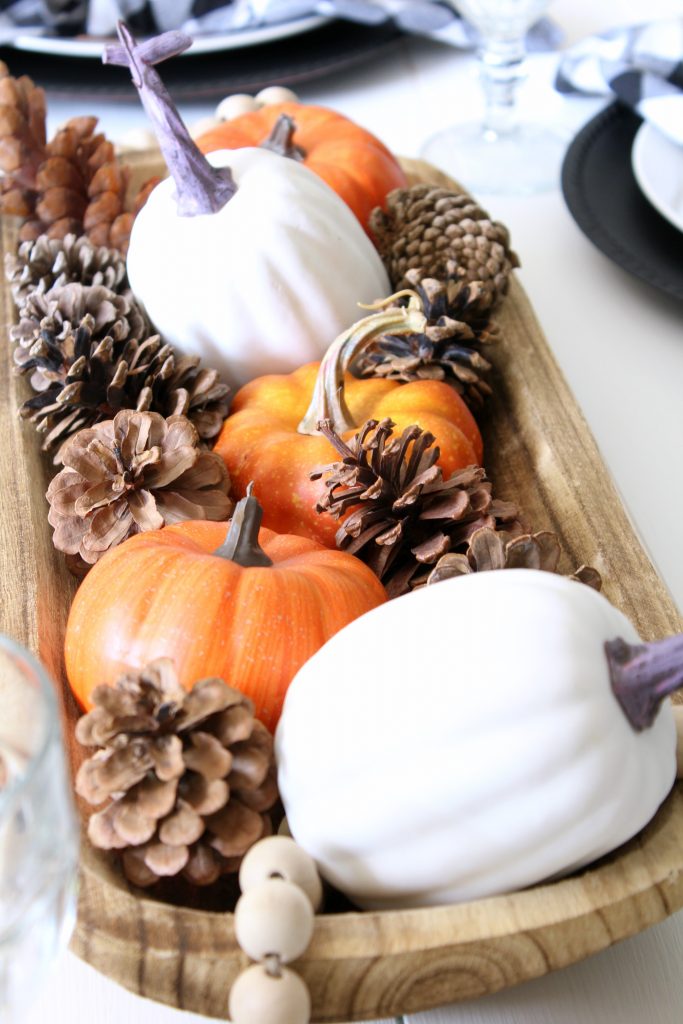 I have loved the look of knotting napkins for a place setting! I couldn't wait to try it, and I love the look! Cute and casual!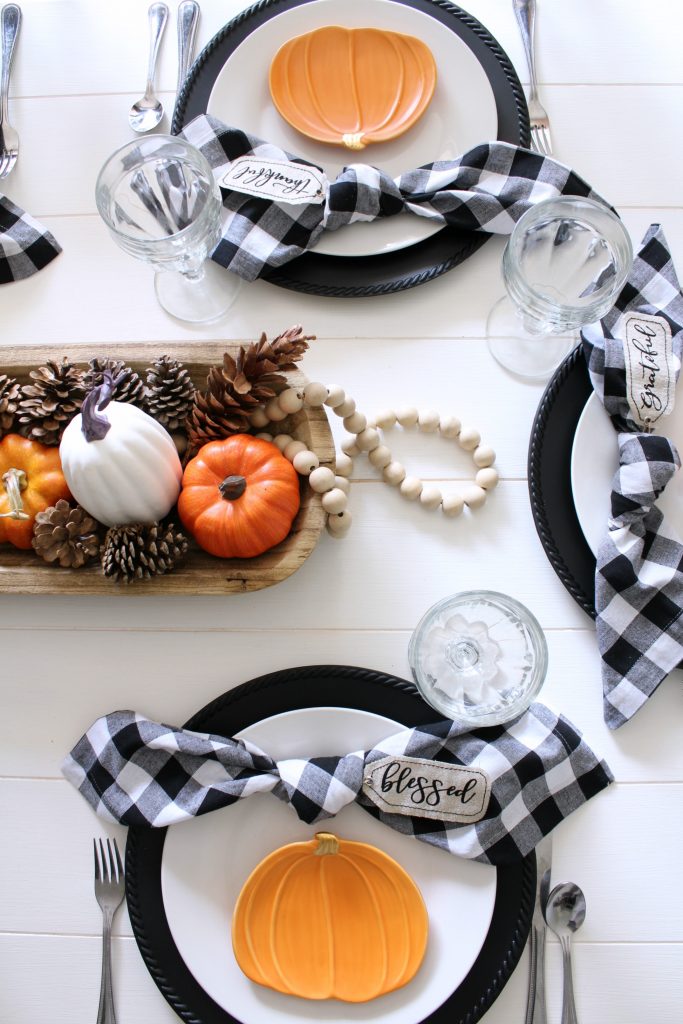 Putting together table decor is one of my favorite things! My number one tip is to keep it simple. Don't clutter the table with too many things, or too many colors. After all, you do have to have room for eating!! Haha!
Please hop on over and check out all the other great tables from all my friends by following the links below!!
Monday
Tuesday
Wednesday
Thursday