Hey there friends!! I don't know about you, but one of my favorite things about fall is the yummy, cozy, food! 🙂 Hubby and I recently visited a local pie shop (he loves pie) and he ordered something new – a peach blackberry crumble. It was soooo yummy. As I was devouring it I was thinking how it would probably be pretty easy to recreate so I gave it a try last week.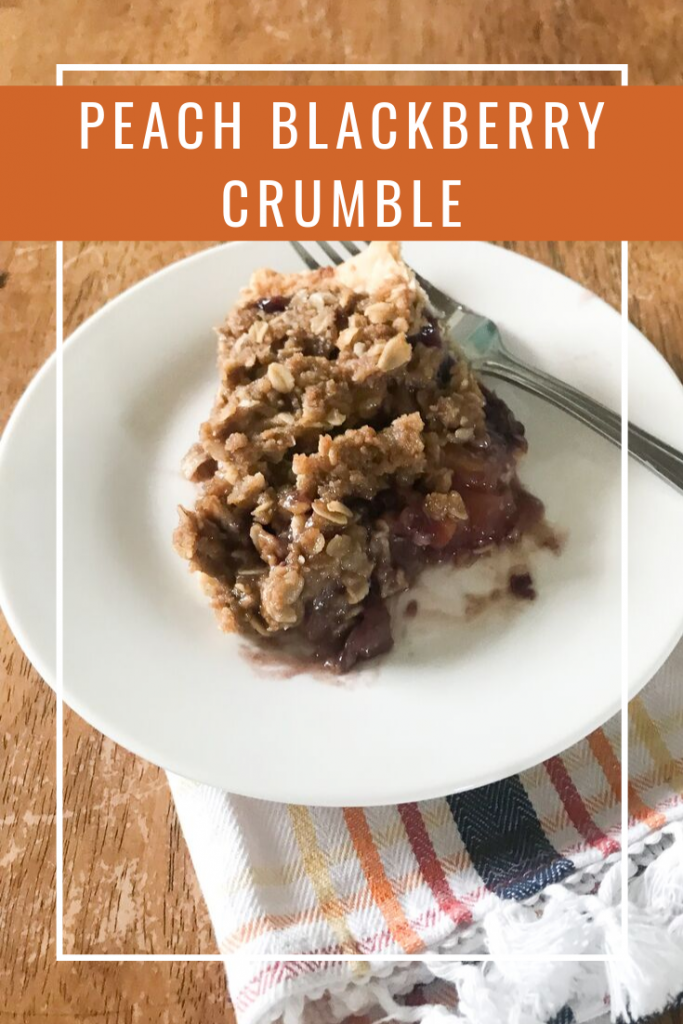 I'll share the complete recipes with ingredients and instructions at the bottom of this post. I've made fruit crisps (mostly apple) for years now and I figured that it would make the best crumble topping. But first, the pie we ordered had a bottom crust. Which I wasn't going to do, but hubby really wanted it so I did.

Some affiliate links used for your convenience. See disclosures for more details.
I found this super easy (and yummy) pie crust recipe a few years ago, when I was trying to eliminate crisco from our diet completely. It is literally just flour, butter, and ice water. Yep, that's it! By the way, someone introduced me to this amazing stuff not too long ago. If you bake, you need it.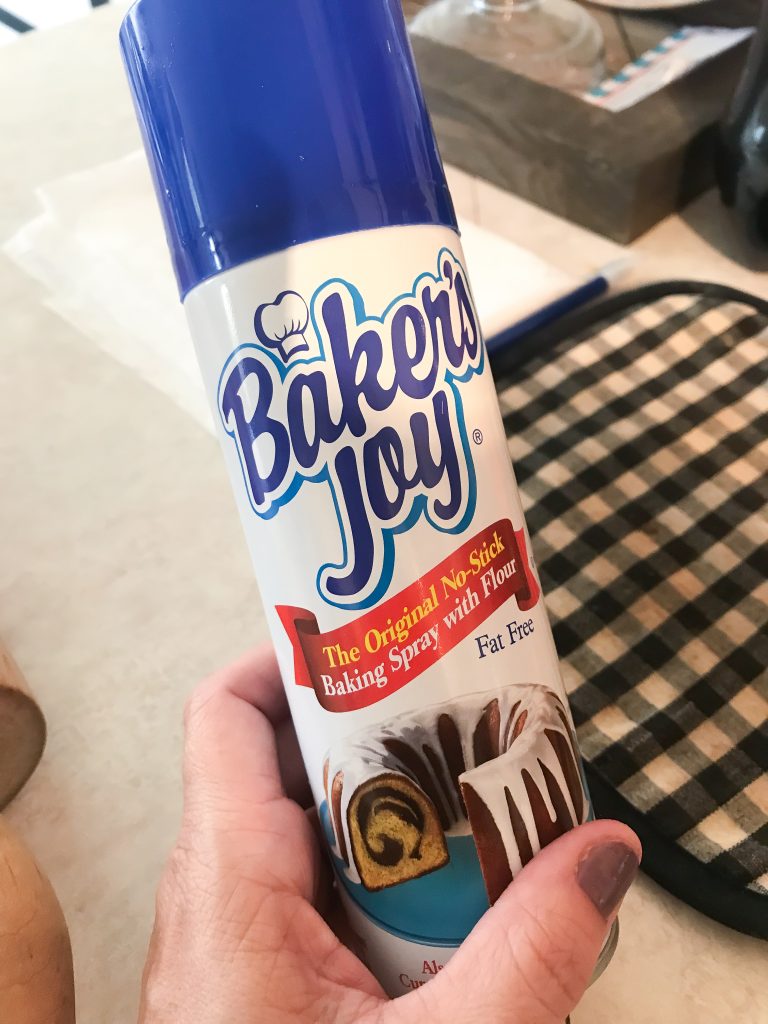 For the filling I simply bought canned fruit. They didn't have blackberry pie filling at the store we were shopping, so I bought the peach pie filling and this canned blackberry in light syrup. I got two cans of the blackberries because they were smaller, but I ended up only using one. I will say also that next time I will probably drain most all of the juice and maybe use both cans. The light syrup was really runny and I think it would be a better texture without all that liquid.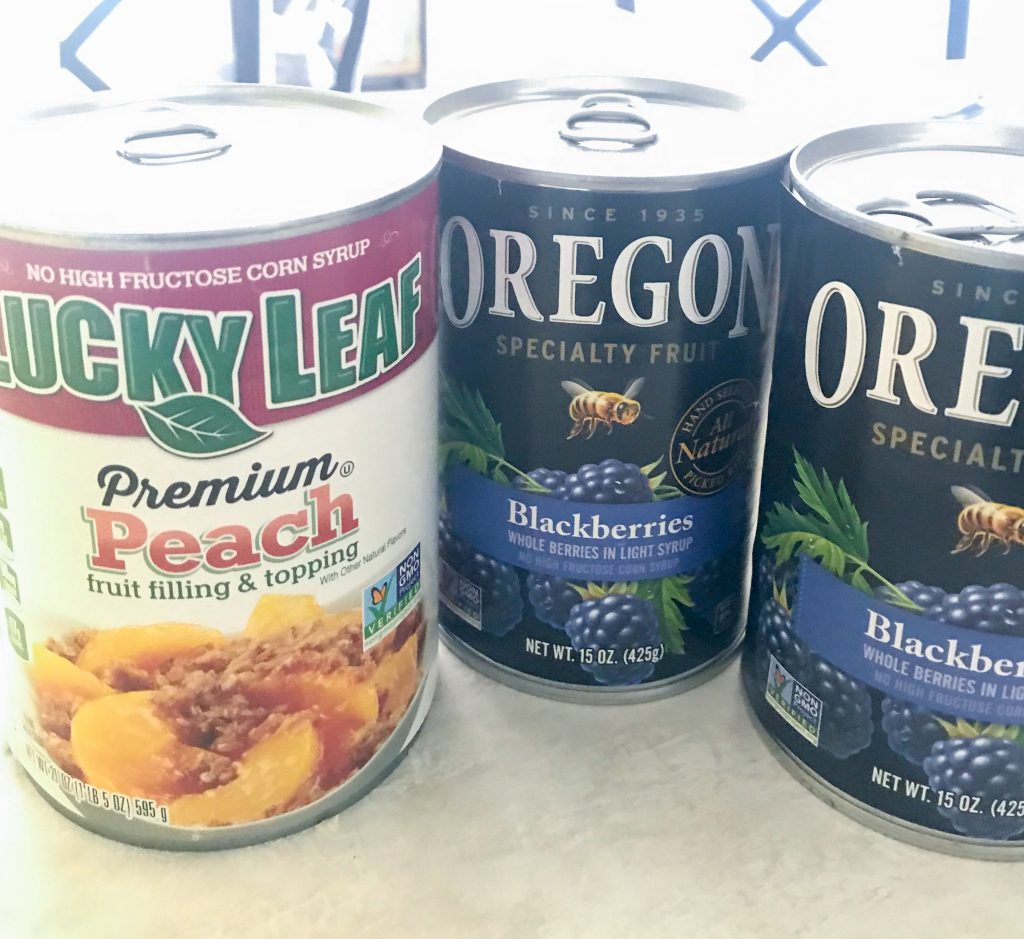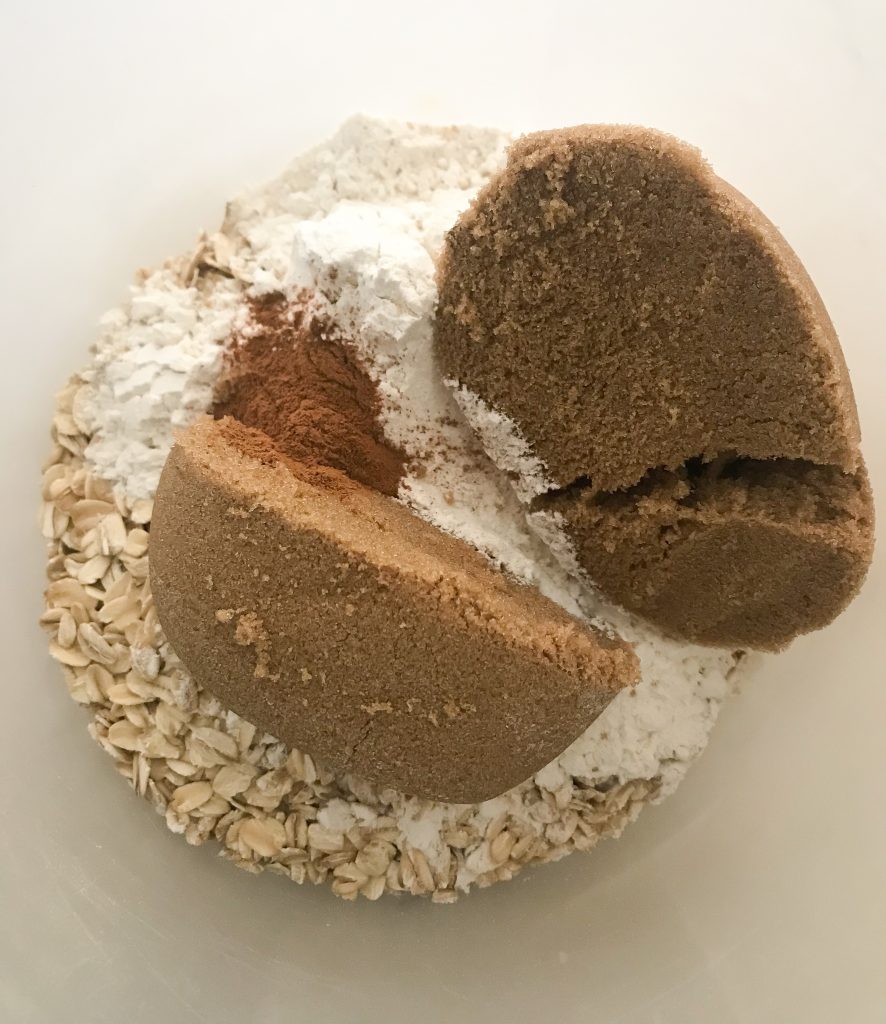 I always double it because our family loves it so much, but you wouldn't have to with this. 🙂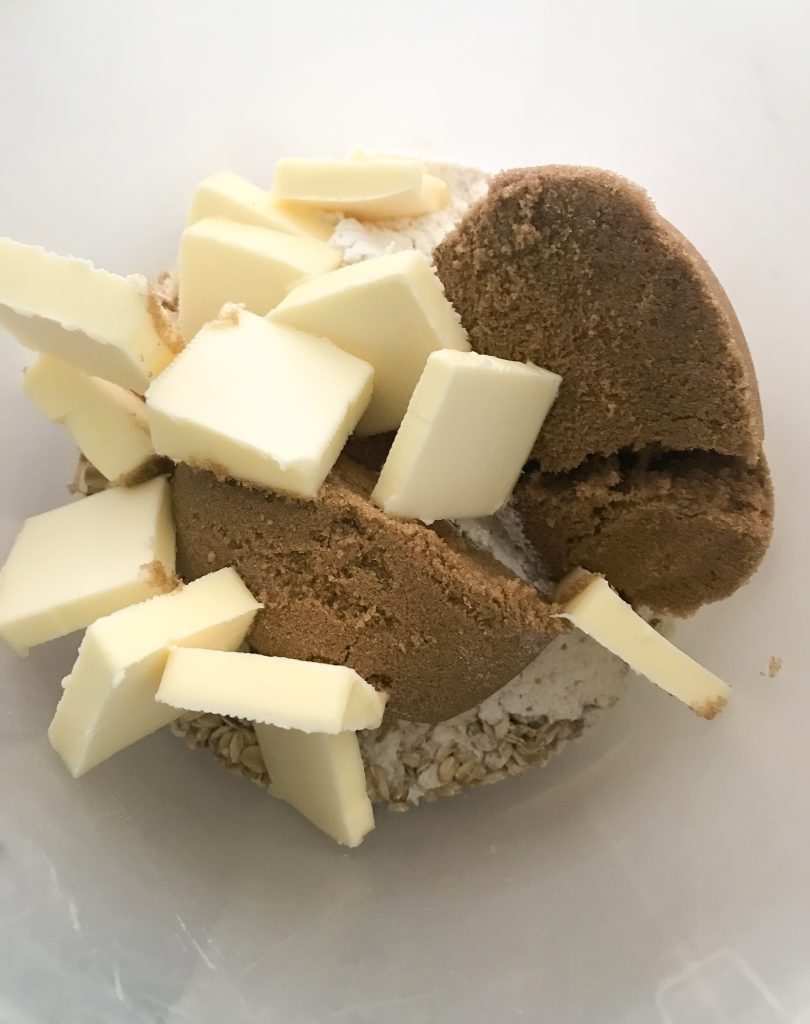 Sprinkle the crumble on top and bake. I used the time on the crisp recipe and it worked out just fine!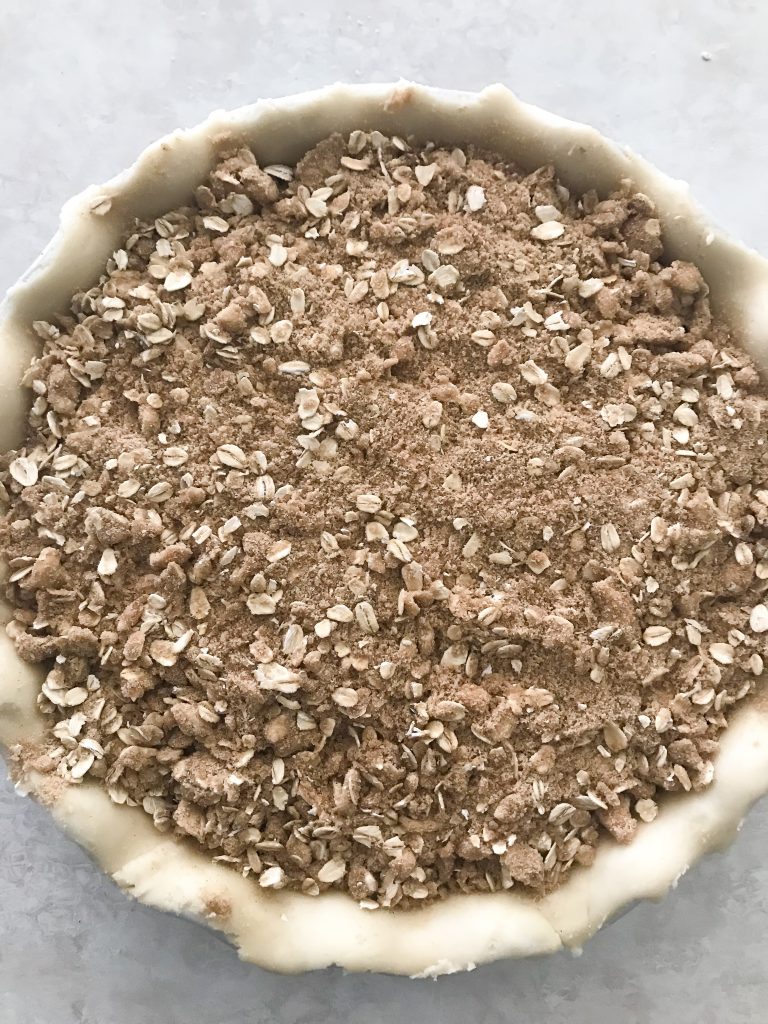 It was delicious. I'm not sure it was exactly like the one from the pie shop, but it was super yummy nonetheless! Excited to make a tweak or two and try again! Let me know if you try it and if you like it!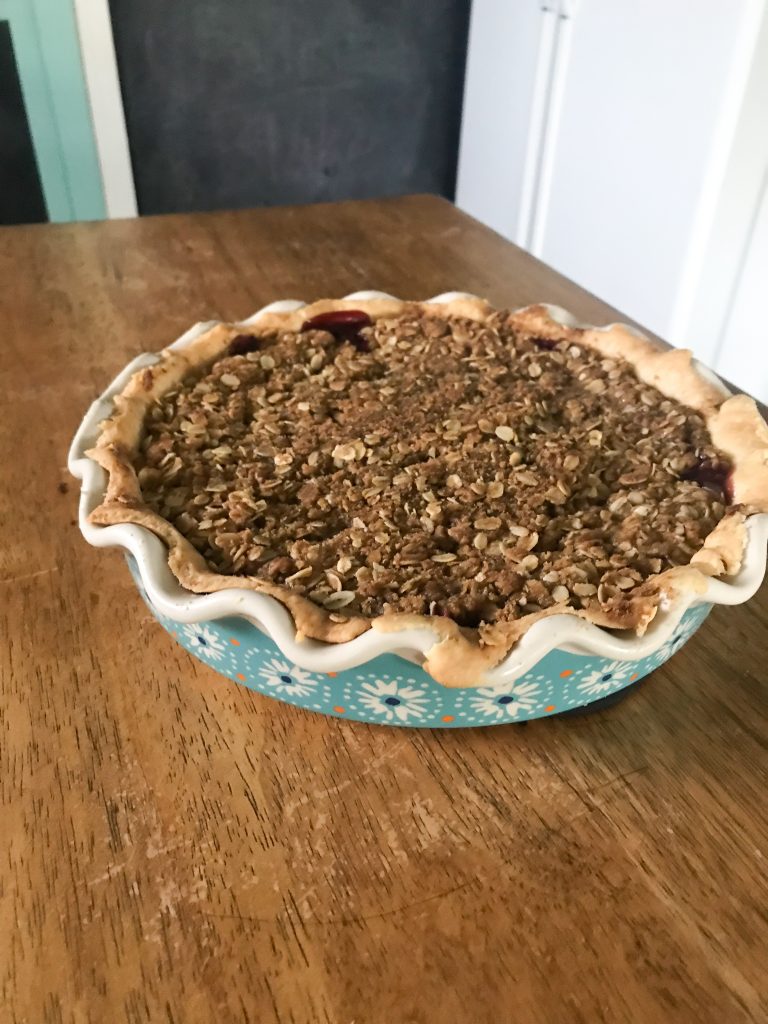 Peach Blackberry Crumble
Simple Butter Pie Crust
1/2 cup unsalted butter
1 1/4 cups all purpose flour
1/2 teaspoon salt
2-4 tablespoons ice water
I use salted butter because that's what I always have on hand and I omit the salt to keep it from being too salty. And, I always start with 2 tablespoons of ice water. I make mine with the following instructions for using a food processor. Of course you can do it without, the process is similar you are just combining the ingredients by hand with a dough cutter. This recipe makes enough for one crust. If ever you are wanting a double crust (top and bottom) you will want to double this recipe. Make sure your butter is diced and cold before starting. Make sure you're using ice water also.
Combine flour and salt in food processor. Pulse once to mix.
Add butter and process until it resembles coarse crumbs. Add 1 tablespoon of water and pulse, a few times. I always add a second tablespoon of water and pulse until the dough forms a ball. This takes a few seconds. If you find your mixture is too dry, you can add another tablespoon of water, on teaspoon at a time.
Turn the dough out onto a floured surface, or a silicone mat. Press the dough ball into a disk and roll to about 1/4″ thickness. If it sticks to the rolling pin, place a sheet of wax paper on top of the dough so you don't have to add more flour. Roll out the dough to a few inches larger than you pie plate.
Place in pie plate and press to fit. Tuck under any overhang and crimp or use the tines of a fork to decorate the edges. Chill until ready to fill.
Add the filling
Filling
Peach pie filling 20 ounces
Blackberry pie filling or canned blackberries 15-20 ounces
Crumble
3/4 cup all-purpose flour
3/4 cup old-fashioned oats
1/2 cup packed brown sugar
1/2 teaspoon ground cinnamon
1/2 cup cold butter, cut in pieces
In a bowl, mix the flour, oats, brown sugar and spice. Cut in cold butter to form pea-sized pieces.
I always double this recipe, but that's optional. Sprinkle the crumble on top until covered. Bake at 375 degrees for 30-35 minutes until topping is golden brown and juices are bubbling.
Eat and enjoy!!