I have to tell you, the past couple of weeks have been tough around here.  This parenting gig is kickin my butt.  I feel like for the most part we are doing ok – I mean everyone has food, clean clothes (most of the time), a place to lay their head and plenty of love.  But, when we have weeks like these I find myself stopping and thinking "where have I gone wrong?  I wanted more than ok."  Which is exactly the conversation my husband and I had at the end of a very emotionally exhausting day yesterday.  And we came to a couple of conclusions.  You can find his interpretation here.  I love that are minds work as one.  🙂

We will recover and get things back on track as soon as we are intentional in regrouping and reordering our priorities.  More time together with God, and more time together.  I would not say that our kids individually are over scheduled, but I would say that as a family it is more than challenging to have time together.  With two active teenagers and two active grade schoolers we might have one night together as a family.  This leads to 6 people living separately in the same home.  Ugh!!  Not at all what I had in mind when we agreed on 4 children.  See, I am an only child.  Way before my husband and I got married we talked about family – what was important to us, how many kids we thought we might want etc.  We both said 4 kids, and that is what The Lord blessed with.  But what is going on around here is not what I envisioned.  There is way more tearing down then building up.  I am learning the dynamics of sibling behavior, but I refuse to accept the constant barrage of ugly words and actions.  We have allowed things to stray.

So, we are buckling down, getting on our knees, working on being more diligent to get in The Word together, and working on being better examples of love and grace for our kids.  Can anyone out there relate with any of this?  Have faith, God is right there in the fight.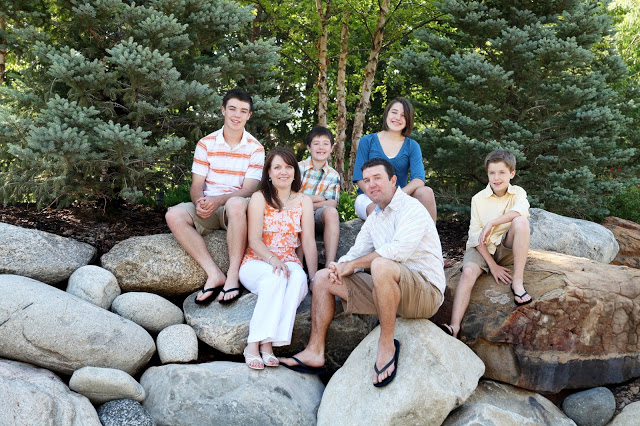 From our family to yours – some words of encouragement from God's Word: 

He only is my rock and my salvation, My stronghold; I shall not be shaken  Psalms 62:6 (NASB)
The LORD is my rock and my fortress and my deliverer, My God, my rock, in whom I take refuge; My shield and the horn of my salvation, my stronghold.  Psalms 18:2 (NASB)
Be to me a rock of habitation to which I may continually come; You have given commandment to save me, For You are my rock and my fortress.  Psalms 71:3 (NASB)
Then the LORD said, "Behold, there is a place by Me, and you shall stand there on the rock;  Exodus 33:21 (NASB)
"You neglected the Rock who begot you, And forgot the God who gave you birth.  Deuteronomy 32:18 (NASB)
Incline Your ear to me, rescue me quickly; Be to me a rock of strength, A stronghold to save me.  Psalms 31:2 (NASB)
Blessed be the LORD, my rock, Who trains my hands for war, And my fingers for battle;  Psalms 144:1 (NASB)
He brought me up out of the pit of destruction, out of the miry clay, And He set my feet upon a rock making my footsteps firm.  Psalms 40:2 (NASB)
"Therefore everyone who hears these words of Mine and acts on them, may be compared to a wise man who built his house on the rock.  And the rain fell, and the floods came, and the winds blew and slammed against that house; and yet it did not fall, for it had been founded on the rock.  Matthew 7:24-25 (NASB)
Father God, let us be those who and act and be like the wise man who built his house on The Rock.