I am finally getting around to sharing our first rehearsal dinner! I have to say, after going through our first wedding as parents, I'm super okay with only having one girl. 🙂 My job as Mother of the Groom was pretty easy peasy and fun! Of course I can't wait to plan all things with my daughter when that time comes, but I'll take the less stressful MOG role happily.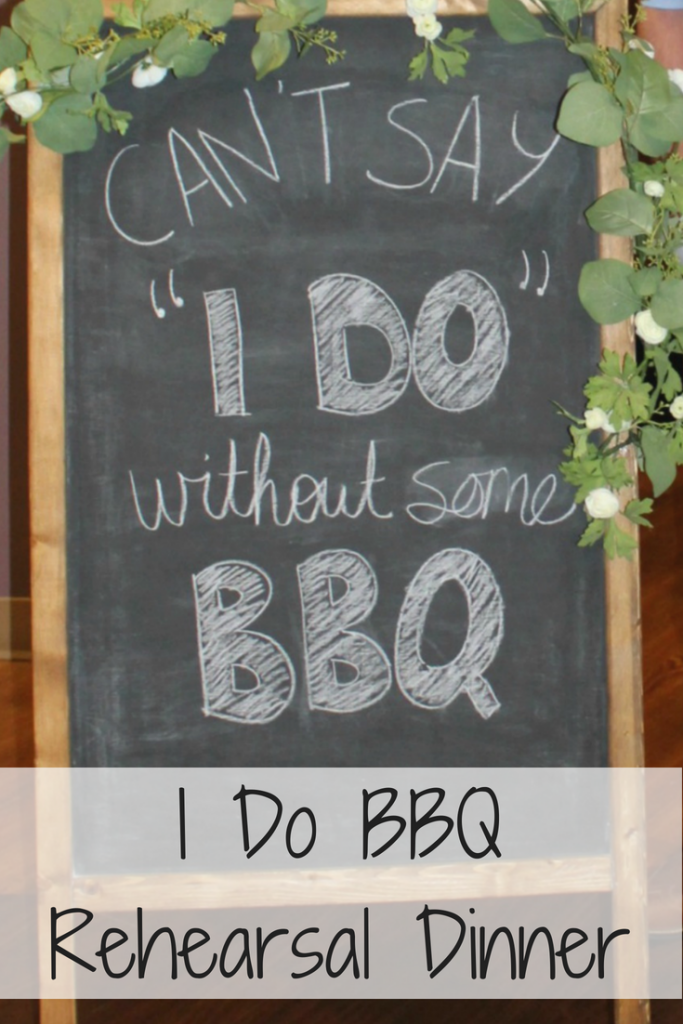 Our darling couple chose to have their ceremony at our church (their church too). So, that's where we had the rehearsal and the dinner. We reserved a room down the hall from where the ceremony would be and catered in BBQ from one of our favorite local places. It was delicious, and we ordered WAY too much food. HAHA!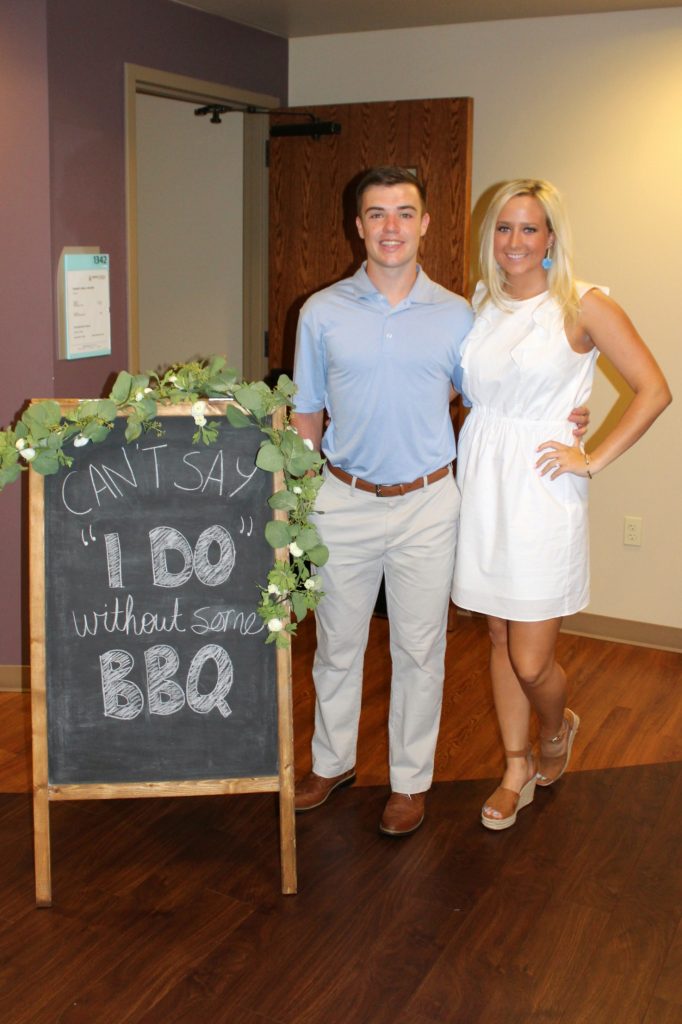 I made this chalkboard sign and I'm so happy I did. I think I will use it over and over again. I used this tutorial for the idea and just adjusted it to the measurements I needed. It ended up being about half the price as it would have been to buy one. Not to mention I couldn't find the size I wanted.
Some affiliate links used for your convenience. See disclosures for more details.
In the room, we had enough round tables to seat everyone, covered with white tablecloths, two 8ft tables for the food, and a 6ft table for the s'mores. All the long tables were covered in floor length black and white gingham tablecloths that I pieced together from these I ordered on Amazon. It took three tablecloths per table, and was truly a math problem to get them the right size. But, with my mom's help, we got it done. This was my inspiration. I loved it so much and this was just not something I wanted to budge on so the work was worth it.
Do you ever just have one part of a design that you just have to have?? I always do. Just one thing that I will not budge on no matter how much work it takes to get it done!!
I have to be honest, I took no pictures after the room was set up and ready. Blogger fail. But, I wasn't a blogger that weekend, I was a mom, and I just didn't even think about it in the moment. 😳  Luckily the bride's aunt took a lot of great pictures and shared them with me. Some things were hard to see in the pics, so I set that stuff up at home so you could see better what it looked like – including those amazing floor length tablecloths :).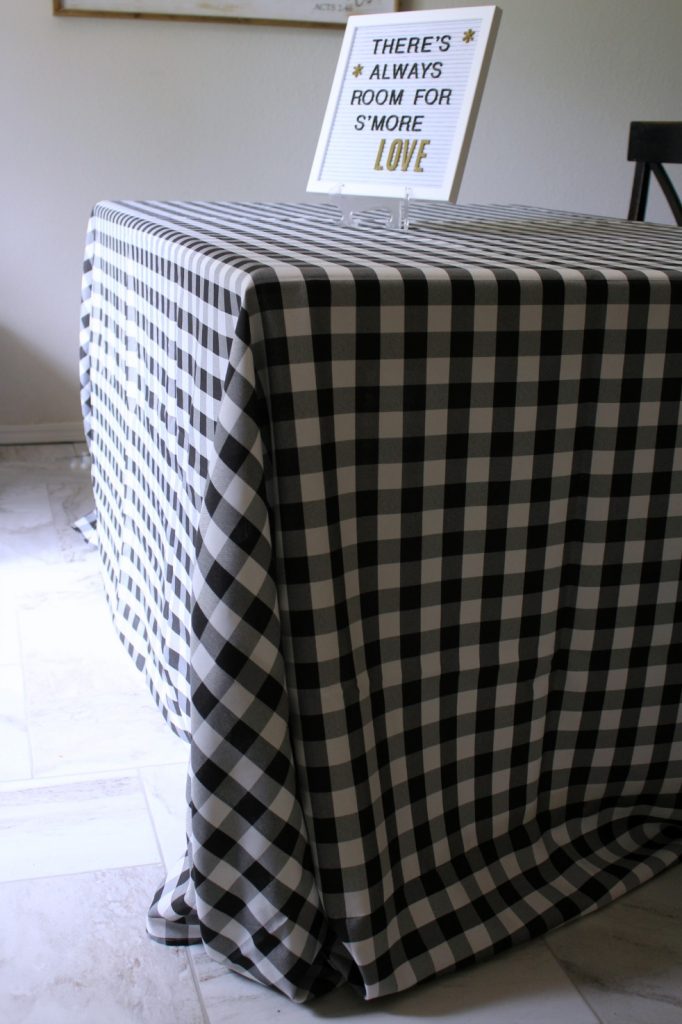 The centerpieces on the tables were simple and inexpensive with the help of a lot of DIY.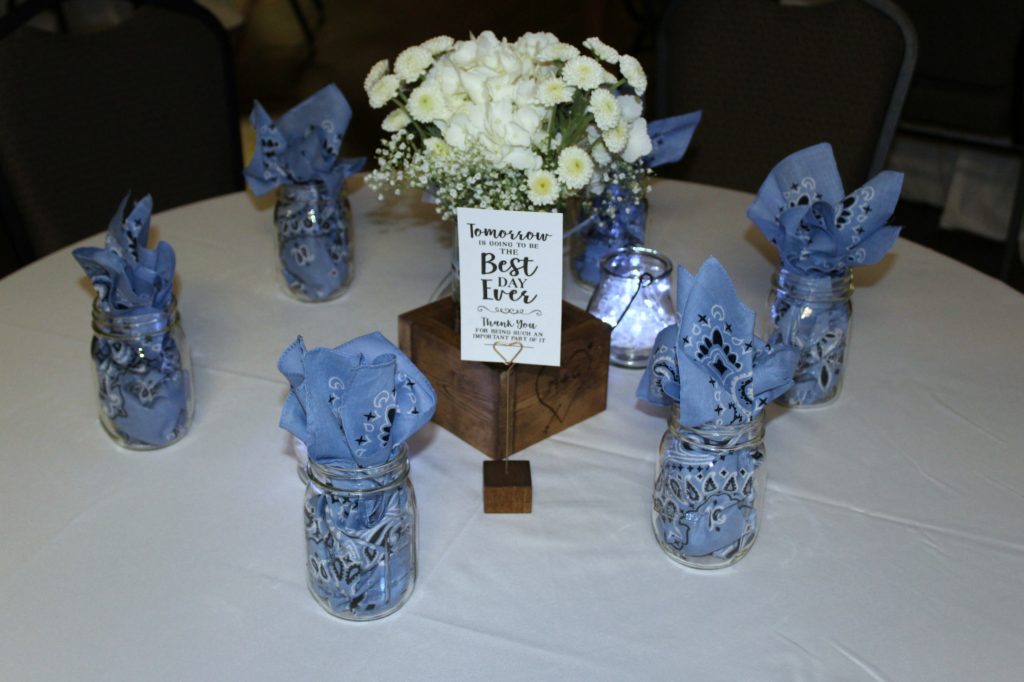 The wood boxes (which are bottomless) were inspired by these. My middle son did all the woodburning on two sides of the box. He really has a talent for that. I tried it once and it's a lot harder than I thought it would be. Thankfully he was happy to lend a hand. 🙂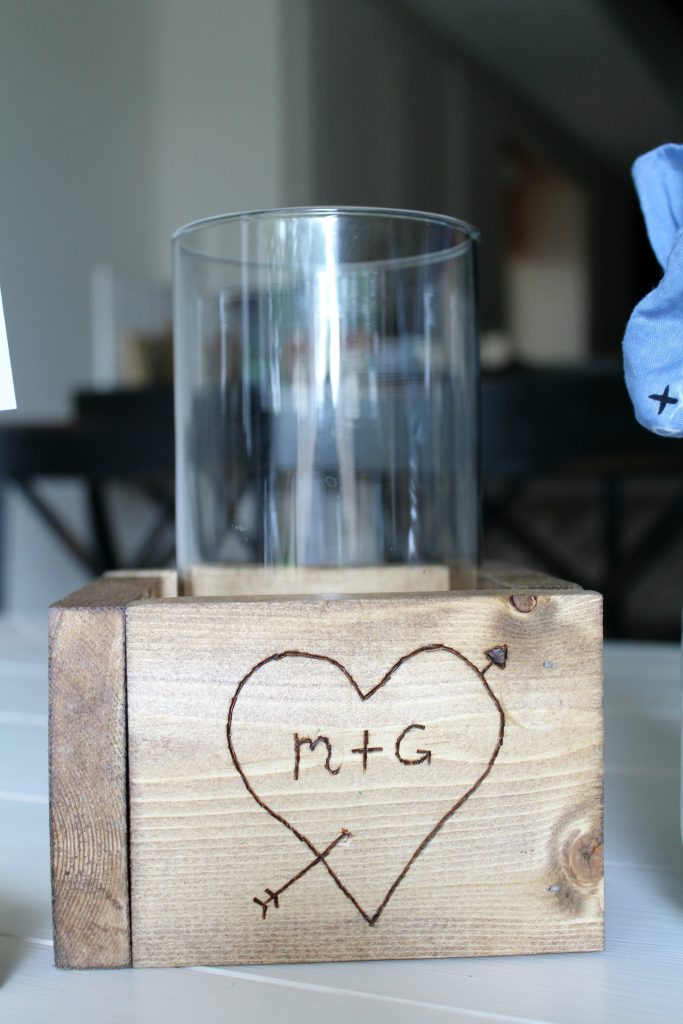 Inside the boxes I placed a basic hurricane vase from the Dollar Tree, filled with white flowers from Trader Joe's. I hit the jackpot! I went two or three days before and for less than $40 I had all the white flowers I needed!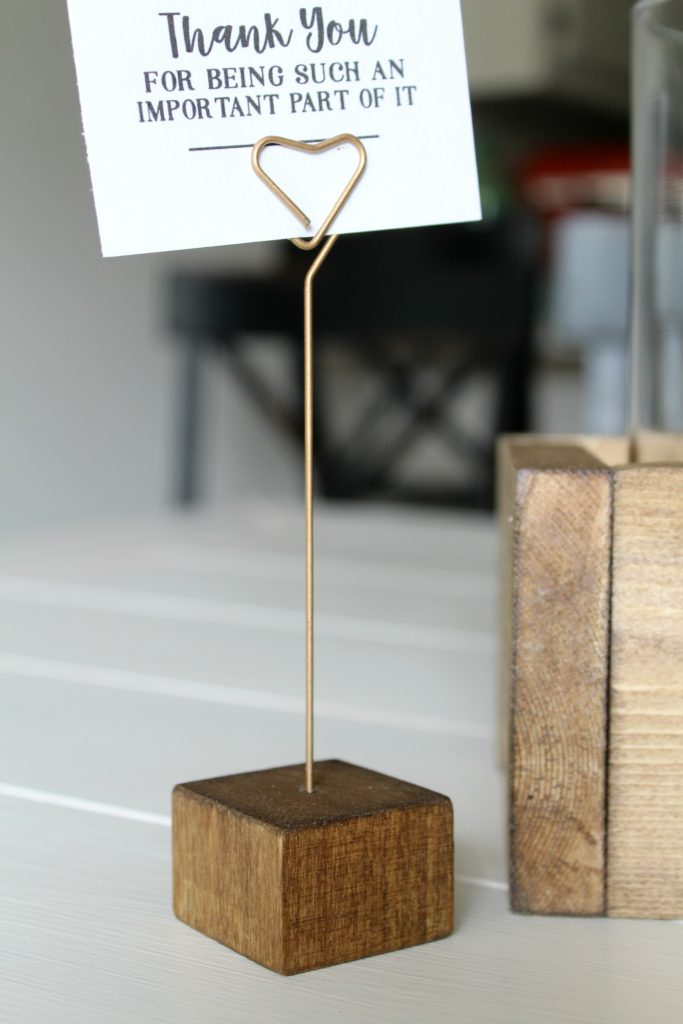 These cute wire heart photo holders were also a DIY. I ordered the wire hearts from Amazon (I spray painted them gold), and I cut blocks of wood for the bottom. I drilled a small hole in the top of the wooden block and glued the wire in.
The photo holders held pictures of the cute couple and these adorable signs I found on Etsy.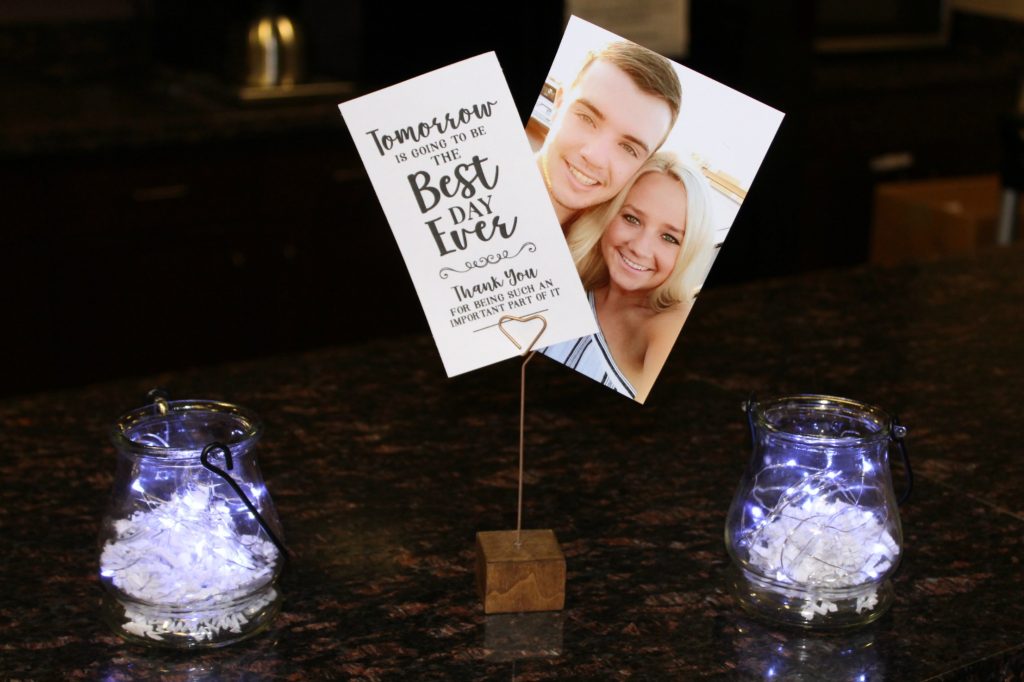 Also on each table were these cute votive holders filled with fairy lights. Such a cute glow. The mason jars with the blue bandanas stuffed in them were functional as well as cute – the jar was their glass for the night, and the bandana was their napkin.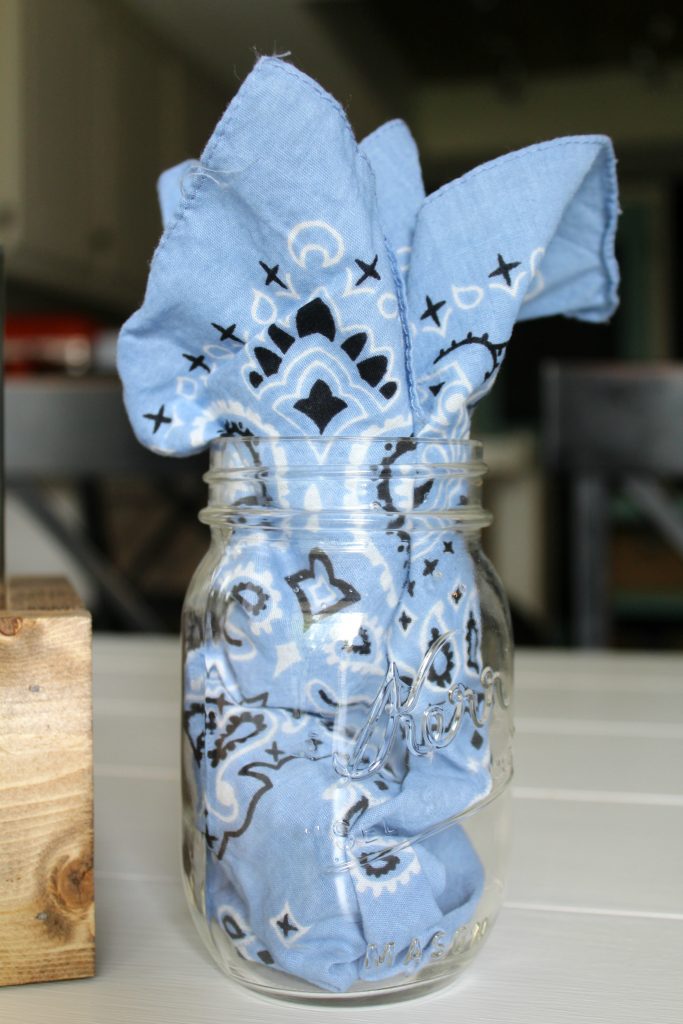 I really didn't do a lot of decorations on the food table, just these cute marquee letters (that I found at Hobby Lobby on clearance) along with more photos and more flowers. The photos are displayed in this stand I found at Target – totally matched the photo holders I had made! (ignore the BBQ sauce, I didn't get a pic of this before the food came haha)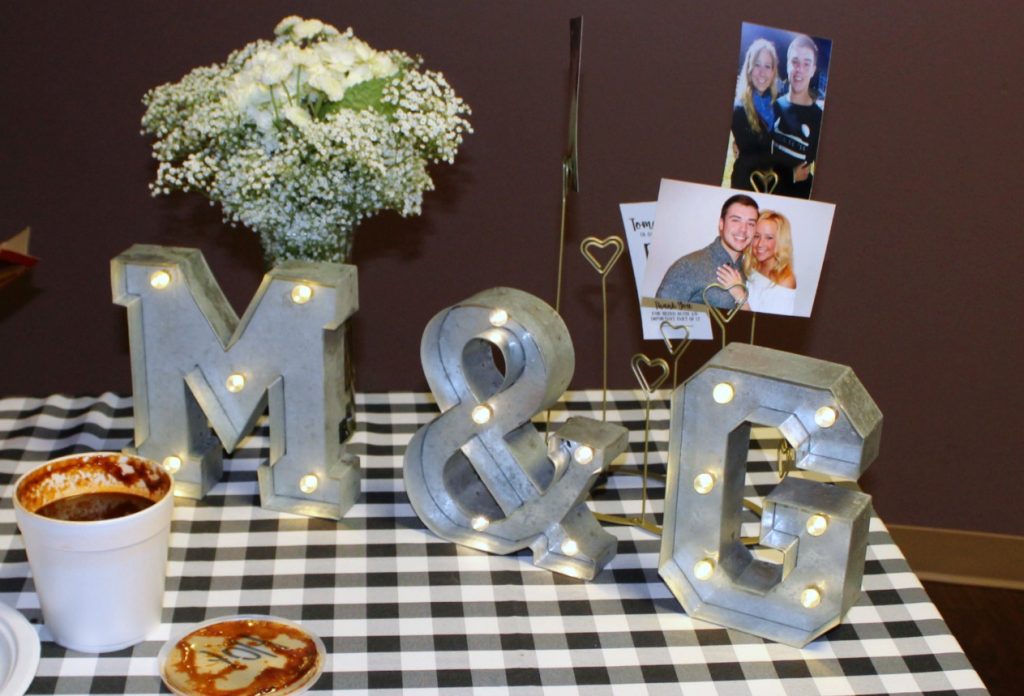 The s'mores table might have turned out to be my favorite! I'm not sure if it was just the idea of it, the letterboard sign, or the LOVE balloons!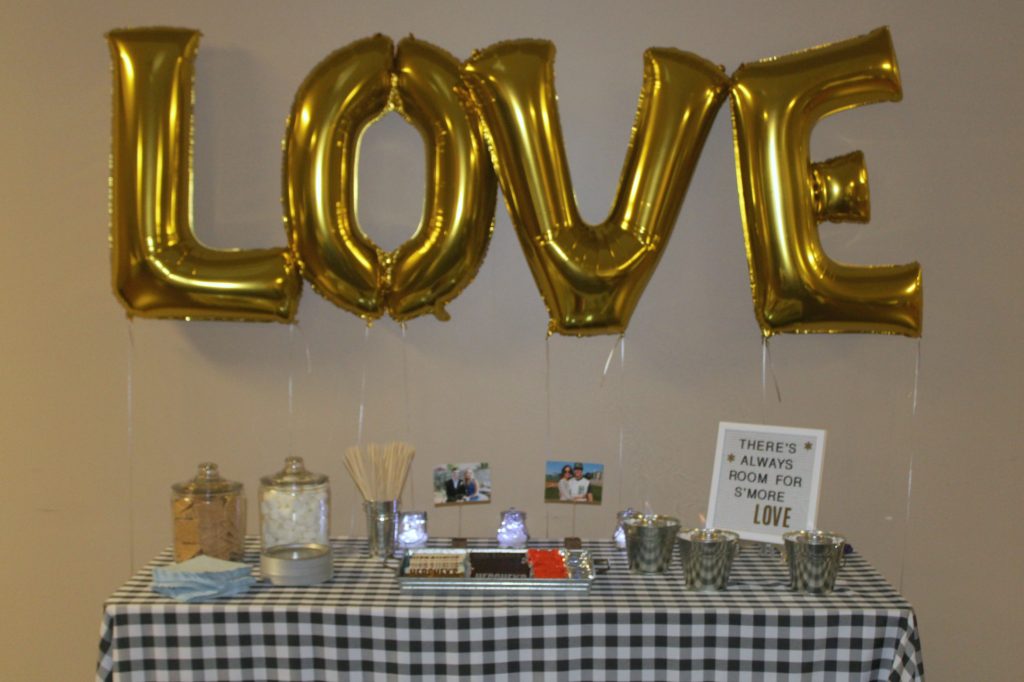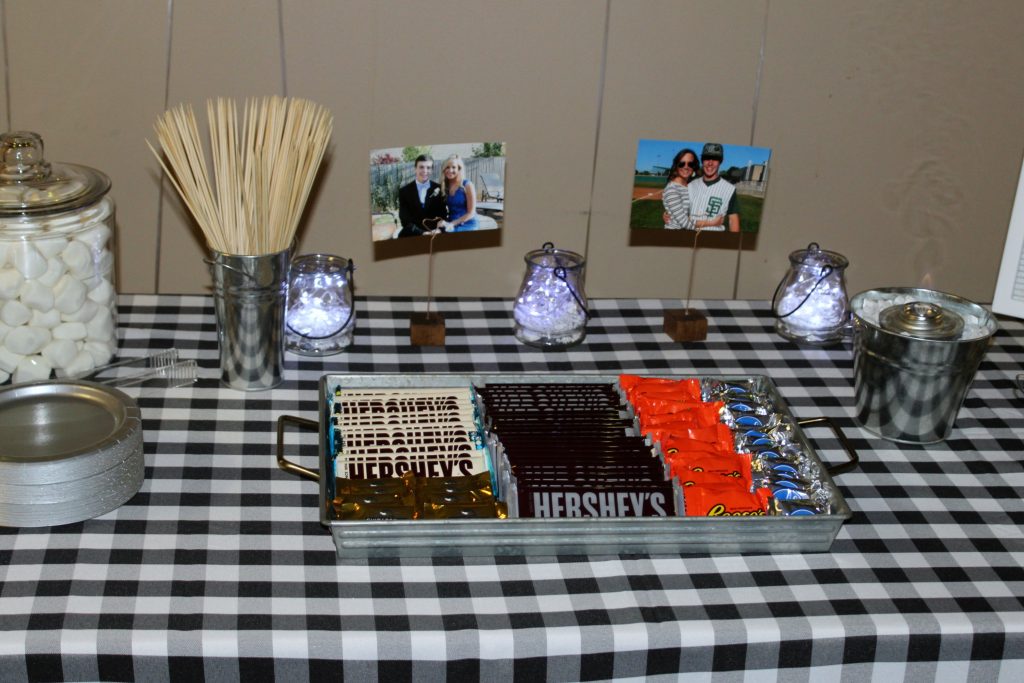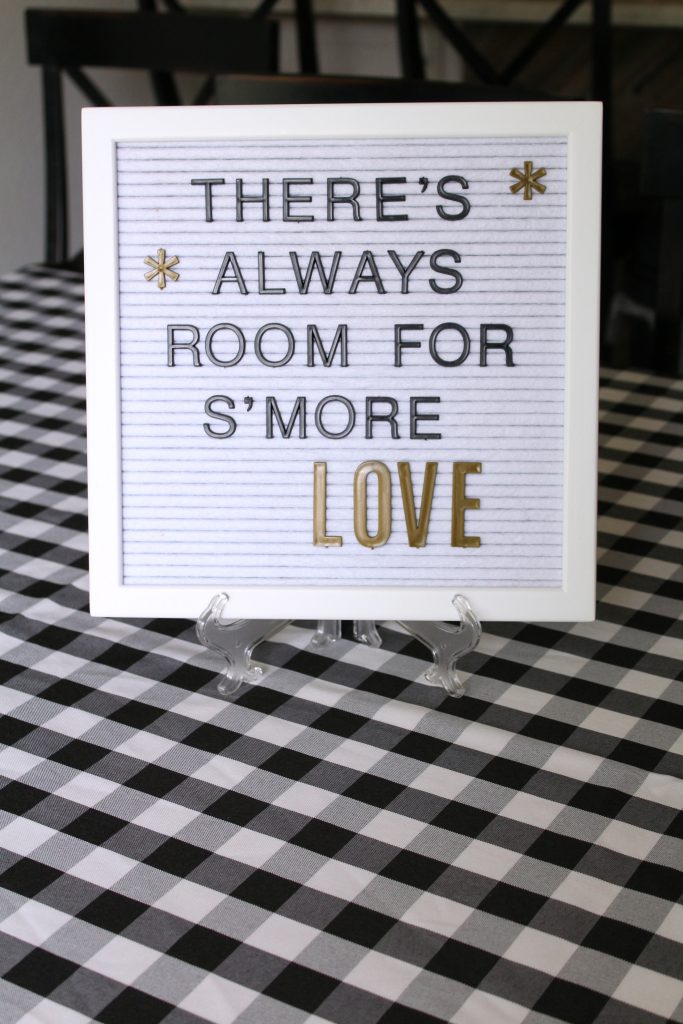 letterboard / gold letterboard letters
It was such a fun night!! I loved the anticipation for the next day and getting some intimate time with the people that mattered most.
If you are looking for some ideas for your own celebration check out my Pinterest board. You will find a lot of my inspiration here as well as a lot of other ideas I collected as I was planning.