The rain here today has been refreshing to my soul.  It is such a glorious sight and sound!!  We were under a tornado watch when I woke up this morning which is always fun, but hey.  So, instead of doing the painting I had planned on doing today.  I decided to work on some Valentine decor.  I don't usually decorate for Valentine's Day but I have to confess my mantel has been bare since Christmas came down and I was finally tired of looking at the emptiness.  Sometimes for me emptiness is good for a while – cleansing maybe.  Anywho….I have seen so many cute things floating around the blog world so I decided "why not".  Here is the big picture.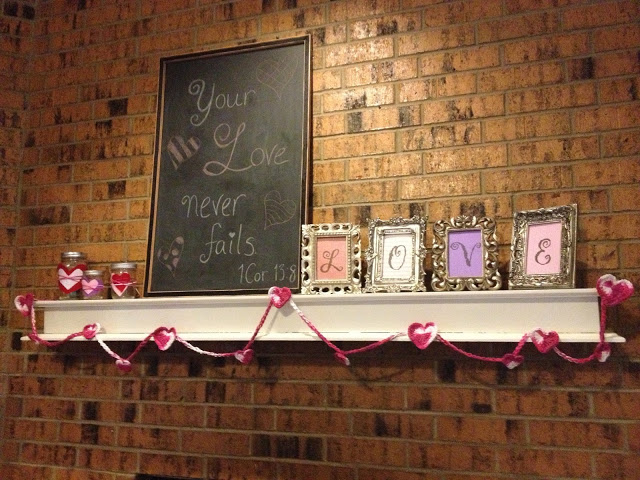 I spent around $5 a couple of weeks ago on some cute variegated yarn and started making some hearts – following instructions that I found here.  If you can crochet, these are very simple and quick.  (And, by the way, if you start to crochet something and forget how to do a stitch because you haven't done it in a long time – youtube is your friend.)
Aren't they cute??  When I had all the hearts I wanted I decided I wanted to make a garland so I made a chain using a large hook and double strand of yarn.  Then I very carefully (not) tied the hearts to the chain in a somewhat symmetrical pattern.
I also purchased some felt pieces in pink, red, purple, and white of course.  I didn't know exactly what I was going to do with them until I started putting things together today.  And this is what I came up with.  You may have seen something similar with paper doily hearts, but I didn't have any of those and today was all about using things I already had.  
I have been scared to try the whole chalkboard writing thing.  Because I don't think my handwriting is that good.  I tried several tricks that I found here and there and none of them worked – probably because I was doing them wrong.  So, I just decided to take the leap.  I started with this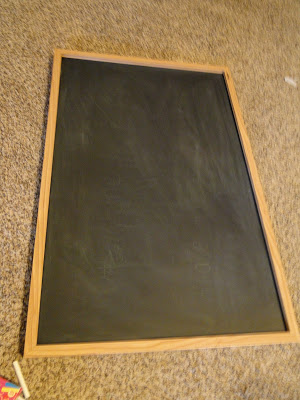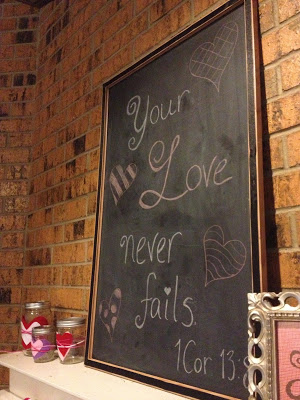 Not too bad I think.  I added some ribbon to the frame to dress it up a bit.  I have had this chalkboard hanging in my kitchen forever.  Sometimes with a verse, sometimes with a list, sometimes with a schedule, sometimes with a menu.  It has served many purposes, and all the while with that plain store-bought frame.  🙂
The last piece of the puzzle was another pinterest find.  I have seen several different versions of these with all different sorts of words.  I am in love!!  I had the frames and the paper in my craft closet – I just picked and font and sent the paper through my printer.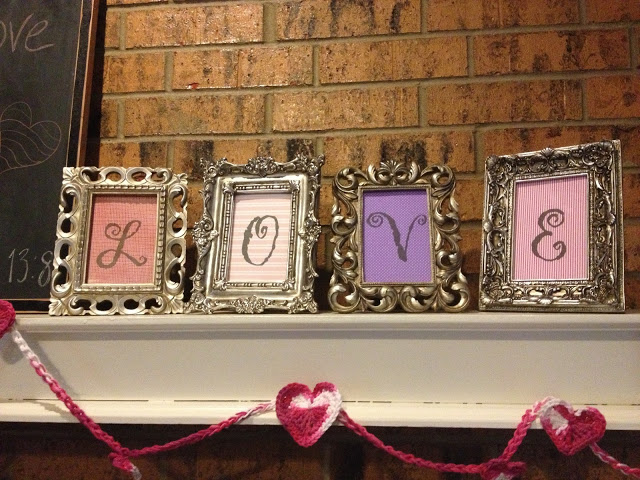 Here is a side tip that maybe you already know.  How to remove sticker residue.  These frames had been sitting in the closet for over a year with the price stickers still on them.  So, when I got ready to take them off, of course they did not come off easy.  So, baby oil and a cotton ball (and some elbow grease) to the rescue.  Tear off as much as you can by hand and then rub over the spot with the cotton ball coated in baby oil.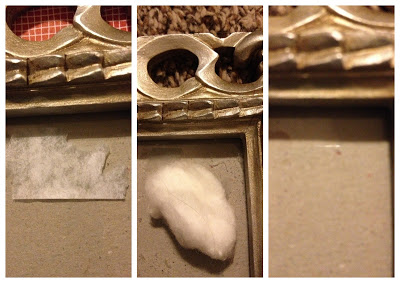 In just a minute or two it will all be gone!!  Way better than killing your fingernails trying to scrape it off!!
I love the finished mantel and that it was cheap.  
Things have been crazy busy around here lately and I don't see any signs of it letting up anytime soon, so I was happy for the rain as an excuse to stay in and do some crafting!!
Linking up at Our Fifth House today.  Lots of fun Valentine's day projects over there to check out!