Oh My Goodness.  I am so excited with the way this project is turning out I just had to share it with you, even though I'm not done.  Like I have said before I need to see results quickly, and today delivered!!
I am still in the midst of organizing my kitchen – UGH!!  I just have trouble deciding what I want to use for storage and organization.  I had plenty of ideas pinned on my
pinterest board
, but several of them would not work with my non-standard kitchen.
This weekend I purchased some containers at walmart for my dried baking goods.  For me and my family plastic works best.  I love these containers because of the shape, and the handy handle on one side.  I purchased all they had in stock of the 2quart size. – $1.97 ea!!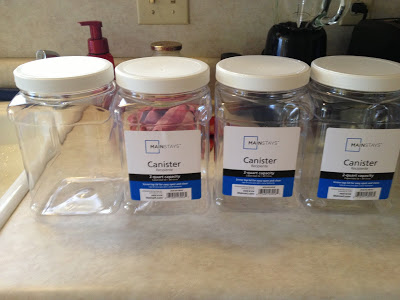 (They have a larger one that holds a gallon for $2.97, but of course it was too tall for the cabinet it was going in.)  The labels peal off super easy if you take a little time.  Make sure that you have them completely dried out before you put anything in them.  The containers are great and all but my favorite part is the labels!!
I have seen many different applications of chalkboard type labels and I love the look.  When I saw this at Hobby Lobby a little while back and knew it was the perfect option.  Lucky for me it was on sale this  last week!  Then I used my 40% off coupon to purchase a really large circle punch – 3 1/2″ on loveliness.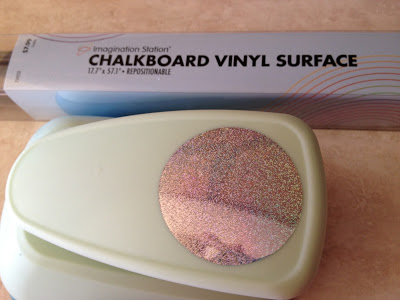 Then, using the lovely punch I cut circles from the chalkboard vinyl.  If you haven't worked with this type of vinyl, it's just like contact paper, with a peel and stick backing.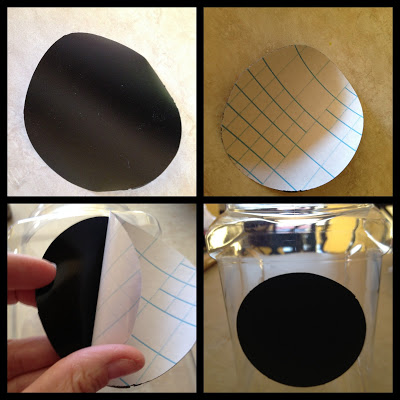 Easy peasy!!  Place your label where you like it and voila!!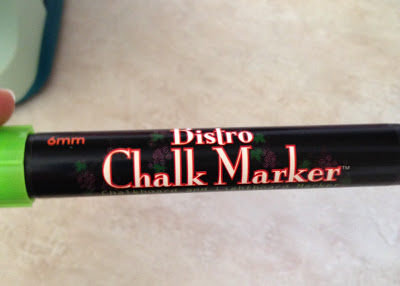 I have these wonderful chalkboard markers that I love because they don't wipe off like chalk, but are easily erased with a damp cloth.  Perfect for labeling things that are going to be handled often.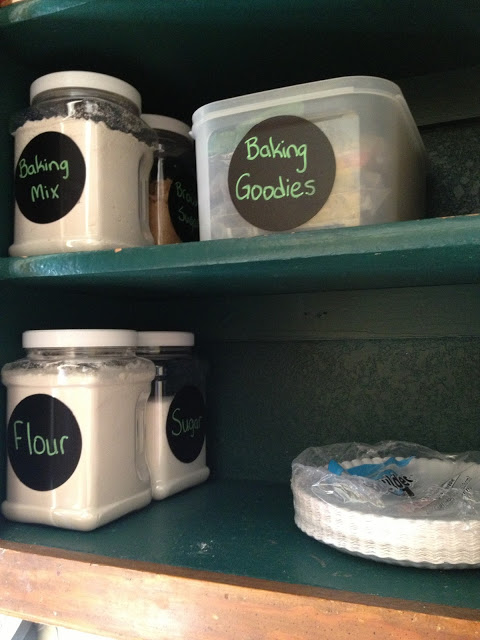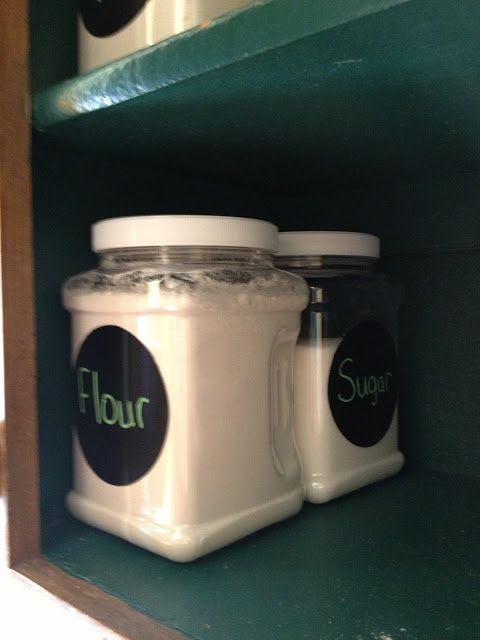 Love!!  Love!!  Love!! the look!!  Notice I turned the one in the back sideways so I could see the label easily.  The only drawback is that I cannot get a 5lb bag of flour in this container, but that's okay with me, I will store the extra in the freezer to keep it fresh.  There is quite a bit of this vinyl on the roll and I can't wait to go label crazy in the rest of the kitchen and many other places in the house!!  Wahoo!!
Linking up with Thrifty Decor Chick here and
here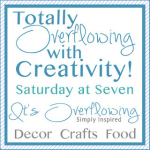 Sign up and get help de-cluttering your home room by room! You will also begin to receive an newsletter email from frazzled JOY weekly with posts from the blog and other updates. This is the best way to keep up with what's happening here @frazzledJOY