We have been having a great spring break over here!! Nothing too scheduled, but a good bit of work has been getting done, and some fun has been had!! I will be sad to see it go on Monday. 🙁
There is a great debate out there among parents about money and kids. Should kids get an allowance (money for nothing) or a commission (money only for work done) or should parents be human ATM machines?? We have bounced all over the place over our 18 years of parenting, and sadly have never settled on one thing or the other for very long. We totally want our kids to understand the value of money, and we work very hard to make sure they get that. And, for the most part, I think they do. We also want them to know how to work and to work hard. Which, for the most part, they do. Then there is the whole thing about money and work going together. In the adult world – you don't work and you don't get paid. Thus the argument for commission.
Honestly, our kids get an allowance. They are expected to do whatever I ask, whenever I ask, without whining. But, there really is no direct correlation between the work and the money. We have tried in the past, but with the older ones – they have a hard time finding time to get their chores done because school comes first. Good grades are more important to me then chores or jobs, sorry. We also believe that not everything needs to be paid for. Sometimes kids need to pitch in and work because they are part of the family, and families should work together.
So, back to the subject at hand – spring cleaning. I made myself a very long and exhausting exhaustive list. While I didn't plan on getting all of it done in a week, I did want to get it done while it was still spring!! So I decided to include the kids and allow them to earn some extra money.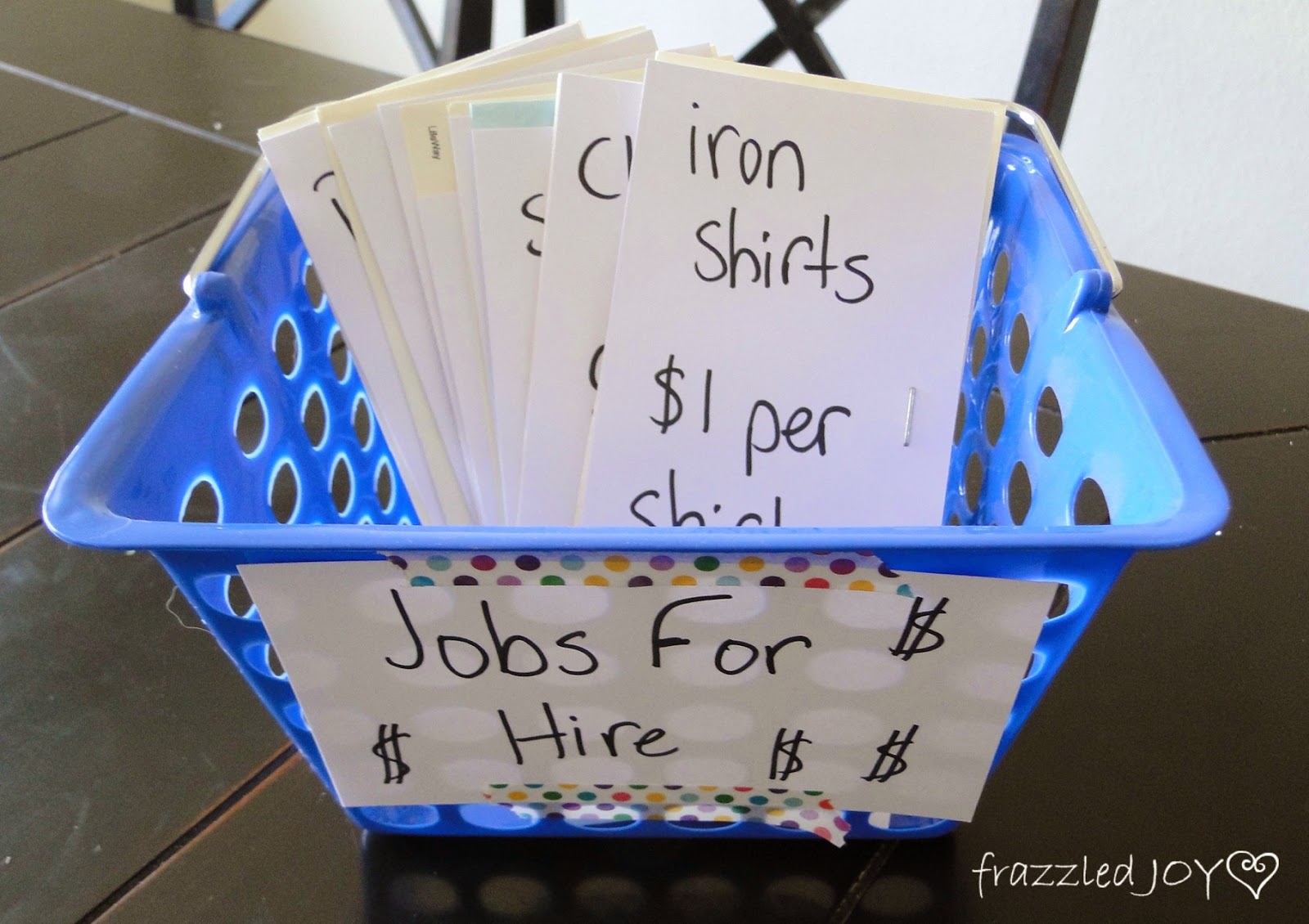 Jobs for hire!! My hubby and I came up with a list of jobs we thought the kids could do and put a dollar amount to them. Our kids are older, (youngest being 10) so these jobs are not necessarily easy jobs. But, if you have younger kids you could still do this – just create jobs they can do – but don't be afraid to make it a little challenging.
I started with 8 jobs that I wanted done (there are more on the list, and I plan to replenish as these are done). Each job got a job card with the description of the card and the $$ amount the job would pay, and an envelope attached with the cash already in it. Instant gratification is good for everyone :).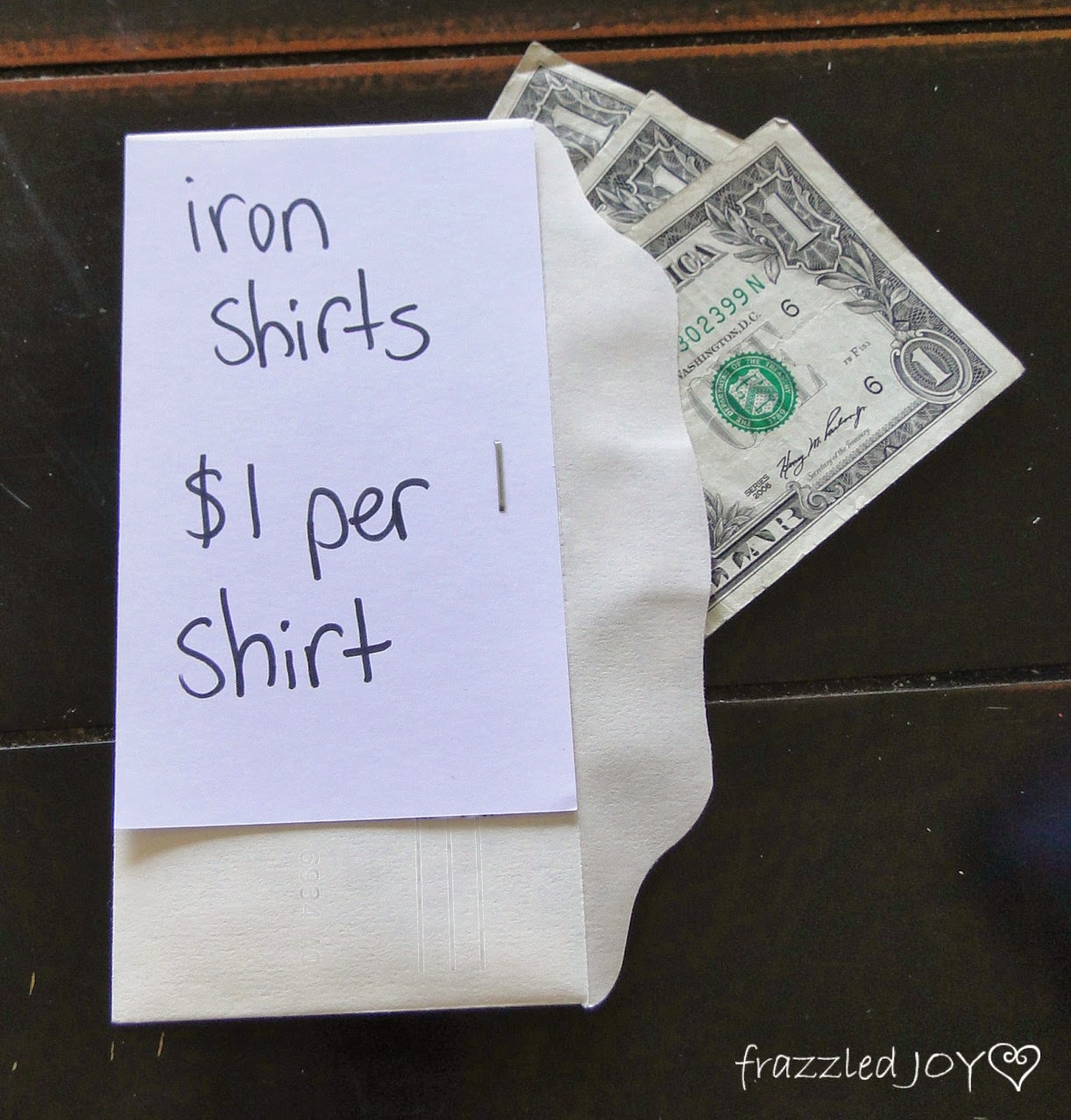 The basket is another Dollar Tree basket that I had, and the sign is an index card, attached with my polka-dot washi tape.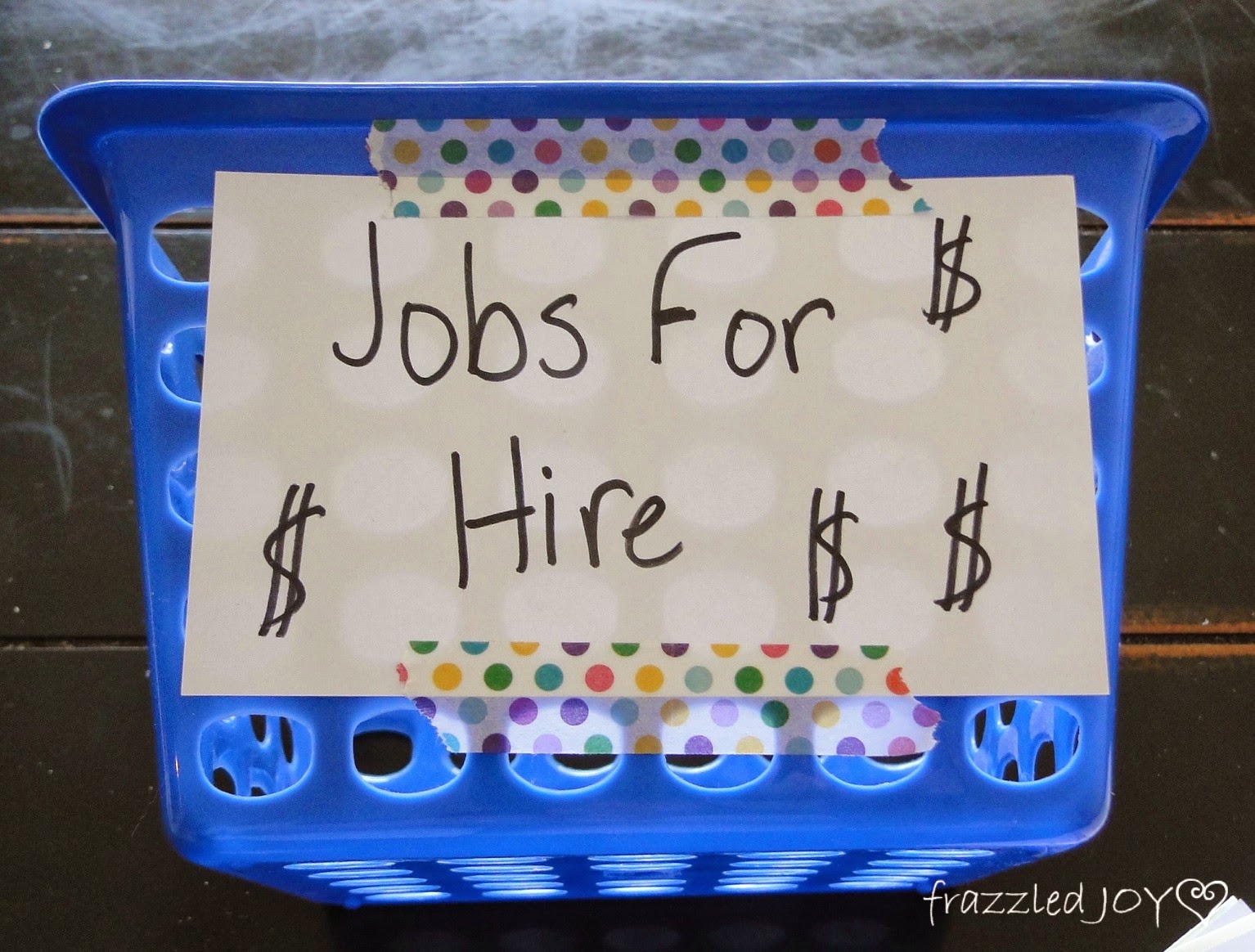 Easy peasy lemon squeezy!! The basket is now living in my kitchen on a shelf, and the kids were all to excited to get to work!! Yahoo!! There were some jobs that were less desirable, but if they want the money, they will do those too.
What I found through this are two things -1. make sure that you are paying them a fair amount. Just like we expect to be paid appropriately, they should too, if the pay is too low they won't want to do the work. 2. be prepared to teach them how to do things, which is great because these are things they need to learn sometime – right??
Wow, this turned into a really long post!! If you made it this far, thanks!! Hope this gives you lots of ideas!!
I have some fun things to share with you guys next week!! Have a great weekend!!