Stopping by today to share with you my cleaning supplies all organized and cute and ready to go for our Spring Cleaning adventure.  I really want to involve the kiddos in this adventure, and I wanted to make it as easy as possible for them to pitch in.  I stopped in our local Dollar Tree the other day and picked up some supplies.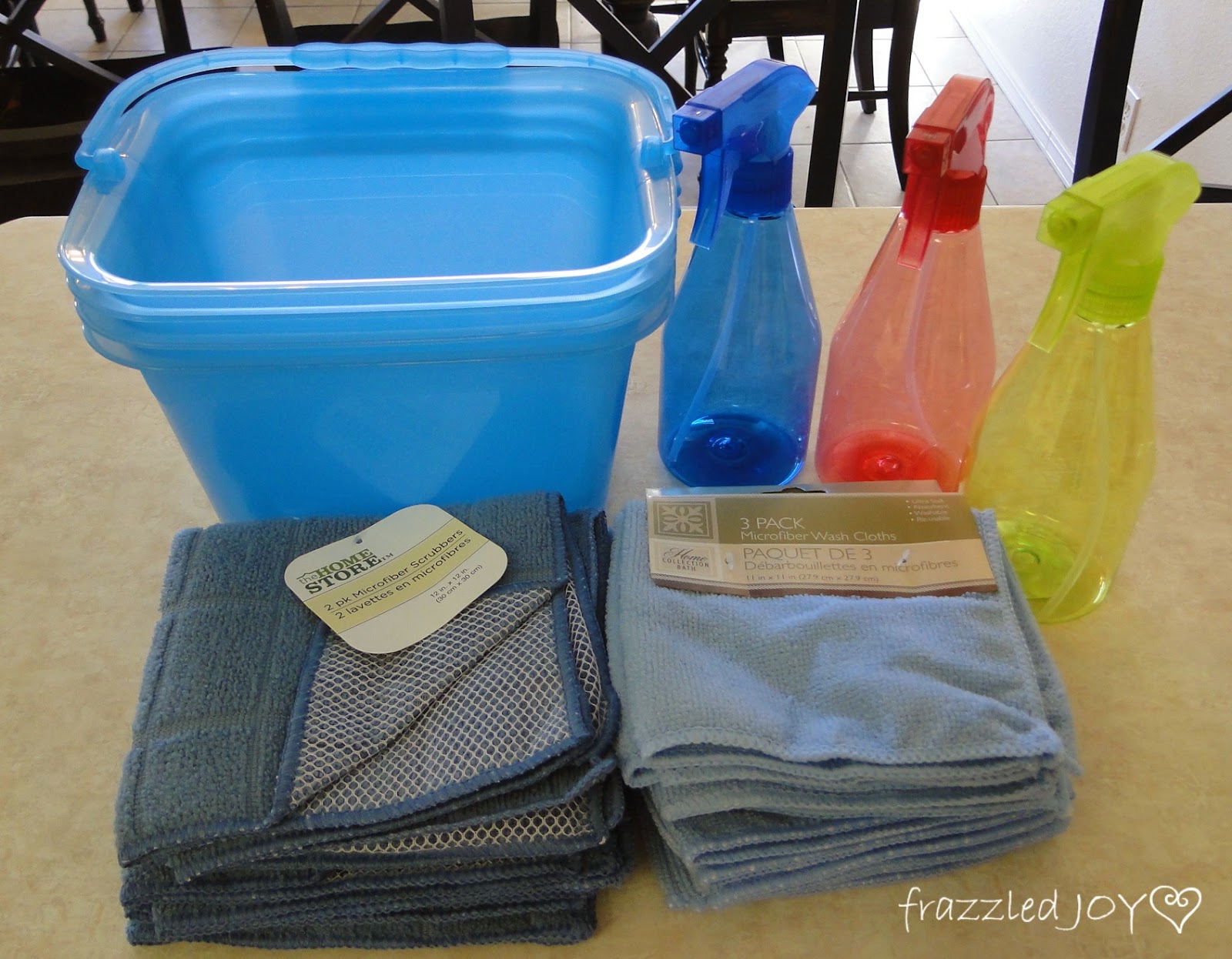 I got some plastic container with a nifty handle, spray bottles to hold my home made cleaners, and some microfiber cloths.  I got some that have a scrubby backing and some that did not – spent $11 plus tax.  Not bad :).
From there I whipped up a few batches of my go-to cleaners that I shared here (with recipes), and started assembling my buckets.  I decided to assemble a couple based on task, and a couple based on rooms.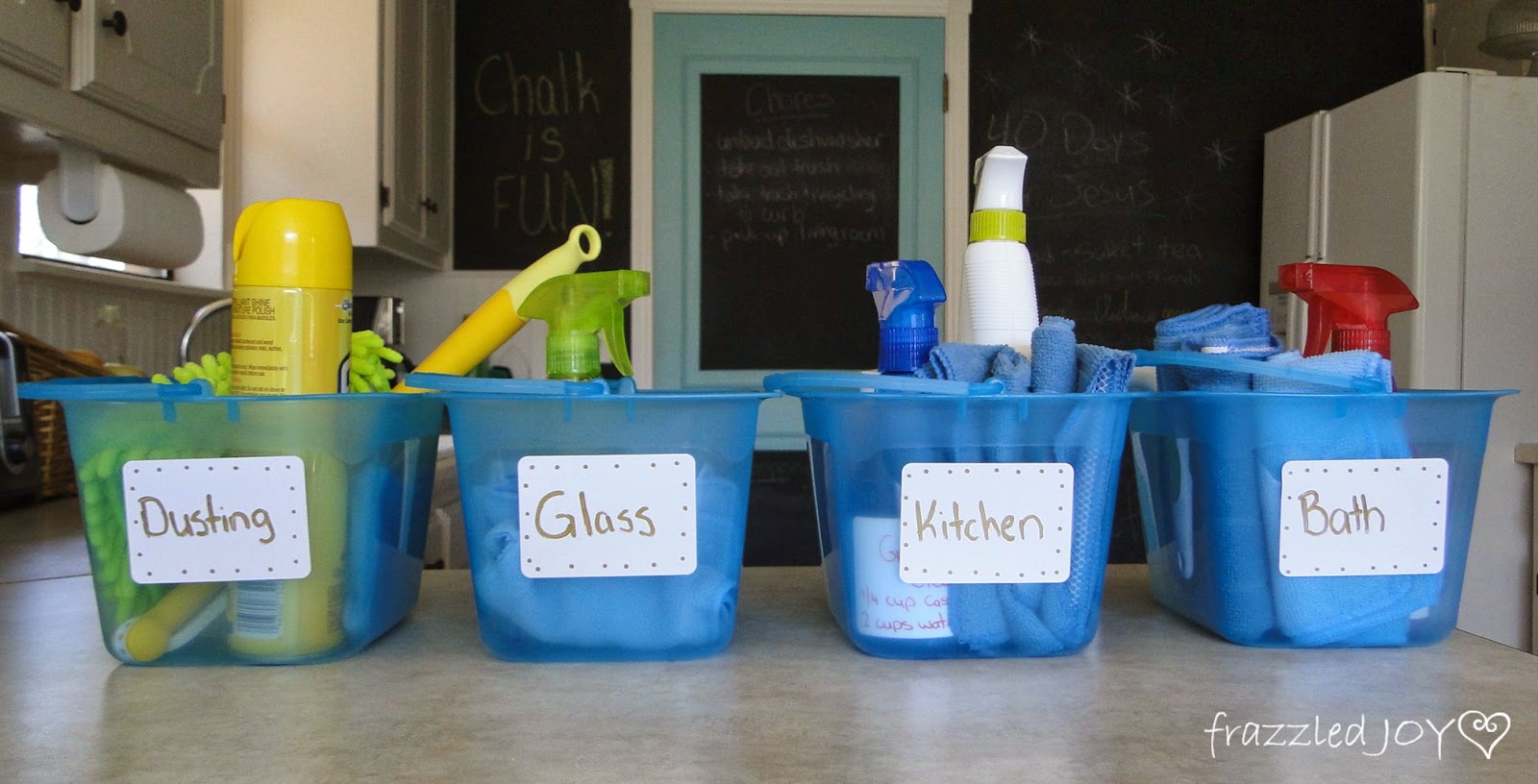 The labels are basic plain white labels that I already had, and I just used a gold paint pen to write the appropriate label on each one.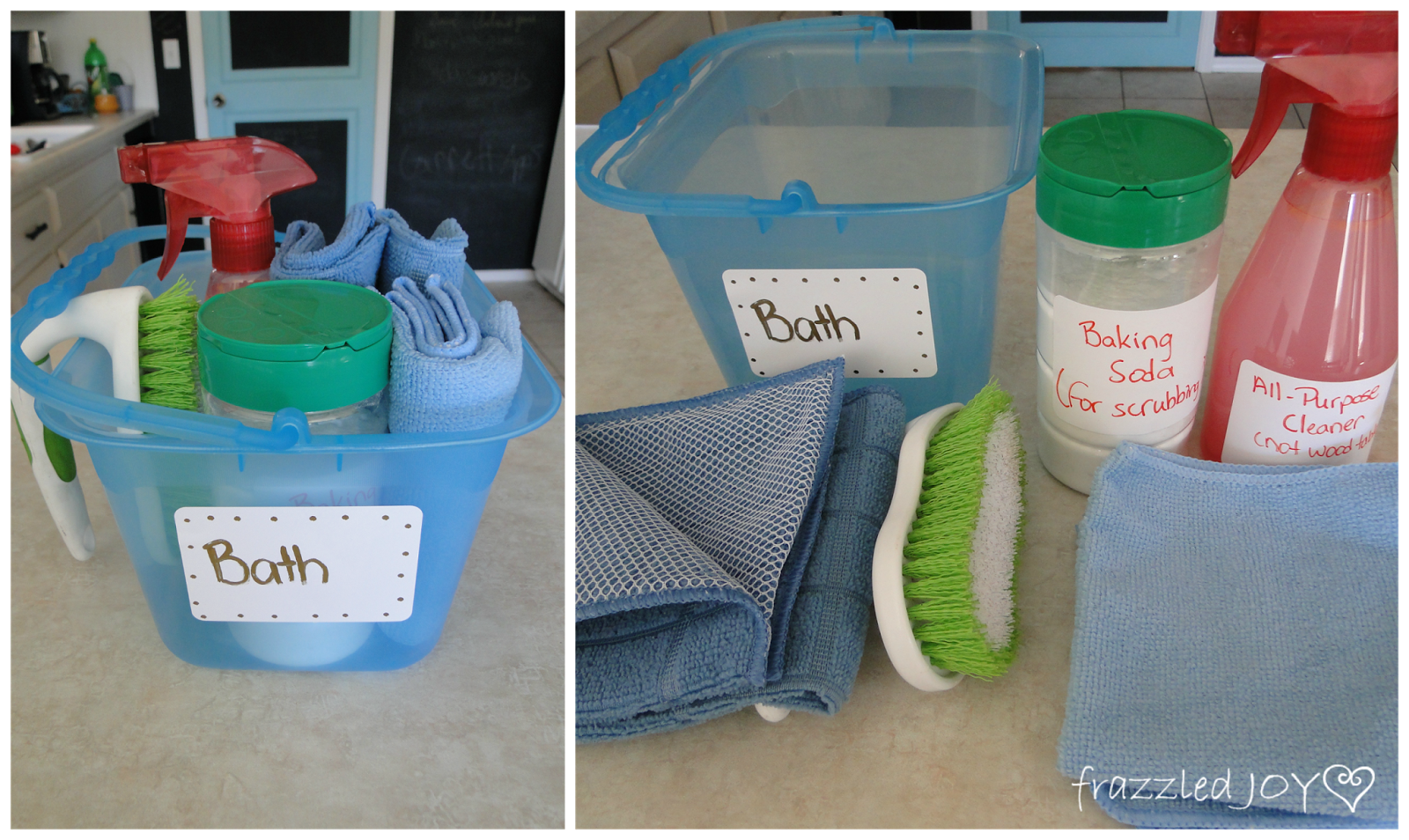 For the bath I included a batch of All-Purpose Cleaner, some baking soda (excellent for scrubbing) – stored in an old Parmesan container, a scrub brush, a smooth cloth, and a scrubby cloth.  This will clean everything in the bathroom aside from the toilet – those supplies are kept in each bathroom, and the floor.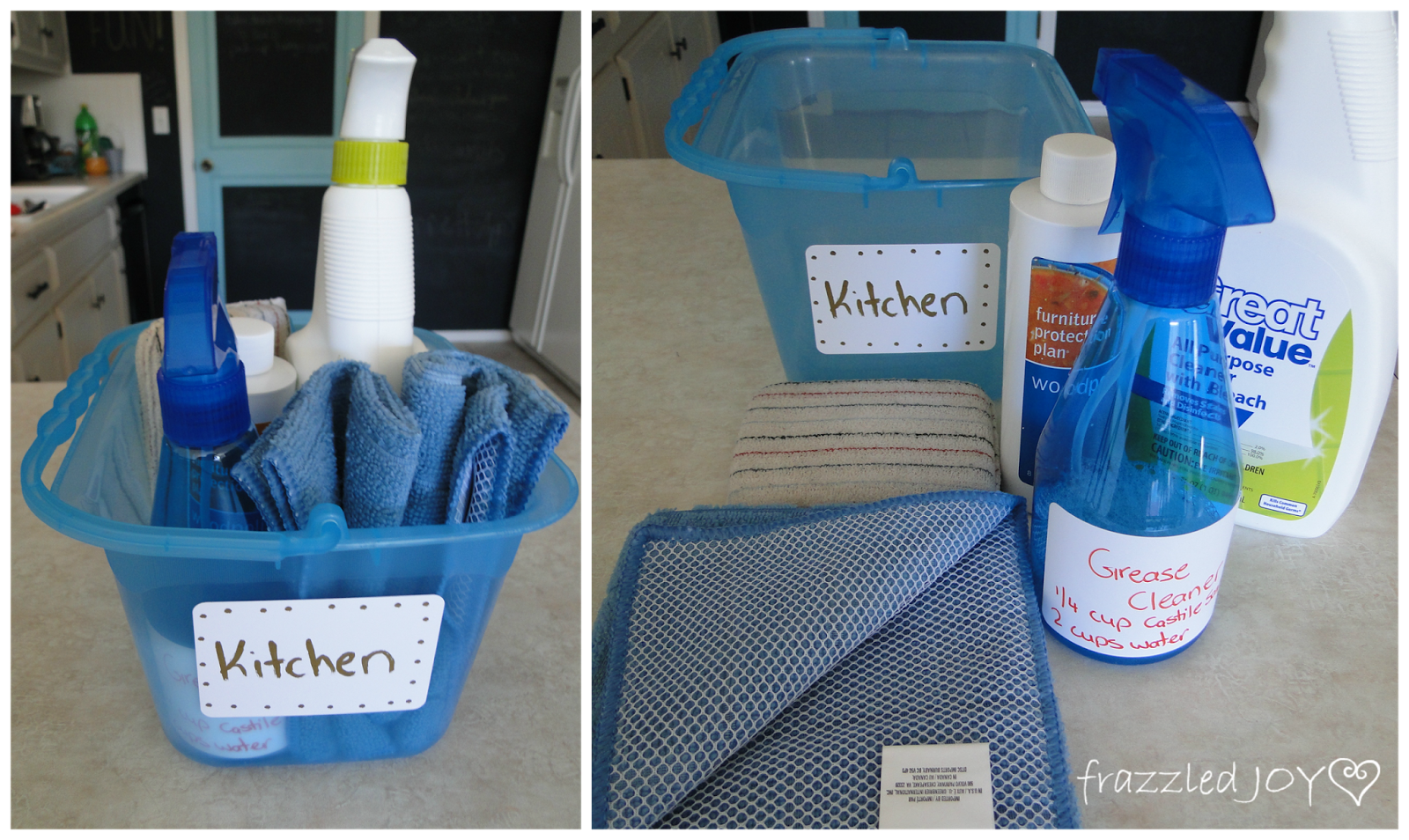 For the kitchen, a spray bottle of Grease Cleaner, a scrubby cloth, bleach cleaner (for when necessary), and I also included the wood polish and polishing sponge that I use on my dining room table periodically.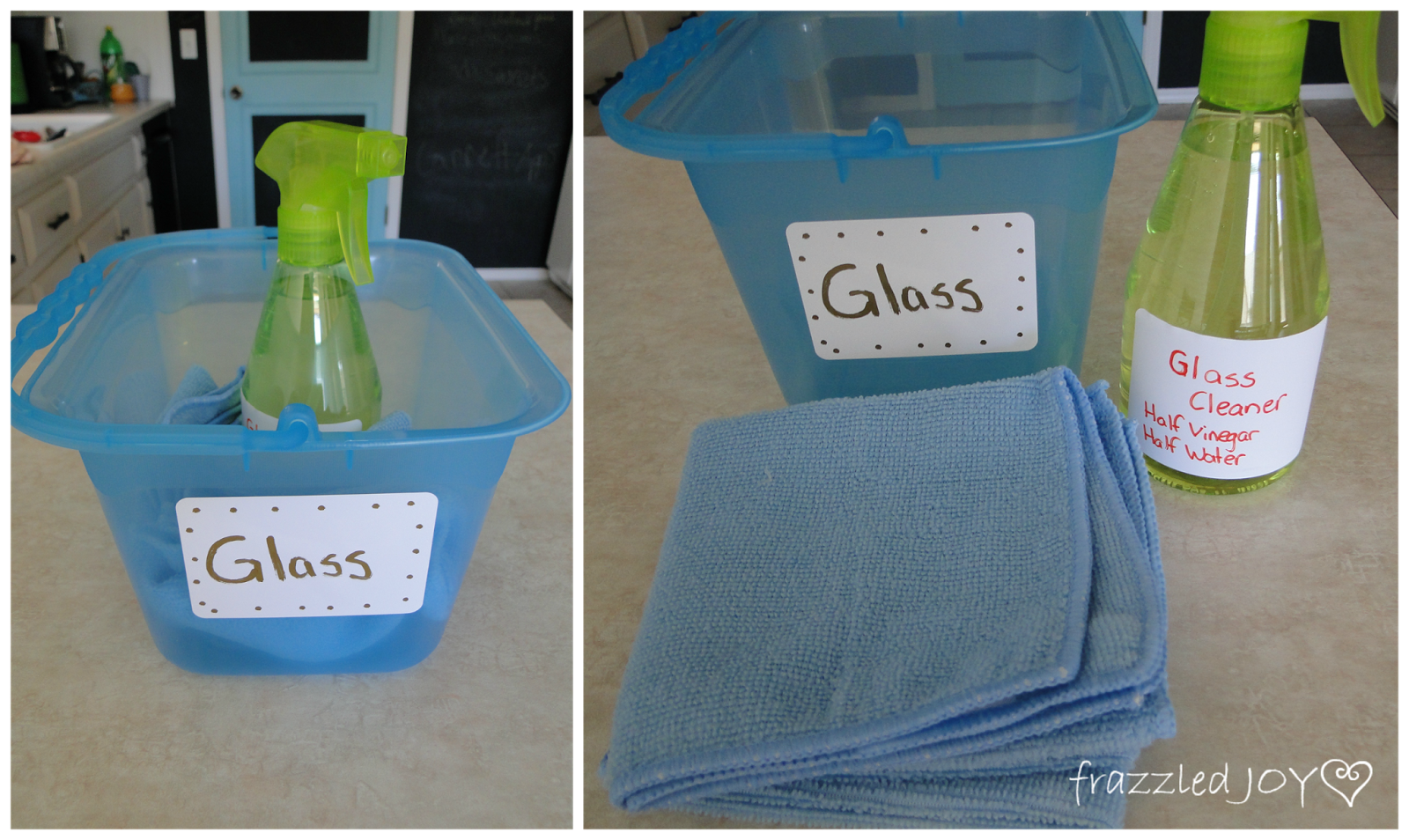 The glass cleaning tub is pretty straight forward. Probably not necessary, but I do like the idea of having the cloths with the cleaner – grab and go. Glass Cleaner and microfiber cloths is all you need for this one.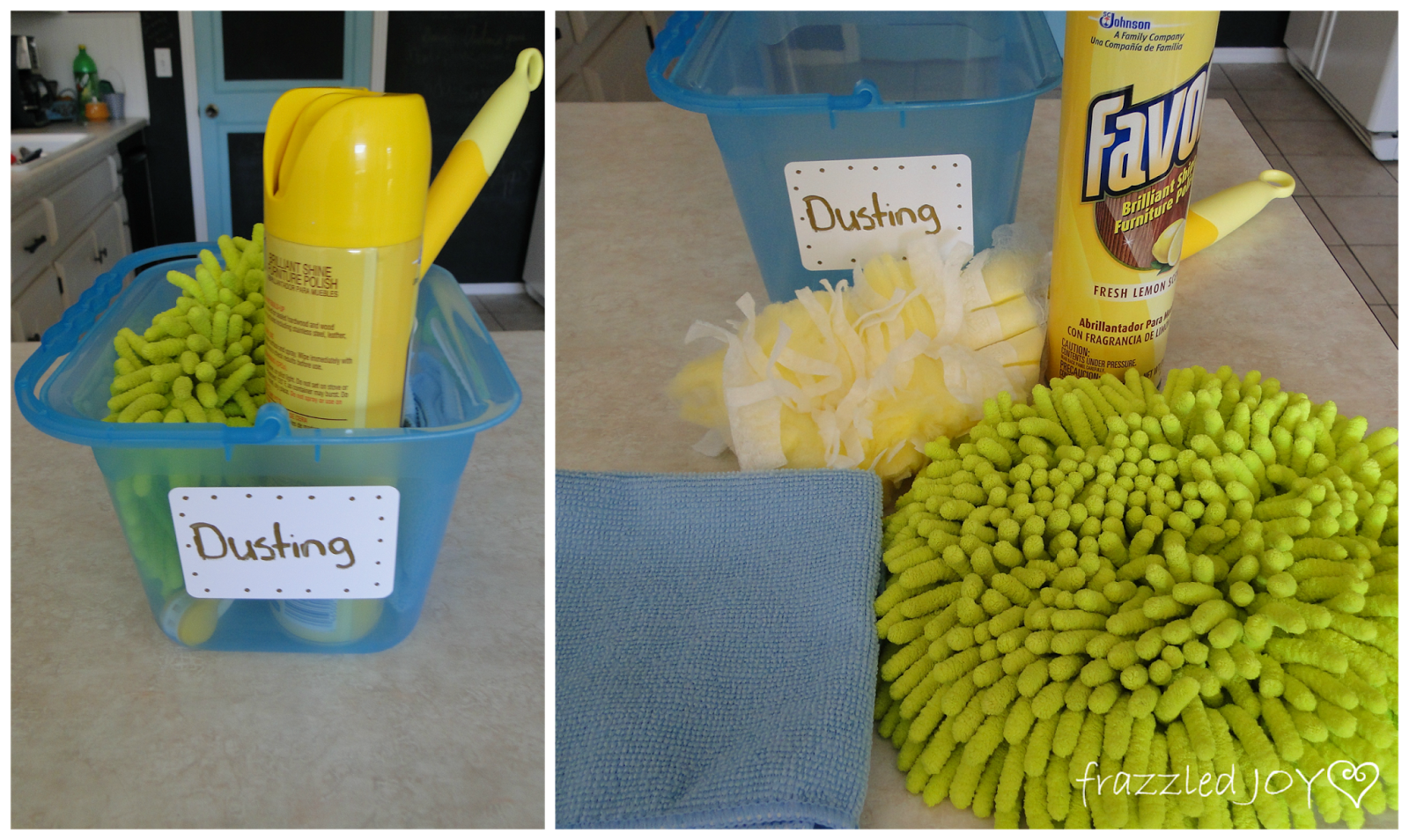 For dusting I have not found a home made polishing cleaner that I like.  Mostly because all that I have found include olive oil, which starts to smell after a time of sitting in the bottle for some reason.  I don't polish every time I dust, so for now I'm just using a generic polish, with the microfiber cloth, which does the job.  I have also included my swiffer extender duster and my fun microfiber fuzzy mit.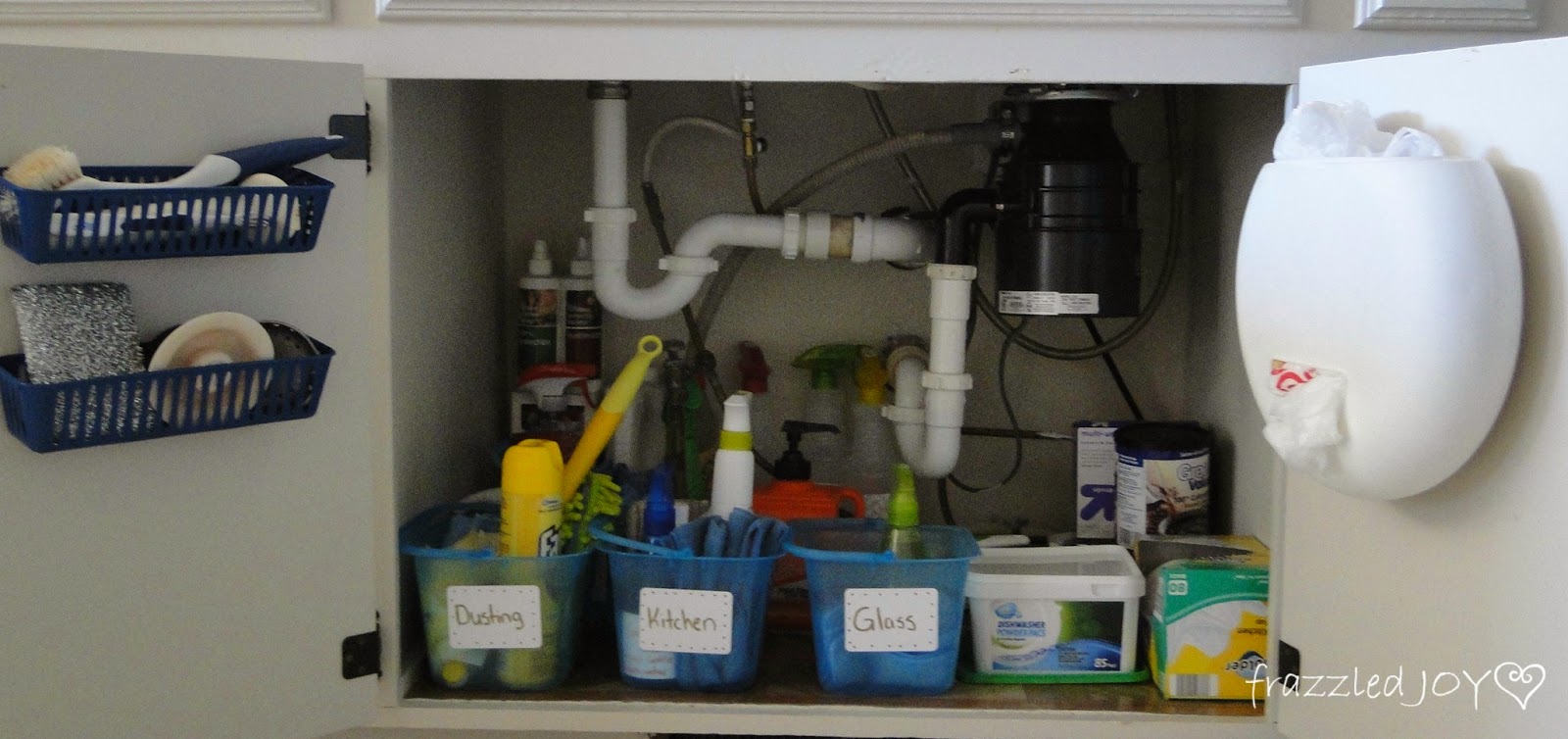 All the buckets fit nicely under my sink.  I really hate under the kitchen sink – so much wasted space and it is always a challenge for me to keep this space organized.  The containers on the doors help a little.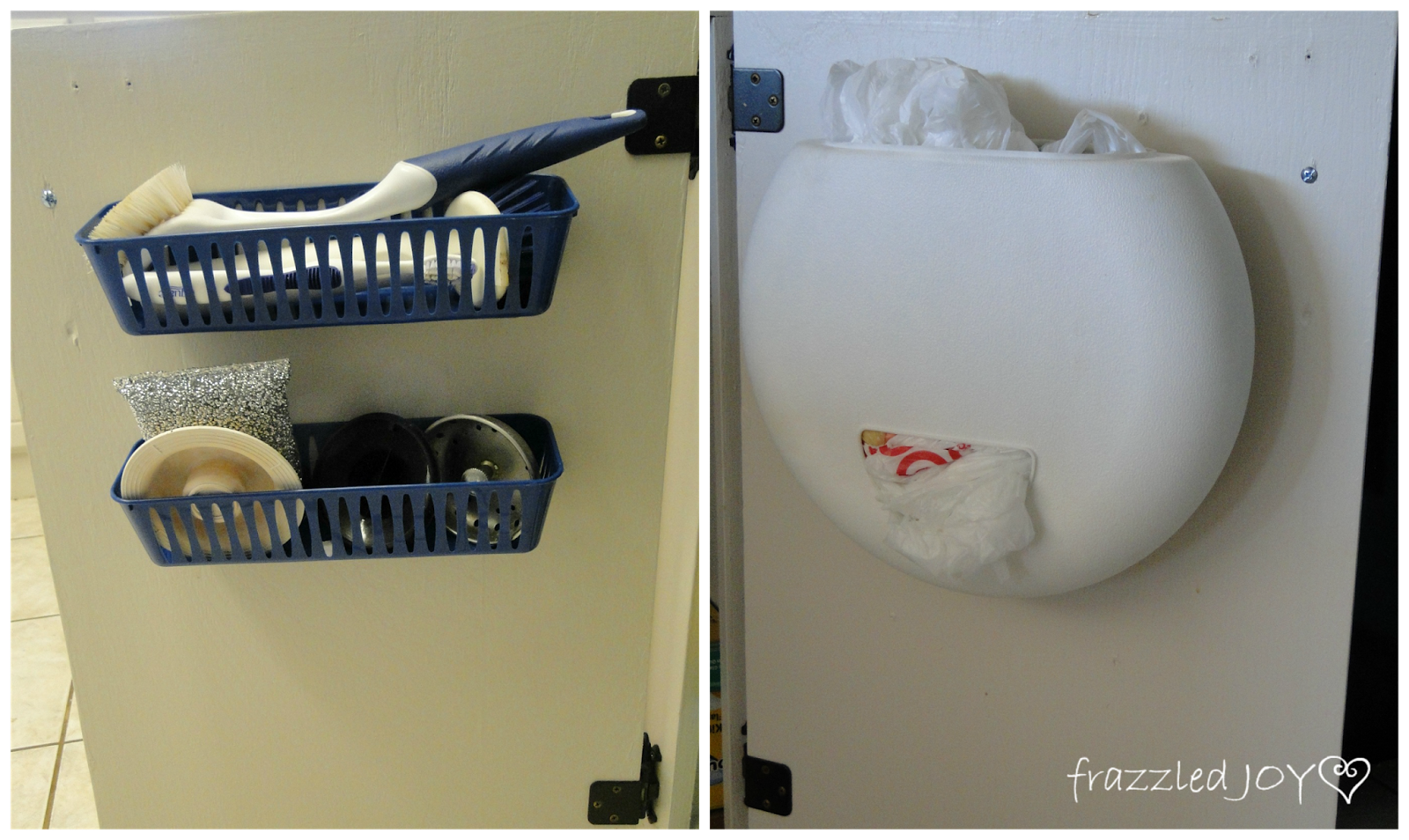 On the right side is my bag-keeper that I have had for years.  Back in the day I used to sell Tupperware, and this is one of the many things I own from them.  I love it for holding all my plastic shopping bags which we use as trash bags in all our small trash cans.  On the left side I have attached a couple of plastic bins to the doors with screws to hold scrubbers and drain plugs.  It's nice for them to have a place, as before they would just be thrown below all willy-nilly.  
Next step in the Spring Cleaning adventure is to make a plan for how to include the kiddos.  I'll be back soon to share with you what we come up with.