Hey there friends! I was so ready to get our house decorated for Christmas, but in usual fashion we waited until after Thanksgiving to bring out all the Christmas. It's kind of a big deal for hubby and I don't mind obliging him with this one thing. 🙂 If you've been around here long you might remember that I don't like to buy a lot of decor around Christmas. I usually hit all the clearance sales after Christmas for that. It's such a treat every year to open up my bins and remember what I bought the year before haha! I do usually have a couple of ideas that might need a few supplies and that's ok. I just keep it minimal. After 26 years of being married and decorating our home, I have a pretty good collection of the basics. 🙂 Bring on the pictures! Welcome and enjoy!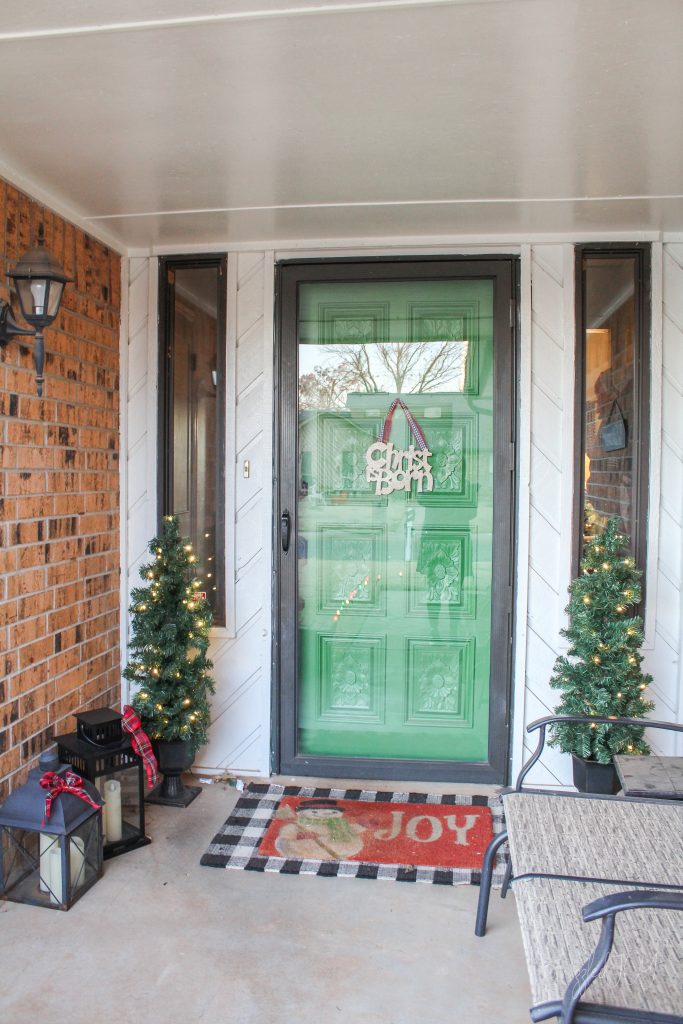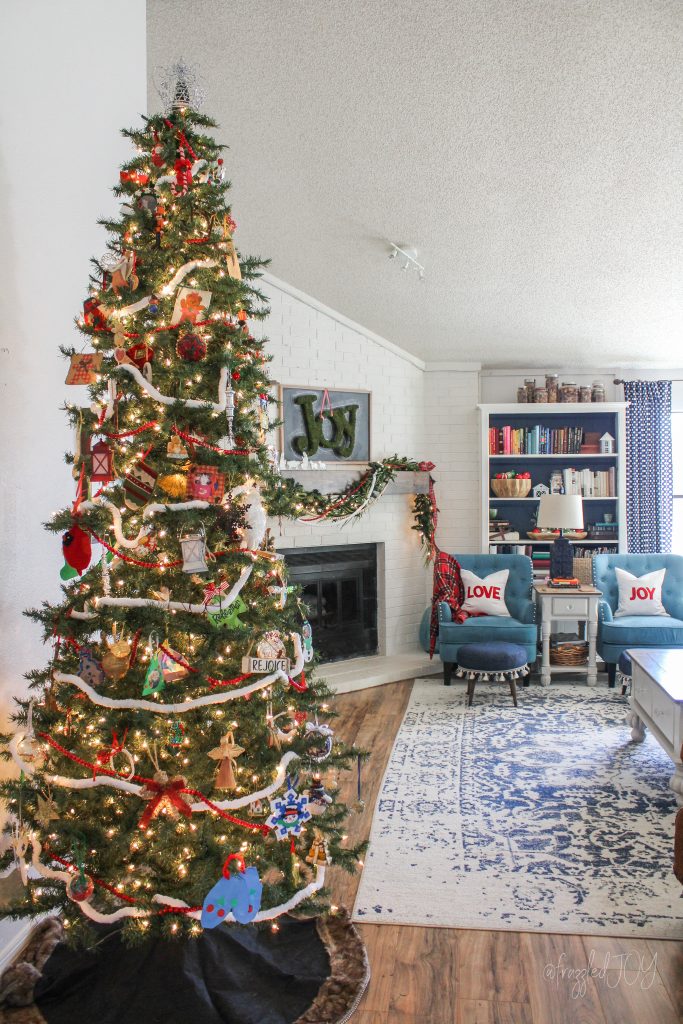 Some things stay mostly the same. Like our tree (with all the handmade and family ornaments), our nativity (that I've had for many years), the kids' nutivities (which they made in kindergarten Sunday school…several years ago), and of course the lighted garland over our bed (which I love).
Some affiliate links used for your convenience. If you purchase from these links frazzled JOY receives a small commission at no cost to you. Thanks for supporting what we do around here! See disclosures for more details.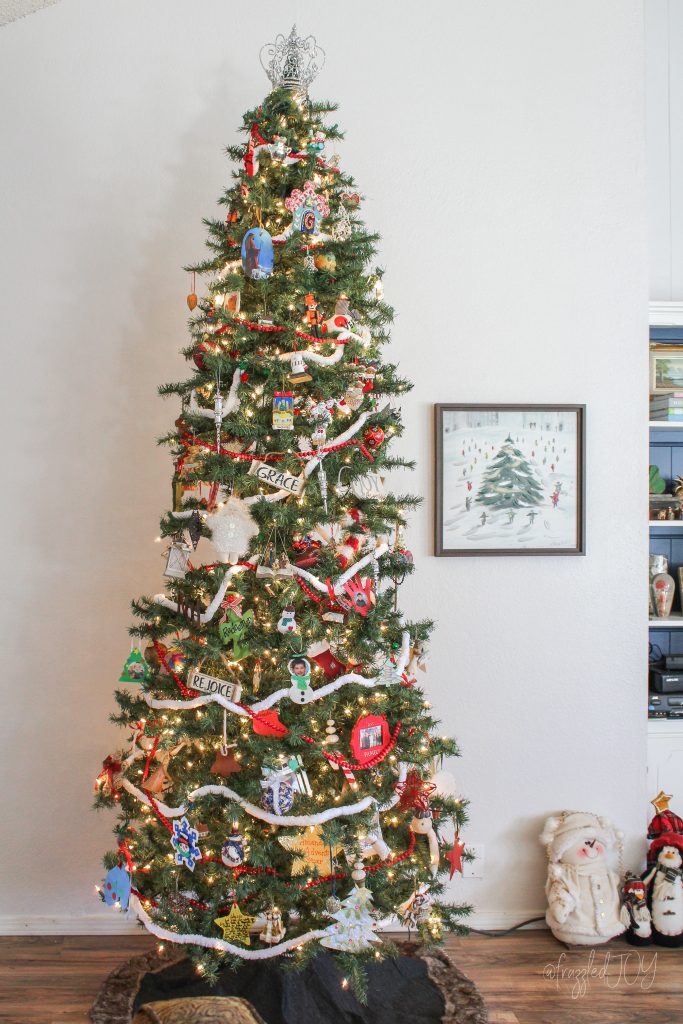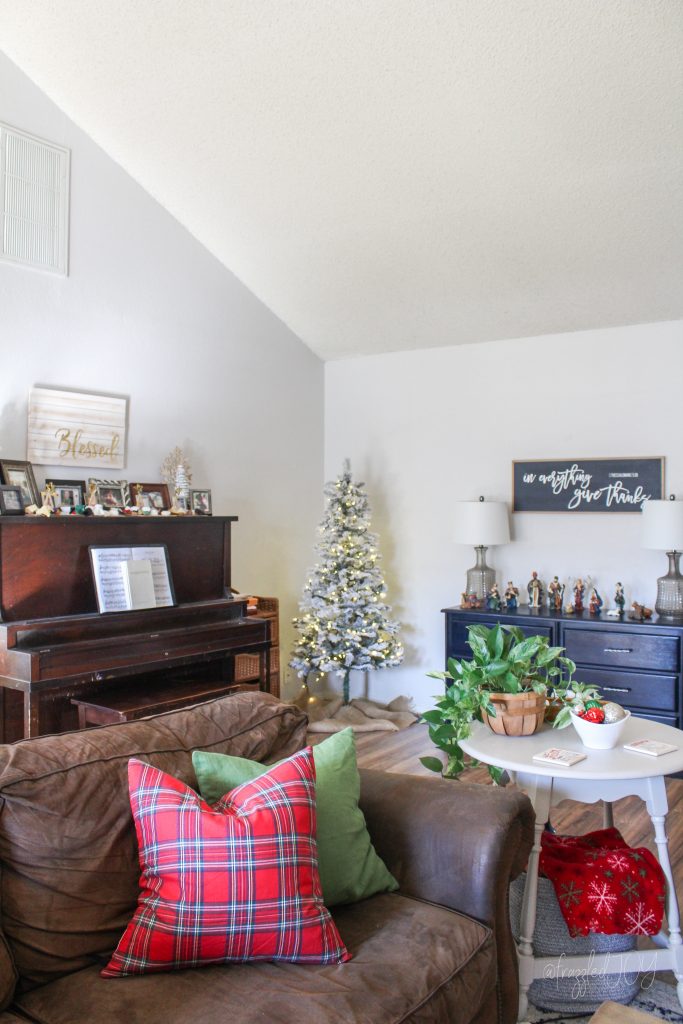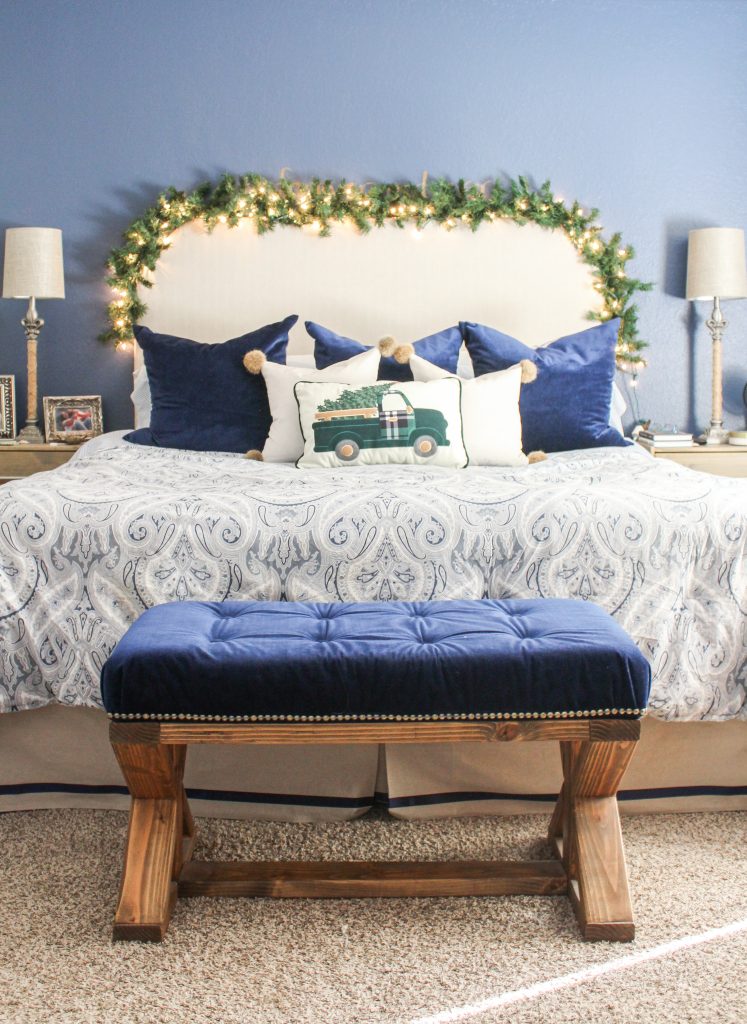 Other things I love to change up each year. Like the mantel!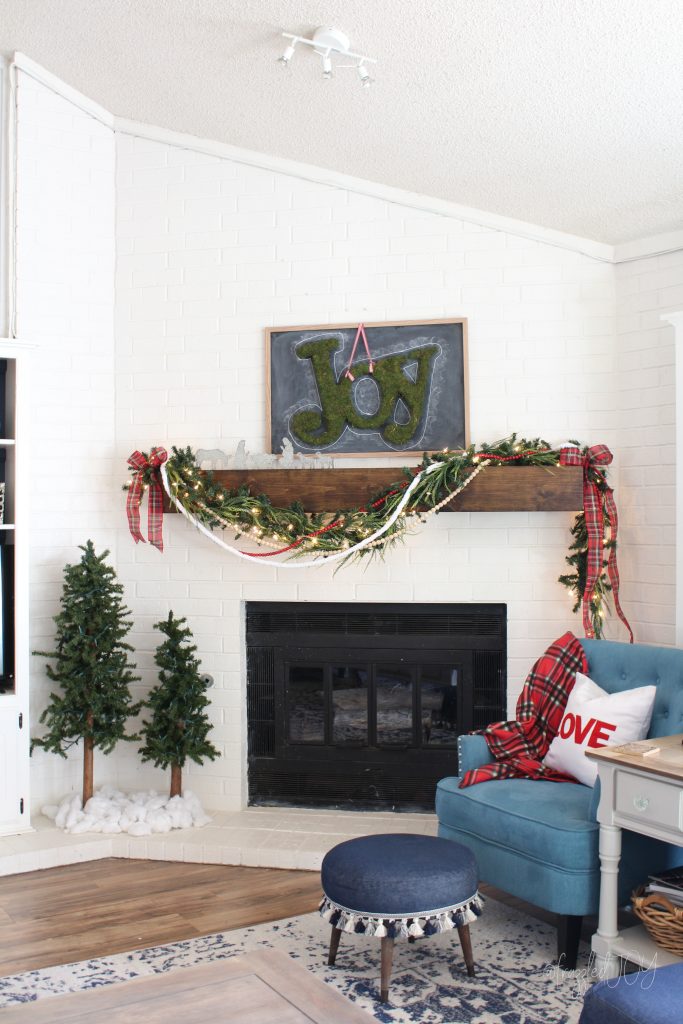 I actually had a completely different idea in mind, but when I was pulling out the decor and saw this moss covered JOY, I knew I wanted to use it for the mantel.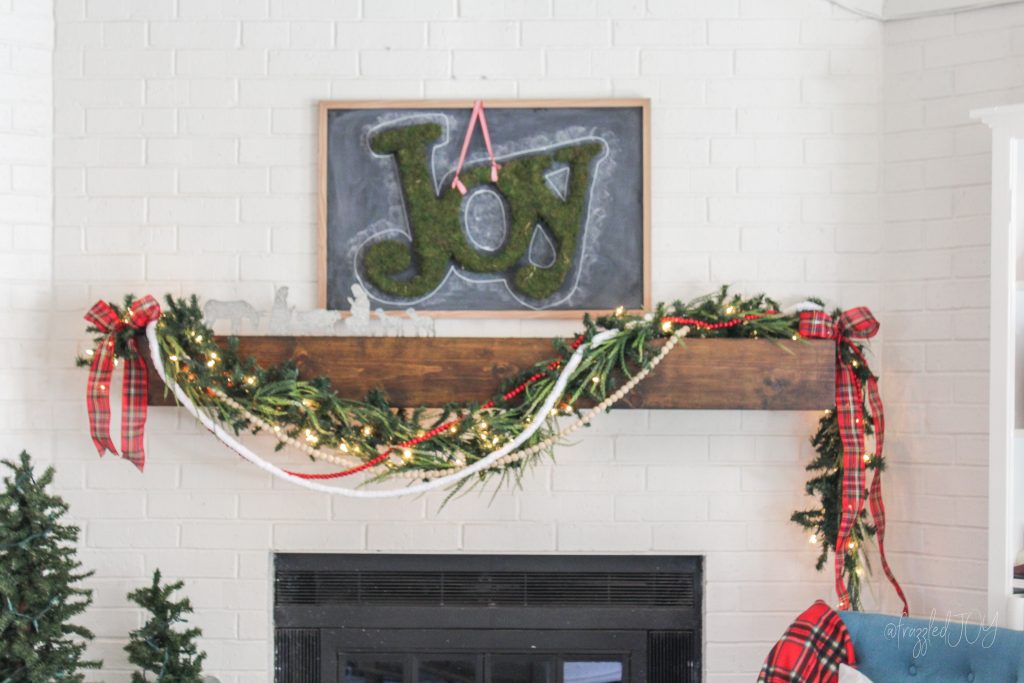 Also, I wanted to try something a little different with the garland. I usually just lay the garland across the top of the mantel, but I'd been seeing so many people drape their garland across the front and I loved the look! Especially since there is so much space between the mantel and the top of the fireplace box.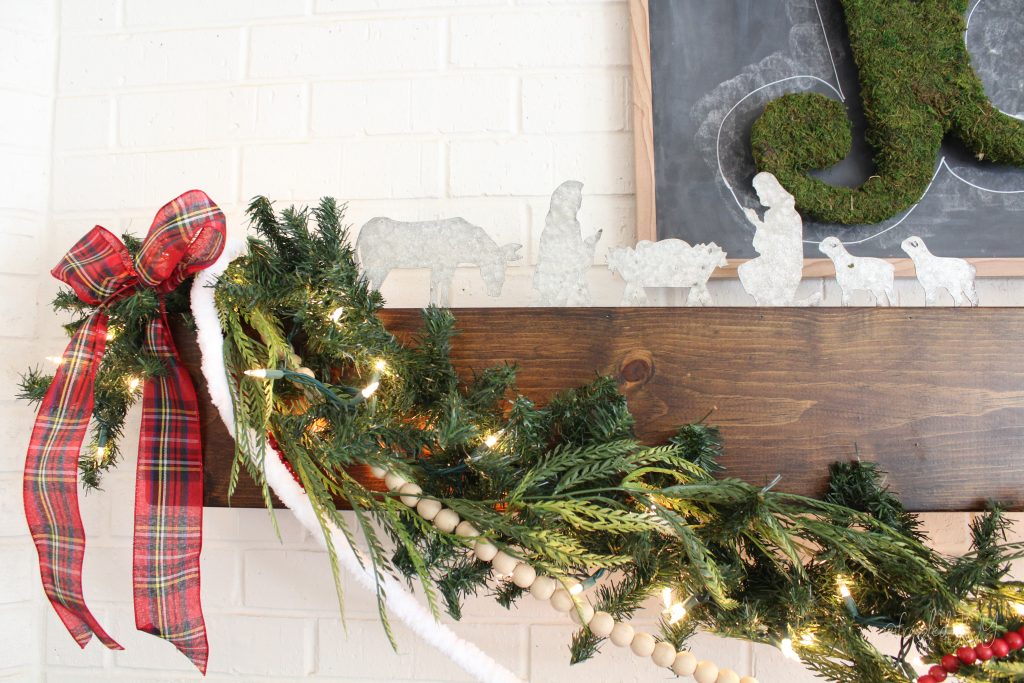 It turned out just as good as I had hoped!! I layered pieces of a drapey garland that I had from Hobby Lobby to give the traditional pine garland a little bit of texture.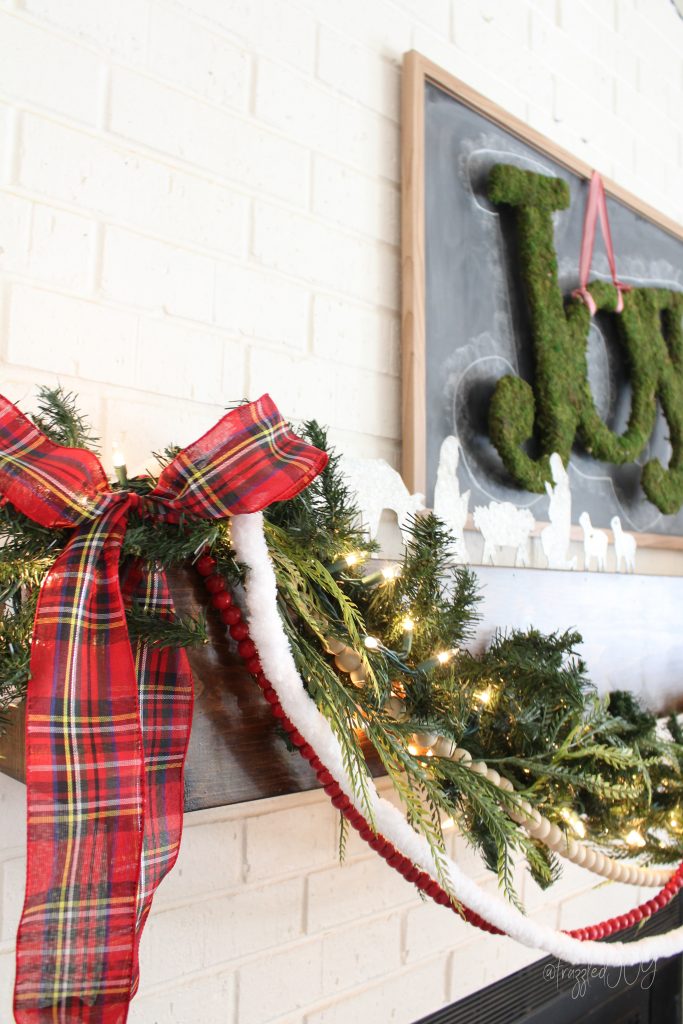 I also layered in a couple of wood bead garlands, and a strand of the yarn "garland" that I used on the tree. I found the ribbon for the bows at Hobby Lobby also this year. I am a sucker for a traditional tartan plaid!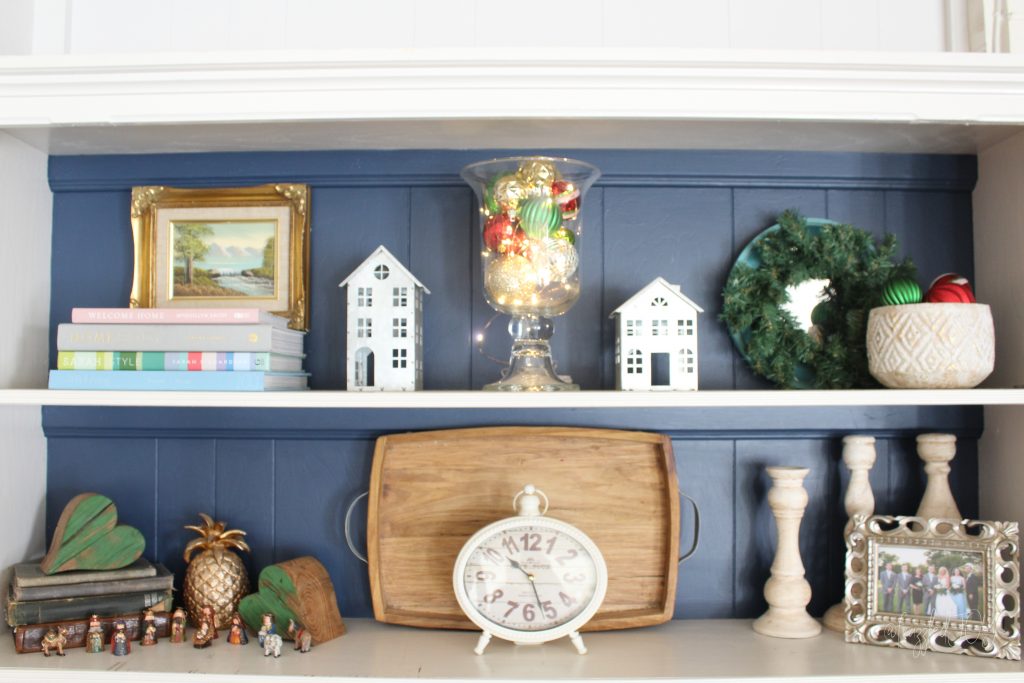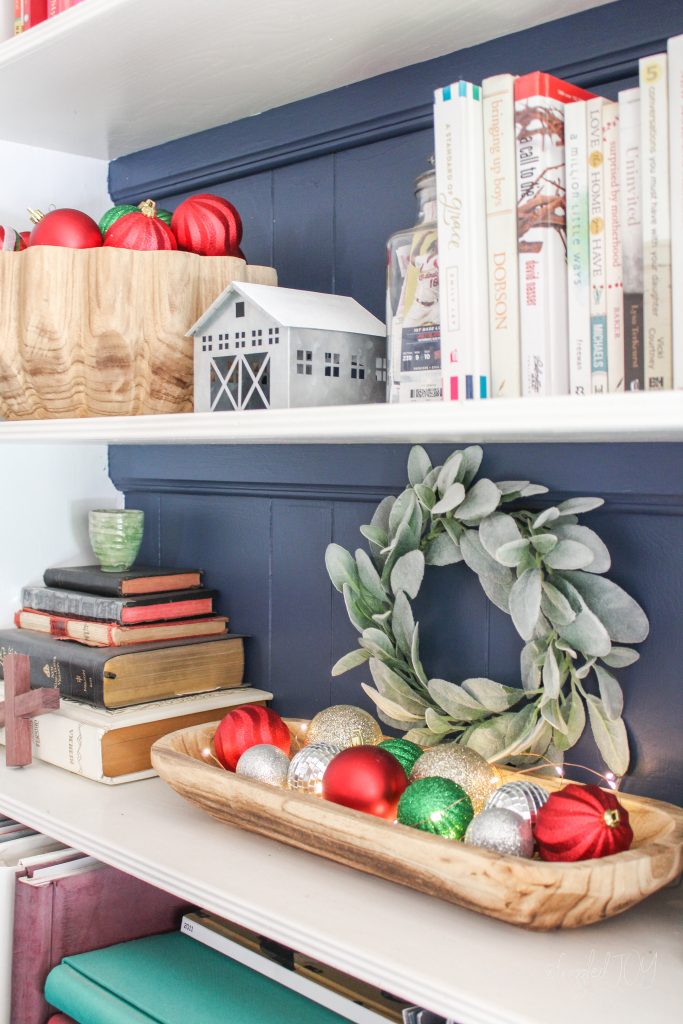 Styling shelves has always been a bit of a challenge, but over the years I feel like I've gotten a little better. 🙂  Inexpensive plastic ornaments fill all the things and make them festive! My tip for you – fill the big bowls (like that wooden bowl) mostly with plastic bags and just use the ornaments for the top. You will need less ornaments that way!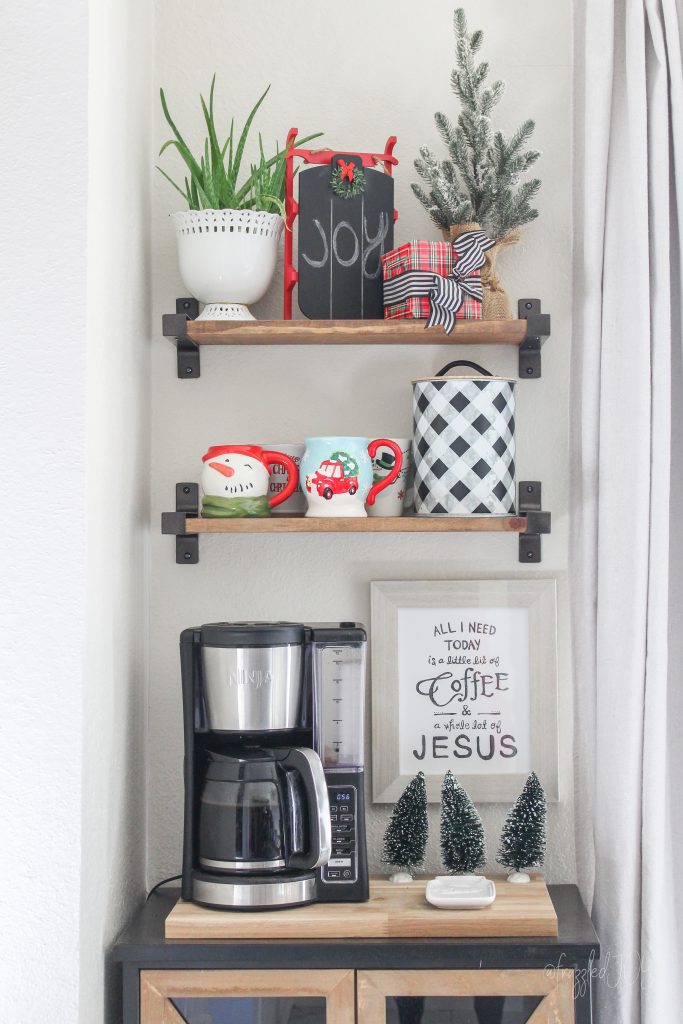 These open shelves in are breakfast nook are fun for sure to style up for the seasons.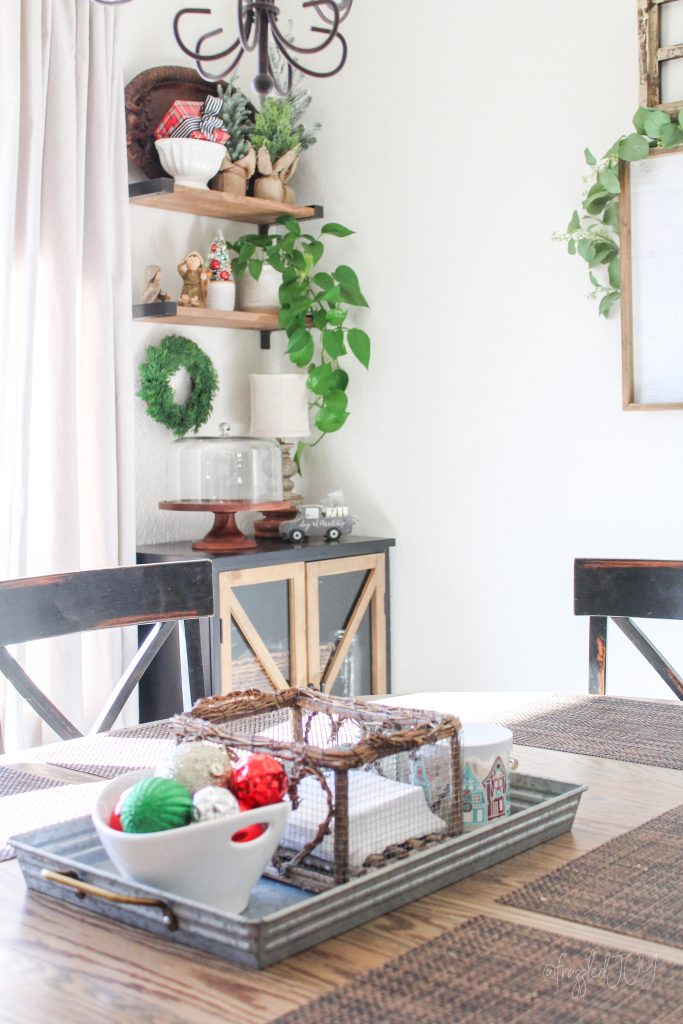 Our master bathroom update is one of my favorite updates still. I love waking up each morning to our new view!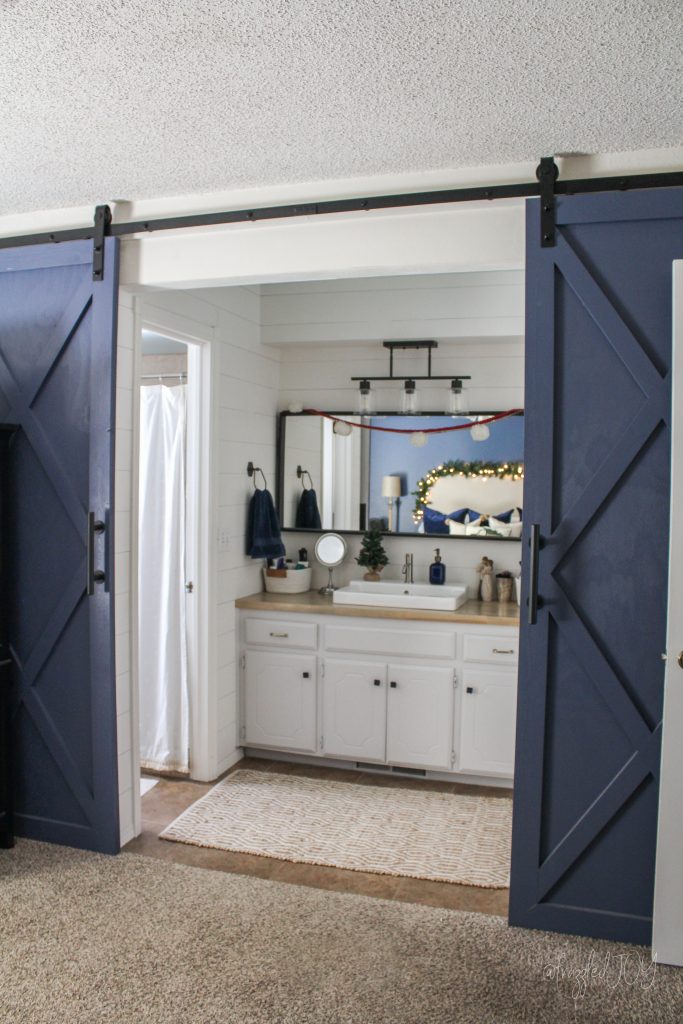 A little bit of garland over the mirror and a miniature tree is all that this space needed.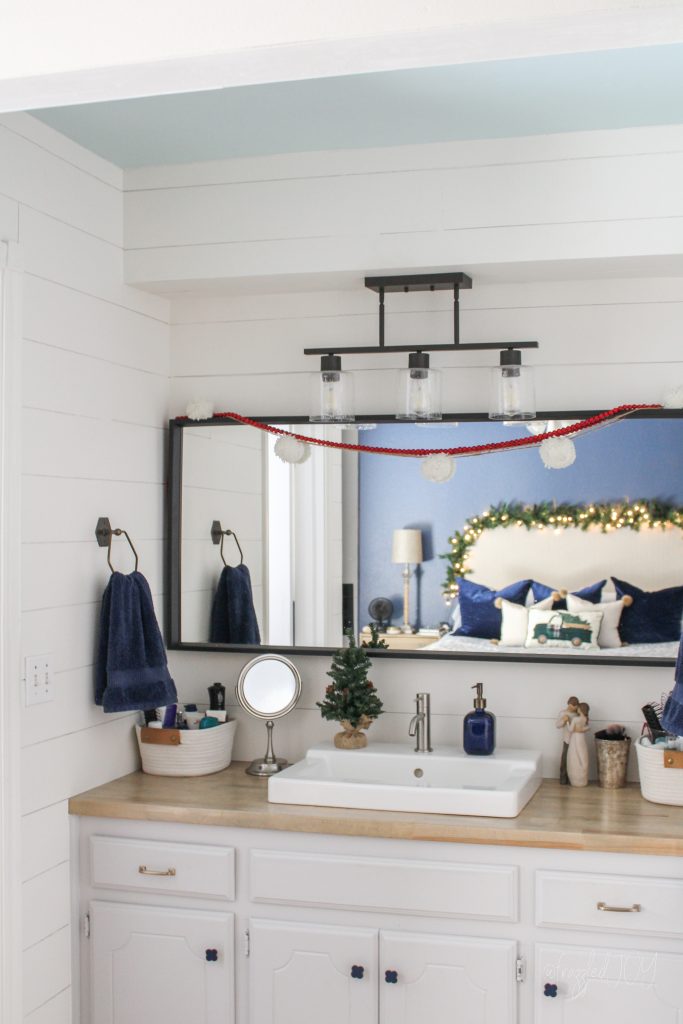 We did a little bit more work in the front of our house this year so I decided to switch up some of our outdoor decorations.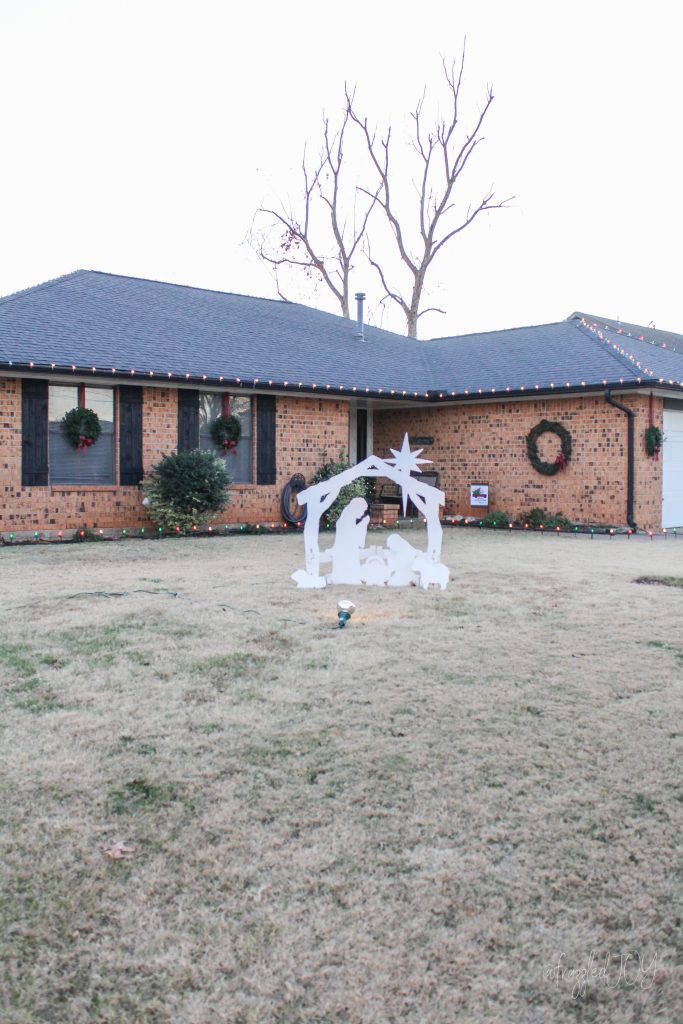 I've always loved the look of wreaths hung in the windows, so I decided to add those this year, along with a couple flanking the garage door.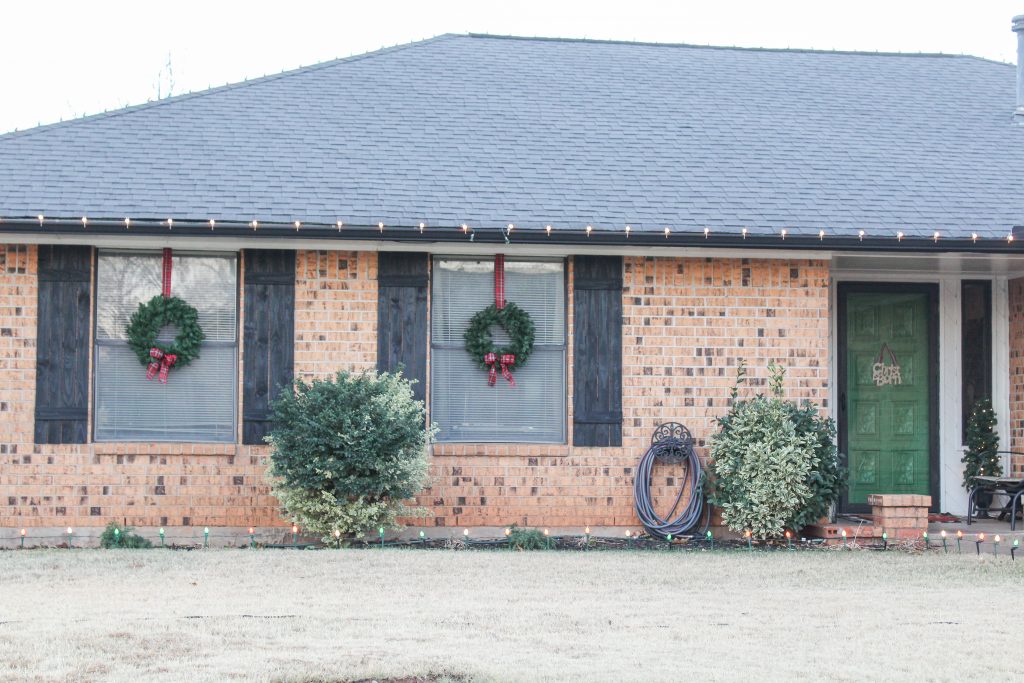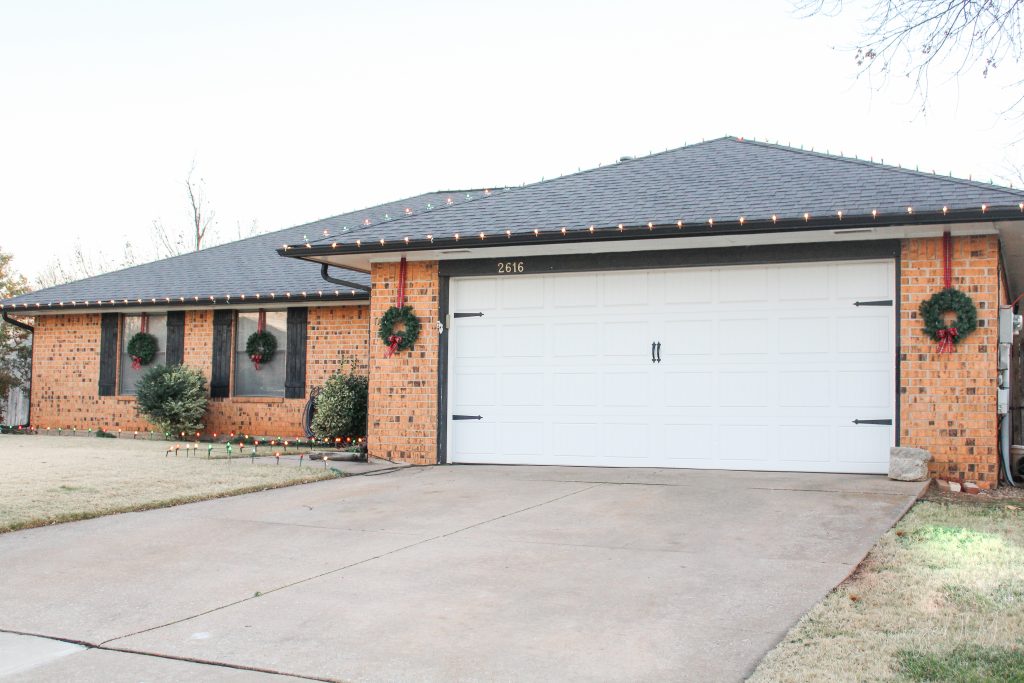 We just recently updated our mailbox (which has been needed for a while now) and I found this very reasonably priced garage door hardware on Amazon to add just a little extra something to the front of the house. The mailbox got a little bit of dressing up in the form of some garland and more ribbon of course!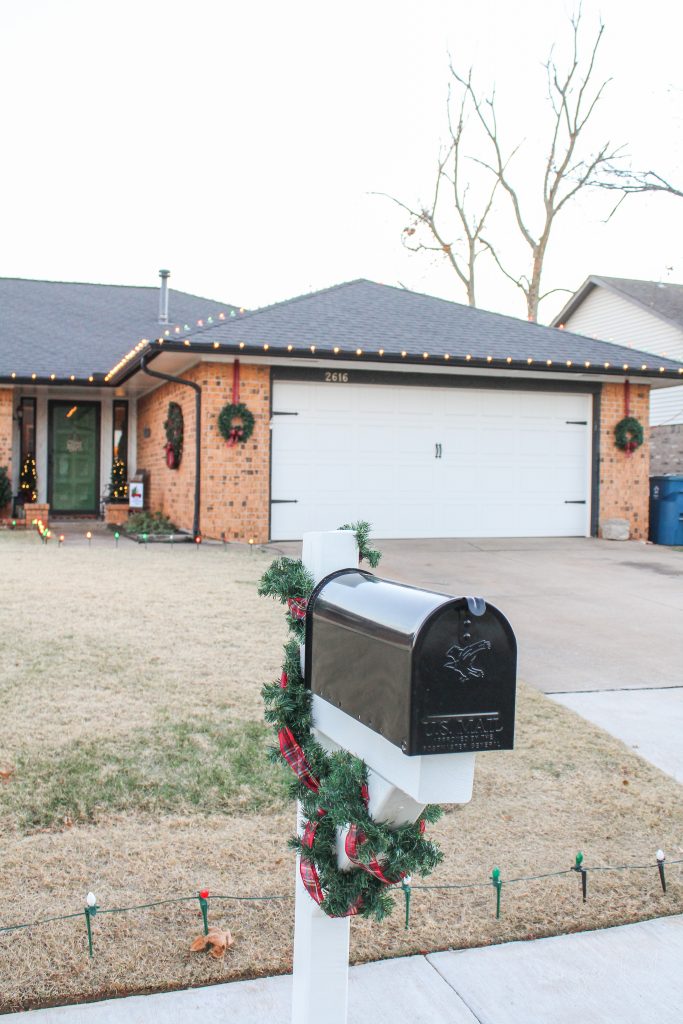 Hope you enjoyed the tour! Thanks for stopping by!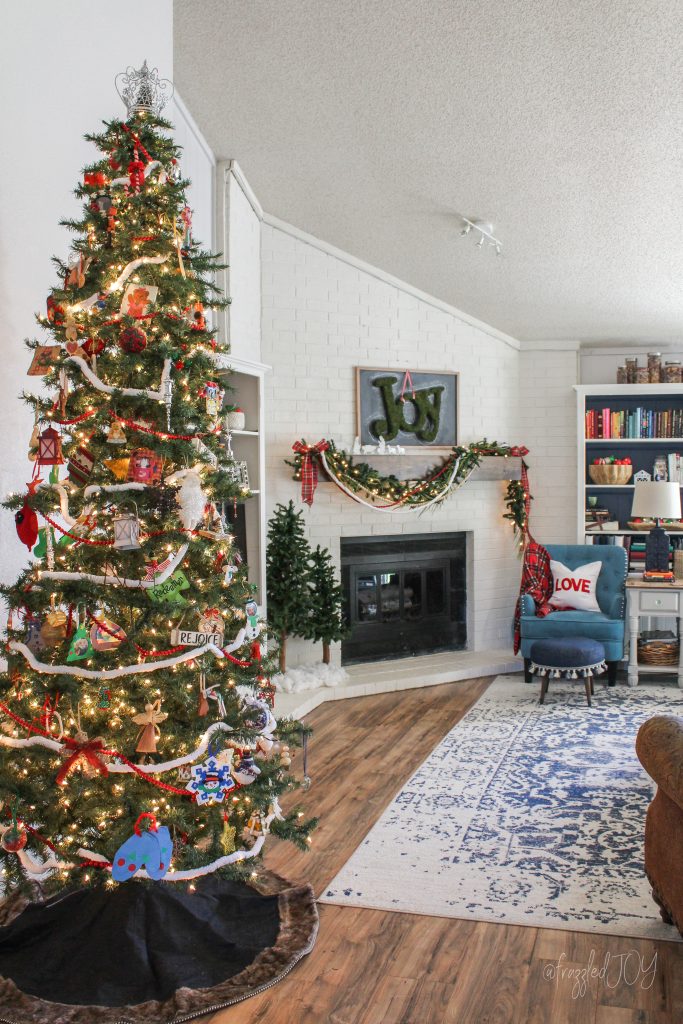 Merry Christmas and we'll see you again next time!