Hey there friends! Happy last day of March! I hope you are all doing well in the midst of everything that's going on in our world right now. We are headed into a new month, full of uncertainty. How are you handling it all?? I have my good days and my bad days. I've heard several mental health professionals claim that the best way to cope is to focus on things we can control. So, that's what I'm trying to do. One thing I know I can control?? The clutter in my home!!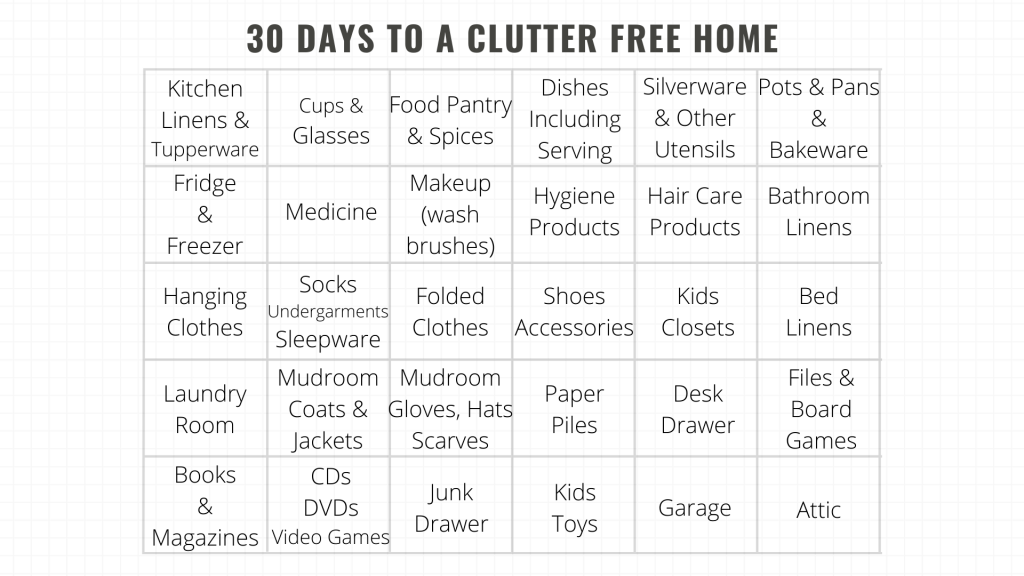 So, I thought it would be helpful to put together a schedule for the month. Just in case you need something to control in your life too. As we are spending more time in our homes lately, the clutter might be getting to you in ways you never noticed before. Clutter has been shown to cause stress and limit productivity. Now more than ever these are not things that we need in our homes or our lives. So, what do you say? Want to join me??
Sometimes things get ignored for months, because, well, they're really not bothering anyone. But, then there is one more space, then one more space, and then ARGH! I can't take it anymore!! That's why regular clean outs are a good thing!
I'm here to tell you that it is possible to have a clutter-free home. And, it doesn't require a lot of expensive organizing containers and systems. And, it doesn't require becoming a minimalist. Sometimes we just want to try to organize the stuff we have, and we fail…because we have too much stuff. The goal is to get rid of clutter and excess. Then you can organize things within the space you already have.
And as far as organization goes, there is no one right way to do it. At the very least you should make sure you are putting like things together in the same space – group like thing together. I know this seems like common sense, but I bet you can look around your home and find many things that don't follow this idea. My other tip is that you find an organizational system that works for YOUR family. I can't stress this enough. Just because something works for your friend, or your sister, doesn't mean it will work for you. Find what works and go with it!
The basic steps of decluttering work no matter what room, area, drawer, closet you are decluttering.
It took me several tries at this to really find a method that worked for me. It's not complicated or fancy, but if you want to do it right and for it to last, it will take some time.
The process looks like this:
Remove EVERYTHING (and yes, I mean EVERYTHING) from the space you are decluttering.
Make sort pile areas – you can use boxed or bins or simply make piles on the floor or counter – KEEP, TRASH, DONATE, BELONGS SOMEWHERE ELSE.
Sort through ALL the things.
PUT AWAY the things that belong somewhere else (where they belong), and put the things you're keeping back into the space.
Keep only what you use and what you love. If you have limited space, then you are going to have to be extra picky with your choices. With each item, think about when you used it last. Yes, some things are only used once a year, that's fine, just consider that when you are deciding where to store said item.
Baskets and bins are great to corral smaller items. On a counter, shelf, or in a cabinet. Shop your house! You probably already have something that will work.
Feel free to use this calendar anyway you like. That's why I didn't number the squares. If you want/need to hop around no problem. If you have some extra time and can tackle a couple of squares in a day go for it. The purpose of breaking it up is to keep us from getting too overwhelmed.
Being productive makes the time go by faster, and when all this pandemic mess is over and we can get out again, we can head to our local charity and donate all the stuff we purged! What a fun time that will be!!
Here is a printable version of the chart! Enjoy your decluttering friends!! 30 Days to a Clutter Free Home
If you are finished decluttering and you're ready to get organized, here are a few posts filled with organization tips to help you get started!