Howdy friends! Happy Monday to you all!! Lately I find myself reminiscing more than normal. I don't know maybe it's because my baby is graduating from high school in a mere 7 weeks!! Anywho, as I was looking through some old photos, I came across our master shower remodel that we did a couple of years before I started blogging. It really is one of the projects we've done in this house that I am most proud of, so I thought I would share it with you.
Keep in mind that when I was taking pictures, I was only taking them for documentation for us. Having a blog was not even on my radar at this time.
Unfortunately (or maybe fortunately) I don't have a before picture to share with you but think basic bath-tub/shower combo, with builder basic 4×4 tile, and a shower door that sits on the tub. This door, and the size of the shower area were the two things that spurred on the reno. Here is a pic of our other bathroom that is identical minus the shower door.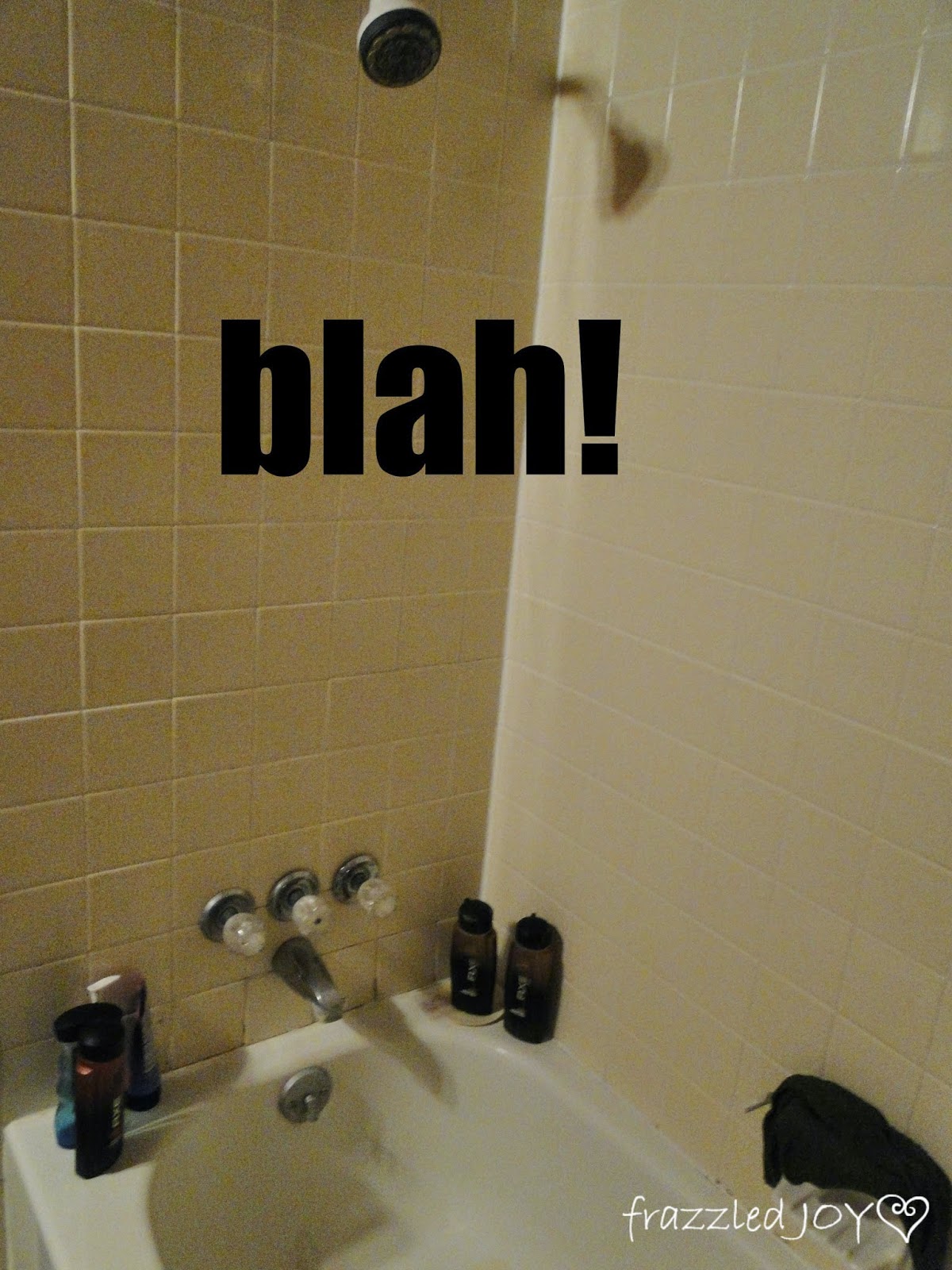 So, we tore everything out. No one ever used the bath-tub in the master – again because of the shower door and the size of the room – it just wasn't relaxing. The shower area was also very small within the restrictions of the tub – so we decided the tub was not coming back.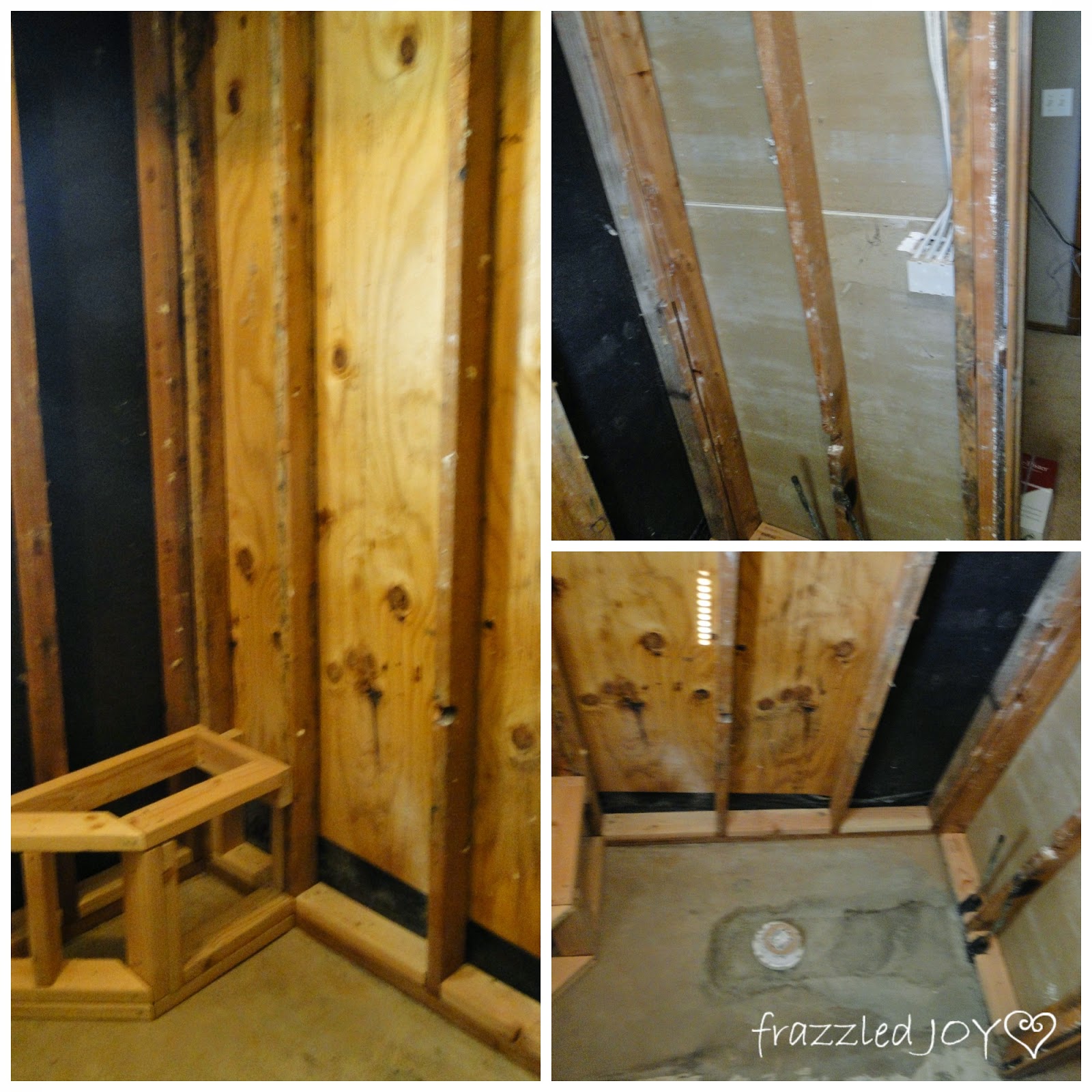 We had a concrete shower floor poured, and had the plumbing moved – drain, controls, and shower head. That was the other thing that was annoying – my hubby had to bend down to wash his hair – and he's not a tall guy.
We did a lot of looking around at other shower designs. Magazines, books, and the internet were very helpful. We decided we wanted a small corner bench (which you can see built out in the photo above) and some niches for shampoo and soap and such.
The floor got tiled first.
Then everything got covered in cement board.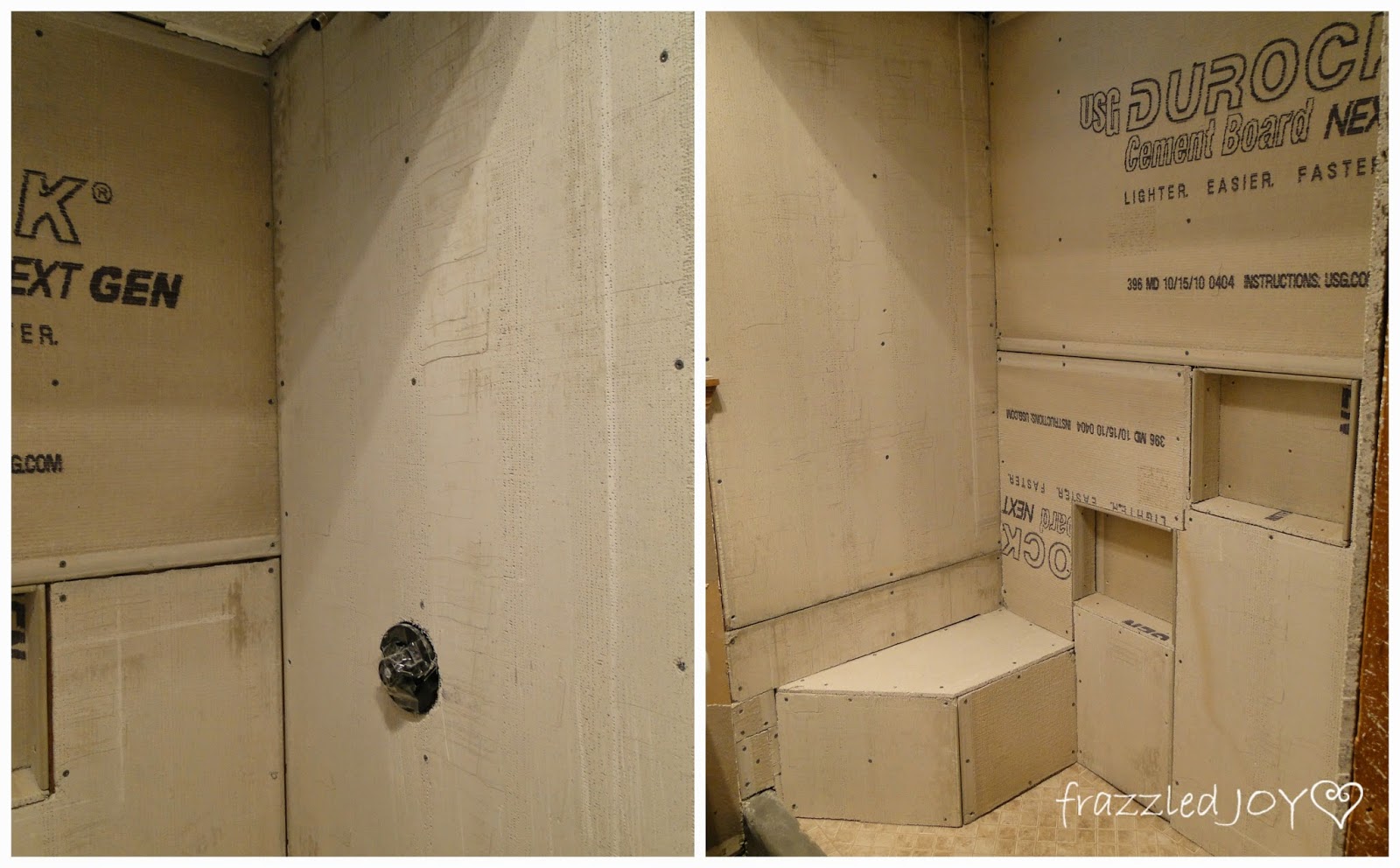 And then tiled the rest. We chose a sanded grout (recommended by our contractor over the non-sanded) that matched the tones of our tile.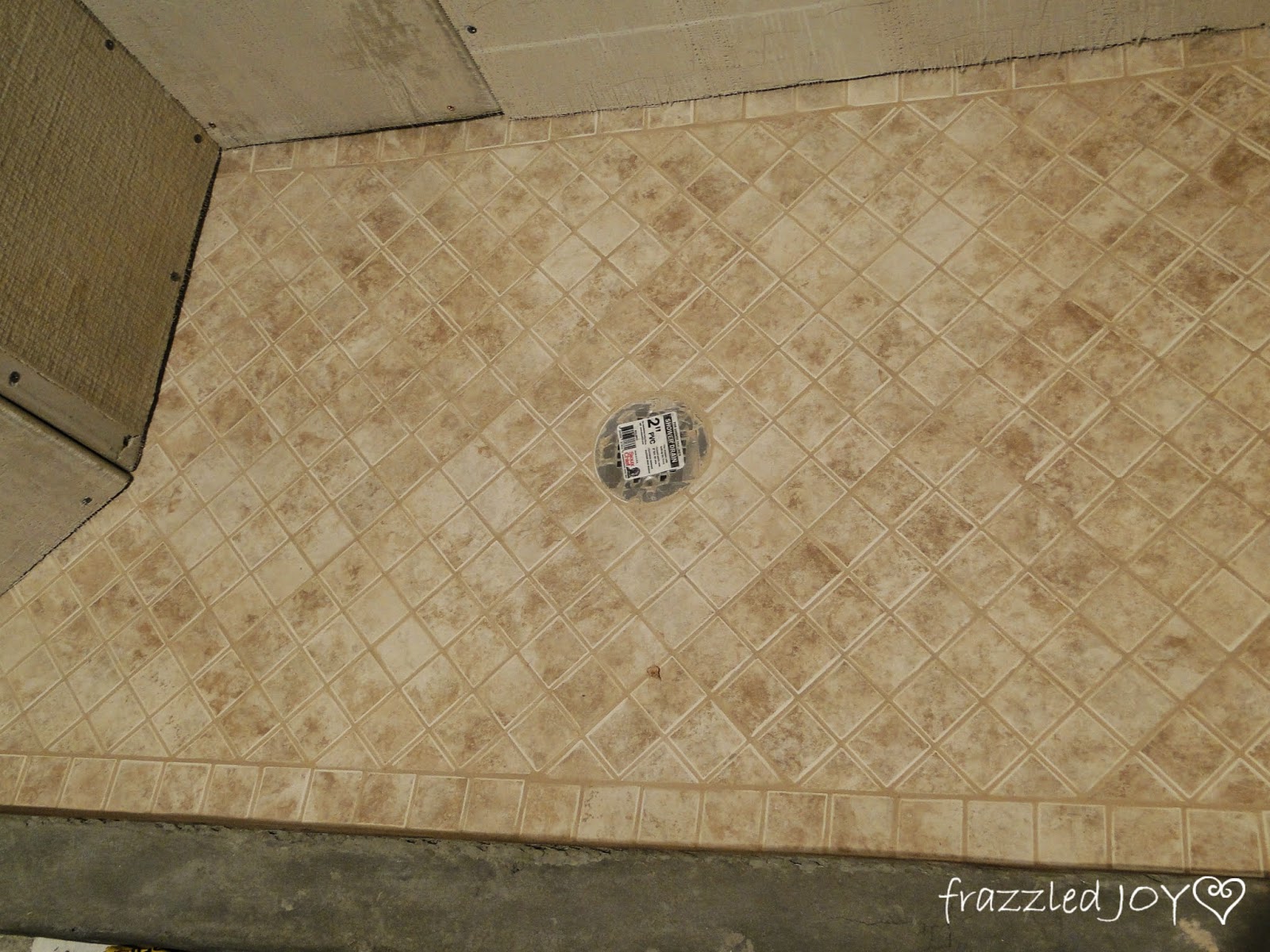 We splurged a little on the floor tile, but not a whole lot. Since it wasn't a huge area.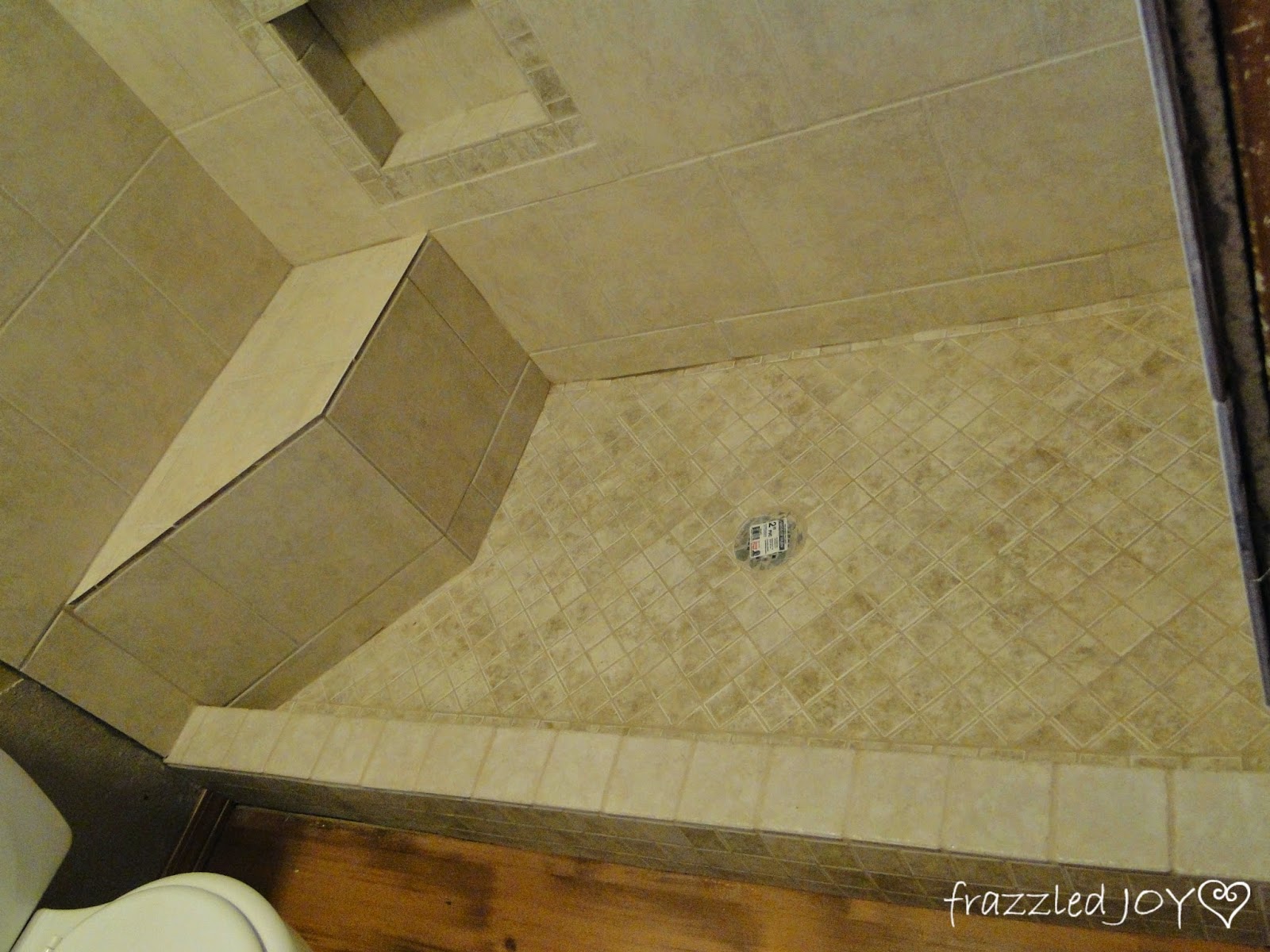 For the wall tile we simply used some inexpensive 12×12 tiles. We also splurged a bit for some accent tile, just to add some interest. We found some 4×4 tile that was a close match to finish of the edge by the floor and the niches.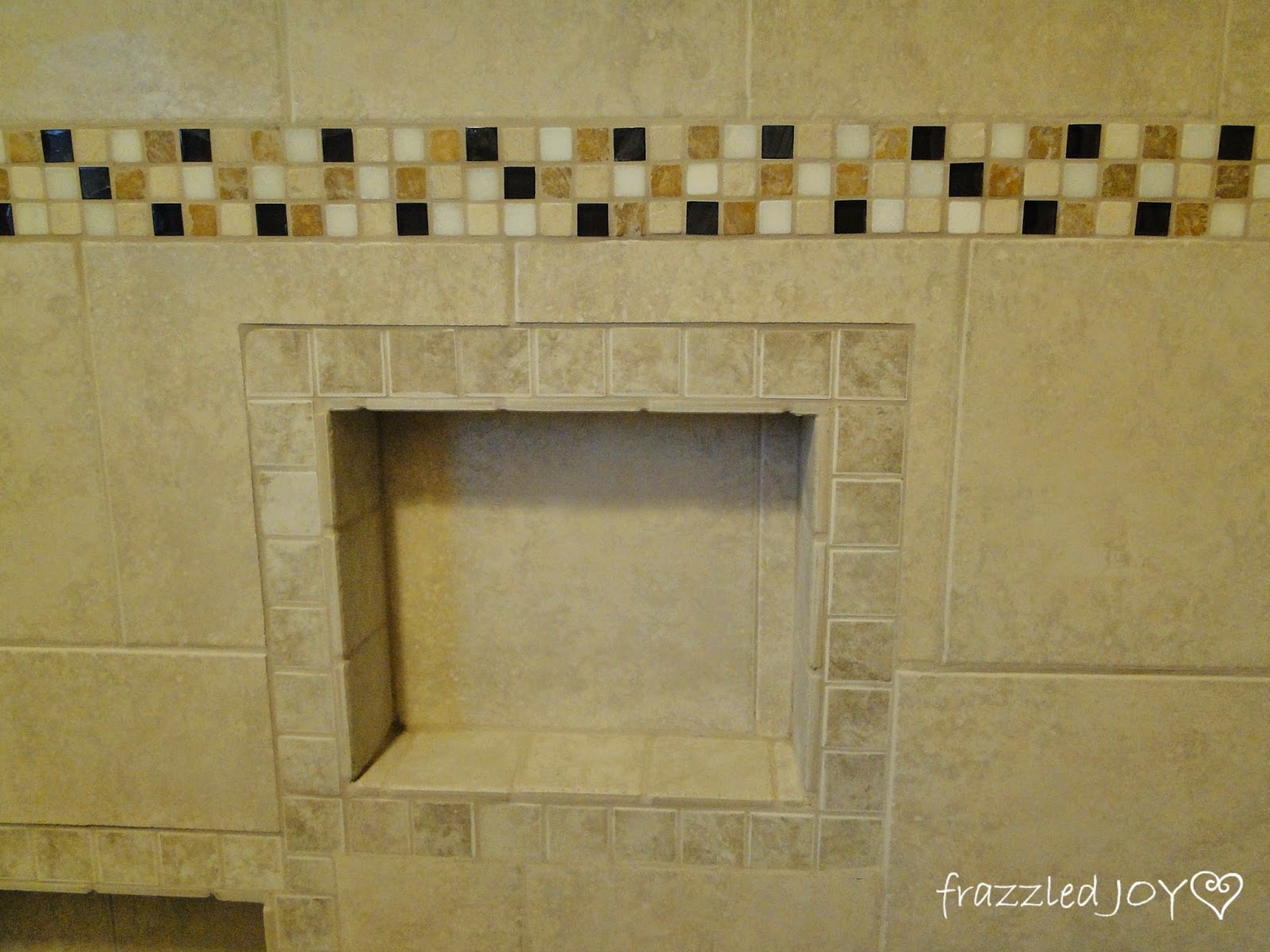 The finished product was more than we could have ever hoped for.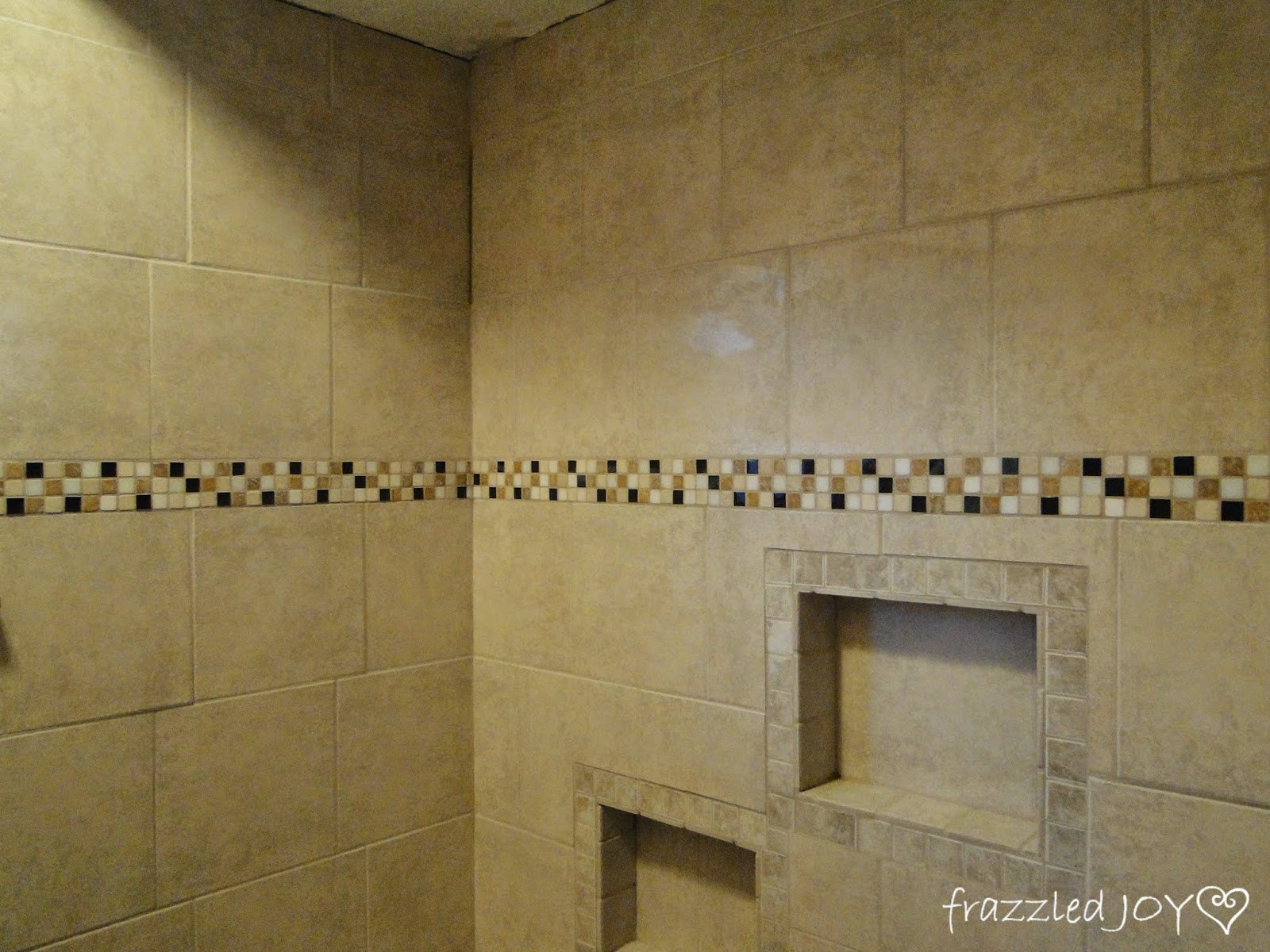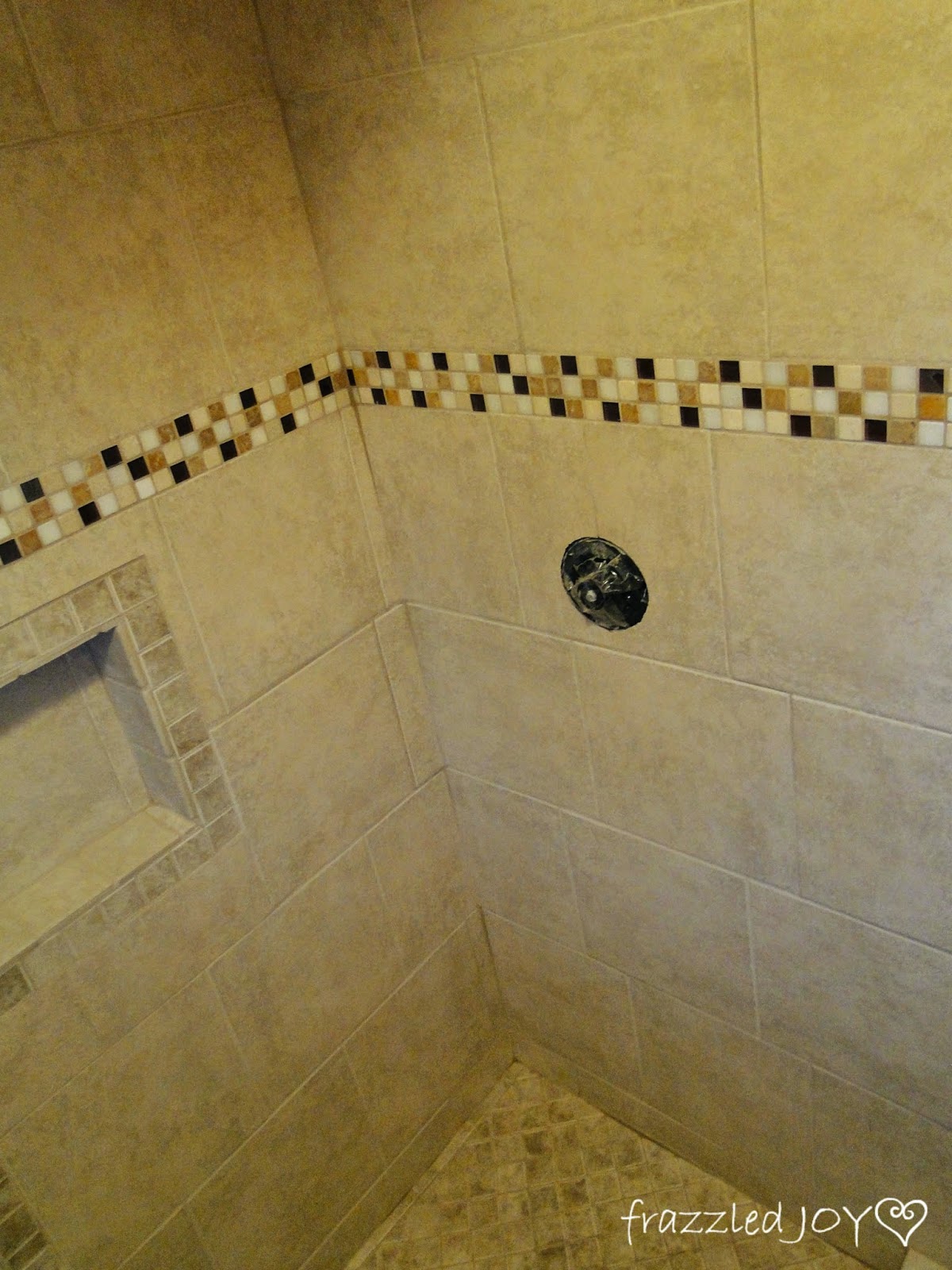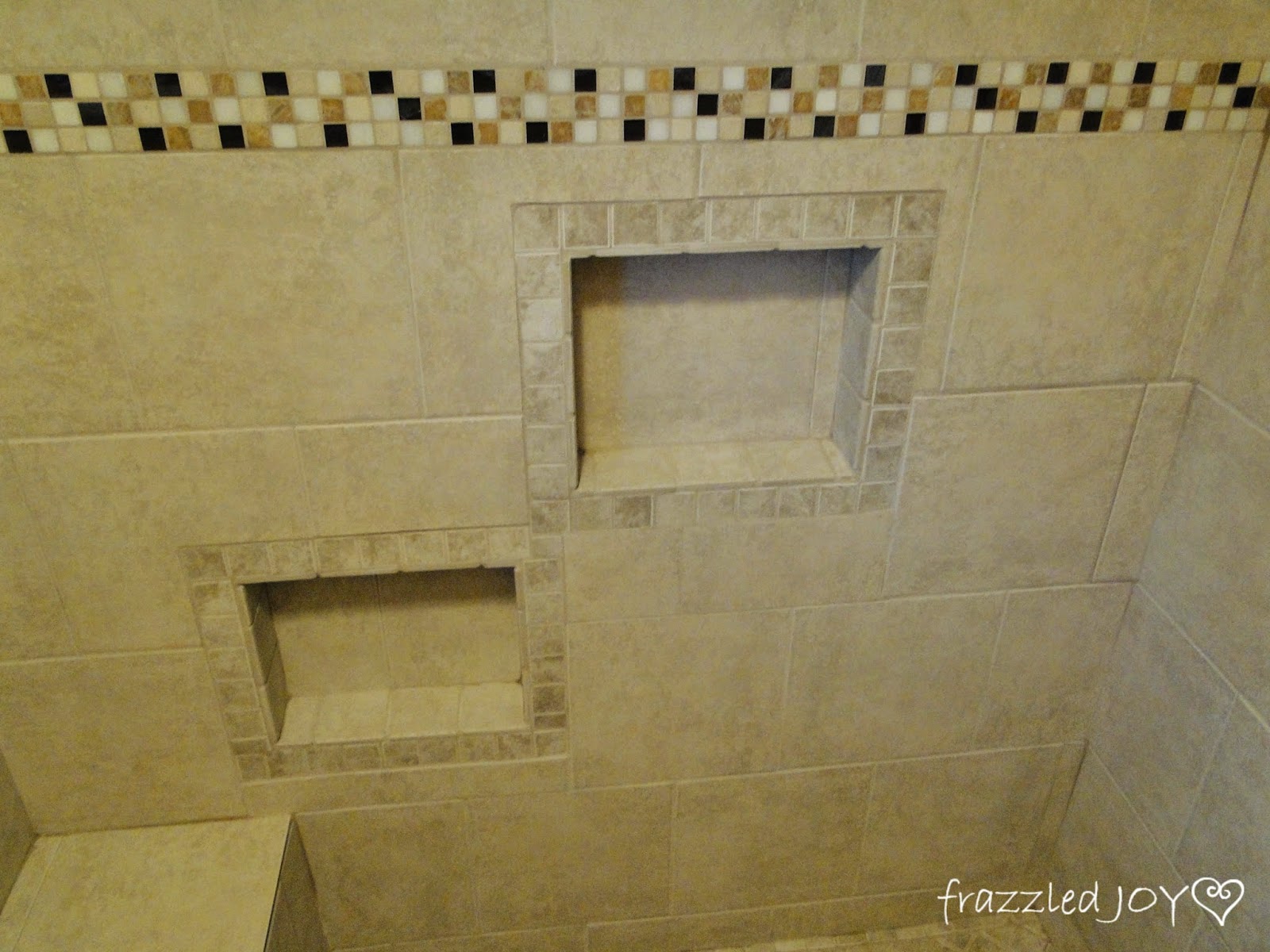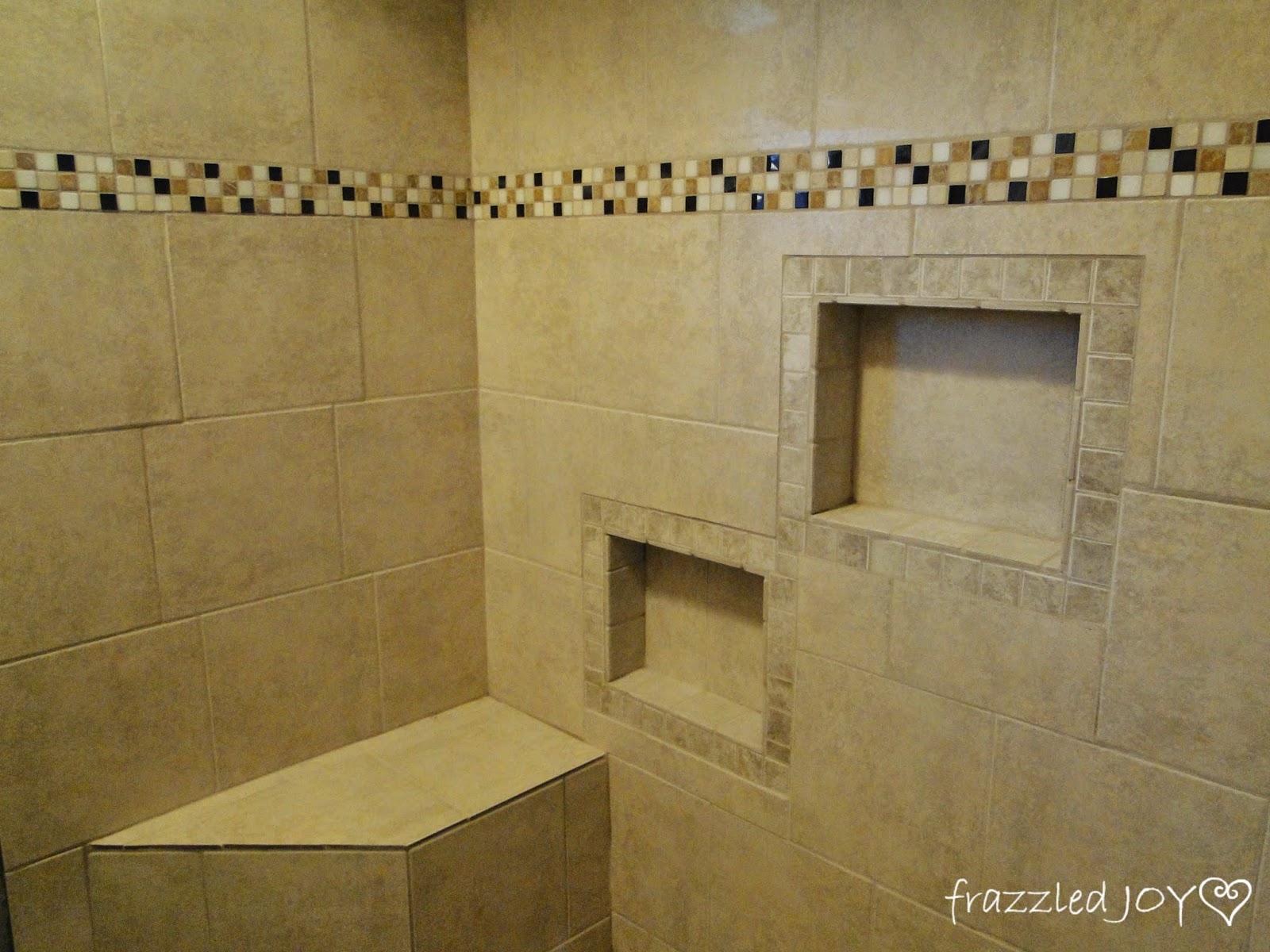 We had never tiled before, but with a few pointers from our contractor friend, we got the job done. It took us a good 3-4 weeks (sorry I really don't remember) from start to finish because we were DIYing so much of it. We were exhausted in the end, but really the feeling of accomplishment of doing it ourselves was worth it!!