So yesterday…kids all went back to school, hubby went to work, and I was left alone with my thoughts. Let me tell you folks, that's not a good place for me. My thoughts take me to scary places. I think I was more anxious for my kids first days then they were!! Lunch with hubby helped a lot. He gets me. He knows how to redirect my thoughts and calm my crazies. I love that man. Anywho, everyone had a great day!!
6th grade, Sophomore, 5th grade, Senior – crazy
I'm so thankful and God is so good. Sweet friends called and texted and facebooked me to check on me and it was wonderful – if that was you – thanks, it helped this momma's aching heart. I have been pushing back against time and life as it marches right past me, and I'm done. I don't want to miss a second because I'm whining about how fast it is passing me by. (Don't get me wrong – I will have a moment (or a day) here and there when I'm whining again;)). My kids are growing up and things are fun and exciting right now, so I'm jumping on board!
So, now that the kids are back at school, and I'm not working outside the home anymore I have to make a plan (for those days when I can't decide what to do). I decided to revisit my goal list for the year and see how things were coming.
#1
on my list is
De-cluttering – everything
!! – working on it and getting there, really only two closets left (oh and the attic…)!! See progress garage, laundry room, more garage, more
#3 Kitchen redo – including decluttering, organizing and updating (hopefully)
#4 Redo Craft closet
#7 Kids bathroom update
#8 Backyard landscaping – making it a more usable space –
not good – puppy – progress here, and here
#9 Fireplace update
#10 Finish Master bath update
#11 Master closet update
So, there ya go. Some progress made on the smaller, less costly stuff. I am working with my budget manager (hubby) to see what big project we can tackle this year. It's between the kitchen or a bathroom. I really want to do the kitchen, but the countertops are really holding me back – that will be the biggest expense and I don't know if we can swing that amongst the senior year expenses :).
Today I am tackling the craft closet – the decluttering part that is. I've told you that as I have been organizing I have been piling in other areas. This closet is scary folks – I instructed my husband to NOT open the door. But, I have to open the door to get started so….here it is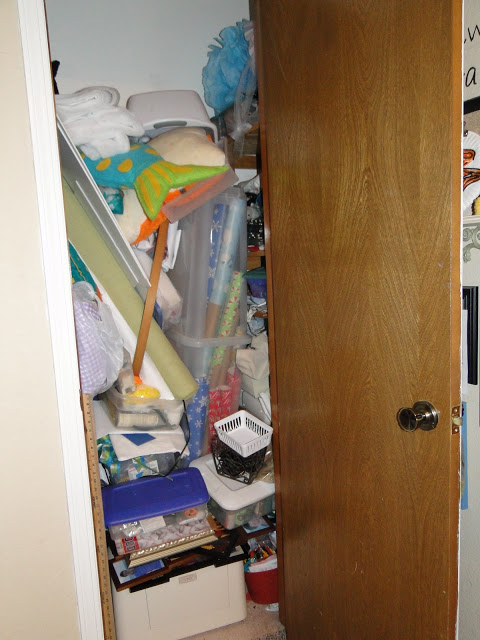 I KNOW RIGHT!! That's a little embarrassing, but the best thing about a before picture this bad is that it makes the after picture look phenomenal!! The worst part is, and my biggest motivator, all of my craft stuff is in there somewhere, which means I can't do any fun projects until it gets cleared out. Better get to work!!
Blessings and love to you all!! Thanks for reading along 🙂