A happy surprise came to me last week via Sarah at Church Street Designs. The Liebster Award!!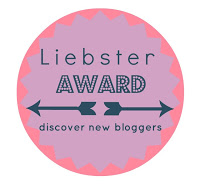 I was instantly excited because seriously, who doesn't like awards?!? I have seen this floating around the blog world just a little, but didn't know much about it. Through doing a little searching I discovered that it is an award given by bloggers to bloggers to encourage one another, and to help us all get to know new people. Usually shared among new bloggers. This made me even more excited, because who doesn't like to give and receive encouragement, and who doesn't like to get to know new people – one of my favorite things about blogging!!

So, thank you Sarah!! Part of the fun of accepting the award and passing it on are these questions. The person nominating you creates 11 questions, and you do the same for those that you nominate. Just another fun way to get to know one another.
1. What is your favorite thing to blog about?
Whatever the Lord might bring to my heart to share 🙂 – everyday is different!
2. If you could travel anywhere, where would it be?
3. What is your favorite season, why?
I really like fall and spring, mostly because I don't like it to be really hot and I don't like it to be really cold
4. What blog inspired you to blog, or inspires you now as a blogger?
Thrifty Decor Chick was one of the first blogs I ever followed, and my real life friend Dimples and Tangles inspired me as well
5. The Beach or the Mountains?
6. If all jobs paid the same, which job would you choose to do?
Being a mom is the best job there is!!
7. What is your favorite type of food?
Any kind that I don't have to cook
8. What is one of your pet peeves?
People who don't follow rules
9. Are you more of an early bird or night owl?
night owl – but I get cranky if I don't get enough sleep
10. What are the two most important things to you?
My Lord Jesus and my family
11. What is something you have never done, but would like to try?
I am now happy to pass on this award by nominating these five fun blogs.
A couple of these are real life friends, a couple I have been following for a short time, and one is a brand new find! Please stop on over and check them out, and please feel free to follow along if you like what you see!!
And here are the rules for accepting the Liebster Award, for all the fabulous blogs I've chosen…
1} Write a blog post like this sharing the good news with everyone and link back to the person who nominated you.
2} In that post answer the questions given to you by your nominator.
3} Pick at least 5 bloggers, each with under 200 subscribers, to be nominated for the award.
4} Come up with at least 10 questions for your nominees to answer.
5} Go their blogs and notify them of their nomination.
Here are my questions for my nominees:
1. Why did you start blogging?
2. What blogger inspires you most?
3. What would you consider your biggest life achievement to date?
4. What's your favorite color?
7. If you could travel anywhere, where would you go?
8. Introvert or Extrovert?
9. What is your favorite memory?
10. What is your biggest pet peeve?
Blessings to you all and thanks again for the encouragement from
Sarah
!! Please pass on the love by checking out some of these blogs, and maybe even follow along ;).