Hello friends and welcome to another Family Friday!! I use my crock pot a lot during the winter because I love all kinds of soups. Soup is my form of comfort food in the winter. But then, spring rolls around and my family I no longer want soup. However, our schedule is such that using the crock pot here and there would be VERY beneficial – keep us from eating out. So, as I was meal-planning today I pulled some of my crock pot meals out that aren't soupy and added them to the menu.
Then…I thought of you guys!! Do you have a crock pot? Do you use your crock pot? Do you use it for things other than soup? I have a whole board on Pinterest dedicated to crock pot recipes, and when I am in a rut, I check there and add a few new ones to the mix. I very rarely share recipes with you but today, I am going to share with you a few recipes that I have found, that are tested and approved by my own family.
This first one from Picky Palate was is a huge hit at our house. I very rarely make the potatoes (although they are very yummy), but you can pair the pork chops with just about any side you would like.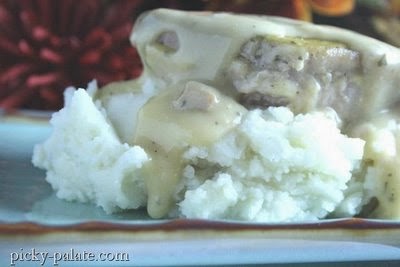 Ranch House Crock Pot Pork Chops with Parmesan Mashed Potatoes
6 pork chops, 1/2 inch thick
1 packet dry Ranch Dressing Seasoning
10 oz can Cream of Chicken Soup
4 lbs peeled, cubed potatoes
5 Tablespoons real butter
1 Cup fresh grated Parmesan cheese
6 cloves
roasted garlic
(click for directions how to roast garlic)
1- 1 1/2 Cups warm skim milk (any milk will do, I just happened to use skim)
1 Tablespoon salt, or to taste
1 teaspoon fresh cracked black pepper, or to taste
1. Place pork chops, Ranch seasoning and soup into a medium sized crock pot over high heat for 4 hours or low heat for 6 hours.
2. Place potatoes into a large pot of cold water. Place onto stove top over high heat and bring to a boil. Once water is boiling, cook for 10-12 minutes or until potatoes are fork tender. Drain and transfer to the work bowl of a stand or electric mixer. Mix on low until potatoes are mashed then add butter, Parmesan, garlic, milk, salt and pepper. Season to taste if needed. For thinner mashed potatoes add more milk, slowly until your desired consistency.
3. Scoop mashed potatoes onto serving plates and top with pork chops and soup gravy from crock pot. Enjoy!
This next one is yummy too!! The recipe below is from Makin' it Mo' Betta which she adapted from Six Sister's Stuff. I usually serve this one with rice and broccoli, but would be good with just about anything.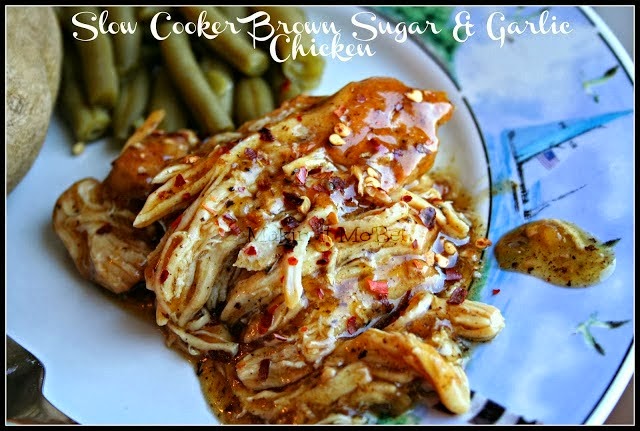 SLOW COOKER BROWN SUGAR & GARLIC CHICKEN
adapted
from Six Sisters' Stuff
4-6
chicken
breasts *I used 2 lbs boneless/skinless chicken breasts
1 cup packed
brown
sugar
*I used 3/4 cup
2/3 cup vinegar *I used apple cider vinegar
1/4 cup lemon-lime soda *I used Sprite Zero
2-3 Tablespoons minced garlic *I used about 1 1/2 T. fresh minced garlic
2 Tablespoons soy sauce
1 teaspoon fresh ground pepper
2 Tablespoons corn starch
2 Tablespoons water
Red
pepper
flakes
(optional)
Directions:
Spray slow

cooker

with non-stick cooking spray. (Crock pot liners are also great!)

Place chicken (frozen, thawed or fresh) inside slow cooker.

Mix together the sugar, vinegar, soda, garlic, soy sauce, and pepper, and pour over chicken.

Cook on low for 6-8 hours or high for 4 hours. (Frozen chicken will obviously need a longer cook time.)

Remove chicken from slow cooker (it should basically fall apart) and pour remaining sauce into a saucepan over high heat.

Mix together corn starch and water, pour into saucepan, and mix well. Let sauce come to a boil and boil for 2-3 minutes, or until it starts to thicken and turns into a glaze.

Remove from heat and let sit for a minute or two (it will continue to thicken as it cools).

Sprinkle red pepper flakes on top if desired.
I also use my crock pot for easy basic things like BBQ chicken – chicken and BBQ in and forget it, and taco meat – I usually cook my meat first, then toss it in the crock pot with my taco seasoning and forget it!! I love the leave it and forget it part don't you?!? Oh, and speaking of taco seasoning, I now make my own, and I love it. I love that I can tailor it to my families' tastes and that I know what is in it!! The recipe I use is from Smells Like Home and you can view that here.
I hope some of these are helpful and have inspired you to pull-out your crock pot!!