I have spent the day trying to do the domestic thing.  I say "trying" cuz to be honest, it's not really my thing.  I don't mind doing it, it's just there are so many other things I would rather be doing, and I get distracted easily.  🙂
So…about the only thing that got done cleaning-wise was some laundry – HA!
I did do a little get-us-through-the-rest-of-the-week grocery shopping which led to snack making – never go to the store hungry – where have I heard that before?
Anywho…I had three very smooshy bananas sitting in my fruit basket that hadn't made it into the trash.  So, what do you do with smooshy bananas???  I make banana bread!!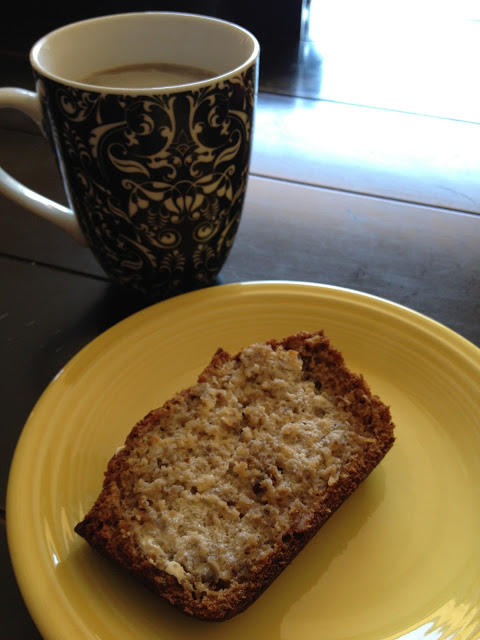 Yes, I had an afternoon snack fresh from the oven and a warm cup of coffee to go with it, just what I needed to get me going again.
Here is my recipe for Banana Nut Bread
1 3/4 cup sifted flour
1 1/4 tsp baking powder
1/2 tsp baking soda
3/4 tsp salt
2/3 cup sugar
1/3 cup shortening
2 eggs
1/2 chopped nuts
1 cup banana pulp (2-3 mashed bananas)
Sift together dry ingredients. Gradually add sugar to shortening, and cream until fluffy. Blend in one egg at a time, mixing until smooth and light after each. Stir in nuts. Add flour mixture alternately with the banana pulp, blending well after each addition. Pour into a well-greased 9x5x3 inch loaf pan, pushing batter into corners. Bake in a 350 oven 55 minutes or until browned.
Just for fun, sometimes I use chocolate chips instead of nuts, since a couple of my kids don't like nuts.  Which, was my plan today, only to find we were out of chocolate chips, and of course I had already been to the store.
I also made this yummy snack that I'm sure my family will be over-the-moon about!!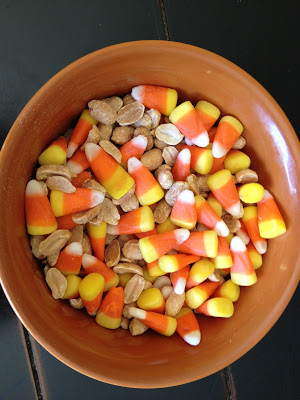 I don't think there is anything better in this world than candy corn.  But, this sweet and salty mix is awesome.  No recipe needed just pour in the candy corn and however much peanuts you like.  YUM!!
Seriously, candy corn is one of my most favorite things about fall 🙂
And…to top off my day, the delivery man rang the doorbell with this surprise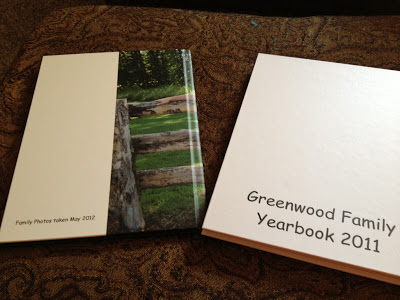 My photobooks arrived!!  If you have never tried making one of these I highly recommend it.  I used to scrapbook, and I love the scrapbooks I have completed, but honestly I think I love these more.