I'm still working on getting our house all ready for fall. I'm not sure why I'm dragging my feet, I LOVE fall! I think my project list keeps calling my name ahead of decorating. 😉 As I was looking through posts from last year, I realized that I never shared our Thanksgiving table from last year. Again, probably because right before Thanksgiving I was knee-deep in an ORC makeover.
So, I thought why not share it now! In case maybe you are starting to think in the direction of Thanksgiving or maybe you are just looking for ideas for a fall centerpiece.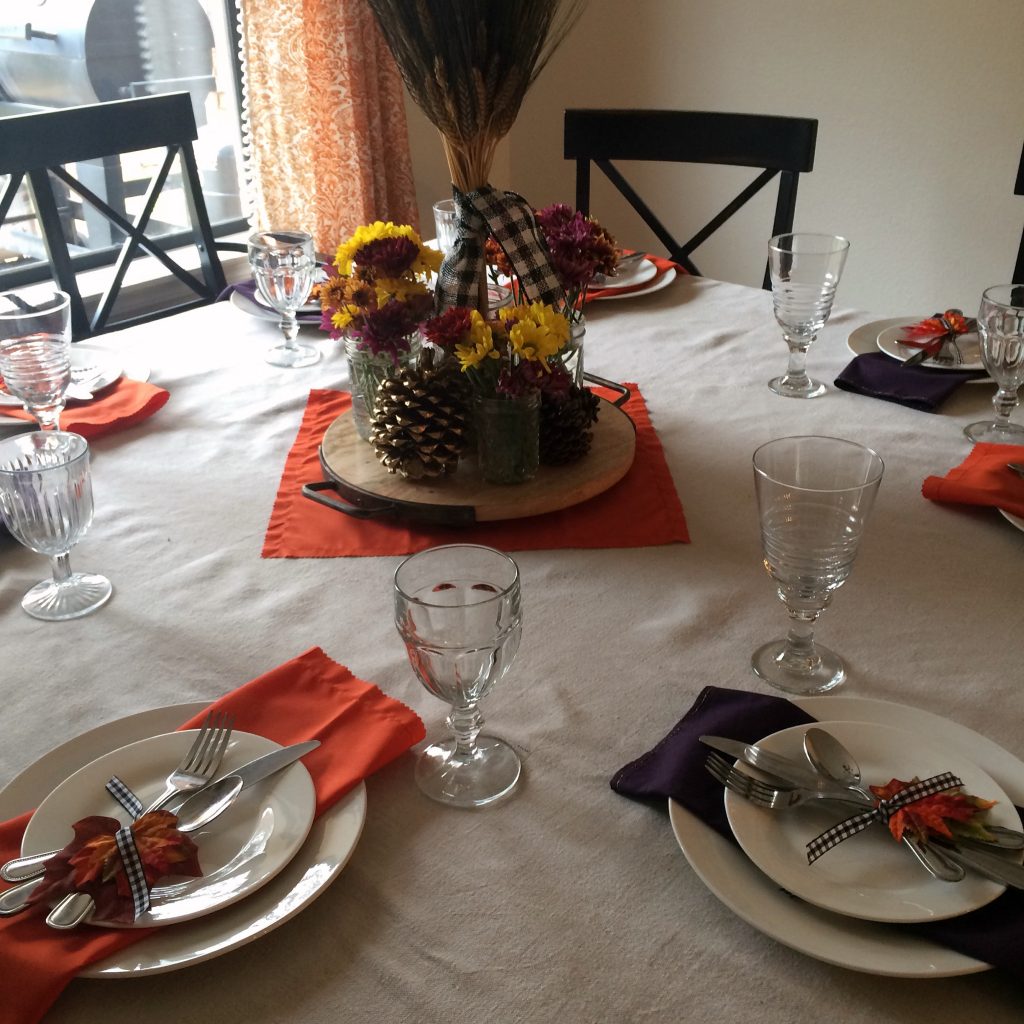 I kept things pretty simple last year. I used the same table linens as the year before. I did add in a little orange this year back making some more napkins. (we had a few more people this year, so more napkins was a necessity)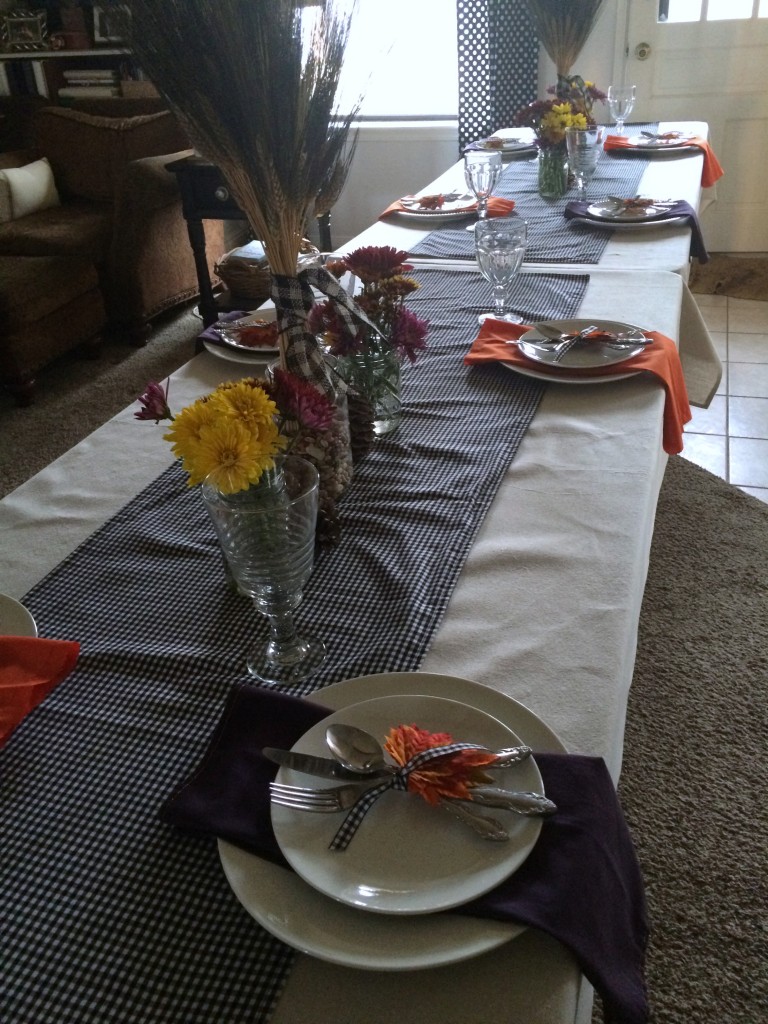 The black and tan wheat stalks I actually scored on 80% or 90% off clearance at Hobby Lobby in the halloween section – who knew!? I loved the look of the two-toned and the price was right so they were perfect!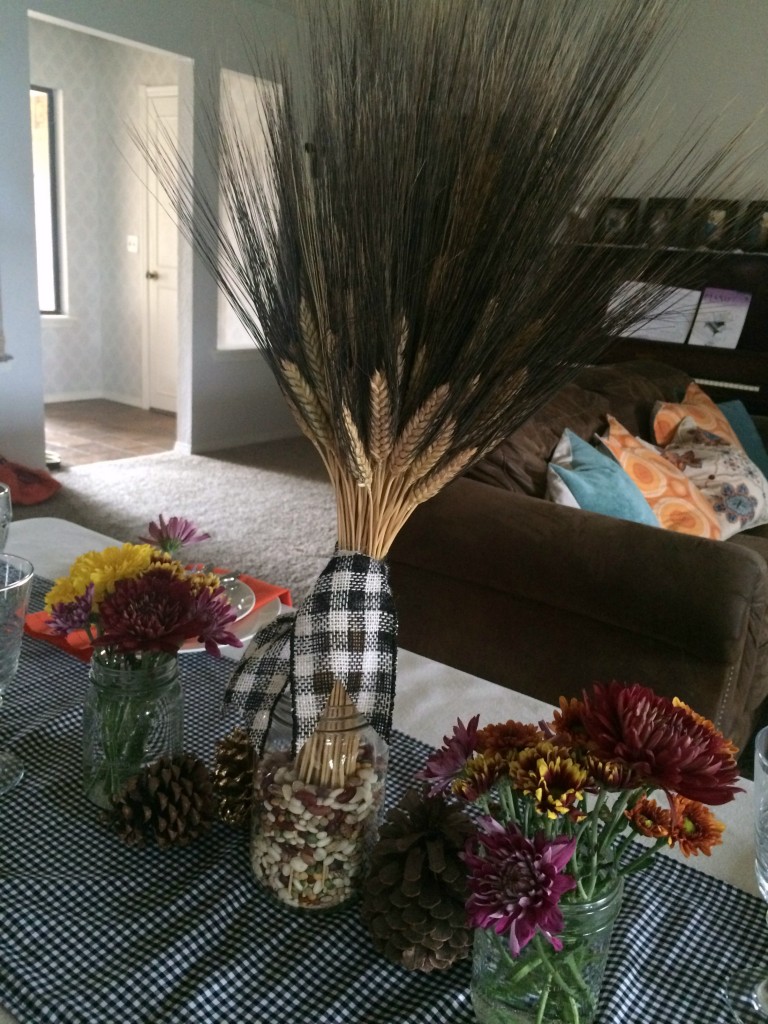 Mason jars are often my go to for centerpieces. They are so versatile and inexpensive. I have accumulated a lot over the years! On the big table I anchored the centerpiece with an orange napkin, and a wooden tray.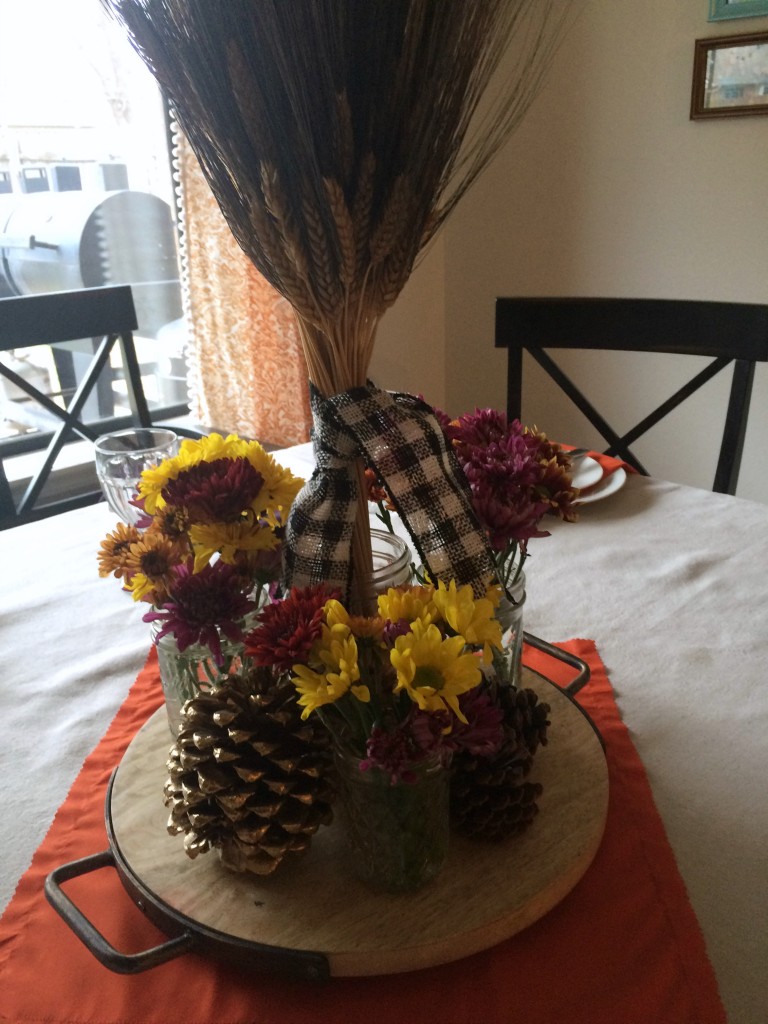 I filled some with beans that came in one-bag labeled 7 bean soup (or something like that). I wanted the variety but wasn't super excited about buying several bags of different beans, so this was a great find!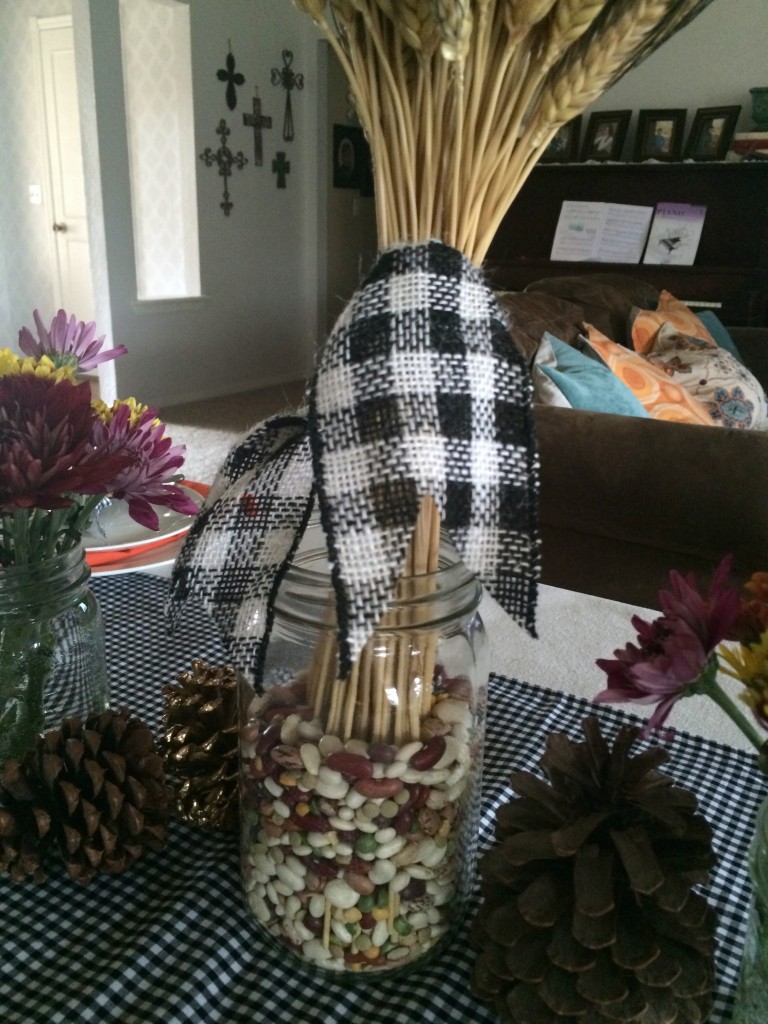 The other jars were filled with grocery store flowers. (I usually buy mine at Sams, since we don't have an infamous Trader Joe's close to us.) And, then of course I filled in with some pine cones.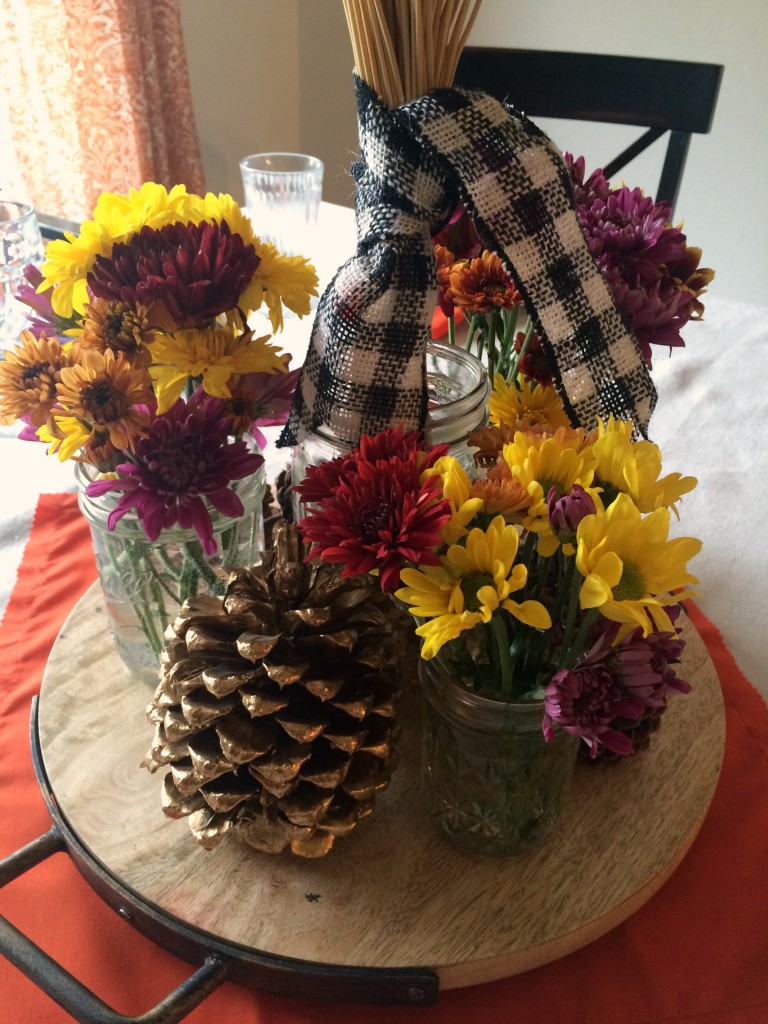 The black and white gingham made a couple of other appearances in the form of ribbon. Some tied around the wheat stalks and some tied around the silverware.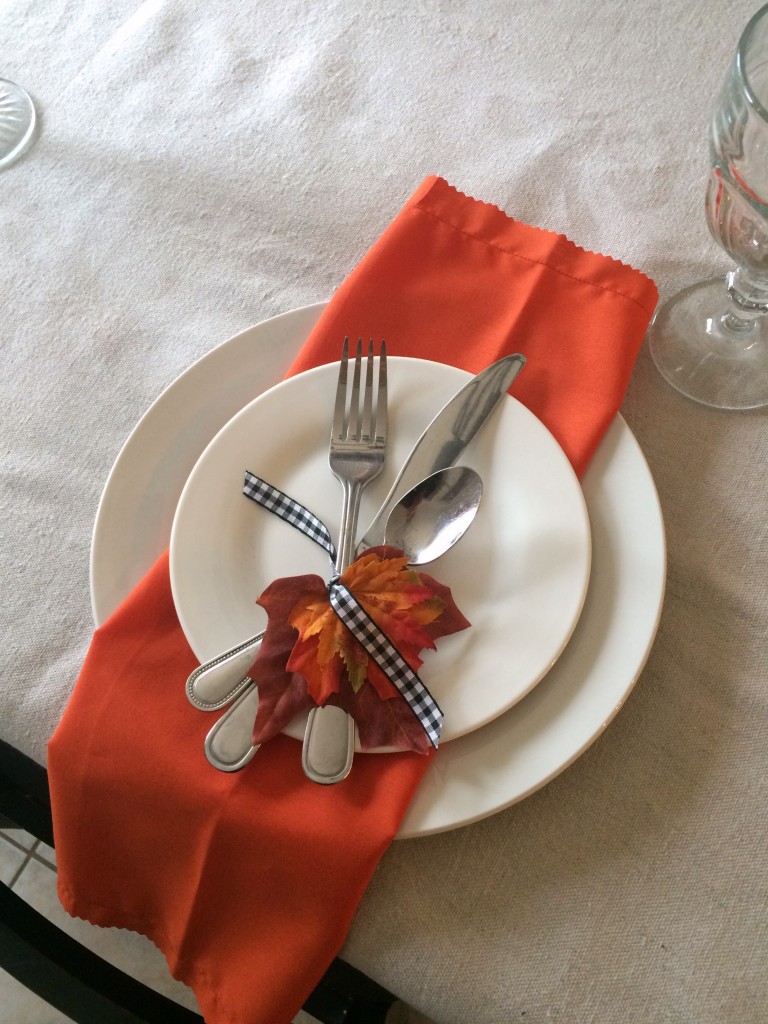 I also added a couple of leaves to each set of silverware.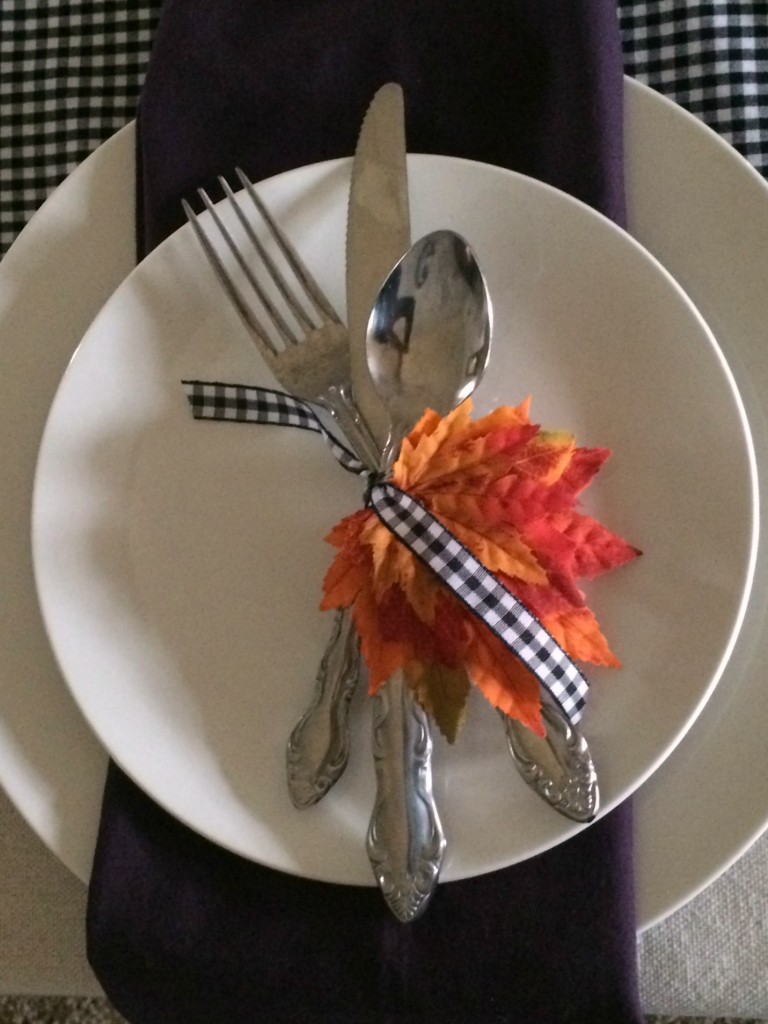 The dishes are from Dollar Tree. I keep it simple with white. I know I can use them for pretty much any occasion, and I can always go back and get more if something breaks. The glasses are from there too. Those I have to mix and match because they don't always have the same ones every time.
This table shows that you don't have to spend a lot of money or time to get a festive look! Hope you were inspired! Happy Fall Y'all!!


Linking up with Totally Terrific Tuesday / Inspire Me Monday / The Creative Circle / Work It Wednesday