This last weekend I was blessed to hold a double shower for a couple of friends. The best part was that one is having a boy and one had a girl!! So I got to play around with decorating with pink and blue. Once again, I headed to pinterest for inspiration and this is what I came up with.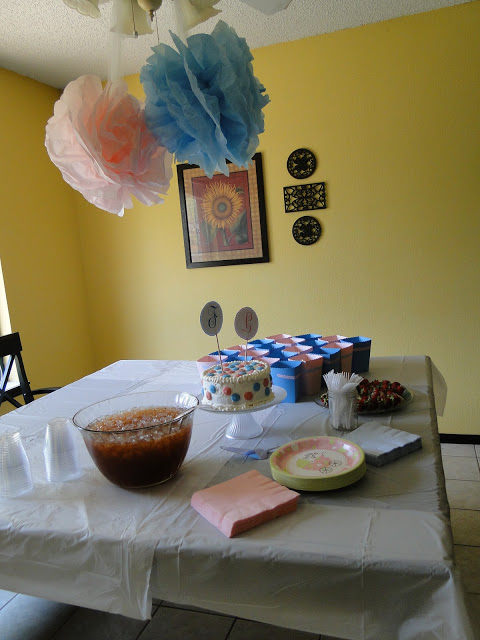 Again, simple decor – paper goods from dollar tree. Home made tissue-paper flowers are kind of my go-to decor when it needs to be pretty and soft (see my Valentine's decor here).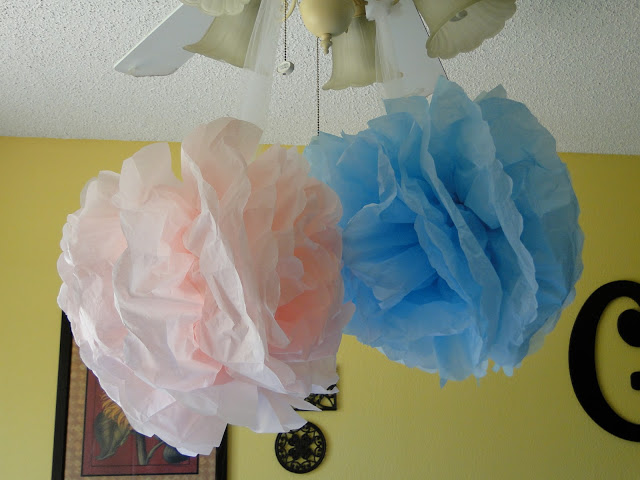 The popcorn buckets I made by using a die-cut. I added just a little strip of paper to give it a little something.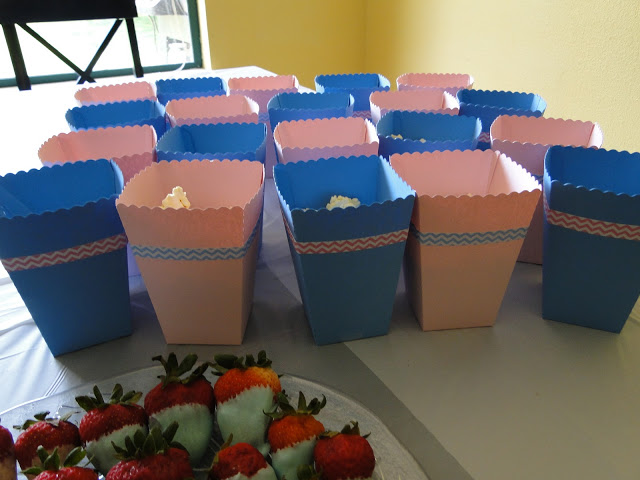 In the popcorn buckets is a yummy treat.
Coated in White Chocolate
Really just play around with the amounts. I popped the popcorn first and just added the peanuts and m&ms until I thought there was enough – no wrong in this. Then I melted a bag of white chocolate baking chips and poured it over the mixture – toss well and then spread onto a baking sheet covered with parchment paper. The parchment paper is key, and one of my new favorite things. (I can't believe I haven't discovered it before this year.) It makes it super easy to break up the coated popcorn when the chocolate has cooled and everything has hardened. Yummy goodness.
I was going back and forth between doing this cute cake (pinterest inspired), or making a strawberry trifle. I was really wanting some strawberries, but the cake was so cute. So I opted for the cake, and strawberries dipped in white chocolate!!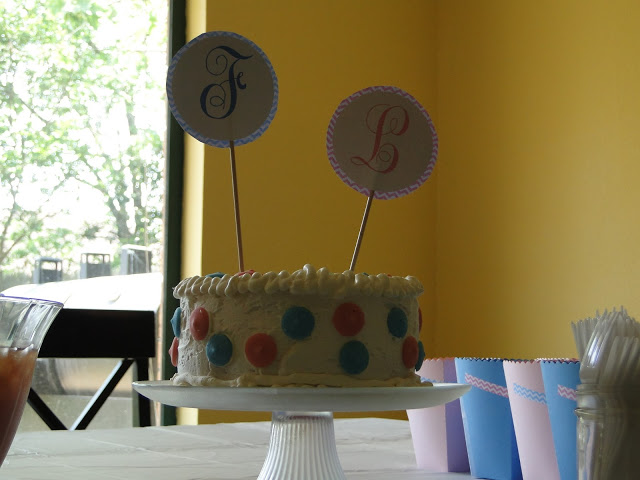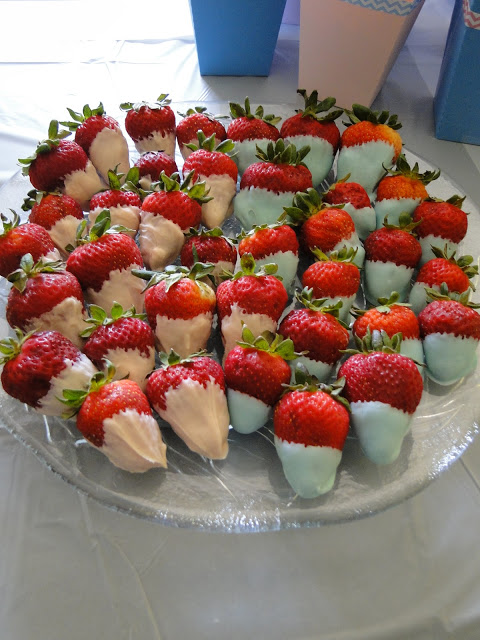 For the strawberries, I also used a bag of white chocolate baking chips. Half colored with blue candy melts, and half colored with pink (left over from decorating the cake – yes that is what those dots are :)). Again, cover your plate/baking sheet with parchment paper to make it easy to remove the strawberries when the chocolate has hardened.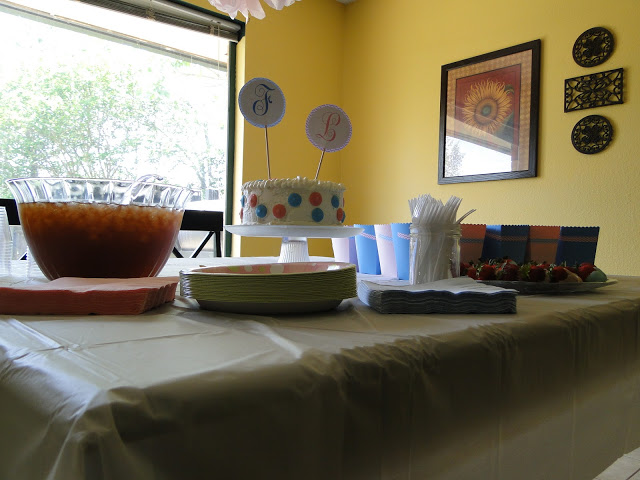 Then for my final tip today. The punch. Several years ago I went to a wedding shower hosted by some ladies at church and there was the most delicious punch I had ever tasted. I was curious and asked how she made it. I could not remember the recipe months later when I needed it of course, but what I did remember is that there was NO ICE CREAM in it!! I do not like making punch with ice cream – soooo messy. So, I asked again for the recipe and have been using it ever since with rave reviews!!
So…here it is – fill your punch bowl with ice, pour in a 2liter bottle of ginger ale. In a small pitcher or bowl dilute a package of crystal lite drink mix (any flavor works – a couple of my favorites is peach tea, and raspberry ice) in hot water – just about two cups (no need to measure). Then add this to your punch bowl mixture and stir. Easy peasy and sooo yummy!! (And no ice cream:)).
I had so much fun putting this together. It has been a few years since I've hosted a baby shower!!
This may be my final post for a couple of weeks (unless I squeeze one in the next few days). I'm getting ready to head out on a mission trip to New York with our church's high school choir. I'm sooo excited – I have never been to New York, and I haven't been on a mission trip in several years. The kids will be singing at several different locations in New York and on the way (we are taking a bus…), including several juvenile detention centers. Please pray for hearts and lives to be changed for Jesus. Pray also for our kids hearts to be changed as they learn to minister and share Christ.
Blessings to you and yours!!