Hi friends! I hope you've had a chance to check out our Christmas home tour! If not, please come on in and look around! 😀  I mentioned that I would share more of our Christmas tree with you later, and that's what I'm here to do today. From far away she is 9 1/2 feet of lighted gorgeousness. (I love having tall ceilings!)

But, up close, she's even better. I've shared about our tree here before. (2012, 2013, 2014) But, if you're new you may not know how things go around here. 😉

Confession time – I don't spend hours decorating our tree. As a matter of fact, the job that takes the longest is fluffing branches and fixes lights 🙄 No, when it comes to decorating, it's a family affair. It's one of our favorite traditions really. It's something we have been doing since the kids were big enough to help. We turn on Christmas music and have some fun! (pic from a couple of years ago cuz I forgot to take any this year – look at those little boys 🙁 )

I sort the ornaments into two categories – the non-breakable, and breakable. Until just a few years ago, the kids were in charge of hanging only the non-breakable ones (at the bottom of the tree where they could reach) and the adults were in charge of the breakable ones (at the top of the tree where they would be safe).
Our kids are all big enough now that those rules no longer apply. So, anything goes! I noticed that decorating went a lot faster this year…ha! Many hands make light work.  😀

I absolutely love unpacking our ornament tins. Seeing all those cute little faces staring back at me.

Memories of Christmas' past and fun times had. Favorites hubby and I have purchased over the years, and those given by friends. All of these find a spot on the tree.


Honestly, I'm running out of room, if that's possible. We work very hard to not stack ornaments, but it's hard! It's a good problem – some of these will be passed on to the kiddos as they move into adulthood…

So, there you have it, my forever favorite tree! I keep it all tied together with simple white lights, a red wooden bead garland I got from Target years ago, a lighted grapevine star topper, and a red and white snowflake tree skirt I made from a tablecloth that I got on clearance at Target, years ago. Simple but beautiful.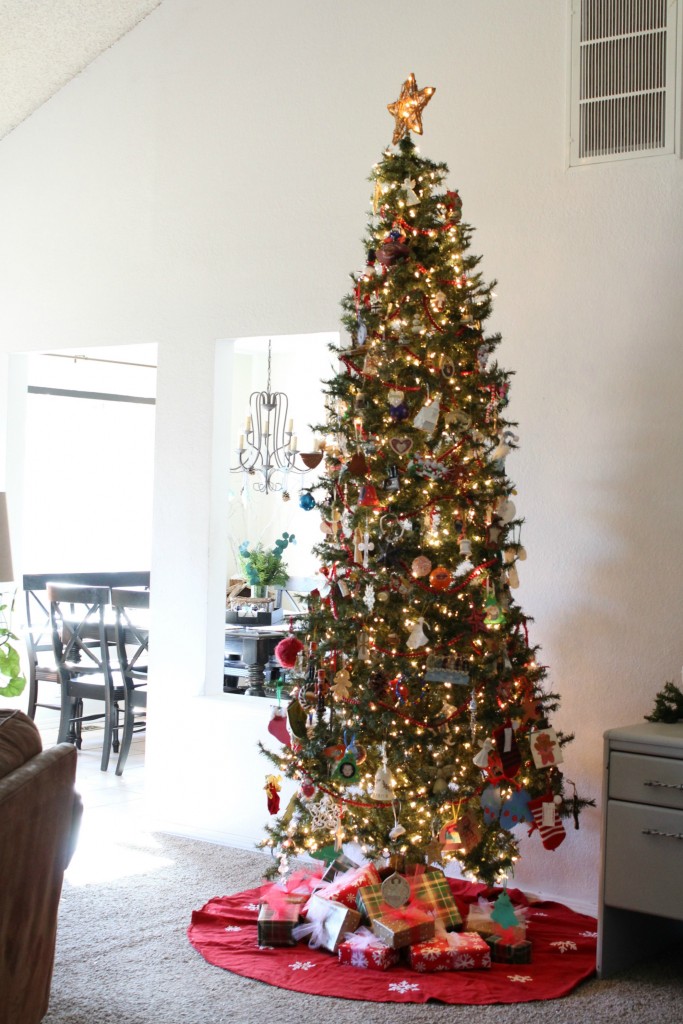 I know many of you out there have trees like this! Tell me about them, or better yet hop on over to my Facebook page and comment with a picture! I'd love to see them!
I'll be back in a couple of days to share a few more of our favorite family traditions with you!