Week 5!! I'm so excited!! I'm losing sleep and I'm in a constant state of panic, but for no good reason because honestly – I AM going to finish!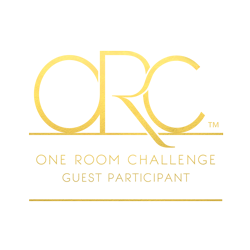 Let's look back at our inspiration.
However, currently the bathroom looks like this.
No worries, all the pieces are here. Things need to be installed and it needs to be cleaned. But we are sooo good. And I cannot begin to tell you how in love with this room I am!! Ack! With every addition, I fall more and more in love! I can't wait to share with you next week! (lots of exclamation points I know!!)
Since I don't want to spoil the reveal, I thought I would share about the budget. I am a very frugal shopper and avid DIYer, so really I don't always set a budget, I just know that I am going to spend as little as possible. But, when I'm doing something like this with a time constraint, I do have to think about it a little more. So, I did consider that I would like to do the makeover for between $250 and $350.
And, honestly, had there not been a few hiccups in the project (as there always are) I would have been closer to the bottom number, but instead I will probably end up closer to the top. Still a great makeover for a little bit of money!!
I will use the list to show the expenses.
scrape popcorn ceiling – $0
prime ceiling and walls – $10
paint ceiling and walls – $17
fix electrical issue with light (replace light) – $40
frame mirror – $35
install board and batten – $45
caulk and paint board and batten – (included above)
prime and paint door and trim – $0
paint vanity inside and out – $0
build shelf inside cabinet under sink – $0
build shelves for wall – $35
make shower curtain – $15
accessories – $150 (this includes all the hardware -pulls, towel bar, etc – that were changed from antique bronze to chrome/polished nickel)
There are a few accessories that still haven't been purchased so that number could go down a bit (because I have been known to change my mind as I see things coming together), but for the most part – they you have it.
Again, I cannot wait to come back next week and share the transformation!! Be sure to check in on the designers progress because wow. And be sure to check in on the other guest participants as well, because wow. There is a lot of talent out there folks, and I bet you're one of them!!