Hey there! I'm back for week 4 of our One Room Challenge Bathroom Update! I'm feeling a little calmer this week as we got a ton finished last week!! Woohoo!! From the start until now I realized that it has all been about paint!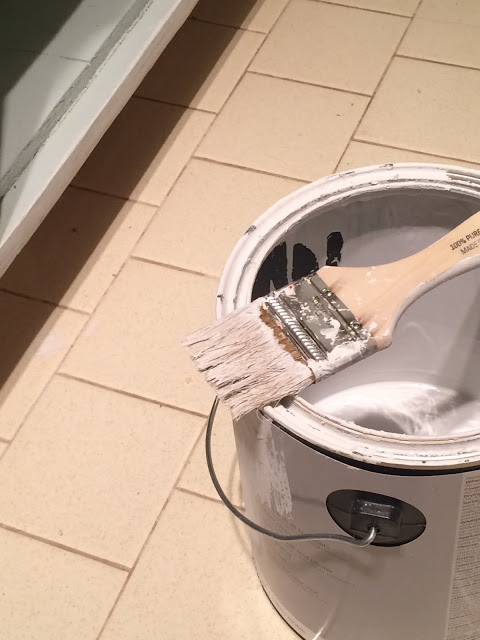 Other than the tile and counter and other necessary bathroom fixtures, e.v.e.r.y.t.h.i.n.g. got a coat or two (or three or four) of paint!
I'm telling you I am happy to be all done with all that! And my painting hand is happy too!
So, the walls (and ceiling)…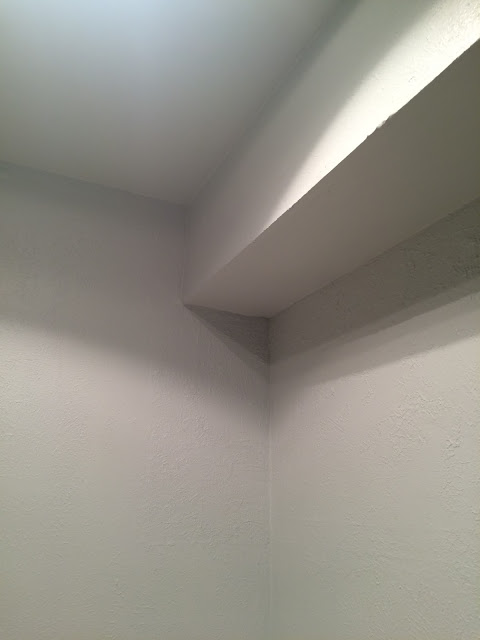 Sherwin Williams Sea Salt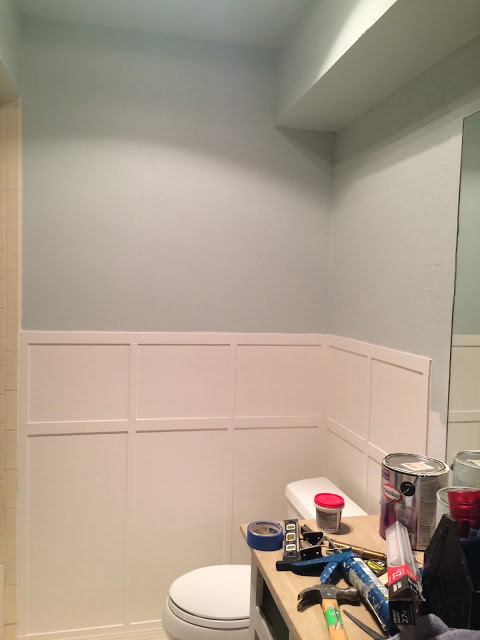 Glidden Duo Antique White (I have used this on almost all the woodwork in our house including the built ins – it looks white but it is not a bright white – just a tiny bit softer.)
And, last but not least, the vanity…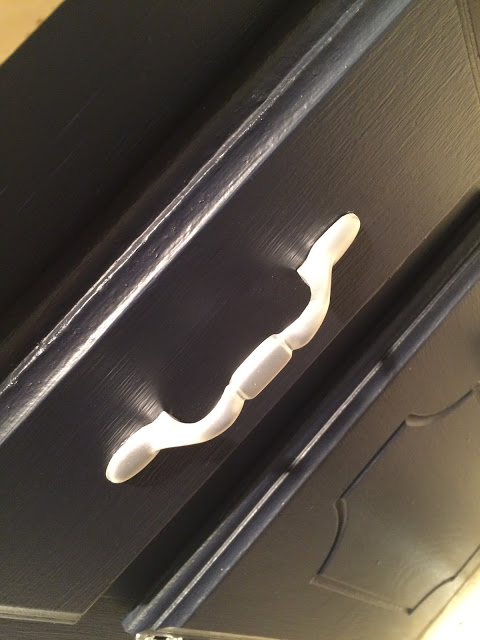 This is a dark navy blue (that apparently looks a little black in photos) that I had mixed at Walmart. I would tell you the color, but the color it was supposed to be, is not the color I got :-/. I made it work for a previous project by lightening it with some paint I already had, but I thought I would use the dark as is for this project and I LOVE it.
Even the hardware got a couple coats of spray paint.
Let's take a look at the list and see how we're doing.
scrape popcorn ceiling
prime ceiling and walls
paint ceiling and walls
fix electrical issue with light
install board and batten
caulk and paint board and batten
prime and paint door and trim
paint vanity inside and out
build shelf inside cabinet under sink
shop for accessories and storage (started)
I have to say, the shelves for the wall are stumping me.
I am stuck. I can't seem to land on what kind of shelves, how many, or if any I want. I might be calling on y'all for some advice!!
If you are following along on instagram (@denisegwood), you got a sneak peek at the mirror frame this week, and oh my – what a transformation!
So excited for putting the little pieces together and finishing this room up. How is it possible that October is almost over and the holidays are right around the corner?!?