Hey friends! I'm back! I so loved having some time off for spring break, and I get a double bonus because my college girl is home this week!! Yay! Mother/daughter time!
Do you have tile floor? Do you have tile floor that's seen better days? Maybe it's looking a little dingy. If so, then this post is for you!! Our kitchen and dining floor have been in need of some serious attention for quite a while now. It gets cleaned regularly, but the dingy grout was making it look just plain gross. I had seen a product on a couple of other blogs used to address dingy grout. So, I thought spring break would be a great time to test it out!

First, I should probably show you the before….


And here are the tools that got the job done. (also needed – rubber cleaning gloves – see note below)
*Some affiliate links used for your convenience.  I make a small commission at no extra cost to you for any purchases made through these links. For more information see my disclosures here. Thanks for helping support Frazzled JOY!

My first job made me feel a little like Cinderella. You see, I spent an entire day (in sections of course), on my hands and knees, cleaning all the grout with a bleach cleaner, and a toothbrush. I started out using a spray cleaner with bleach, but that was just filling up the air and getting in my nose and throat. I could've worn a mask, but I decided I would try my gel-like toilet bowl cleaner with bleach. Magic!! Not only was it easier to get the cleaner in the grout with the nozzle, but also no overspray getting in my nose!
I would highly recommend using rubber cleaning gloves for this – any kind of bleach cleaner is not kind to your hands.
Here is a look at the before and after of cleaning the grout.

Next up, the grout renew. I got mine at Home Depot in the aisle with the tile grout. This product not only allows you to refresh the color of the grout, but it also re-seals it which should help it stay clean for a while, I hope. I knew I wanted to lighten and brighten the room without going white. So, I chose a color that would blend nicely with the tile and the cabinet color – Linen. This step is just as time consuming and hard on the legs and knees as the cleaning, but this time I decided to take my time – meaning, not try to do it all in one day. Ha! 😉  But, it is such an easy process. You are simply painting the grout lines with the grout renew product. They say in the directions you can use a paintbrush, but I just thought that would be too hard to keep off the tile.

Paint you grout lines, making sure you get good coverage. Use a damp paper towel or rag to wipe off any grout renew that gets on the tile. It dries fairly quickly so you will want to work in small sections. I usually painted a couple of lines, and then wiped off any excess before moving on. And voila! (I think it even changes the look of the tile.)

I'm telling you the floor looks brand new! I'm so excited, because as much as I would love new flooring, it's not in the budget. But, a bottle of grout renew which was under $20 and a little time and elbow grease did the trick!
Here is a progression of the whole process from start to finish.

Pretty impressive, huh??
Now I'm thinking that I need to find a couple of rugs for either side of the island. What do you think??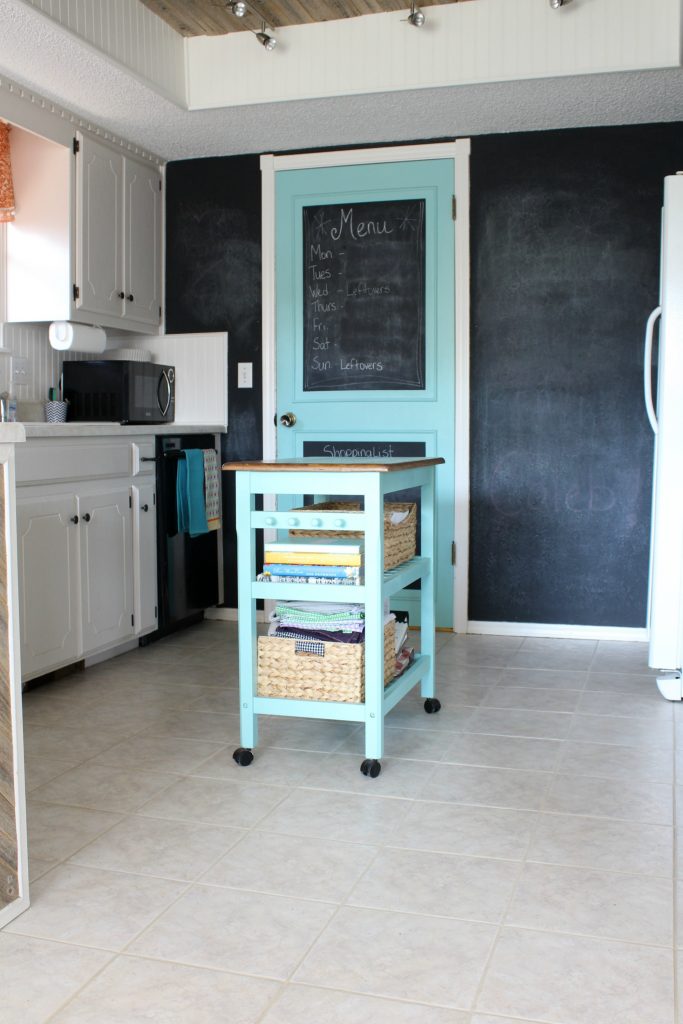 So glad I finally decided to tackle this project! Do you have any projects at your house that you've been putting off?? Get it done!! You'll be happy you did!!

Linking up with The Creative Gallery / Inspire Me Monday / Inspire Me Tuesday / Tutorials & Tips Link Party / Wow Us Wednesdays